Obviously you already know that this year's GLAAD Media Award's Category-to-Watch is Outstanding Blog, because yours dearly/truly has been nominated for that particular honor. But it might surprise you to hear that there are other categories which have also nominated other things for other awards! Let's discuss!
---
Outstanding Film – Wide Release
This coveted category includes Blue is the Warmest Color, which 75% of the lesbian population loved really hard and Kate disliked really hard and my girlfriend refuses to watch with me because it's too long. Then there's Dallas Buyers Club, of which our reviewer Eleven noted "despite its pro-gay attitude, the film fails to break the pattern of transphobic narratives in cinema." Tween fantasy The Mortal Instruments: City of Bones was one of the worst-reviewed films of the year but there was a gay SHADOWHUNTER in it named Alec! Killing Your Darlings was a Sundance favorite about the early lives of Allen Ginsberg, Lucien Carr, William S. Burroughs and Jack Kerouac, which sounds pretty rad. Philomena is the story of one mother's 50-year-search for the (spoiler alert: GAY) son she gave up out of wedlock. I hope Blue wins, because lesbians should win everything.
---

Outstanding Film – Limited Release
"The first thing you should know about Concussion is that Robin Weigert has sex. A lot of sex. With a lot of women, no two of them alike," wrote Scribegrrrl about this year's nominee Concussion. If you wanna watch it and see for yourself, it's streaming on Wolfe-on-Demand. Speaking of Wolfe, Wolfe Releasing has a nominee in this category for Reaching for The Moon, about Elizabeth Bishop's big trip to Rio to visit her college friend Mary and subsequent affair with "Mary's bohemian partner, architect Lota de Macedo Soares." Cute teen movie Geography Club, about a group of LGBTQ teens who form a secret gay club pretend like it's a Geography Club, has an exciting little cast that includes Alex Newell as an 80% straight/20% gay human being. Out in the Dark is a gay love story between a Palestinian student and an Israeli lawyer. Yossi is an Israeli film about "a closeted gay cardiologist who struggles to find meaning in his life while overcoming the loss of his lover and reconciling his past with his future."
---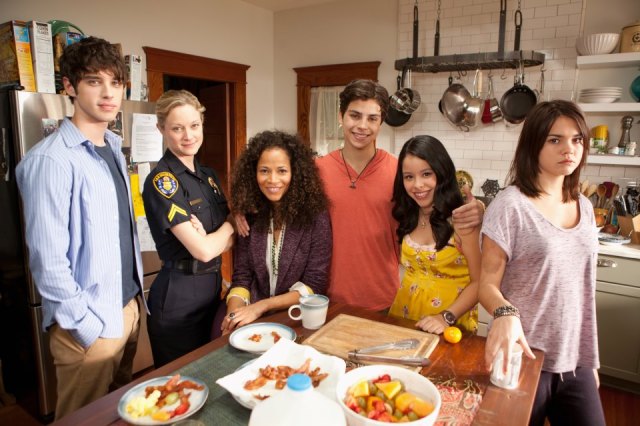 Outstanding Drama Series
This is a great category for the ladies because lesbians are really dramatic. My personal pick, The Fosters, is about two lesbian Moms and their many crafty children. Grey's Anatomy is in the mix, I presume, because Calizona. I hear they didn't have a great year. Pretty Little Liars, which fills the strawberries of our minds with the Emily Fields of our hearts and features a group of girls who still haven't learned not to go to dark mysterious places late at night by themselves, is nominated, and if they win then Emily, Paige, Shauna, Samara, the Ghost of Maya, Ali and Jenna will all have to fight for the trophy and who will survive? Ezra probs. A fantastic Canadian sci-fi show you should be watching, Orphan Black, is also nominated and it features a gay male lead character and also a nerdy lesbian clone in cute glasses. Everybody deserves their own lesbian club! Then we have Shameless, a show I have never seen BUT I've seen their most recent preview at least 56 times because it was always on between Homeland and Masters of Sex. I'm pretty sure there aren't any lesbians on it, though.
---
Outstanding Comedy Series
Once again, the notorious white water rafting nature show Glee has snagged a nod, 'cause Glee is chock full of LGBTS: Santana and Dani, two lesbians who don't tongue-kiss enough; Kurt and Blaine, two gay boys who enjoy singing and dancing; and Unique, a black transgender woman seemingly put on the show for the Glee writers to play out their transphobia onscreen, much like Ilene Chaiken once did with Max. GLEE!
Then there's Brooklyn Nine-Nine, which is breaking stereotypes with its gay police chief, and, obviously, Modern Family, a show featuring a gay couple who constantly undermine each other and bicker all the time!
Kaitlyn had this to say about Pivot's Please Like Me, which I've never heard of:  "The short-lived Australian show pretty perfectly captures the uncertainty and frustration of having an okay life and yet not being happy or knowing what to do about it. The main character, Josh, has to take over when all the adults in his life start acting like children, an if nothing else, it's worth watching just for his accented bickering with his crazy Aunt Peggy."
Last but not least — because actually it's "most" — is Orange is the New Black, our favorite show of all time ever.  Honestly Orange is the New Black should win everything, including Outstanding Newspaper Article.
---
Outstanding Music Artist
Did you know Elton John released an album about diving boards last year? I did not. But I did know that Tegan & Sara released an album, and they're nominated in this category along with Lady Gaga's Art Pop, Vampire Weekend's Modern Vampires and Goldfrapp's Tales of Us.
---
Outstanding Documentary
Valentine Road is Marta Cunningham's HBO documentary about the murder of Larry King. The New Black, from Yoruba Richen and Promised Land Films, looks at divisions within the African-American community around the issue of marriage equality. God Loves Uganda explores the American evangelical movement within Uganda and how that has created the dangerous legislated bigotry in the area. In Call Me Kucha, activist David Kato works with retired Anglican Bisohp Christopher Senyonjo to defeat Uganda's anti-gay bill, but everything is shaken by the brutal murder of David Kato. Bridgeroom tells the story of two young gay men whose relationship is cut short when one man falls off the side of a roof and dies, with the aftermath detailing "how people without the legal protections of marriage can find themselves completely shut out and ostracized."
---

Outstanding Reality Program
I am the worst w/r/t Reality Television because I hate all of it! However, Dream School has a transgender character named Alan, who dropped out of high school because of bullying, and he becomes besties with 50 Cent and from what I've seen of the show — which also features lesbian finance "guru" Suze Orman — it's a pretty solid production! Cyndi Lauper: So Unusual follows the life and loves of LGBT ally Cyndi Lauper. "Gospel prodigy turned larger-than-life Bounce Star" Big Freedia's show, Big Freeida:Queen of Bounce, is Fuse's most popular original series ever and a great platform for its star who is "on a mission to take New Orleans' Bounce music from the clubs of Canal Street to the top of the charts and the great arenas of the world." Small Town Security features a transgender security specialist named Dennis Croft. Also, Project Runway still exists!
---

Oustanding Comic Book
I brought in our Comics Expert Mey for this one:
It's good to see so much representation for the queer ladies in this year's nominees. Although it would be nice if more of the creators were women to go along with the characters. First of all, we've got Batwoman, written by W. Haden Blackman, J.H. Williams III and Mark Andreyko from DC Comics. This comic is probably the frontrunner (at least among comic fans) for its groundbreaking role as the first DC title headlined by a queer woman and it's gorgeous art, unique style and brilliant writing. Plus, it's one of the few DC titles that hasn't been completely ruined by the New52 relaunch (that is until the creative team left because the title character wasn't allowed to marry her fiance). Still, this was a great year for Batwoman, one that featured her teaming up with Wonder Woman, asking her girlfriend to marry her, and her title continuing to have dark and intense writing and some of the most unique and groundbreaking art in all of mainstream comics.
Life With Archie, by Paul Kupperberg, is probably the other title most people will be most familiar with. Even though he's definitely not nearly the cultural icon he used to be, people still look to Archie and see a representation of wholesome American values, so that's what makes it so great that not only did they introduce a gay character, Kevin Keller, but the comic has continued to highlight and support him, even throwing things in the face of protests from the likes of One Million Moms.
Husbands is an alternate universe comic book version of a sitcom that is billed as "the world's first marriage equality comedy" and is written by Jane Espenson and Brad Bell.
My two favorites of the bunch are these next two. First, there's Marvel's Fearless Defenders, written by Cullen Bunn. This was one of the few all-female superhero teams at either of the big two comic companies. Featuring characters like Valkyrie, Misty Knight, Dani Moonstar and Dr. Annabelle Riggs. Riggs was one of Marvel's few lesbian characters, and they unfortunately killed her off pretty early on. They redeemed themselves a little by bringing her back from the dead (only to share a body with Valkyrie), but the death still rubbed a lot of readers the wrong way. While the art was sometimes a little too "Escher Girl," it was great seeing a comic book about a team of badass lady superheroes kicking butt and having a good time together. Even the supporting cast was filled with other ladies, ranging from Hippolyta, the queen of the Amazons to Clea the sorceress and Elsa Bloodstone.
Now, the final nominee is Young Avengers, by Kieron Gillen and Jamie McKelvie. Another Marvel title, this book takes a bunch of the young superheroes of the Marvel world (Hulking, Wiccan, Hawkeye, Prodigy, Kid Loki, Noh-Varr and Miss America Chavez being the main group) and sends them off on adventures as a teenage version of Marvel's greatest superhero group. This book was revolutionary in the way it portrayed young superheroes. I don't think I've ever seen a superhero comic that seemed to capture what it's like to be a teenager this well since the initial run of Runaways. The writing was funny and exciting and filled with great references, the art was fresh, cool and included page layouts that you couldn't find anywhere else. Plus, by the end of the series, literally the entire team was revealed to be queer except for one character who many fans are still holding out hope for. While some of the storylines were definitely driven by the character's relationships (and therefore their queerness), this was not an explicitly queer title. Everyone just turned out to be gay. It was a mainstream comic that happened to feature 90% queer characters. Instead of having one or two token queers on the team, it took a more realistic approach, showing a group of queer people sticking together. Seriously, how many queer people living in New York hang out with an exclusively straight crowd? Not only did this book feature a huge group of unique and fully fleshed out queer characters, but it also featured several queer people of color. This title was a breath of fresh air and never stopped being fun to read or relevant.
---
Media Journalism Awards
There is a lot happening in this area this year! We've linked up these bits so you can watch, read and learn for yourself and decide who should be declared Queen of the Prom.
Outstanding TV Journalism – Newsmagazine
"Chris to Kristin: A Navy Seal's Secret" Anderson Cooper 360 – CNN
"India's Third Gender"The Stream -Al Jazeera America
"The Rebounder: The Kenneth Faried Story" E:60 – ESPN
"Transgender at 11: Listening to Jazz" 20/20 – ABC
"The Welcoming Movement" To the Contrary – PBS
Outstanding TV Journalism Segment
"Gay Rights at Work" MSNBC Live with Thomas Roberts – MSNBC
"Portman Reverses Position on Gay Marriage" Starting Point – CNN
"Pride & Prejudice" Melissa Harris-Perry – MSNBC
"Scouts Dishonor" The Last Word with Lawrence O'Donnell – MSNBC
"Wild Blue Yonder: Scott Hines" The Rachel Maddow Show – MSNBC
Outstanding Newspaper Article
"Boy or Girl? Gender a New Challenge for Schools" by Martha Irvine – Associated Press
"Gay Ex-mayor Who Fled U.S. Awaits Immigration Change" by Jeremy Roebuck – San Antonio Express-News [San Antonio, Texas]
"LGBTQ in the Capital" (series) by Melissa Griffiths – Juneau Empire [Juneau, Alaska]
"Poor Black and Hispanic Men Are the Face of H.I.V." by Donald G. McNeil, Jr. – The New York Times
"Why Bisexuals Stay in the Closet" by Emily Alpert – Los Angeles Times
Outstanding Magazine Article
"The Hidden War Against Gay Teens" by Alex Morris – Rolling Stone
"Owning the Middle" by Kate Fagan – ESPN The Magazine
"The Perfect Wife" by Ariel Levy -The New Yorker
"What's Wrong With Exxon?" by Antonia Juhasz – The Advocate
"Why Gay and Lesbian Couples Pay More" by Carolyn M. Brown – Black Enterprise
Outstanding Digital Journalism Article
"How Fallon Fox Became the First Known Transgender Athlete in MMA" by Loretta Hunt – SportsIllustrated.CNN.com
"How One Lawyer Turned the Idea of Marriage Equality into Reality" by Chris Geidner – Buzzfeed.com
"Prime Timers: Spotlight on LGBT Seniors" (series) – Advocate.com
"Repression and Gay Rights in Russia" by Sean Guillory – TheNation.com
"Sex, Lies and HIV: When What You Don't Tell Your Partner is a Crime" by Sergio Hernandez – Buzzfeed.com / ProPublica.org
Outstanding Digital Journalism – Multimedia
"Bisexuals Get Their Turn In The White House" by Alyona Minkovski – Live.HuffingtonPost.com
"Coming Out Kicking" by Cyd Zeigler – Outsports.com
"Remixing the Trans and Hip Hop Conversation" by Marc Lamont Hill – Live.HuffingtonPost.com
"To Get Married, They Left Ohio" by Julie Zimmerman on behalf of the Cincinnati Enquirer Editorial Board – Cincinnati.Com
"We Are Here: LGBTI in Uganda" by Sunnivie Brydum, D. David Robinson – Advocate.com
Outstanding Magazine Overall Coverage
---
And, of course, once more for good measure …
Outstanding Blog
Holy Bullies and Headless Monsters
---
You can check out all the nominees in all of the categories over at Glaad.