On Saturday night, a significant number of human beings assembled at the Beverly Hilton to enjoy Ketel One- based cocktails and celebrate LGBTQ media visibility and accountability with GLAAD. Prior to the event, award nominations were announced, and possibly new outfits were purchased, and invites were distributed, and people made plans to be there or to not be there. For example, we made plans to be there, and by "we" I mean me and my beloved Kristin Russo, the co-founder of Everyone is Gay, co-director of A-Camp and host of the now-on-Autostraddle Live series Getting In Bed With Kristin Russo. By the way, my favorite GLAAD Award nominee this year is me, Riese. But they won't be announcing who beat me until the New York award ceremony in May, just so you know!
---
GLAAD Rising Stars Luncheon, March 31st
The celebration weekend actually began at the Rising Stars Luncheon on Friday, hosted by Hannah Hart and featuring some very ambitious bread baskets and very nice salads and entrees. We met Isabella Gomez, who plays Elena Alvarez on One Day at a Time, and she was really great. Kristin didn't show Isabella the dance she does to the One Day at a Time theme song, but we have our whole lives ahead of us so anything could happen.
GLAAD's Rising Star Grants Program was created to celebrate young people's commitment to enhancing LGBTQ representation within their communities and culture at large. GLAAD Campus Ambassadors are eligible for the grants, which provide funding to projects that enhance intersectional LGBTQ media advocacy and representation within the university or immediately post-graduation.
---
GLAAD Awards, Saturday April 1st
The GLAAD Awards Ceremony in Los Angeles, which also took place at the resplendent Beverly Hilton, was also full of stars, comets, planets, and other space words. Also: us!
Many bright shining orbs of light wrapped in human skin walked the red carpet, and Kristin asked all of them what gives them hope in the current political climate.
---
GLAAD Red Carpet: What Gives You Hope?
Rebecca Sugar is a g-ddamn delight and she loves Autostraddle, which, thank g-d, because  unrequited love is the worst.
YOU give me hope! This! My wonderful friends and family that acknowledge that I exist. The chance to get to make art that is a reflection of the truth. I feel like as long as we continue to have that opportunity, we're moving — this is going on, the world is demanding interesting stories that are about the real world, now more than ever. They're demanding that entertainment be good and that it be interesting because it's real and people want human stories and there are humans here that have stories that should be told.
---
Chyler Leigh & Floriana Lima, Supergirl
Obviously Alex and Maggie were also stoked to talk to Autostraddle because y'all are SUCH A PASSIONATE FANDOM.
Chyler: Family. I mean that's the biggest thing for me. It's the greatest motivator in my life anyway. Within my household or my other household… which is our set. It's just all about the significance and importance of support, and being loved and feeling loved and knowing that you are worthy of love. That's a big lesson that we that we teach in my house, my husband and I, with our kids. It's a constant in our lives. Support. It's incredibly important.
Floriana: I agree. I think love is the one thing that keeps me going, from the people who are in my life and my friends and my sweet Chyler here. The biggest thing about all of this is that we just need to keep loving and keep going and working towards what we all really believe in.
Chyler: Also, the fans. The people that we're reaching.
Floriana: That's huge.
Chyler: The stories that we're hearing… it's literally like soul food. Whether they're really positive stories, or even the disheartening dark stories — they both give all the more reason for us to be doing what we're doing, to be standing up for a community that really really needs it and to be doing something that's truthful and honest. And we're giving other people hope and that in turn is what keeps our wheels spinning, and finding new ways to reach out and be a part of a community that we absolutely love.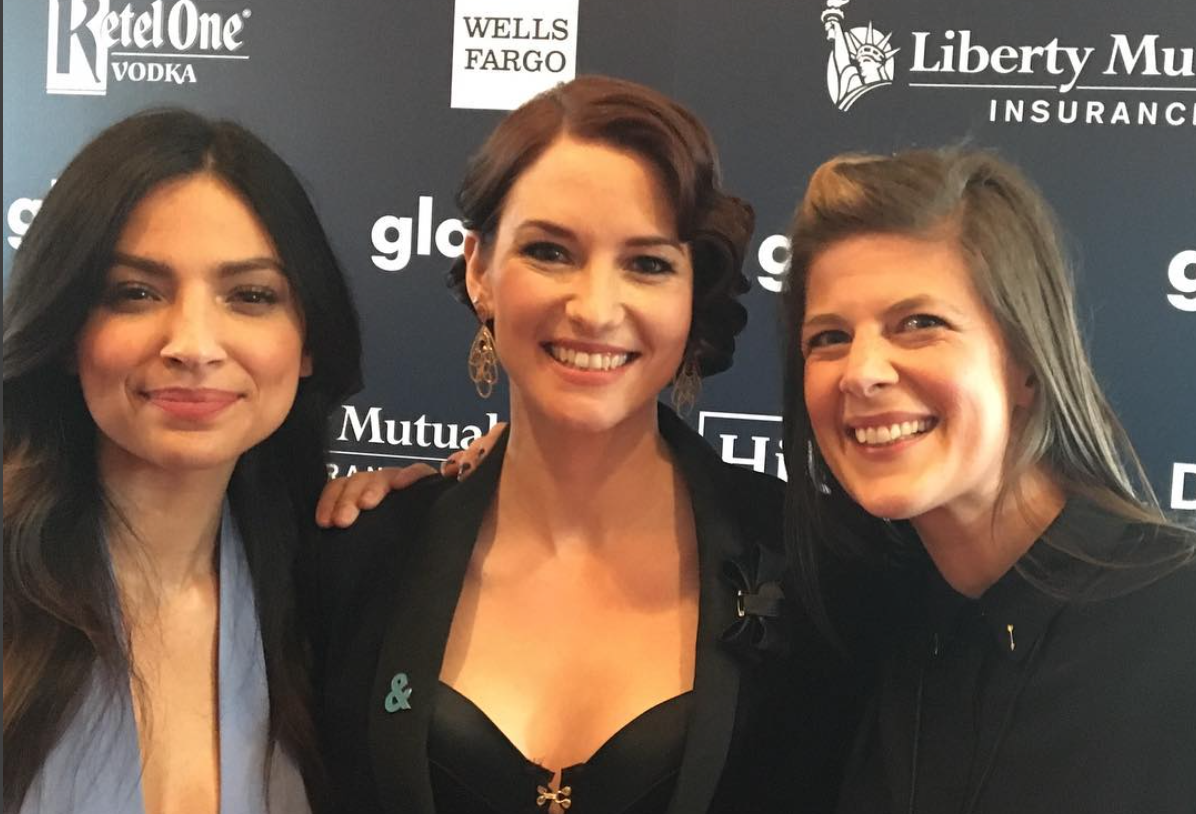 ---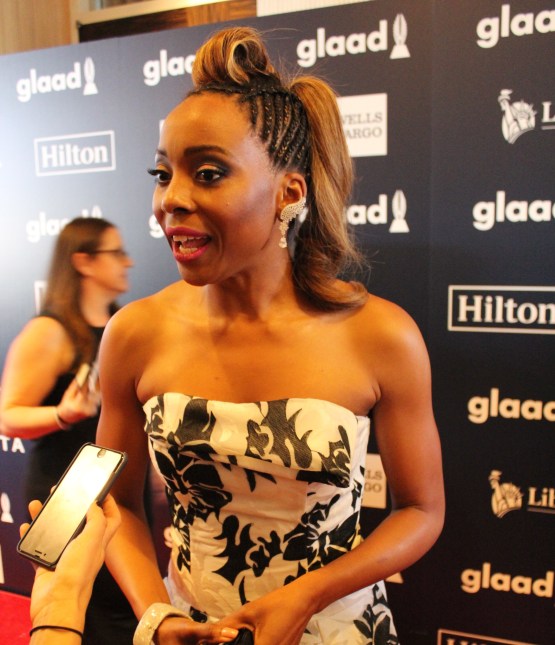 I told Erica Ash that she plays the most underrated lesbian TV character on television and she was very nice about it.
"I'm seeing a trend of American citizens — even though the powers-that-be feel a specific way about inclusion, what I'm loving is that American citizens are banding together in solidarity against that. We're talking amongst each other and saying how much we disagree with the fact that he's blocking people and keeping people out of this country and saying "you're okay, but you're not," and American citizens are kinda coming together, and I'm loving that unity. We have to take our victories where we can get them these days."
---
Alexandra Billings: The Trump administration brings me hope.
Kristin: Go on…
Alexandra: Because the fact of them. We are seeing a polarizing of the American ideal, and if we are able to create that, we are able to create its opposite. And we did. I really believe that what they're doing is showing us, in a really profound way, how priceless and precious freedom is. So that gives me hope.
---
"Moonlight winning the Oscars causes me to be hopeful. The fact that Transparent is nominated tonight. That we can get outside of some of these recycled Hollywood stories and into the stories of some more marginalized folks and their journey. That gives me hope."
---
Cameron Esposito & Rhea Butcher, comedians and co-creators of Take My Wife
Cameron: My wife gives me hope.
Literally everybody else: Awww!!
Cameron: You know, I watched Rhea pick out this suit that she's wearing and it just means so much to me that I'm with someone who's as comfortable as Rhea is in her skin, and it's just really inspiring. I feel like I'm trying to be more like that every day.
Rhea: Cameron! You're going to make my makeup that I don't wanna be wearing run down my face!
Kristin: So she's helping you in many unexpected ways tonight.
Rhea: Thank you for the makeup removal via tears.
Kristin: That was very nice.
Rhea: I mean, I can't top that!
Cameron: So nothing is giving you hope?
Rhea: No, I mean… my wife is giving me hope. I mean she's been a leader since the moment I met her and an organizer and a changer of hearts and that's what we need to keep doing. And the other thing that's giving me hope is how much our community is coming together and opening up and understanding each other and listening to each other. It seems like there's a lot of negativity but throughout all of it there's a lot of connectedness and family, and I think we're really getting back to our core strength which is loving each other.
Cameron: Yeah, and that's why the work that you guys do matters so much. There's a lot of news organizations that cover this today, but you're covering it every day.
Rhea: Well, that's a tagline for ya!
---
Jacob Tobia, advocate/writer/producer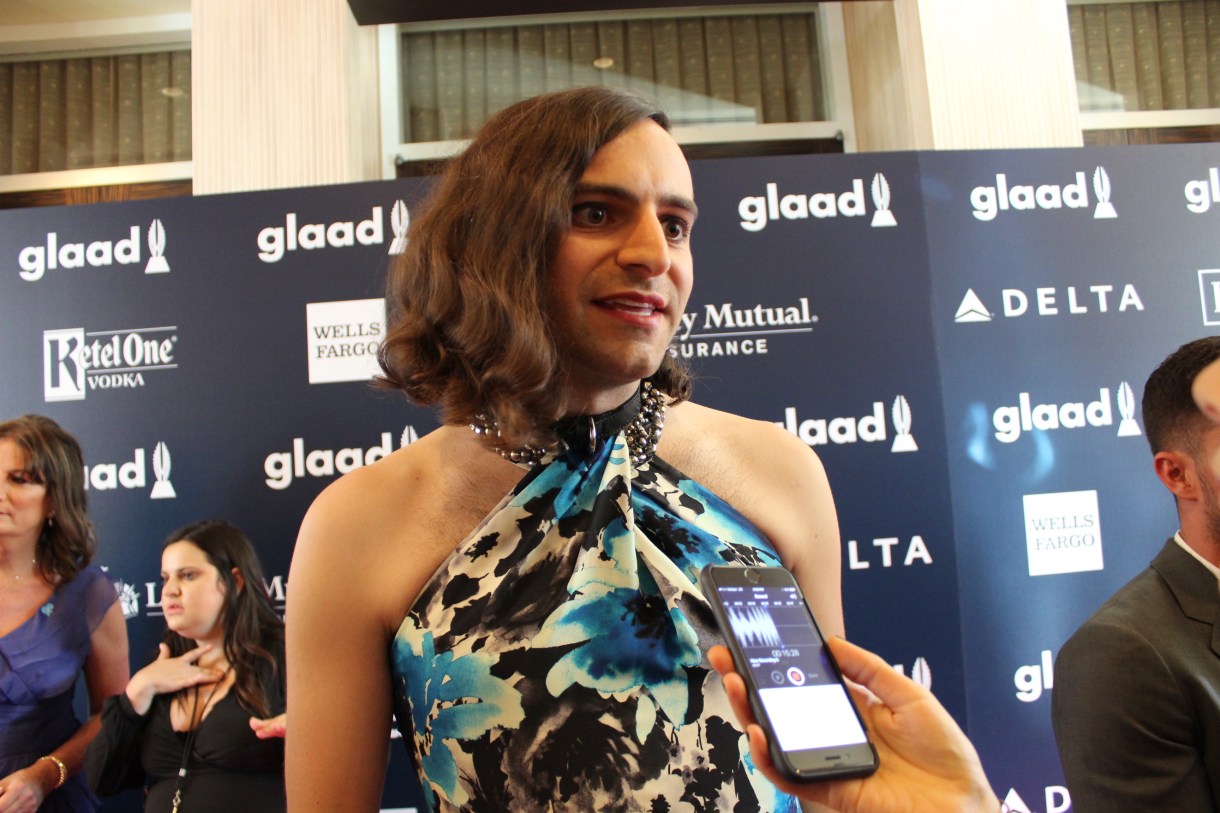 "Queer history gives me hope. Because every time I read about where we've come from and where we've gone, when I think about really incredible queer leaders, like Sylvia Rivera, Marsha P Johnson and Miss Major Griffin-Gracy — when I think about all the elders who came before me I think: we can get through this. You can get through this. They did it, you can do it. We can do it."
---
Luke Perry, Riverdale (but obviously DYLAN MCKAY FROM BEVERLY HILLS 90210)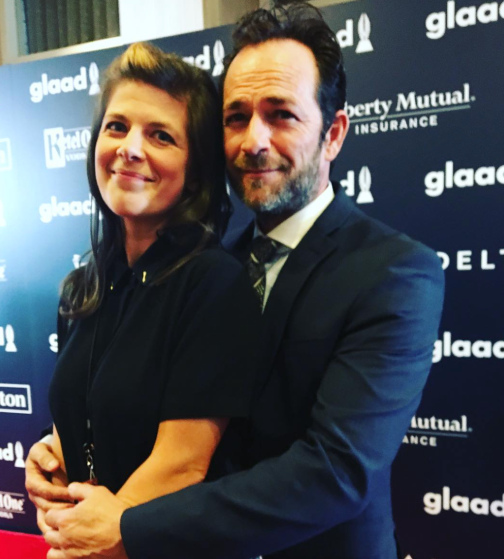 On the red carpet there are handlers who ask you ahead of time if you want to talk to the next person coming your way, and after turning down a male human for the 56th time, we just went ahead and informed them that "we don't want to talk to any men except for Luke Perry." And we did! And he was very sweet.
Luke: My children. My daughter who picked out this tie. She wanted me to look like Tim Gunn tonight. I'm hoping I do.
Kristin: That's kinda on brand.
Luke: That's kinda what I'm going for, yeah. Let that be read and let that be known, I'm a huge Tim Gunn fan.
Kristin: Tim Gunn brings you hope?
Luke: Tim Gunn brings me hope.
---
Nneka Onuorah, director of The Same Difference documentary
"Seeing more stories with people who look like me, a black lesbian woman, gives me hope, Seeing more stories told authentically on screen. I think as people in positions of power in media, we have the power to influence the world with our art. So seeing movies like Moonlight, seeing Hidden Figures, that's inspiring. And I think that it's really creating change in the world."
---
Sarah Kate Ellis, GLAAD President/CEO
"A night like tonight gives me a lot of hope, when people gather around to celebrate the great achievements that we've made for the LGBTQ community and also to look at what the plan is moving forward — how we're going to protect all that we've achieved and how we're going to protect the most vulnerable in our community."
---
Kylar W. Broadus, trans activist / writer / lawyer / professor / lobbyist / public speaker
"The resilience in the streets gives me hope. People not backing down. Our unity that has come forward during this time of need. We cannot back down, we must continue our resilience against the backmindedness that has taken over in this country. We are all human beings and that resilience must continue and that gives me hope."
---
Shelby Rabara, Steven Universe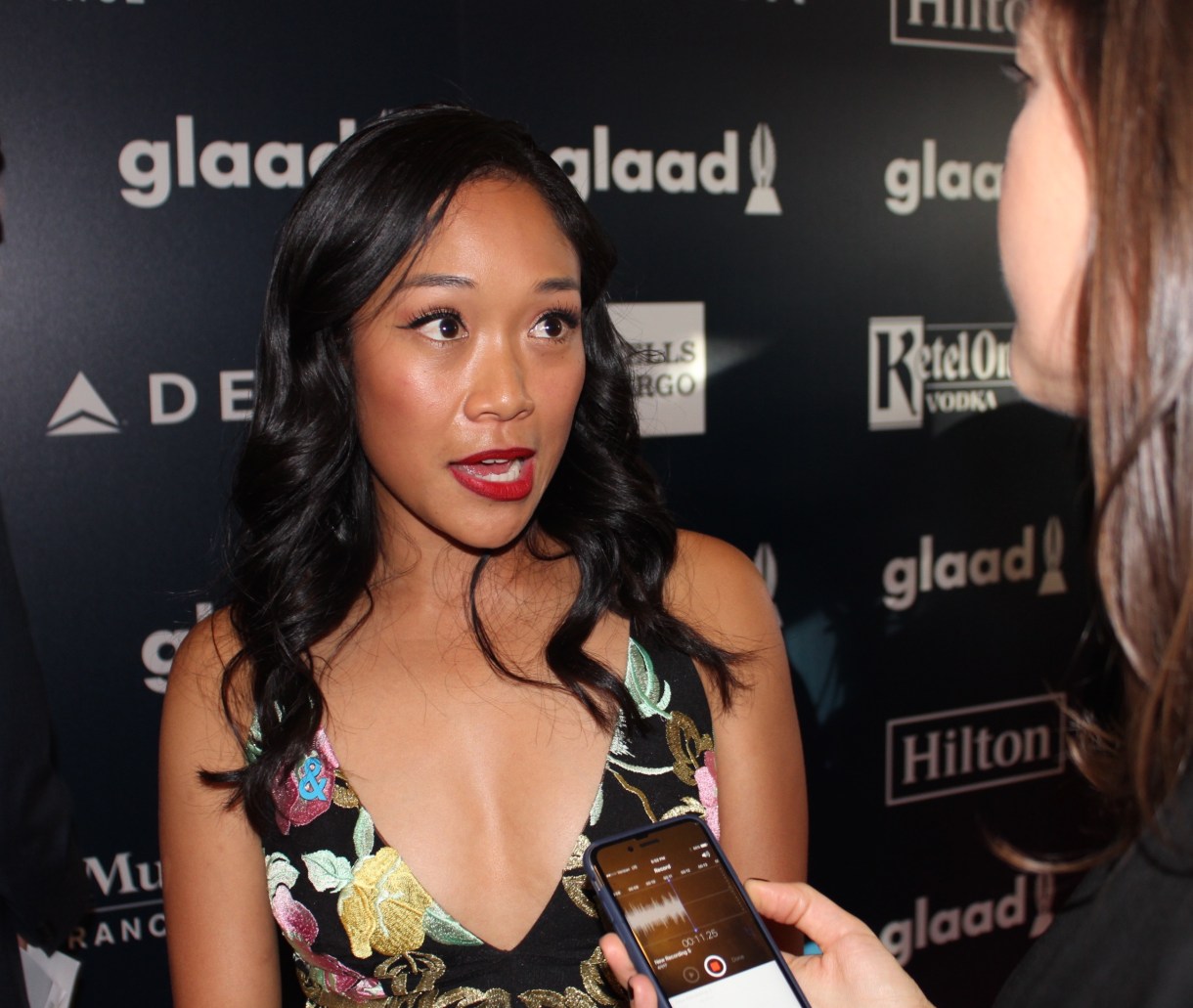 "LGBTQIA representation in childrens media, actually, gives me hope. I'm in the show Steven Universe, I play Peridot, and we're nominated for best comedy series tonight and I think being on a show like that gives me hope because we're educating young kids that it's okay to be different, and it's okay to love someone of your same gender, and it's okay to identify as different gender identities. Working with Rebecca Sugar and the rest of the Steven Crewniverse gives me hope. When I'm recording, it's not just a voiceover job. I feel like I'm really adding to a show that is really making a difference. So I think being a part of Steven Universe really keeps me going and it really gives me hope because I had so many kids come up to me at Comic Con and say to me thank you so much for your work, we really identify with Peridot, we identify with her angry outbursts because she says whatever she wants. Just being a part of a show that has so much children's visibility with the subjects we cover gives me so much hope, and that makes it easy to wake up every day in this current climate."
---
The GLAAD Awards Ceremony
Cameron Esposito was my favorite GLAAD Awards host of all time. Very good at jokes and hosting!
Patricia Arquette received the Vanguard Award, presented by Jeffrey Tambor and Luke Perry, who spoke, as did Patricia, about the late Alexis Arquette, Patricia's trans sister who died last year. Luke and Alexis had been friends for decades, and he choked up introducing Patricia. From Patricia's speech:
Alexis challenged the movie industry at its core. She had a very successful career as an actor. Alexis knew she was risking losing work by living her truth. That she would lose parts by living as a trans woman. She risked it all because she couldn't live a lie. Whatever mark I have made in this life in activism will always pale in the light of Alexis's bravery. She did not knock on the door of progress. She kicked the door open.
Transparent won for Outstanding Comedy Series. The cast and crew came together on stage but let trans women have the mike, lead by Alexandra Billings.
Moonlight won for Outstanding Picture – Wide Release, and they got that right the first time! There were only two nominees in this category this year but I think we all know Moonlight would've won even if there had been 500 nominees.
Troye Sivan, the youngest-ever recipient of the Stephen F. Kolzak Award — presented to an LGBTQ media professional who has made a significant difference in promoting equality and acceptance — was very impressive.
He spoke on the importance of LGBTQ media representation, as did everybody, but he also did a really important thing for a young white cis gay man to do, which is to pay tribute to and draw attention to those who came before him.
"While I'm so thankful and fortunate to have this award, I'd like to share it with the warriors who made it possible but maybe didn't get one for themselves. So, this award is for Peter Staley, one of the featured activists in How to Survive A Plauge. Peter was one of the driving forces behind ACT UP!, the founder of the Treatment Action Group, and a personal hero of mine. This is for Marsha P Johnson and Sylvia Rivera, the godmothers of the Stonewall riots who also founded a transgender rights group in the 1970s. This is for Bayard Rustin, an openly gay civil rights leader who worked alongside Martin Luther King Jr and was largely written out of history due to homophobia. This is for Gilbert Baker, the creator of the rainbow flag, a symbol of pride who we sadly lost yesterday. This is for the Edie Windsors and the James Baldwins of the world, and the list goes on."
---
For more pics and videos from the GLAAD awards, check out the GLAAD blog, Facebook page and instagram tag.