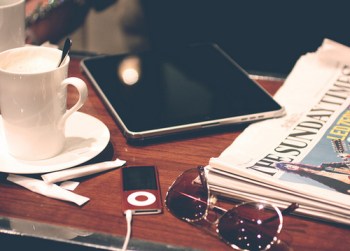 HELLO and welcome to the 80th installment of Things I Read That I Love, wherein I share with you some of the longer-form journalism/essays I've read recently so that you can read them too and we can all know more about Mormons who work at Pixar! This "column" is less feminist/queer focused than the rest of the site because when something is feminist/queer focused, I put it on the rest of the site. Here is where the other things are.
The title of this feature is inspired by the title of Emily Gould's tumblr, Things I Ate That I Love.
I Was Paid $12.50 An Hour To Write This (June 2013), by Noah Davis for The Awl – I really liked this. If I were to think about the actual monetary value of each thing we write though I think I would probably get a migrane, considering almost all our income comes from your donations & merch purchases, not from advertising, but ANYHOW I think the whole thing is chock-full of really valid points!
Owning the Middle (June 2013), by Kate Fagan for ESPN Magazine – Amazing article about Brittney Griner with a particular focus on her sexual orientation and gender presentation and how that has evolved over time and being harassed for her gender expression and also a lot about her fashion sense and what it was like to be forced into the closet at Baylor and all this other stuff. I think we've maybe already posted this article on the site elsewhere but I read it just now and so should you. Photographs by Cass Bird!
When Hollywood Wants Good, Clean Fun, It Goes to Mormon Country (May 2013), by Jon Mooallem for The New York Times – Apparently Brigham Young's animation program is becoming a feeder school for Pixar and Dreamworks to find new talent – "They don't smoke or drink, and I noticed that one faculty member, for example, kept saying, "Holy schnikeys!" whenever he wanted to curse. And yet creative types in Hollywood kept raving to me about how much "more worldly" these Mormons were than the moody, Gen Y art-school grads coming out of New York and Los Angeles and how grateful they were to have them onboard."
A True War Story (May 2013), by Simone Gorrindo for Vela Magazine – The author, a writer raised in the Bay Area, goes to a Tim O'Brien reading in her new home of Columbus, Georgia, and O'Brien talks about his decision to go to Vietnam and "when intellect comes up against reason" and it prompts within her a reckoning of her husband's decision to enlist in the army now.
The Long Con (June 2013), by Michael Rubino for The Indianapolis Monthly – I wasn't necessarily gonna read this one, because whatever, but my girlfriend read it and said it was good, so I read it and it was good, like how an episode of a crime show is good. There's a twist!
Dear Leader Dreams of Sushi (July 2013), by Adam Johnson for GQ – "North Korea is a mythically strange land, an Absurdistan, where almost nothing is known about the people or, more important, their missile-launching leaders. There is, however, one man—a humble sushi chef from Japan—who infiltrated the inner sanctum, becoming the Dear Leader's cook, confidant, and court jester. What is life like serving Kim Jong-il and his heir? A strange and dangerous gig where the food and drink never stop, the girls are all virgins, and you're never really safe."
The Last Days of Jam Master Jay (December 2003), by Frank Owen for Playboy – "In 2002 the famed DJ was gunned down, leaving behind a trail of corruption, violence and betrayal. But who pulled the trigger?"
The Bookstore Strikes Back (December 2012), by Ann Patchett for The Atlantic – In which Ann Patchett decides to solve Nashville's bookstore problem by starting her own independent bookstore, which her partner sets up while Ann talks it up while on her latest novel's book tour. I really liked this story and it gave me lots of ideas.
Writer of Color (June 2013), by Zahir Janmohamed for Guernica – "I came to this workshop to understand if my sentences work, if my pacing is effective, and not to be told I need to write about countries I have never visited just because I share the same faith."
The NRA's End: A Real Gun Control Movement Has Arrived (June 2013) by Alec MacGillis for The New Republic – This article made me feel a whole lot better about America's future w/r/t gun control. Like that apparently the fact that the background checks bill lost is turning out to be a good thing because it's a catalyst for citizens and lobbyists to put more pressure on politicians than the NRA does, which is easier said then done, of course.
I Know What You Think Of Me (June 2013), by Tim Kreider for The New York Times – This doesn't really qualify as a "longread" or anything, but it's still one of the best things I read all week. "We don't give other people credit for the same interior complexity we take for granted in ourselves, the same capacity for holding contradictory feelings in balance, for complexly alloyed affections, for bottomless generosity of heart and petty, capricious malice. We can't believe that anyone could be unkind to us and still be genuinely fond of us, although we do it all the time."