BUTCH PLEASE is all about a butch and her adventures in queer masculinity, with dabblings in such topics as gender roles, boy briefs, and aftershave.

Header by Rory Midhani
---
I cut my hair about twice a month, sometimes more. My hair grows faster than I can usually keep up, so I've become well-acquainted with the kitchen floor buzz from a drunk best friend. Now that I'm an "adult" with an "adult career path," I get my hair cut at a salon, which feels like a mature life decision even if it's only about fifteen bucks a cut. I show them photos on my phone of schoolboys in the 1930s, or Justin Bieber. Usually Justin Bieber. And I say, make my hair look like Justin Bieber, but gayer and more kind-natured.
That post-haircut feeling is irreplaceable. My neck may feel like a bed of red ants, and there may be enough hair on my face to stock a drag king for a year, but I feel like a million bucks. My hair reflects the way I feel inside. My hair is the way I wanted to cut it for years and years and years, and that feels goshdarn great.
When I was a tiny Catholic schoolgirl, one of my teachers said that short hair was not ladylike, and little girls with short hair would grow up to have bad manners and skinned knees. And an adolescent me heard that girls with short hair did gross things with other girls, and they were ugly and mannish and I shouldn't want to be like them. Cutting your hair off was a "big deal." In movies and books, it usually came with a psychotic break or a huge life change or a sign that the character meant business. Well, I mean business, even if it's the kind of business that is conducted by buying a lot of short sleeved button-ups and being knocked over by intense emotions.
I was born with a full head of hair. Thick black hair, actually, and according to family lore, the first thing my grandfather said when he saw me was, "Damn, it looks like he's got a bear up there." 'He,' because until the moment my slick little baby body was fully exposed, all the doctors and old wives had said that I was going to be a boy. So sure were they of my gender that they had a blue hospital onesie and blanket ready in preparation. The nurse had to go get a bow for my hair so they'd know the difference when they went to look for me in the Special Needs Unit. A tiny pink bow clipped to my brand new hair, and bam! Gender.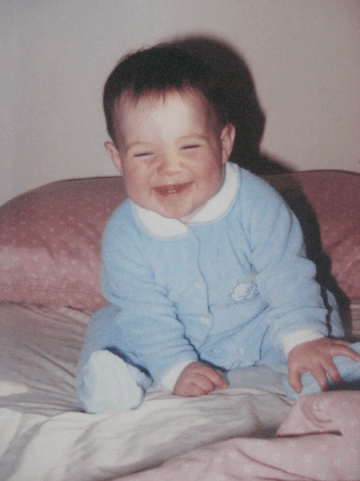 My hair was grown out for the next five years. My dad was given the task of braiding it every morning, but by the afternoon it was out of its well-meaning plaits and flying around my head. My hair was thick, coarse, and usually a tangled mess. I hated combing my hair because there were always knots, so the process was more of a punishment than anything. I avoided hairbrushes, and since I usually ran outside to play immediately following my baths, any effort to detangle was moot in a heartbeat. Apparently my hair was very compliment-worthy, and my parents were always hearing what beautiful hair their daughter had.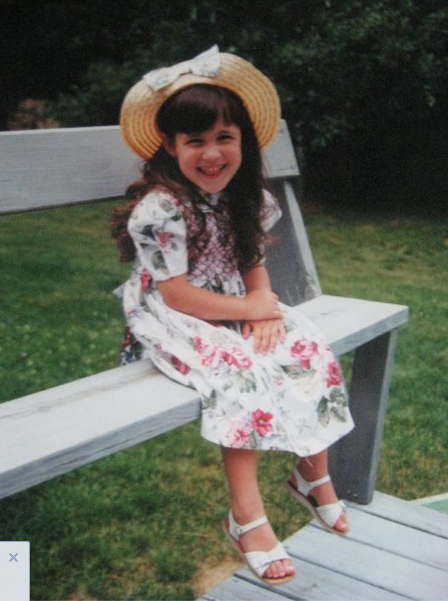 I got my first haircut at five not because I had any interest in a shorter style, but because it would be much easier for my parents than the daily ritual of wrangling me into a chair and attempting to get me to sit still long enough to detangle my wild mess. I had a pageboy bob to go with my new plaid uniform. I spent the next fifteen years growing my hair out at various lengths, only sometimes trimming it to my shoulders.
When I was ten years old, a lady in a pink dress looked me over and told me that my hair was my best feature. Don't let her cut it, she said to my mother. I had those words tucked in between my ribs for years. If I got rid of my best feature, would I have any worth? She hadn't said anything about my pimply face or my lack of breasts or my sticky-out hips, so she must have known the same thing I'd told myself: that they were ugly, and something to be hidden away, erased if possible. Boys didn't like me, and people didn't tell me I was pretty. I had to keep my hair long, or I'd be all the things I secretly thought to be true.
When I first came out, I kept my hair as it was. I didn't cut it, but I thought about cutting it. I thought about cutting it a lot. But I did not cut it. I felt like people might be more accepting of my queerness if I wasn't *that* queer, if it was one small facet of my personality that you'd never know unless you asked. I felt like it was more comforting to my parents if I still looked like their old daughter. I might be a lesbian, I wanted to say, and you might not like that about me, but I still look like a "normal" girl. I'm still the girl you wanted me to be, the one who wears dresses and gets good grades and doesn't fuck up. I know you think that this queer thing is part of fucking up. It might be harder to love me now, but I'm trying to make it easier for you anyway.
My family was not the only reason I hesitated to cut my hair. I was already losing friends and receiving negative reactions to my coming out, so I thought that the less I changed about myself, the less likely people were to interpret my new queerness as a bad thing. Looking back now, it only makes me sad to think of how much queer people are asked to hide and shrink away and accommodate everyone else in an attempt to feel a little of the love that society tells them they don't deserve. Coming out is planned around other people, and based on the least amount of negative impact. Queer issues aren't brought up around family or loved ones so as to not make them uncomfortable. Complaining in the workplace isn't done as often as it should be, for fear of making drama or being pigeonholed. I have done these things, or my friends have done these things, or someone we know has done these things. We shouldn't have to do these things, but we do.
Now, hair is part of my queer ritual. I cut my hair off when I was twenty. It was representative of a lot of major changes in my life, including a final departure from my worst year of depression, anxiety, and self-harm. The partner I had at the time hadn't been jazzed about my new style, as she claimed that it threatened her masculinity. Out of a combined fear of her words and my own perceived ugliness, my first short hair cut was on the feminine side of things. I also hadn't known how to explain to the hairdresser that I wanted a short cut like a boy, not like a girl, so I'd nodded quickly when she'd finished and said everything was fine. Because it was a feminine cut, my mother seemed to be okay with this new style. I was still wearing "girl" clothes. I was still not obviously queer. I was still easier to love.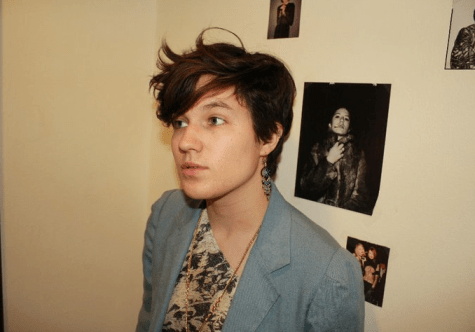 When I was a senior in college, my best friend and I started cutting each other's hair. We were not always sober, but the ability to shave off whole patches of our heads in mismatched ways was one of the most empowering things I've ever done with my body. The fact that my hair, unquestionably queer and strange and masculine, was now such a huge part of my self-care was monumental. I am more than willing to spend an hour on my hair now. I have at least three hair products with me at all times. I always have a comb, and it is frequently employed to fix any strays. I have had multiple styles over the last two years, and I've loved them all. This happiness involving my hair is tied in part to being unapologetically recognized as queer, but even more, it's tied to being in control of how I look, how I present, and feeling comfortable enough to do with my body as I please.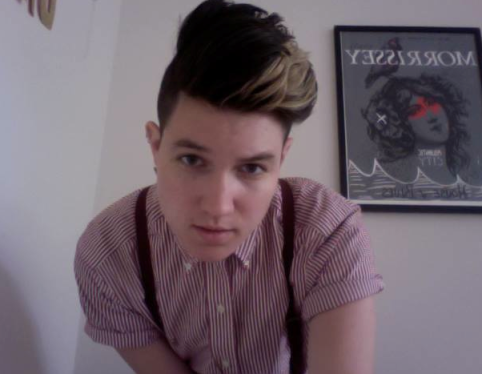 A very special note: To my long-haired butches, you're damn gorgeous, too, and I may be joining you. I've been told by many that my jawline and cheekbones were too big and unsuitable for long hair, but I'm in that place where I'm sick of people telling other people how to make their body smaller. Masculinity doesn't mean short hair, and you're living proof. Butches are butches no matter their hair, their style, the way they walk or talk or fuck or love. If you say you're a butch, you're a butch, baby, and you're butch enough. Don't let anyone or anything tell you otherwise.