We all understand that Valentine's Day is the second-most contrived of all of American 'holidays,' coming in just behind Grandparents' Day. But that doesn't mean you can't still have fun and hopefully get laid! You're going to need a Fun Plan, though, and that's where we come in.
First, make sure you've got the look — Becky's got you covered with her Valentine's Day Style Guide.
Secondly: Keeping in mind that the way to a girl's heart / hips is through her mouth, you're definitely going to want to feed her.
Intern Hot Laura, Intern Rachel (of Prop 8 Trial Recapping Fame), Associate Editor Sarah F*cking P*lmer and I (Exec. Editor Laneia) are here with four yummy recipes that are sure to impress your paramour.
After you've finished baking up a wild, sexy storm, tell us how you usually work your magic on Valentine's Day. Any favorite recipes or successful strategies you'd like to share? Or what about that time you tried to cook a fancy French meal for your girlfriend, but ended up calling out for pizza because you burned down the kitchen? Share your tips and stories in the comments!
Homemade Oreos: Laura
Sugared Shortbread Cookies: Sarah
Hummingbird Bakery Red Velvet Cake: Rachel
Triple Chocolate Brownies: Laneia
---
Homemade Oreos by Laura

a.k.a. Will you marry me? Want a cookie? How about now? How about now?
These cookies are kind of magic because everyone who eats them instantly falls in love with you! The recipe makes about a zillion cookies, so you could cut it in half if you'd like. But that would be stupid because then you'd only make half as many friends/girlfriends.
Cookies
2 boxes of devils food cake mix
4 eggs
2/3 cup of vegetable oil
Mix all that stuff up. Also, a note on mixing: The dough ends up being really, really thick and difficult to mix, so either use an electric mixer (if you're savvy) or your hands. Spoons aren't recommended.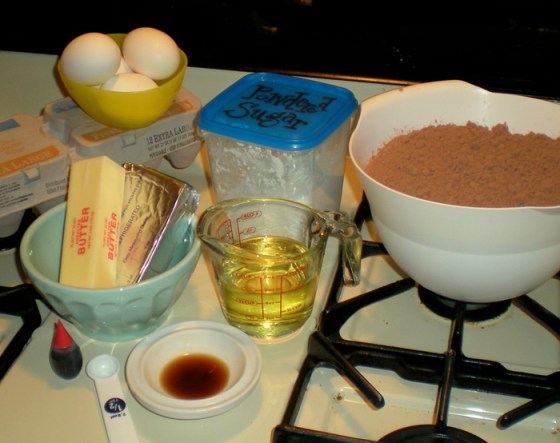 Shape the dough into balls, making them slightly smaller than a typical cookie because they're going to be made into sandwiches. Bake them at 350° for 6-8 minutes. Check them at 6 minutes because no one likes hard cookies. (That's what she said! Ohhhhhh!)
Filling
1 stick of butter
8 oz cream cheese
1/2 tablespoon of vanilla
3-4 cups of powdered sugar
Red food coloring, if you need everything that you bake during the month of February to scream "VALENTINE'S DAY," as I do.
Mix the butter and cream cheese together first, then add in the rest! When the cookies are cool, ice half of them (on the flat side, obvs) and them stick them together with un-iced ones. Hello, you just made a sandwich cookie!
These are 800 times more moist and delicious the day after you make them, so stick them in a baggie and wait til the morning.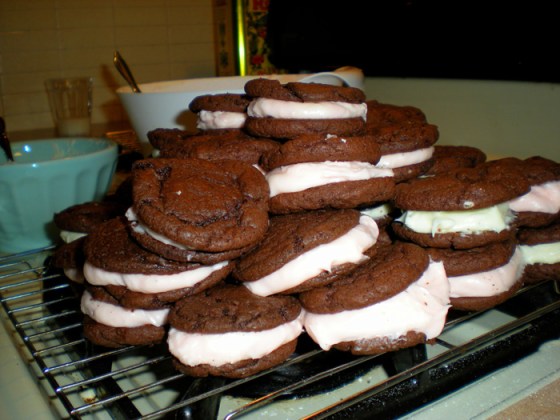 ---
Sugared Shortbread Cookies by Sarah F*cking P*lmer

These are actually sablés, which are French butter cookies. That's right, the main flavor here is butter. How could you go wrong? This particular recipe is from my FAVORITE BAKING BOOK OF ALL TIME, Dorie Greenspan's Baking: From my Home to Yours.
Anyone who wants to bake, or already loves to, should own this book. It has the best recipes for all the basics, including cake, biscuits, pies, tarts, and all sorts of cookies. BUY IT.
Notes
+ This dough requires a few hours of refrigeration, so plan accordingly!
Ingredients
2 sticks (8 oz.) unsalted butter, at room temperature
1/2 cup sugar
1/4 cup confectioner's sugar, sifted
1/2 teaspoon salt, preferably fine sea salt
2 large egg yolks, at room temperature
2 cups all-purpose flour
1 beaten egg
Coarse decorating sugar
You can do this with a stand mixer or a hand mixer. In a large bowl, beat the butter until it's smooth and creamy. Be careful not to whip the butter (i.e. mix in air) because that is unnecessary for this particular cookie.
Add the granulated sugar + confectioner's sugar + salt and beat until blended, about 1 minute. Reduce your mixer speed and mix in the yolks, one at a time, until everything's combined or your arm gets tired, whichever comes first.
Stop mixing and dump in the flour. Carefully pulse the mixer to combine the flour and butter mixture. The key here is to not overmix the dough, so beat just until the flour mixes in. I suggest finishing the job with a rubber spatula (that's what she said). The dough should be kinda sandy and not fully formed into a ball.
Ok, so dump that out on the counter, make it into a ball, and then divide it in half.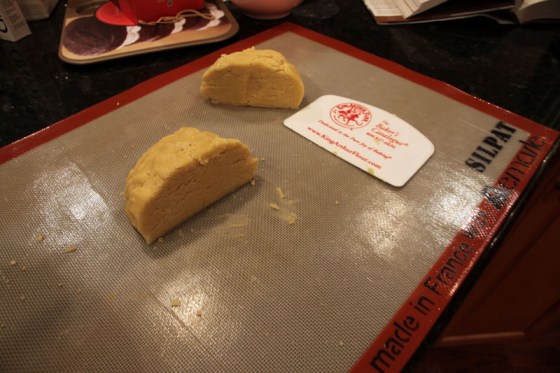 Depending on how warm your dough is, you might need to chill it for a few minutes at this point. Now shape each half of the dough into a cylinder. It's really best to put the dough on a piece of plastic wrap and use that to help you as you roll. When you have two cylinders about 9 or 10 inches long, roll them up into the plastic wrap and pop them in the fridge. Let them sit for at least 3 hours, preferably overnight. They'll keep frozen for a while, too!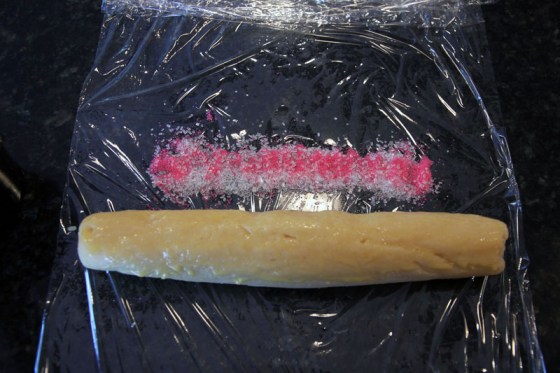 Basically what you've created is a homemade version of those slice and bake cookies you buy in the grocery store. Except these don't have a million preservatives or weird colored shapes in the middle and they taste much better! So after you've let the dough chill, bring it out and unwrap it on your work surface. Keep that plastic wrap, you'll need it in a minute.
Now it's time for the fun decorating! You'll need two things: a beaten egg with some sort of brush to apply it and coarse decorating sugar. You're looking for large grains because they won't melt in the oven. [sidenote: I did not follow my own advice and used colored sugar with a fine grain. And so it turned in to food coloring basically. DO AS I SAY, NOT AS I DO.] The whole point of this post is Valentine's Day treats, so I chose red, white, and pink sugars.
Spread out the plastic wrap on the counter, with the dough at the end closest to you. Pour out a line of sugar. Brush egg onto the dough and roll it through the sugar. Wrap the dough back in the plastic wrap and put it in the fridge until it's cool again. TRUST ME.
Now you're ready to cut your cookies! You know the drill: just slice away. Stay larger than ¼ inch, but thinner is better. Lay them out on a baking sheet, about an inch apart. Bake them at 350° for 17-20 minutes or until light brown on the edges and pale on top. Let 'em cool before you eat them; they're better that way!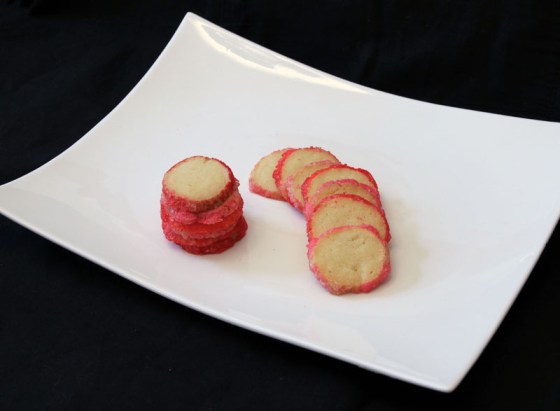 You're done! Aren't they so cute?! You should be really proud of yourself! If you want to make this recipe again, you can switch it up with different flavors. Lemon, spice, nuts, even cheese (for a savory cookie) are all great adaptations.
---
Next:
Hummingbird Bakery Red Velvet Cake by Rachel
and Triple Chocolate Brownies from Laneia!
Pages: 1 2See entire article on one page