OLYMPICS: Are you ready for the Vancouver Olympics? You better get ready! 'Cause that shit starts TONIGHT at 7:30 p.m. EST on NBC (if you live in America). Parade of Nations, bitches! I'm excited because for the next two weeks, my apartment will be full of winter sports and that one song NBC plays incessantly. In this Olympic Spirit, Autostraddle would like to drop some gay-ish winter games knowledge on you, and we're not just gonna talk about how they filmed The L Word in Vancouver:
To start, you should check out ESPN's Olympics guide for the casual viewer. It'll tell you all the fun things happening every day. Olympics coverage is usually overwhelmingly male, so SheWired has a guide to some notable female athletes.
The Olympics is usually a pretty closeted place. But this might be the gayest Olympic Games yet. For starters, there are "Pride Houses" now, which I guess is a safe, fun space for gay athletes to hang out. Sounds great! One of them is in Whistler, a gay vacay center and coincidentally also where Shane left Carmen at the altar and Jenny found that French girl, so there's bound to be some drama. Just sayin'.

Ok, these Pride Houses sounds pretty awesome and important. Keep in mind it is illegal to be gay in some of the countries represented at the Olympics:
"That's why at Vancouver's Pride House, even though the focus will be on making people feel welcome and safe, creating a space to meet up with friends and even trade pins, they also want to encourage people to share their experiences about gay life in other countries. Maps will show where it's illegal to be gay, where it's punishable by death, where it's legal to be married and where it's not.
Refugee counselors will also be on hand. "If there's an athlete, a visitor, or whatever, and they say, 'You know what I can't go back,'" because of discrimination in their home country, "we'll have people here to walk them through the process," says Jennifer Breakspear, the executive director of Qmunity, which is hosting Vancouver's Pride House. Maybe no one will claim asylum at these Games, she says, but in almost every Olympics held in a Western nation, at least one person has." (@alternet)
Sports to Watch Out For:
+ The US women's hockey team is pretty hot this year, no lie. Check out their first match against China at 3 p.m. EST on Sunday on USA. They have a big match against Finland, who knocked them out of medal contention in Torino, at 6:30 p.m. EST on Thursday on MSNBC.
+ Curling might be a big joke in the dyke community, but it's also rather fascinating once you start watching. You can catch Team USA against Japan at 5 p.m. EST on Tuesday on CNBC.
+ Women's figure skating is probs the most riveting event of the Winter Olympics, but 2006 silver medalist Sasha Cohen thinks the US women will be lackluster this year. She's probs right. The US women only won two spots this year, and Rachael Flatt and Miral Nagasu are unlikely to medal. It looks like South Korean superstar Kim Yu-Na will be the one to watch. The women's skating begins in the second week of the games.
+ Intern [Hot] Laura has a big soft spot for girls in snow pants, especially ones that snowboard. She has good taste. And we all know the snowboarders are probably the most fun athletes to get a drink with. Don't miss the women of the halfpipe at 3:30 p.m. EST on Thursday on NBC. You might remember Gretchen Bleiler from Torino: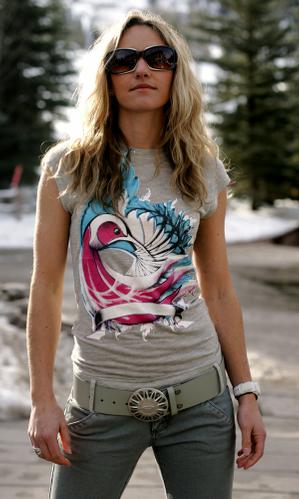 + NBC has a gallery of "model Olympians," which I think means "female athletes so hot we can objectify them." Oh well, we wouldn't mind being a part of that fun. They've also got a "Whatever Happened To…" slideshow with athletes of Olympics past, including lots of figure skaters.
Gay Athletes:
+ Our friend Heather Hogan (formerly known as Stuntdouble) (#realnamerevolution) has a great rundown of out lesbian athletes this year. There aren't many, which isn't a surprise. Netherlander Irene Wust, a speed skater, and Norwegian Vibeke Skofterud, a cross-country skier, will both be in Vancouver. And watch out for hockey players Sarah Vaillancourt of Canada and Erika Holst of Sweden.

+ Then there's Johnny Weir. He has declined to go on the record about his sexuality, but he embodies gayness, regardless of his actual orientation. I don't even care if you think that's offensive, I am telling you that it is NOT, because it is true, in the funnest, most stereotypically ridiculous senses of the word. He takes the flamboyant sport of figure skating to new levels, which you know very well if you've ever seen his show, "Be Good Johnny Weir." Johnny thinks that figure skating has no need to "butch up." Apparently that's a thing that people think skating should do.
His rivalry with Evan Lysacek, a more technical skater who used to date ice dancer Tanith Belbin, is heating up this year. As New York Magazine puts it, the two men represent the different directions the sport could go in: athletics vs. aesthetics. Michelle Kwan likens them to Adam Lambert and Kris Allen (Johnny is Adam, obvs). We know who we're rooting for. Check out the male figure skating starting at 8 p.m. EST on Tuesday on NBC.

+ We hear Jeremy Abbott, another of Team USA's figure skaters, is also gay.
A few months back we put together a pretty hot gallery of hot girls playing sports for ya, if you wanna refresh on why you should be getting ready for this jelly, etc. Happy viewing!