Are you hungry? I think maybe you should make some bread.
According to Wikipedia, bastion of facts and knowledge:
Bread is a staple food prepared by cooking a dough of flour and water and frequently additional ingredients. […] Bread is one of the oldest prepared foods, dating back to the Neolithic era, and is referred to colloquially as the "Staff of life". The development of leavened bread can probably also be traced to prehistoric times.
Know what else can probably be traced to prehistoric times? Sharing! So I've assembled a crack team of foodie nerds to share their favorite bread recipes with you: Senior Editor Rachel, Intern Hot Laura, Miss April Sarah Croce with a special appearance by Miss January Jennifer Nieves and Guest Contributor Cait.
They did all the cooking and I get the byline. Why? Because Riese is recapping That Show and Sarah Fucking P*lmer's leaving for law school and I'm basically doing whatever I want around here. I moved the desks yesterday and switched the light bulbs to 'soft white.' I'll probably make stir-fry tonight. I'm not even going to ask if that's what everyone wants. Fuck 'em, you know?
We have a variety of breads to please you and your weird friends and coworkers (you have a job??)! You'll need to allow time for the dough to rise — ridic amounts of time in some cases — so don't assume you'll be noshing on Rachel's Chocolate Walnut Bread by this afternoon. Not gonna happen. Plan accordingly!
As always, feel free to share your own recipes in the comments! Jesus I'm starving.
1. Whole Wheat Rosemary Olive Bread (vegan!): Sarah Croce & Jennifer Nieves
2. Cinnamon Swirl Bread: Cait
3. Naan: Laura
4. No-Knead Chocolate Walnut Bread (vegan!) Rachel
==========================
.
1. VEGAN Whole Wheat Rosemary Olive Bread
by Sarah Croce & Jennifer Nieves
When Jennifer and I have dates every other week, we like to cook for each other. By "we" I mean me — I make dinner. But to her credit, Jennifer washes dishes really well. THIS BREAD IS DELICIOUS. Perfect combination of salty, rosemary, and whole grain earthy.
Ingredients:
3 Tbsp olive oil
3 cloves garlic, minced
1 small onion, minced
3-4 cups whole grain flour
1 1/2 tsp salt
1 cup pitted kalamata olives
4 Tbsp dried rosemary, crushed
2-1/4 tsp yeast (active dry…one packet)
1-1 1/2 cups warm water
First things first: preheat the oven to 400 degrees. You can do this later on in the process, but it's good to have the bread in a warm area when it's rising, and a preheated oven is perfect for that. Maybe you could find something else to bake in the meantime, to make the energy expense worthwhile.
Reading the instructions I realize it KIND OF calls for a bread mixer. Luckily, I've made bread before and am well aware that using a tool is overrated. You can do most things just as effectively, if not more so, by hand. [Ed. note: that's what she said]
Sauté the onions, garlic, and a tablespoon of rosemary in olive oil until the onions are soft, approximately 5 minutes. Throw in the olives and then let it cool.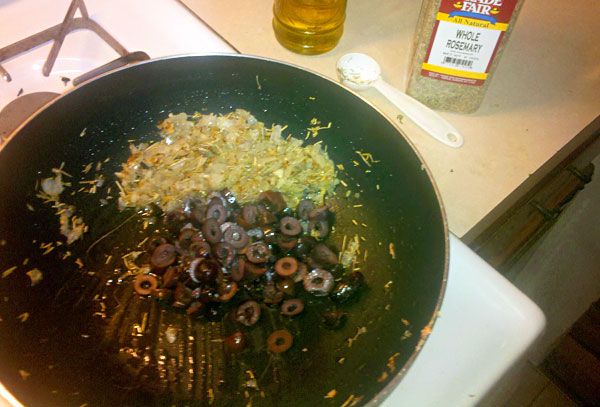 In a separate bowl, mix 3 cups whole grain flour with the salt, remaining rosemary, and the yeast. Toss the onion/olive mixture into that, then pour in a cup of water and mix it up. You may need more water (a cup wasn't enough for my bread so I ended up using about 1 and 1/4 cups), but don't add too much. You just want to make sure all of it is moist. Mix it thoroughly with your hands, kneading and flipping as needed until all of the ingredients are fully incorporated.
Put the dough in a bowl and cover it with a damp towel and plastic wrap. I didn't have plastic wrap (I know — WHO DOESN'T HAVE PLASTIC WRAP??) so I used aluminum foil. I think the plastic wrap would've behooved the rising process, but whatever, you can't win 'em all. Let it rise for an hour in a warm place, like right on top of the stove.
While we were waiting, we made a red bean cilantro hummus, a basil babaganoush and some oven-baked sweet potato fries. Laneia says we'll have a Get Baked: Dip Edition soon, so you should probably get ready for that.
After the dough hath risen, put it on a floured surface and knead it for about five minutes. Let it rise for an additional half hour. I KNOW THIS IS TAKING FOREVER. It'll be worth it.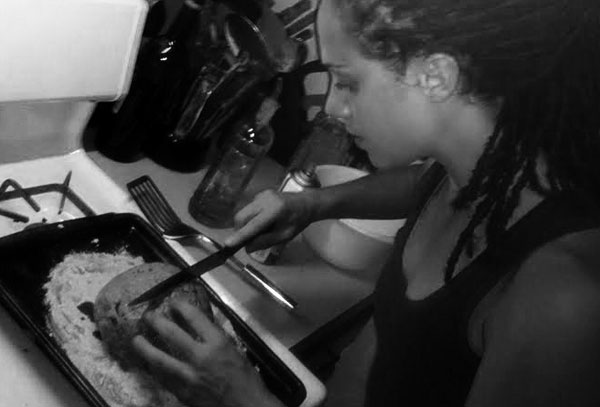 Next put it on a baking sheet, slice a sexy "X" on the top and throw it in the oven for 25 to 30 minutes, until the top is browned. DON'T CUT IT UNTIL IT HAS COMPLETELY COOLED. We didn't heed this advice and, while it was still tasty, it clearly had more internal baking to do. Good things come to those who wait.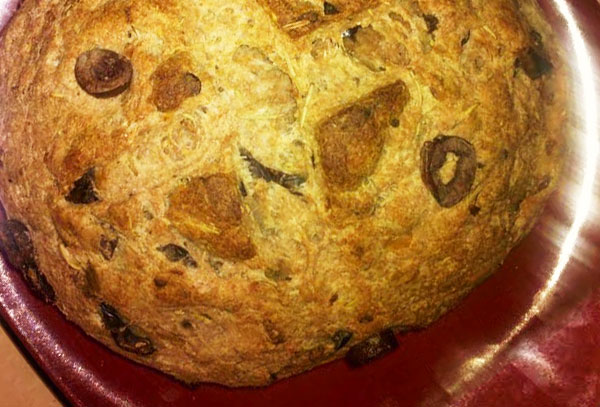 ==========================
.
2. Cinnamon Swirl Bread
by Cait
You guys, I'm 80 miles away from my girlfriend and I'm sad. When I'm sad I crave two things: savory and cinnamon. Laneia thought cinnamon was a better idea (I agree) so here we are, Cinnamon Swirl Bread.
This recipe comes from The New Best Recipe, put together by the editors at Cooks' Illustrated, which is a monthly mag that tries out like, 50 recipes of the same thing, then publishes the best one. Now imagine a book that's got 1000 (yes, one thousand) pages of that kind of genius. I've taught a lot of bored housewives and their children and this book never failed me.
Dough:
1/2 cup milk
4 tablespoons (1/2 stick) of butter, cut up
1 package (2 1/4 teaspoons) dry active yeast
1/2 cup warm water (110 degrees, see below)
1/3 cup sugar
1 1/2 teaspoons salt
3 1/4 – 3 3/4 cups unbleached all-purpose flour
Filling:
1/4 cup sugar
5 teaspoons ground cinnamon
Milk for brushing
Glaze:
1 large egg
2 teaspoons milk
9 x 5 x 3-in loaf pan
Melt the butter and milk in a pan over the stove. DO NOT let that shit boil, or you will cry. The recipe says it should reach 110 degrees F, but hold up:
Your body is about 98-99 degrees on a typical day. Water boils at 212 degrees. The lesson? The milk and butter only needs to be a little bit warmer than you are. If it is at all too hot to touch, it is in fact "too hot."
If it's too hot, but you didn't boil it, you can just let it cool down a little bit. If you boiled it, throw it out. SERIOUSLY.
While the dairy is warming, get out your stand mixer. (If you don't have a stand mixer, use a wooden spoon and your hands) Mix together the water, yeast, eggs, and sugar.
Add the lukewarm milk mixture, and two cups of flour. Stir it until combined, about 1 minute.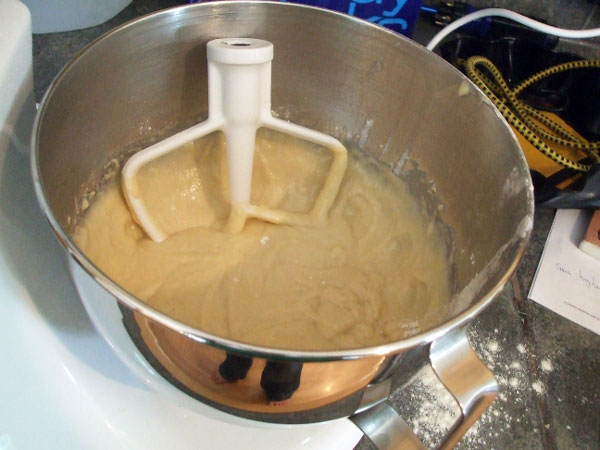 This is where things get tough if you're doing it by hand: add another 1 1/4 cup of flour and keep stirring.
Use a dough hook if you're using a stand mixer. If the dough is sticking to the sides of the bowl, add flour periodically. If you're going at this by hand, I'd do away with the utensils and literally do it by hand. Keep adding flour sparingly until dough is no longer sticky.
After it's combined and no longer sticky, lightly oil a bowl and place the dough in, then flip it over. Let rise until doubled, about 2 1/2 hours. I used this time for a nap.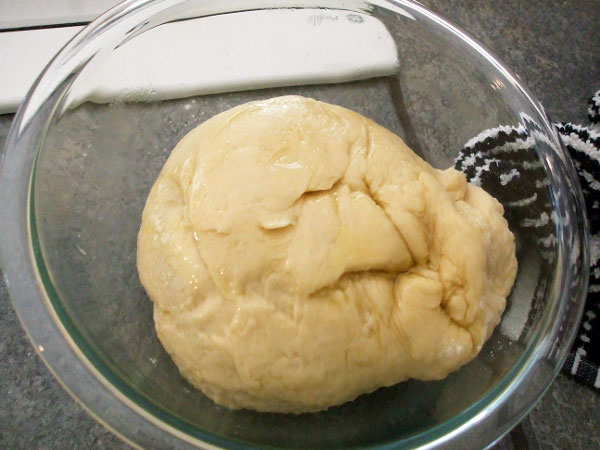 Once dough has risen, punch it. Take it out of the bowl and lay it on an unfloured work surface. Let it rest for 10 minutes.
Afterward, roll it out. It's easiest to start by pinching and patting it into an approximate rectangle shape. Remember that it can be max nine inches wide since it's gotta fit into your pan, but otherwise as long as it's about 1/4″ thick you're probably okay.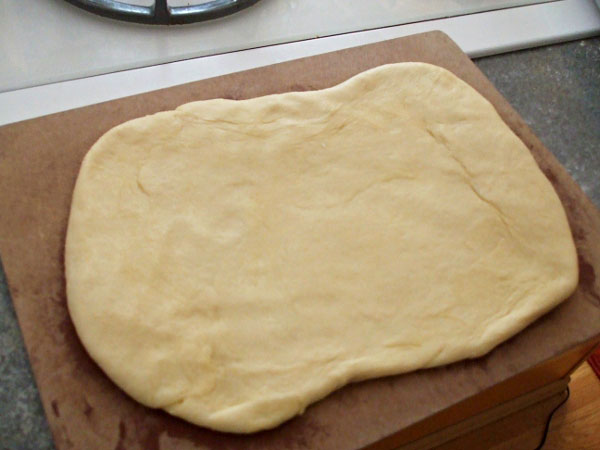 Brush milk over dough. Mix together the cinnamon and sugar, sprinkle itover the dough. I like to put a little extra near the middle. Start by rolling the dough tight, you don't want this thing flopping all over the place. To keep the dough from stretching larger than 9 inches, just scrunch it occasionally. Once rolled, push the innards in a little and seal the the outside, then seal the long edge so that you've got a nice little pocket of cinnamon dough.
Place in the greased pan, and let rise for about another hour. Before you leave to take your second nap, set your oven to 350 degrees F.
After this hour of rising, bake it for 30-35 minutes. Bread should have a golden exterior. Just stick a knife in the middle to check for doneness, if you want. Let cool for 45 minutes.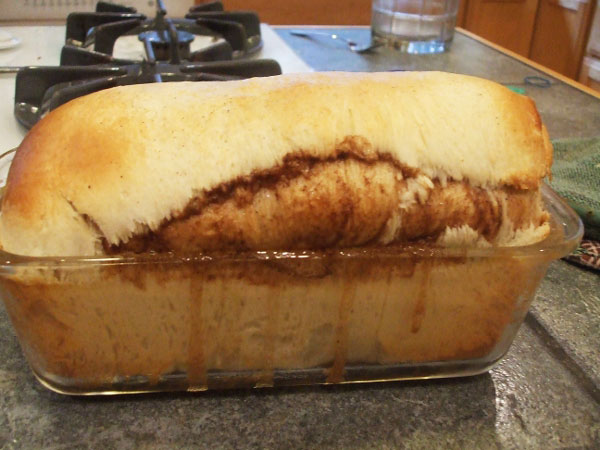 Now you have a yummy cinnamon swirl loaf. I had a big ol' thick slice with my mom's homemade raspberry jam. Oh my god. Yum.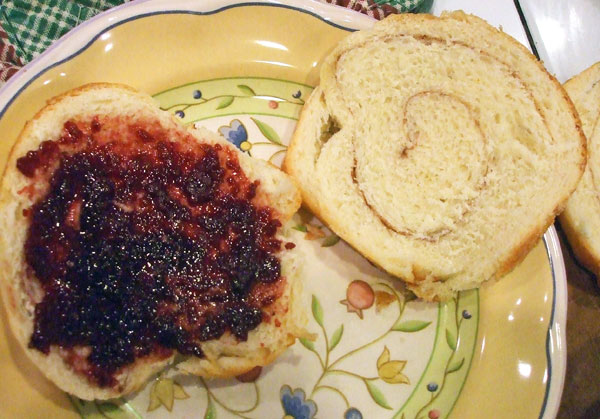 If you're feeling adventurous, you can throw chopped nuts in with the cinnamon sugar. Or make little mini-rolls by slicing the cute cinnamon roll with dental floss and then baking for for about 25 minutes. Or make icing and throw that on there.
==========================
.
3. Naan
by Laura
Are you constantly finding little blue moldy bits on your recently-purchased bread before you're even halfway finished with the loaf? If you live alone or don't eat a lot of bread, flatbreads are perfect (so is wrapping fresh bread in wax paper and throwing it in the freezer, but that's not what we're talking about here); they're the break-and-bake cookies of the bread world. After you've mixed up a batch of dough, you can store it in the fridge and pinch off pieces as you go. My recipe for naan, which is based on a recipe from Manjula's kitchen (how cute is she?), cooks in a minute or two and is a great substitute for both sliced bread and tortillas.
Ingredients:
3/4 cup of warm water
1 teaspoon of sugar
1 packet of yeast
2 cups flour
1 teaspoon salt
1/2 teaspoon baking soda
3 tablespoons plain yogurt
2 tablespoons olive oil
2 tablespoons of melted butter
optional: garlic, potatoes, or onion
Dissolve the yeast and sugar in warm water. The water should feel about as warm as your skin; warm enough so that the yeast can grow but not hot enough to kill it. Let it sit for ten minutes until it's ready. You'll know when that is, trust me.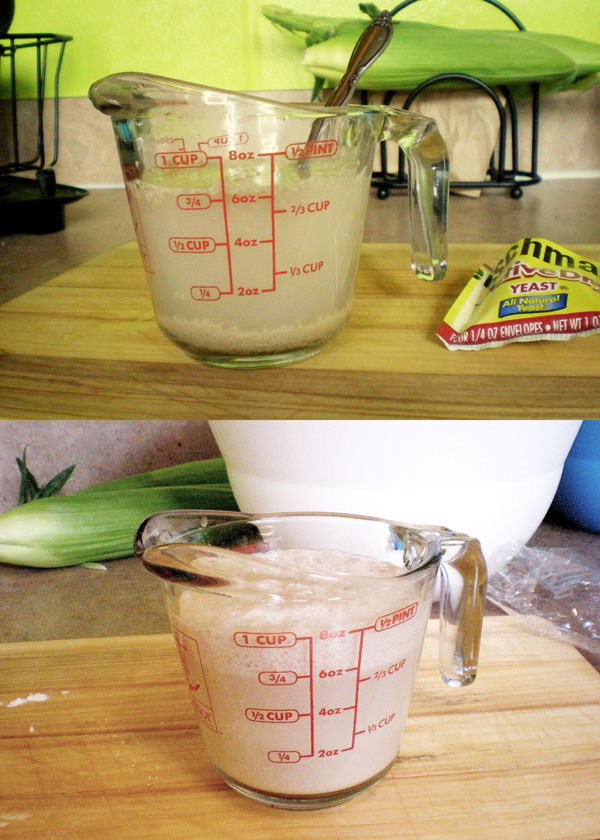 While you're waiting, eat a cookie or something and combine 1 cup of the flour with your salt and baking soda. When the yeast is all good to go, stir in the yogurt and olive oil.
You should have all your dry ingredients in one bowl and all your wet ones in another. Look! It's like you're a professional! Combine your yeast and your flour mixtures. You're going to want to do the mixing with your hands because this dough should be handled as little as possible; if you play with it too much, it'll end up tough and chewy. Ew.
Once your mixtures are pretty well combined, it's time to start adding more flour until the dough reaches the right consistency. It should feel just like pizza dough. It's always better to not add enough flour than to add too much because you can easily thicken up the dough after it's risen.
If you're adding an extra ingredient, now's the time to mix it in. If you're using garlic or onions, consider sautéing them first as they won't have enough time to cook when you cook the dough. And use this pan because it's the cutest thing I've ever seen.
Cover the dough with a cloth and put it in a warm place to rise for at least an hour. If you've got more time, punch the dough down once and let it rise again. This allows time for the flavor to develop.
Now you're ready to make your bread! Grab a rolling pin and a piece of dough about the size of a golf ball. Coat the ball in a small amount of melted butter, and roll out the dough as thinly as you possibly can.
If your dough is sticking to the rolling pin or is becoming hole-y too easily, you are facing one of two problems: a) you need to add more flour to the mixture so that the consistency is more solid or b) you're being impatient. Stop being a 5-year-old and roll it a little at a time instead of pushing it around. Flip it over after every roll so that it doesn't stick to your surface.
If you get the urge to put flour on your rolling surface to keep the dough from sticking: DON'T! We're using butter as our lubey lube because it'll add flavor and help the naan brown nicely.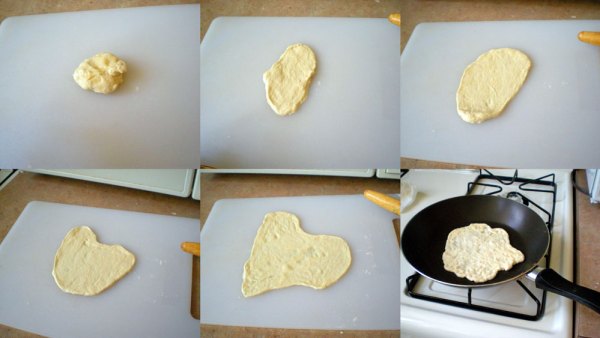 To cook it, turn your stove top on high and use a thick pan — ideally a cast iron skillet — so that you don't damage your tools in the heat. For the record, I'm using my $2.99 IKEA pan that I have 8 of because I go through one every two months. Do as I say, not as I do!
When you throw the naan in the pan, it should puff up a little bit. Flip it over and let it cook for 30 seconds or so and you're done. This is also a great time to practice you flipping skills because, unlike an omelet or a crepe, naan won't go flying everywhere if you miss.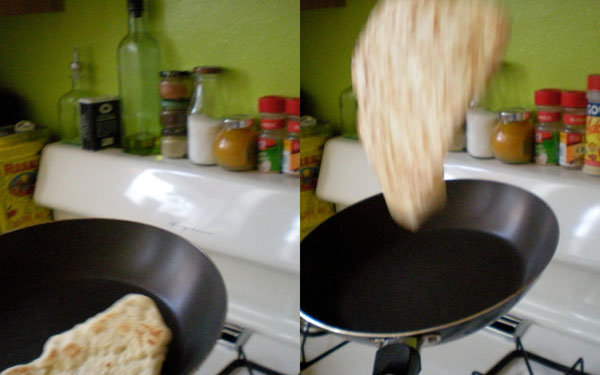 Naan can only cook right when your pan reaches a really really hot temperature. If you're cooking all of your dough at once, it's a good idea to go back and re-cook the earlier pieces to ensure they're the right amount of crispiness, since your pan probably wasn't quite hot enough at the beginning. Storing them in the freezer instead of the fridge will help keep them from getting soggy.
Here's the first of the batch compared with the last of it:
What are you going to do now that you have approximate 70 fresh naans on your counter? Make a wrap or a taco. Eat it with an egg for breakfast. Get Indian takeout. Use it as crust for a little pizza.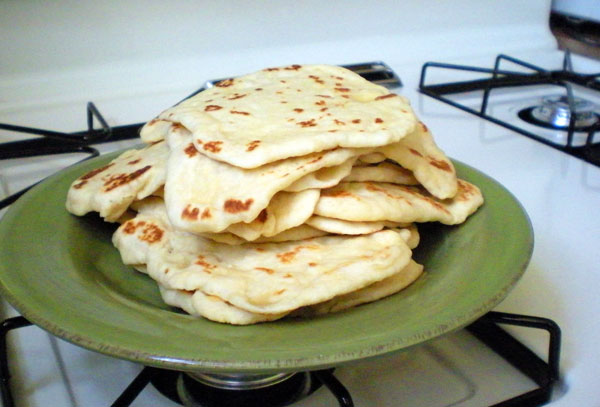 =========================
.
4. No-Knead Chocolate Walnut Bread
by Rachel
This bread has cocoa powder and sugar in it, so at first you will feel like "whoa, this is a cake, how did a cake get in my bread post?" But you will be wrong, because this is bread, motherfuckers. It's not sweet, and it will take like a day and a half to make from start to finish, and it's better than anything else you've put in your mouth today. Are you ready? No. You're not. Let's do it anyways. Recipe via Never Homemaker.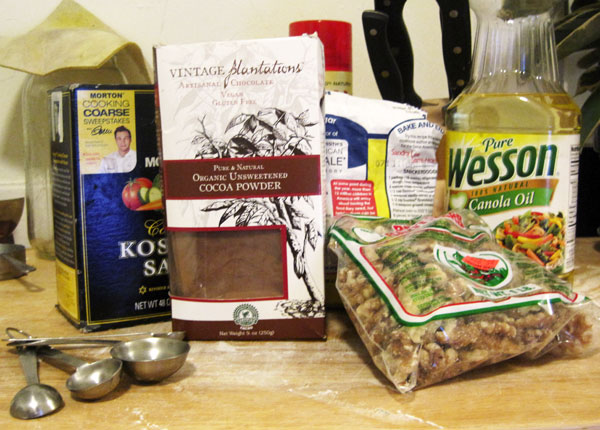 Ingredients:
3 cups unbleached white bread flour (or, you know, regular flour)
2 teaspoons coarse kosher salt
1/4 cup cocoa powder (you can buy a special vegan kind like I did, if that kind of thing matters to you)
1 tablespoon natural sugar
1/2 teaspoon instant or other active dry yeast
1 cup cool (55 to 65 degrees) water (at least; may need more)
1/3 cup canola oil
Handful (or two) raw walnuts
Cornmeal or additional flour for dusting
Take all your dry ingredients except the walnuts – so the flour, salt, yeast and sugar – and put them in a bowl. Good. Now mix them together. Done with that? Dig a little hole in the center, so there's like a little well in the middle. Pour in the water and canola oil. Now mix that ish together with a wooden spoon. (I have this vague feeling that you're not supposed to make yeasted stuff with metal, so I used a plastic bowl and wooden spoon.)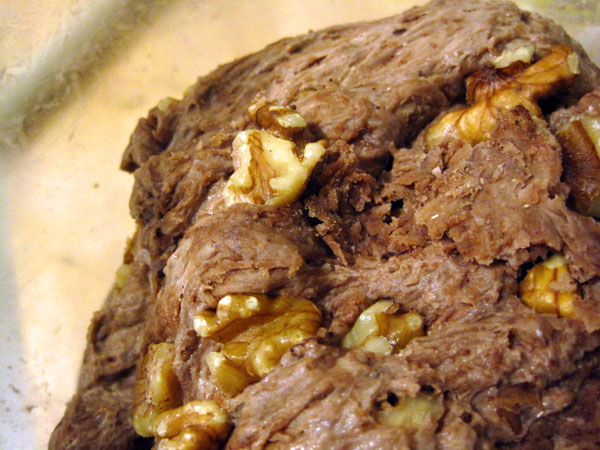 Is it kind of wet and sticky? Mine was still a little dry, so I added maybe a quarter cup more water, and got a nice consistency. You want it to be soft and tacky to the touch, but we're not talking about cake batter here, so don't get crazy. Once you have some nice dough happening, toss your walnuts in there – I chopped mine because, I dunno, I like smaller pieces of walnuts, but you can do whatever you want. Fold them into the dough with your hands or the spoon – you don't have to do a lot, just enough that they're more or less mixed throughout.
Okay, now cover that stuff up with some plastic wrap (I like to spray the plastic wrap with some Pam first so it doesn't stick to the dough later) and put it on a shelf where you'll forget about for a while.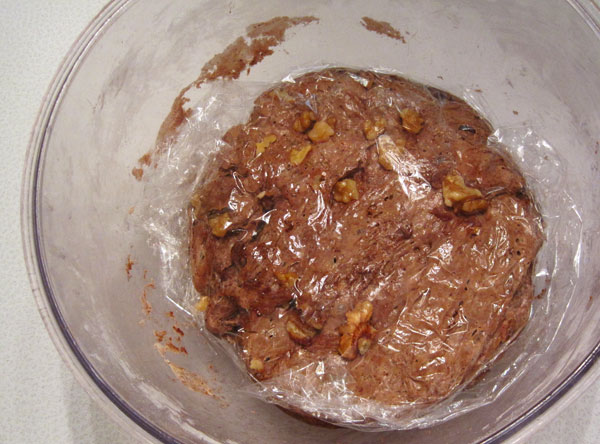 You're going to let this rise for 18-24 hours, until it's more than doubled in size – if it triples, that's cool. It took mine pretty much the full 24 hours to do this, but it will depend on your temperature and yeast and stuff. You should be able to see bubbles on the top.
When it's starting to look good, lay a dish towel out on the counter, and dust it with a handful of flour. Turn your bread out onto the counter, and mold it into a ball – you don't have to get intense about it, just enough that it's not like a pancake. Place this ball inside the dish towel, dust it with a little more flour, and fold the towel up around it. Leave the bread to rise again inside the dishtowel for about another two hours.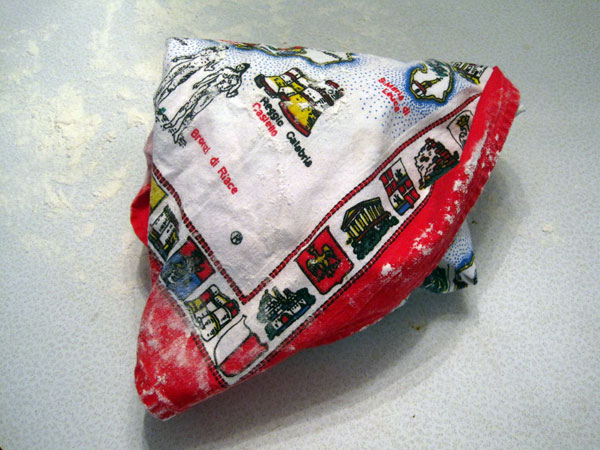 Start preheating your oven to 475 F – at least a half hour before you plan to bake, preferably 45 minutes or an hour. Before preheating, stick a Dutch oven in there – I've also used a casserole dish before with good results.
Important things to look for when fashioning a Dutch oven out of a casserole dish:
+ able to withstand high temperatures
+ is kinda thick
+ is big enough for your dough to fit inside
+ has a lid
Your dish needs to be hot (the lid too), so let it preheat along with your oven. When the two hours of rising time are up and your oven's fully preheated, you're ready to make moves.
As quickly as possible (but without burning yourself!) open the oven door, pull out the rack with the Dutch oven on it, and take off the lid. Unwrap the dish towel and dump it the dough out of it and into the Dutch oven, then put the lid back on the Dutch oven and close the oven door. Ok, awesome! Your bread is now in an oven inside an oven. DOUBLE OVEN OH MY GOD. SO INTENSE. WHAT DOES IT MEAN.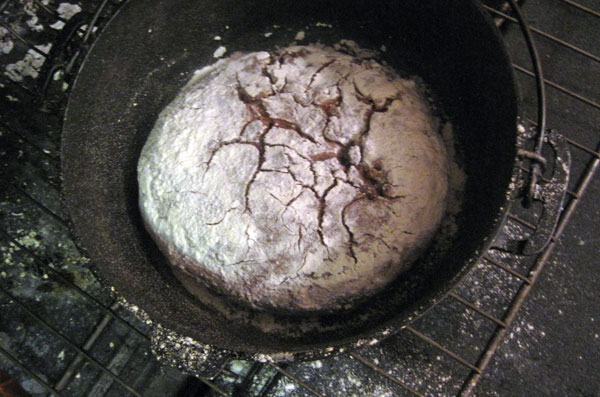 You're going to let it hang out in there for a half hour with the lid on, and then take the lid off and let it bake for 5-15 more minutes. The original recipe says 15, but mine was a little burnt on the bottom after 10, so use your judgment. Once your spider senses tell you the bread is done, take the Dutch oven out (carefully!) and use a heatproof spatula or spoon or whatever to remove your bread and let it cool on a rack or trivet or whatever.
You're done! You made some delicious fucking bread! Ideally, you should let it completely cool before slicing and eating it. But if you happened to eat a third of the loaf all by yourself within an hour of making it, you know, I wouldn't really be in a position to judge. So do what your heart tells you, I guess. Be free, etc.