Salads that look or taste like they were more difficult to make than they were are kind of my thing. This is another one! But it tastes like summer in your mouth.
This salad is the type that gets better with time — you need to let it sit for at least an hour, and preferably overnight, for it to taste its best. But its best is pretty fantastic. It's also nice that you can make it in advance (sometimes, way in advance) and it will taste better instead of worse.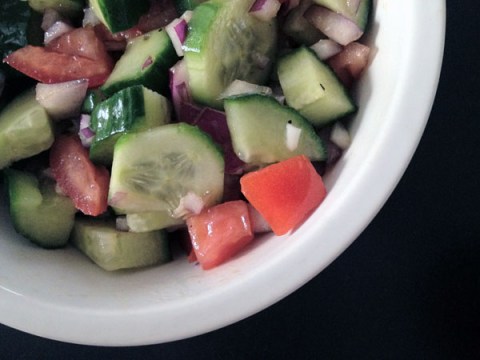 Cucumber Salad
Ingredients
1 large cucumber
3 smaller cucumbers
1/2 of a medium red onion
1 large ripe tomato, seeded and diced, or a container of rainbow tomatoes, seeded and quartered
1/4 cup white wine vinegar (or, good-tasting white wine)
1 Tbsp. balsamic vinegar
1 Tbsp. olive oil
2 tsp. honey (or agave nectar)
Pinch of sea salt, or to taste
Freshly ground pepper, to taste
Directions
1. Slice the large cucumber into chunks. Partly peel the smaller cucumbers so they have stripes of skin and not-skin along their length, and slice them into coins (it's a little weird but they add texture). Finely dice the red onion — you can go as fine as you like, I went for "almost grated." Seed and dice the tomato. Combine everything in a bowl large enough to toss in (see photos for an example of a bowl that is much too small).
2. Whisk all of the remaining ingredients until frothy and well-combined. I put the oil in before the honey/agave because I think it makes it stick less, but I have no evidence as to whether or not this is actually true. Adjust seasoning to taste.
3. Pour the dressing over the salad and toss. Cover and refrigerate for at least an hour, and preferably overnight. Toss again right before serving.