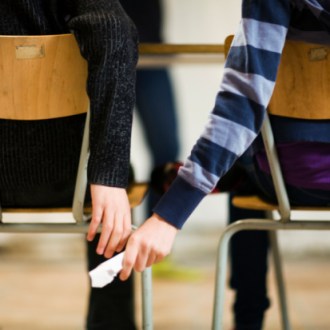 Nearly two out of three non-heterosexual students feel unsafe in school, according to a national study by the University of Winnipeg.
The study, which included 3,700 Canadian high school students surveyed between December 2007 and June 2009, tried to identify how students experienced homophobic and transphobic incidents, including what happened, the impact of those experiences, and what the schools did afterwards. The findings generally suggest that high school sucks.
Homophobic comments — from other students and, more disturbingly, from teachers — were reported as a common and accepted part of going to school.
Key findings include:
+ Girls are more likely than boys to experience verbal and physical harassment due to their sexual orientation
+ Aboriginal students are most likely to know an out student. They are also most likely to see classroom discussions of sexuality as positive.
+ All non-Aboriginal visible minorities are least likely to know an out student and least likely to report seeing classroom discussions of sexuality as positive.
+ 70% of all participating students reported hearing expressions like "that's so gay" in school on a daily basis.
+ 47% reported hearing "faggot," "lezbo," and "dyke" in school on a daily basis.
+ 58% of straight students find homophobic comments upsetting.
+64% of LGBTQ students feel unsafe at school, particularly in washrooms and gym changing rooms.
+ 21% of LGBTQ students have been physically harassed or assaulted in school.
+ 10% of straight students have been harassed or bullied by people who thought they were gay.
+ Students in schools with gay-straight alliances are more likely to be open about their sexual orientation.
How does this compare to the 2009 National School Climate Survey conducted in America by GLSEN?
+ 72.4% heard homophobic remarks, such as "faggot" or "dyke," frequently or often at school.
+ 61.1% of students reported that they felt unsafe in school because of their sexual orientation, and 39.9% felt unsafe because of their gender expression.
+ 40.1% of LGBTQ students had been physically harassed or assaulted in school for their sexual orientation, 27.2% harassed/assaulted for their gender presentation.
+ "Having a Gay-Straight Alliance in school was related to more positive experiences for LGBT students, including: hearing fewer homophobic remarks, less victimization because of sexual orientation and gender expression, less absenteeism because of safety concerns and a greater sense of belonging to the school community."
There's a lot said about the "trickle-down" theory — that if we take discrimination out of the US constitution, that will send a better message to kids about how to be nice to homos. This seems to be true in some regard, but the relentless desire of kids to be assholes to other kids is often hard to overcome.
The Canadian report also makes several recommendations, such as developing provincial and school-board-based anti-homophobia programs and safe school policies, giving teachers professional development programs related to sexual orientation issues, and encouraging schools to start gay-straight alliances, either through student initiatives or, if no students are willing to do it, through teachers.
All of which makes the Burnaby parents protesting their school district's new anti-discrimination policies even more ludicrous. According to the Globe and Mail, one supporter said, "If you changed everything in the original policy to say Chinese or black of Hispanic or any racial thing, it would be appalling to oppose it."
Of course, if it was appalling to oppose it before Egale released the finding of the study, it's even more appalling now.
You can read the full text of the report Every class in every school: The first national climate survey on homophobia, biphobia, and transphobia in Canadian schools online at Egale Canada.