Hello there, jubilent seal pups! It's Friday Open Thread, the forum for all your conflicted feelings about the ethical dilemma of vegan leather, the fact that you really actually like pumpkin spice lattes, and the validity of call-out culture. Or just for your selfies and updates on your furkids and/or human kids. Whatever you feel deep in your heart.
Fur example, this is a picture of my wiggle pig, who kind of looks like a pumpkin spice latte, if that latte was poof-fairy-godmothered into a guinea pig.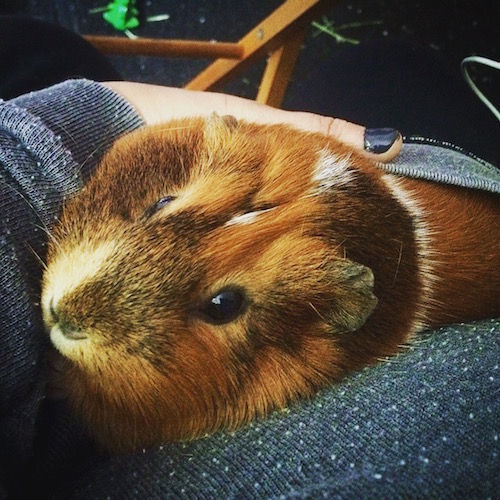 But we're not gathered here today to look at pictures of my furchildren. We are here to talk about shoes.
Yes, that's right, shoes.
I do a lot of small group facilitation and one of my favorite icebreaker questions is to ask people what the shoes they are wearing say about them. For some people, shoes are utilitarian and straightforward. For others, they must perform well by some metric of comfort or durability. For the fashion-conscious, they must be super swanky/adorable/bad-ass/dapper or whatever your style aesthetic is.
For moi, my shoe style has changed over time. I used to be into pretty much only heels. Boots with heels. Pumps with heels. Sandals with heels. Flip flops with heels. Platforms. Kitten heels. Stacked heels. Chunky heels. Stilettos. Heels, heels, heels. The flashier and vampier, the better. I liked to stand out (and still do). I loved the authoritative sound of click-clacking heels coming down a hallway, announcing my arrival. I felt powerful in heels. I felt like I can not be fucked with. It was a personal challenge to be able to strut in the highest of high heels. I'd gladly suffer the self-flagellation of shooting pains in the balls of my feet for a very pretty pump.
I was wearing heels 24/7 in college and for a few years after. I was really impulsive back then and feeling like I couldn't move fast enough from one thing to another. I was trying on different ideas of who I was all the time. I was courting danger or the illusion of it. I was lurching forward. Everything felt like the very most important thing. My shoes matched my life.
I still like a good heel, but not for anything lasting longer than three or four hours. I'm much more into the comfort of flats these days, though I'll still choose style over durability or practicality. I wear a lot of pointy-toed flats and flip flops. I seek embellishment in the style of the shoe, not the height of the heel. I like decorative buckles on knee-high boots, funky patterns, chrome details, and patent leather embellishments. I still like my shoes to be a focal point, but also want to be comfortable in them all day. My life has changed a lot over the past few years and things like long-term planning and stability and home-work balance are my priorities now. I care less if people see me as authoritative because I just feel I can be. I still like to rock a stiletto or platform pump, but I look for things like comfortable insoles in my heels now. I recently gave away my last pair of 5″ sky high heels because I put them on and literally could not walk. I guess I'm just more pragmatic these days.
So what about you? Do your shoes say anything about who you are or where you're going? Do you have a very favorite pair of shoes? (I don't. I have too many to choose just one.) What shoes are you wearing right now? What did you wear today? Do you have different shoes for work and for play? Are there fancy shoes that you really covet, but haven't purchased because of money or practicality? Do you value comfort or fashion more or in what ratio? (I'm like 40/60 right now in my life.) Tell me about your feet and what you put on them, yo!
Or just tell me about your week and if you finished that whole pizza by yourself. How's your love life and your home life? Are you back in school or are your kids back in school or both? How are you spending your last days of summer?
Spill it, beans.
---
How To Post A Photo In The Comments:
1. Find a photo! This is the easy part. Find a photo on the web, right click (on a Mac, control+click), hit "Copy Image URL" and then…
2. Code it in to your comment! Use the following code, and use a DIRECT LINK to the image. Your image link should end in .JPG or .GIF or .PNG or .CallMeWhateverYouWant even. I don't care, but it should be an image suffix! KINDA LIKE THIS:
If you need to upload the photo you love from your computer, try using imgur. To learn more about posting photos, check out Ali's step-by-step guide.
How To Post A Video In The Comments, Too:
1. Find a video on YouTube or Vimeo or WHATEVER and click "embed." Copy that code, but first make sure it's for 640 px wide or less. If your player is too large, it will not display properly.
2. Copy the code and paste it directly into your comment.
3. Go forth and jam.