Hi, you're looking sharp today! Welcome to the Friday Open Thread, where we lay out our feelings, hopes, and dreams, then process away in the grand tradition of our people.
I spent much of the past week focused on the U.S. midterm elections and you might have, too. It was a topsy-turvy ride full of big wins and small wins and heartbreaks and progress, and if you're a wonk like me, chances are you've already rehashed it ad nauseam in the rest of your life. So I'm not gonna make you go there again! But I do want to tell you about something I did in recognition the next day.
I wore this.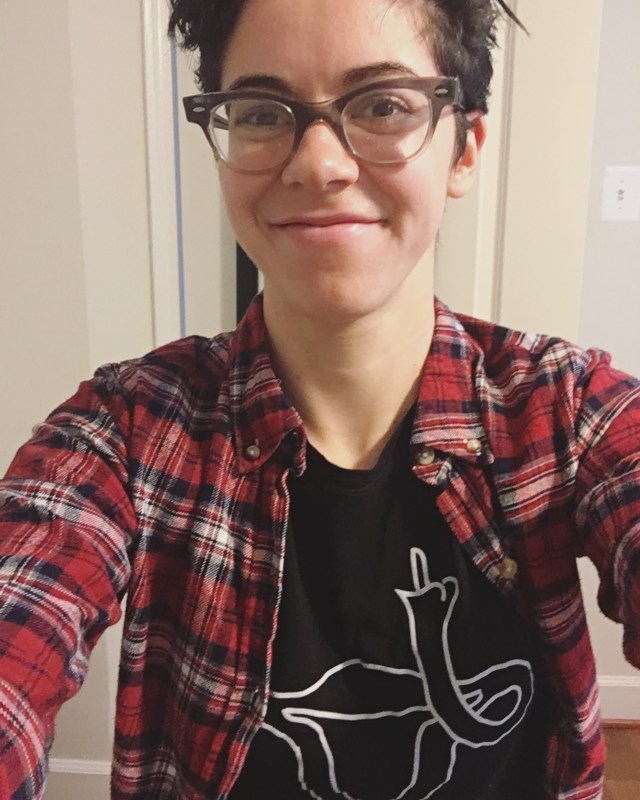 In case you're wondering: yes, that is indeed a flannel over a t-shirt with a cartoon uterus giving the middle finger. And let me tell you, taking this getup onto the streets of Northern Virginia the day after the midterm was an experience. So many knowing glances! So many stink eyes! Either way, I was into it! Putting my political feelings across my chest on an important day made me feel a little more empowered. Which is, all told, one of the best things our clothes can do for us. So.
In honor of our newest quarterly issue, But Make it Fashion, I want to see and/or hear all about your power outfits, dear readers. What's that one ensemble you have in your closet that transforms you? Makes you the most yourself? Gives you the biggest boost? How do you feel when you're in it? Tell me everything (and share pictures if you can).
Let's all celebrate each other looking our hottest and most powerful — since power started to look a little different this week.
---
How To Post A Photo In The Comments:
Find a photo on the web, right click (on a Mac, control+click), hit "Copy Image URL" and then…
code it in to your comment like so:
If you need to upload the photo you love from your computer, try using imgur. To learn more about posting photos, check out A.E.'s step-by-step guide.
How To Post A Video In The Comments, Too:
Find a video on YouTube, copy the URL, and paste the link on its own separate line in your comment. You no longer need to use the "embed" code!