Hey there, salted caramel chocolate cupcakes! No offense, but I prefer muffins. Anyway, welcome to this week's Friday Open Thread, where we post photos of cats for adoption in various cities. JK! It's just our weekly Internet party where we spill our guts, post photos of our crafting projects and also loved ones, and share our secrets. And it's an extra-special week for this lovefest, because it's Valentine's Day this weekend! So let me fucking love you.
I'm spending my Valentine's Day wishing I lived in British Columbia, where my girlfriend Geneva lives the island life and enriches the daily experiences of everyone around her with that adorable face. We're gonna do our usual thing and Skype while we eat pizza and drink champagne because we're Marvin like that. I also attempted to send her a very oversize card, but the mail system is irreparably broken and they told me it was too big to mail. So basically, my love for Geneva is too much for anyone to handle and I'm spending this Saturday with hearts for eyes.
Of course, before the last few years of remarkable happiness in this area of my life, Valentine's Day was a much darker time. I still ate a whole pizza, but I ate it alone. Okay, fine, it wasn't that bad, but I'm saying that if the day of love fills you with unrepentant angst or rage or sadness, I feel you on that, too. I'm here for you no matter what. Also, did I mention I want to fucking love you right now. Cue kitten photo #2.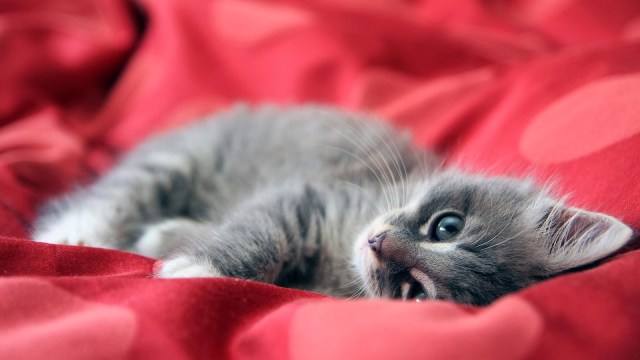 So, kitten babes, how are you spending your Valentine's Day? Whether you're ordering Chinese takeout alone, hanging with your "gal pal" (or your actual gal pal), cuddling your pet, or having the kind of sex that makes your neighbors complain to the landlord, I'm game to be the one you talk to about it. Plus, when you post photos of your dog I'll post photos of mine maybe with hearts added to the background! And if you reply to each other, we can all have a loving Valentine's Day no matter what.
Also, as always, feel free to use this space to tell me what you're eating for breakfast / lunch / dinner, what projects you're working on right now, and how excited you are to be alive on this glorious day of our goddess, amen.
Love you, bro.
---
How To Post A Photo In The Comments:
1. Find a photo! This is the easy part. Find a photo on the web, right click (on a Mac, control+click), hit "Copy Image URL" and then…
2. Code it in to your comment! Use the following code, and use a DIRECT LINK to the image. Your image link should end in .JPG or .GIF or .PNG or .CallMeWhateverYouWant even. I don't care, but it should be an image suffix! KINDA LIKE THIS:
If you need to upload the photo you love from your computer, try using imgur. To learn more about posting photos, check out Ali's step-by-step guide.
How To Post A Video In The Comments, Too:
1. Find a video on YouTube or Vimeo or WHATEVER and click "embed." Copy that code, but first make sure it's for 640 px wide or less. If your player is too large, it will not display properly.
2. Copy the code and paste it directly into your comment.
3. Go forth and jam.