Good morning, Jelly Rolls! Welcome to the first Friday Open Thread of 2018! It's so nice to see you all in the new year. You're glowing!
I don't know about you, but the beginning of a new calendar year is always particularly exciting for me because it means I get to start a new agenda / notebook / planner / journal. This year I've decided to try Bullet Journaling, and so far I am Very Into It! A few weeks ago I told Molly that I was going to try some "low key Bullet Journaling" in 2018 and she scoffed and said, "Can anyone really be low key about Bullet Journaling?" and to be fair, no, it turns out one can not. But you can choose to be a little more low key than a lot of the folks on Instagram would have you believe, and that's the route I'm going for now, at least until I get the hang of it! Then I will be SO HIGH KEY ABOUT IT, just wait! (Spoiler: I am already so high key about it. Sigh. I am who I am!)
I thought it would be fun to focus on the subject of planners and organization this lovely Friday! We're only 5 days into the new year so most folks who want to pick up new organizational habits in 2018 are still feeling very motivated about those goals – maybe we can share our tips and tricks to keep that motivation going through the year, or you can share why you hate keeping a physical planner and only use Google Cal (which, to be fair, I also use and love, along with my Bullet Journal!), or you can just show me pictures of your planner because I wanna see them, I do! (Seriously: PLEASE SHOW ME PICTURES OF YOUR PLANNERS!) You may remember that most of Autostraddle's team is obsessed with Passion Planners – are you part of the PP crowd? I'm using a plain Moleskine for my Bullet Journal but I put a sticker on the front that I received like, a year ago, from the Feminist Sticker Club, that I have been saving for something Very Special. Isn't it perfect?
Also, if you are an avid Bullet Journal-er, I have some newbie questions that I'll throw out here:
Do you include bullets about your feelings each day, or is your daily log strictly a to-do list?
Which daily log spreads do you like best, and how do you organize your journal so you don't run out of space with your daily logs?
Do you use habit trackers, and if so which habits do you track?
What's your favorite spread or collection in your bullet journal that is super original or specific to you?
Do you follow certain Bullet Journal-ers on YouTube or Instagram? Do you have any favorites you'd recommend for inspiration?
Here are some pages from my Bullet Journal: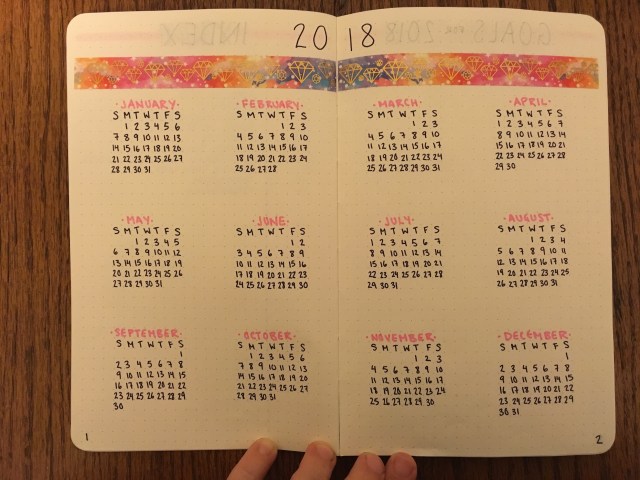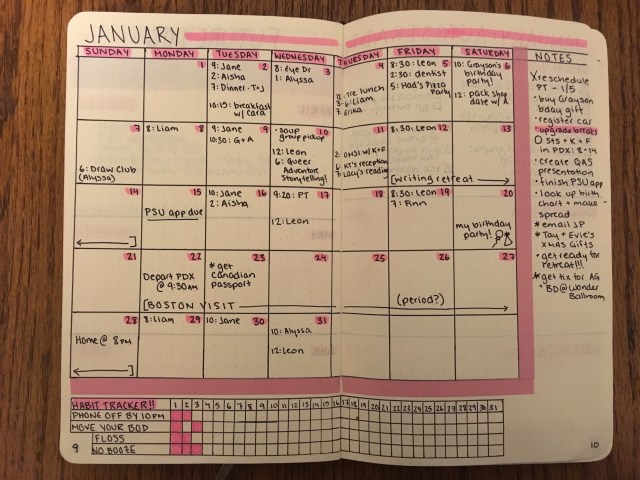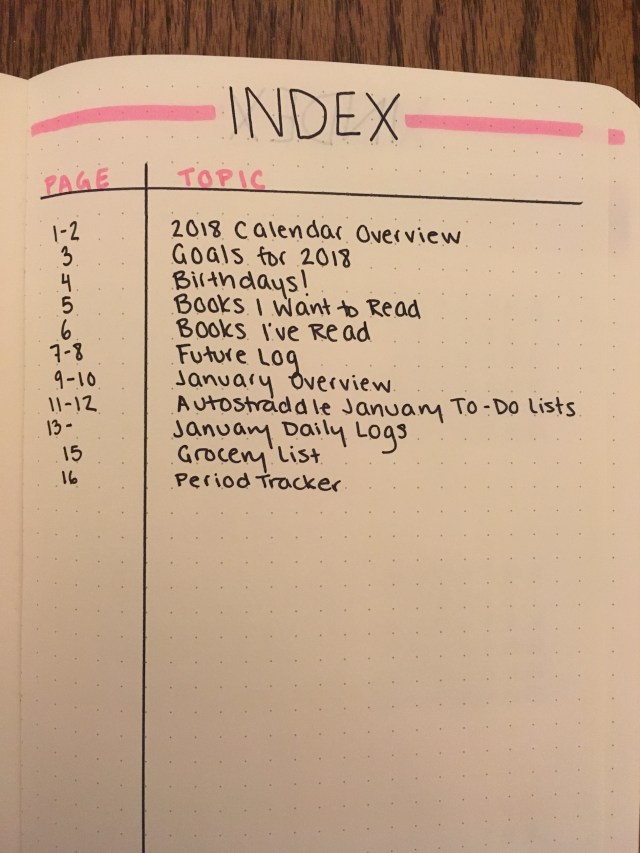 Okay, show me your Bullet Journal please! Or your other planner! Or complain about organization or Bullet Journaling specifically or anything you believe I'm wrong about! (Sorry, Jughead is definitely lesbian culture.) If you don't feel like talking about your planner or your journal you can always tell us about your day! Thanks for being here – I can't wait to chat.
---
How To Post A Photo In The Comments:
Find a photo on the web, right click (on a Mac, control+click), hit "Copy Image URLwp_postsand then…
code it in to your comment like so:
If you need to upload the photo you love from your computer, try using imgur. To learn more about posting photos, check out A. E.'s step-by-step guide.
How To Post A Video In The Comments, Too:
Find a video on YouTube, copy the URL, and paste the link on its own separate line in your comment. You no longer need to use the "embed" code!