I first met Jane Bradey when I attended Write Like a Grrrl, a super-affordable creative writing workshop for women. As the facilitator of the course, Jane's passion for women's writing was clear, as was her understanding of the many barriers we might face to actually sitting down and doing our work.
Jane's not-for-profit organisation, For Books' Sake, is a tireless champion of women writers – the published and the emerging, the historic and the new, the poets, the fiction writers, the biographers and the non-fiction authors. What started as a personal blog six years ago is now a dynamic, diverse hub for readers and writers everywhere, filled with thoughtful reviews, insightful interviews, new writing by established and fledgeling authors, publishing projects and loads more. On the offline side of things, Write Like a Grrrl workshops continue in London, Edinburgh and Manchester, there are regular spoken word nights in London, and there are other cool events in the pipeline.
In this interview, Jane talks us through the process of taking For Books' Sake from a hobby blog to the brink of charitable status, including the challenges of juggling a side-project with full-time work, and the importance of having passion, ideals and crystal-clear aims that your audience can understand.
Also: Jane's hilarious play, The Curse, debuts this weekend, so if you're in or near Manchester, you should definitely check it out!
---
Jane Bradley, Founder and Director, For Books' Sake
Manchester, UK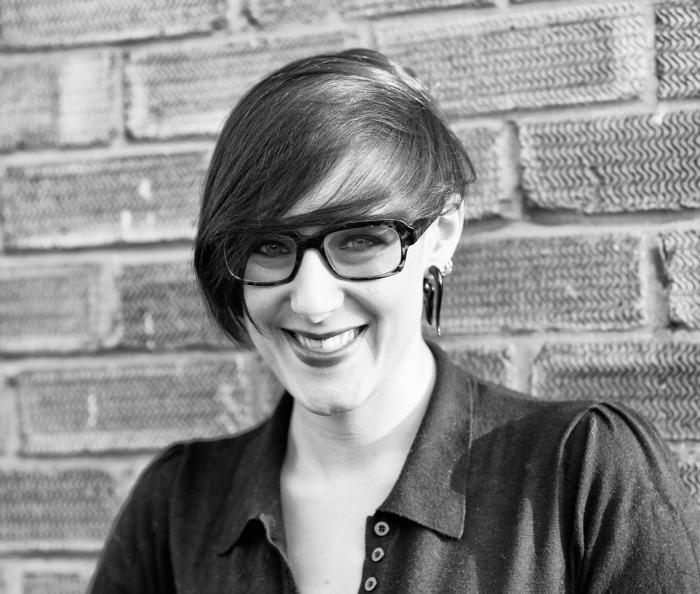 Hi Jane! Can you introduce your organisation? What's your mission? Who do you serve?
For Books' Sake is a charitable organisation championing writing by women. Our aim is to empower women and girls of all backgrounds to tell their stories and have their voice heard. We do that through a nationwide programme of workshops and events, online editorial, publishing and other projects.
Last year, almost 200 women attended our Write Like a Grrrl workshops, which revolutionise women's writing craft and confidence over six-week or full-day courses, and we're currently working on our first ever Grrrl Con, a two-day programme of talks and workshops from women writers, including Jackie Kay, Kirsty Logan, and lots more.
In London, we run a regular spoken word and storytelling night, That's What She Said, profiling women writers and performers, and with plans in the works to bring it up north this year.
We also publish emerging women writers from around the world, via our short fiction series, The Weekend Read, and our anthologies. Our last one was FURIES, a poetry anthology of women warriors, which we did in partnership with Rape Crisis, raising thousands for them. Our latest collection is (RE)Sisters: Stories of Rebel Girls, Revolution, Empowerment and Escape, and comes out in February. It features its fair share of queer heroines and has some incredible authors involved!
How would you describe your approach to business? What personal qualities inform your approach?
For Books' Sake was never conceived as a business (it started out in 2010 as just my blog, where I reviewed women writers who weren't getting the coverage elsewhere that I knew they deserved!), and I've never had any formal business training. Like, at all. So the last few years have been very educational! I'd say I was totally winging it for the first few years, but luckily during that time people still responded to the ethos and the aim, and wanted to be involved and contribute in some way. It grew organically from there, which meant I had access to some brilliant people with knowledge, advice and experience I definitely didn't have.
I now have a much clearer sense of our aims, remit and resources, and that helps with planning. I'm a bit of a control freak at heart, so I love any excuse for a colour-coded spreadsheet, project plan or calendar, and tools like that really help me understand where we're at and where we're going, although I'm still learning all the time!
At the moment, we receive no external funding, and although I work with a core team of coordinators and an extended network of contributors and other volunteers, we don't have an office, and we all work remotely from locations across the UK and beyond. So those tools and processes are even more important to ensure that we're all on the same page.
From a personal perspective, being empathetic to the barriers people – and especially women – can face is really important to me. Whether it's supporting core team members with mental health issues or providing free or subsidised workshop places to those who wouldn't otherwise be able to afford them, you can't have a business aiming to address inequality without being conscious of the injustices and obstacles those around you are dealing with. That's been a key part of it for me since the start and something I'm determined to maintain as we expand.
What does a typical day look like for you?
I had a full-time job when I started For Books' Sake, which meant lots of late nights and weekends beavering away at my laptop! I've since gone freelance, but I still have other paid commitments, so I now spend around 20 hours a week on For Books' Sake.
After spending a long time feeling like I was just battling my inbox and 'firefighting' I now try to plan that time more effectively, so that I spend a good chunk of those hours each week on specific projects, and no more than an hour a day on emails. Recently, that's involved delivering creative writing workshops with local queer women in a partnership with Manchester's LGBT Foundation, getting to grips with the budgets and funding bids for Grrrl Con, and sending out press releases and advance copies of our latest short story collection. At other times, it'll be speaking at events like London Book Fair or International Translation Day, editing anthology submissions and scouting out venues for bringing That's What She Said up North.
When did you know that this was what you wanted to do? And what were your early goals, your first steps?
When I moved to London after graduating, I wanted to do one of two things: work in publishing or at a magazine. I now run my own version of both, but it's been a circuitous route! I worked for years in events and PR, and then online publishing (a London listings webzine, if you must know).
Initially I started For Books' Sake as a blog to review women writers. I wasn't well paid at the time, and having scored enough freebies through my day job to know the potential, I thought I might get some free books and event tickets out of it, which was where most of my money went anyway! That seemed a good trade-off for the time I put in, and then when people started getting in touch – would-be contributors asking if they could write their own reviews for the site, and event organisers asking if I'd be up for getting involved in helping them programme more women writers.
I started developing the events side of things, primarily because it was exciting, and something I already had experience of, and because I loved the idea of creating more opportunities for women writers, but at that point I still predominantly saw For Books' Sake as a webzine, and I thought we'd eventually make money through advertising. That industry has completely changed in the past few years, becoming more competitive and diversified than ever, but for us it was good, because it made us adapt. We needed products to sell (tote bags, bookmarks, and – eventually, with the set-up of our publishing imprint – books), and we needed a shot at getting external funding, which is why we started our current process of registering to become a charity.
Why do you do this? What makes you spring out of bed in the morning? What's the best thing about the work you do?
To actually feel like you're making a difference. You might not change the world overnight, but seeing your efforts start to pay off is so rewarding and motivating. For instance, women writers who've participated in our Write Like a Grrrl workshops have gone on to get published, win awards, get signed by lit agents and leave their day jobs to spend more time writing. Their feedback and success was what prompted Grrrl Con; a chance to bring all these amazing women together so they can connect and learn from each other, and – hopefully – spur each other on to collective world domination!
And the worst?
Doing things on a shoestring budget. I'm from council estate in Salford, and it's definitely made me resourceful; I'm good at being cheap, and cheeky! But it's frustrating not always being able to afford to pay people (including yourself) what you know they're really worth.
As we get more established, we're getting more positive feedback from potential funding sources – now we've got a good track record under our belts – but it's been slow going. Women's labour – physical, mental and emotional – is absolutely undervalued, and I don't want to perpetuate or contribute to that. It's frustrating when your bank balance doesn't match your ethics and ideals, but we're getting better as time goes on.
What are the key challenges you face in your work? What are your tactics for overcoming these?
Working almost exclusively with unpaid volunteers. When everyone's juggling their For Books' Sake roles alongside full-time day jobs and other commitments, it makes planning tricky. You never know if things will get delivered to the timeframe or calibre you've planned.
Don't get me wrong – I know all too well how life can throw curveballs, and I totally get it when our contributors and other team members have to reshuffle their deadlines and remits, but it can end up in slow progress sometimes! To overcome this, we've had to get really strategic about what we take on, and really nail our communication processes too. Giving everyone opportunity to say if they're struggling seems obvious, but putting it into practice – especially when often people don't want to admit that they've taken too much on – can be a challenge.
I'm definitely still learning, but the more we streamline and prioritise the projects that'll help us make the most progress, the more I see we're getting there.
How do you approach time management?
Reading How to be a Productivity Ninja by Graham Allcott was a game-changer for me. When you're a start-up and you're trying to do a million things at once, it's easy to get overwhelmed, or constantly feel guilty that you're not doing or being 'enough.' So these days I rely on a few tools to make sure I'm moving forward. I use Remember the Milk to manage my to-do lists, and set aside a certain amount of time each week for each component of what we do. It always ends up being reshuffled depending what each week brings but it means nothing gets neglected too long.
I've also learnt that if there's something I'm putting off for whatever reason, it's important to look at why. Is it because it's necessary, but boring? (Just set some time aside, crank the music up and blitz through it.) Is it because I'm not sure about it for some reason; I'm anxious or intimidated or don't know where to start? (Identify one small step I can take to smashing it, even if it's just emailing someone – usually one of our trustees – to say I don't have a clue, and to ask if they can point me in the right direction). Or is it because I just flat out don't want to do it? (Usually means it's not right for me, or for the business, in which case it needs delegating or revisiting to work out a better approach).
Let's talk money for a moment. Can you tell us about your financial situation when you started out? Is your business sustainable now? 
For Books' Sake was started on next to nothing. Like, £20 for a domain and sweet-talking my graphic designer partner into tarting it up. About a year in, I relocated from London to Manchester. I'd gone freelance, and I knew I wanted to develop For Books' Sake, and that I'd struggle to do that while having to scrape together my London rent every month. So I came back up North, where my living expenses are much lower, and used the money I made from freelancing to subsidise the time I spent on For Books' Sake.
I still don't pay myself for most of the time I spend on For Books' Sake stuff, only workshop, speaking and event fees. But I've had other paid freelance opportunities come off the back of it, and I know we're in a really formative and transitional time. I'd love to be able to pay myself a proper wage, and I hope that's not too far away. But by selling tickets to workshops and events alongside our books and other merch, we manage to cover travel for our authors and other costs, from subscriptions to services like Submittable and MadMimi to getting our trustee board all in the same place at the same time to do some strategising.
As part of our Charity Commission application, we had to get our bank balance to a minimum of £5k, which initially looked really intimidating. Our annual turnover is much higher than that, but since we operate on really low profit margins (because we want our events, workshops and books to be affordable), and spend everything we make on further developing our activity, having that much just sat there seemed like it was going to be a challenge. Luckily, we managed to secure a grant from Seedbed to cover some of our Grrrl Con costs, and that and the revenue from ticket sales helped us to get there.
We're currently exploring a few other models for increasing our revenue, such as a membership scheme similar to Autostraddle's. Once we're registered as charity, there'll be more funding opportunities available to us too. The money side is definitely a challenge, but I'm in a really lucky position being able to (mostly) support myself with my other freelancing, which means I've been able to develop For Books' Sake in a way which hasn't been quite so dependent on cash as it might otherwise have had to be!
Where would you like to see yourself in five, ten years' time?
A few years back, the journalist and author Bidisha said this about us: "For Books' Sake should be a paper magazine, a cultural festival, a TV and radio network, a prize scheme and a full-on touring roadshow with a free big-bonus raffle and tom bola." So lots of ideas there!
By 2020, we'll have been going – in one shape or another – for ten years, so we'll have to do something big to celebrate that. I want to do more events outside of London, maybe a showcase at Edinburgh Fringe or develop Grrrl Con into a full-blown festival. I would love to do more with girls from low-income backgrounds too; my dream is to coordinate week-long holidays for them with workshops from women writers, slam performers and graphic novelists, like the Girls Rock camps in America. I'd love to do more partnership projects and campaigns to put writing by women into more people's hands too, specifically looking at providing books to places like prisons and community centres.
From a more practical perspective, the priority for the next five years is definitely working on funding bids and implementing and growing a membership base – we've got a lot of ideas and ambitions, but to put them into action we need dollar, so we also need to be realistic and make developing that side of things a priority.
I'm so proud of what we've done on next to nothing – imagine what we could do if we actually had some proper funds behind us!
How do you market For Books' Sake?
Social media is the main one. We run giveaways and challenges on Instagram, and Twitter is brilliant for promoting our workshops and events, as well as sharing other, external content, events and campaigns promoting writing by women.
In the beginning there was a lot of 'piggybacking' to see who we could team up with as a way of building our own reach. We did partnership events with lit festivals across the UK, and people like the Arvon Foundation, the LGBT Foundation and the London Rollergirls. All brilliant organisations with much bigger audiences than we had at the time, but a lot of overlap in terms of who we were trying to reach. Giving out a few tactical freebies in terms of time or products can be a valuable way of building your network, and we're always looking for new routes to our target audiences.
What's the most valuable tool in your kit?
An aim that people can connect to. Without that passion, from myself, the team and our community, we'd be dead in the water. People have to understand what your pie-in-the-sky ultimate ambition is, and why that's so important. From there, the rest – the steps you're taking together to achieve that goal, how people can get involved, and how that helps – is all a matter of communication and logistics. Sincerity is hard to fake, but if you've got the real deal, people will see it.
How does being LGBTQ impact on your business (if at all)?
A huge part of For Books' Sake is about championing, supporting and elevating voices which might not otherwise be heard. There's no denying that women writers are affected by systemic, institutionalised sexism in the media and publishing industries (evidenced by stats like the annual VIDA count), but women who are queer, trans, of colour, disabled, sex workers, from low-income backgrounds and/or otherwise outside the mainstream are inevitably impacted more than most. So we make a real effort to prioritise those voices within what we do, and – although I'd like to think we'd have done that anyway – I'd say my background makes me even more aware of the need to use our platform responsibly to make sure we're representing women writers of all backgrounds.
What three websites, blogs, books or people do you rate for business advice or ideas about your work?
The Aspire Foundation have a free mentorship scheme for women, along with events aimed at developing women's leadership skills.
Ogunte do brilliant work supporting women starting social enterprises, and have loads of useful advice and resources, as well as an incredible, worldwide community of women leading all sorts of exciting projects.
I also love Michelle Tea's latest book, How to Grow Up. It's not strictly about business, but you get the picture of how she developed her non-profit RADAR and the world-renowned touring Sister Spit roadshow, as well as loads of other insights around what it means to be weird, working-class and queer, and all the associated baggage that might involve.
What's your hot tip for queer women who want to start their own business?
Don't wait for the perfect time to do it, because there might never be one. Start small if you need to, but start.
Don't be afraid to call in every favour you're owed; big things can come from somehow serendipitously being put in touch with someone who's got more money, power or influence than you, however tenuous the connection. Don't be afraid, full stop. (Much, much easier said than done, of course, but a bit of awareness around our own fears can go a long way!)
Know your audience. Not just from a business or marketing perspective, but because they're the people you're doing this for. The world needs you; your ideas, and your voice, and tapping into a real understanding of the people who need it most will keep you motivated when it's gone midnight and you're still battling spreadsheets, business plans and funding bids. Likewise, connecting to a community – in 'real life' or online – of women with similar aims will help you in so many ways; from accessing advice to potential collaborations to moral support and cheerleading when things seem impossible. I've become friends with so many amazing queer women with incredible projects of their own through For Books' Sake, and seeing their courage, tenacity and success just makes me all the more ambitious and excited about the collective impact we can make.
---
Find out more at forbookssake.net, or keep up with For Books' Sake on Twitter, Facebook, Tumblr and Instagram. You can also find out all about Jane's own work at her website, janeclairebradley.com.
Are you a queer woman of colour running your own business or side-hustle? Do you know someone who is? We would love to hear from you! Email beth at autostraddle dot com to tell us all about it.