Today, I put on my favorite slippers. I made ice in our new ice ball molds. I decided I was going to make for you all my very favorite cocktail ever: The Sazerac. Now the Sazerac isn't for the faint of heart, because really it is only liquor. And one of the key ingredients of the Sazerac is that green fairy, absinthe. If you've never tried absinthe, I'm here to tell you: it has an extremely strong and distinctive anise taste; that's why it requires something called a rinse, where you swish absinthe around the glass and then toss it out. Any more absinthe than that, and it'll be TOO MUCH ABSINTHE. It's a super delicate balance and an extremely unique flavor profile. But don't be scared! Many people who don't care for a Sazerac on their first sip acquire the taste throughout their first Sazerac experience. That's what I like about it, actually—it's an incredibly complex taste that changes as it glides across your tongue. I'm just in love with it. Today is a day for favorites.
So why haven't I shared the Sazerac with y'all before, being that it's my very favorite drink? Well actually, I did make a Sazerac once for A-Camp, at the very first whiskey tasting Alex Vega and I ran together! And everyone almost had a heart attack when I spilled the absinthe into our waste bucket. Like, the whole damn room leaned forward and gasped. All I could say was, "trust me, you do not want that in there." They agreed with me in the end; it would have been TOO MUCH ABSINTHE to leave it. But still, I wanted to wait until I had a specific piece of equipment to do an absinthe rinse sans waste to share the Sazerac with y'all on the wider internet. I do not want to be responsible for any at-home heart attacks, nor do I particularly care for waste.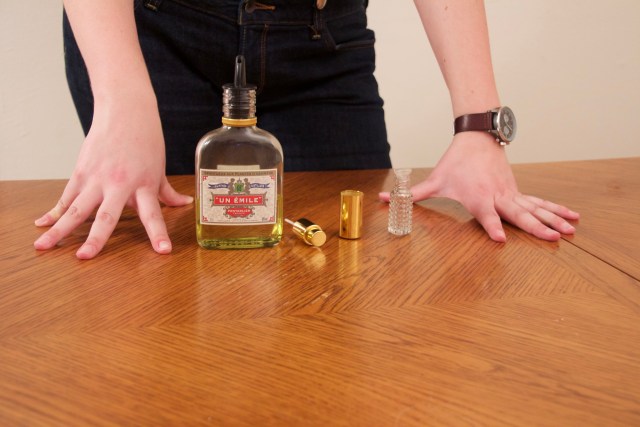 Enter the atomizer. I talked about it on this website once—it's the same exact thing you'd use to spray perfume. But instead, we're going to load it with absinthe and spray absinthe along the inside of the glass. It's a relatively inexpensive piece of equipment—cheapest I've seen is five dollars—and it'll up your Sazerac game 100%. Trouble is, I have a memory like a whiffle ball and just kept…forgetting. At no point would it have been a hardship to get it, I'm just an out-of-sight-out-of-mind person. But I'm bartending for a cocktail party my fiancée is throwing, and she thinks a friend of hers would love my Sazerac. So today, literally on the day I am writing this, an atomizer showed up at my door because my fiancée has a much better memory than I do. It was a sign from the Bar Goddess. Besides, this'll give you something besides green beer to drink this Saint Patrick's Day (never drink green beer, please just don't, you are better than this).
You will need:
3 oz. rye (I'm using Rittenhouse this go 'round.)
3 dashes Peychaud's bitters
3 dashes Angostura bitters
1 demerara sugar cube
Absinthe (I'm using Un Émile, which is on the pepper-ier side of Absinthe's I've tasted.)
A mixing glass (you'll notice I'm using a jam jar, but I do not recommend this, as the bottom is not flat. Use something with a flat bottom, like the bottom half of your shaker.)
A muddler
A strainer
A bar spoon
Ice
And if you want to forego a garnish like I do (I like my Sazeracs without the traditional lemon peel), use visually interesting ice for the final product. I made ice balls for this, the occasion on which I share my favorite drink with you.
Begin by filling your atomizer with absinthe. If you are new to filling an atomizer like I am, this may prove to be difficult. Look at this tiny wee funnel they give you! I even used a slow-pour spout and I still managed to to spill about a quarter of a teaspoon of absinthe, which immediately left a ring on my table because absinthe is hardcore. We thought it'd stripped the finish! Seriously, my fiancée (who took all the photos for this, by the way) had to get the hair dryer out to fix the table (she fixed the table!). Maybe fill the atomizer on the counter or on a plate, is what I am saying. Learn from my mistakes.
Once it's all filled and sitting pretty, put a sugar cube in a mixing glass. Add the six total dashes of bitters (half Peychaud's, half Angostura). Muddle the sugar cube with the bitters—it's gonna look like a paste when you're through.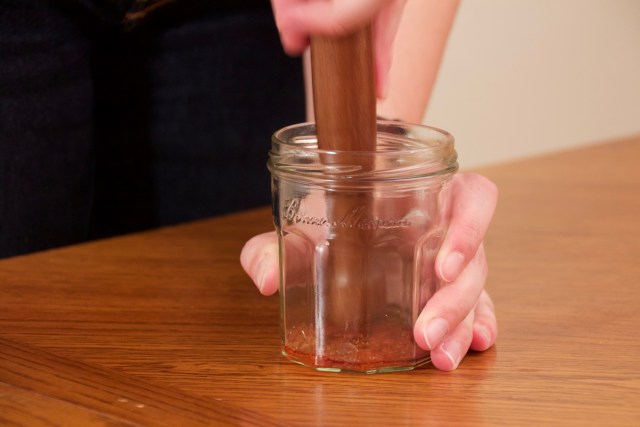 Now if you want your Sazerac a little sweeter, you can use a dash of simple syrup instead. Me, I like my Sazerac more along the lines of "sugar breathed on this." That's why I use a sugar cube.
Once you're through muddling, fill your mixing glass with ice. Add three oz. of rye whiskey. Stir.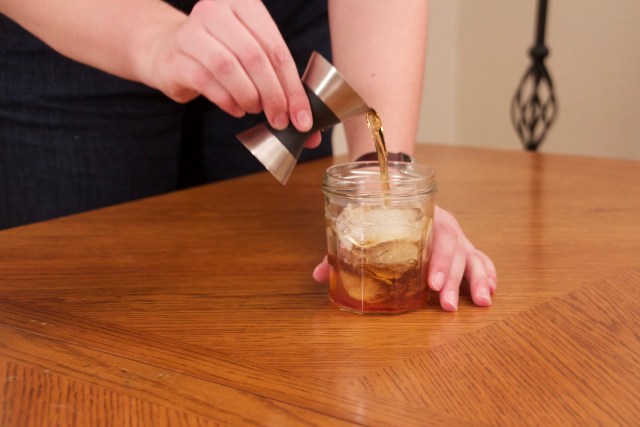 Take your final glass (I'm using a standard tumbler, here) and spray the bottom and sides with absinthe until it's coated nicely, but not dripping and pooling in the bottom of the glass.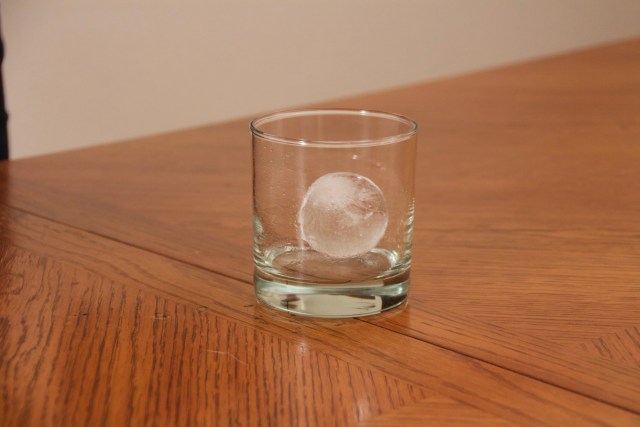 Add your visually interesting ice to the final glass and strain the Sazerac in. Enjoy responsibly.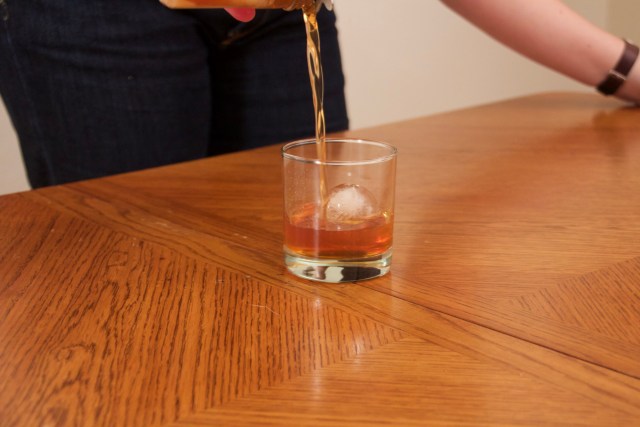 And like I said, if you don't care for your first sip, I urge you to give it a second, third and fourth sip. It's complicated; you may change your mind.
So, what's the cocktail you pull out your fancy ice and your favorite sippers for? Tell me all about everything in the comments!