We queers, as a collective unit, have a lot of demands for the people who create and release popular emoji keyboards. Those demands include the very general but always important "do better" and also "we like tacos." We have crossed our fingers for lesbian emoji keyboards to save us all, awaited actual diversity in our mobile universe, and, when possible, created custom Slack emoji of our own faces in order to best communicate our emotions.
But friends, the day has come. Emoji sets that offer us more than white, straight, thin people and evil dancing twins have finally arrived! We've got Gaymoji, which offers rainbows in every shape and size; Stereojis, which gives us both the taco and the twerk; and, well, Lesbian Emoji, which lets us U-Haul and such.
But what if I told you there was a new app in town that made queer sexting easier than ever, and didn't break us apart based on who we're attracted to or who we are? What if I told you this app's keyboard connected to all your other messaging apps and gave you diverse and realistic representations of bodies, fuzzy handcuffs, a fully loaded taco, a kitten, a unicorn, and even you biting your lip? What if I told you this app came to out of a process of feminist analysis of the emoji market and was custom-created with queers like you in mind? AND WHAT IF I TOLD YOU THE WHOLE SHEBANG (PUN INTENDED) WAS FREE?
Well, my dear reader. If I told you that, I'd be telling you about FlirtyQWERTY.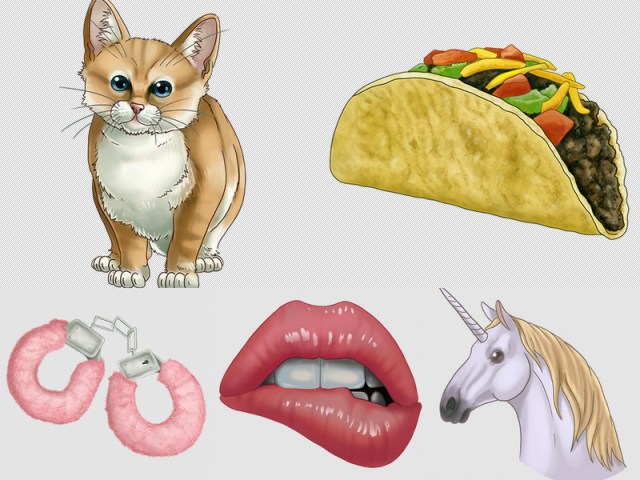 I met Amy Galland, founder of FlirtyQWERTY, at the Amber Rose Slutwalk, where she and some of her compatriots were encouraging all of us to download said app and send each other sexy messages immediately. I reached out to her afterward to ask her some questions about the app, why she created it, what it means, and where it's going.
AUTOSTRADDLE: How did flirtyQWERTY come to be? What was your motivation in creating it?
AMY GALLAND: I was flirting with a guy on my cell phone and I wanted to give him the finger.  But there was no middle finger emoji.  He told me to draw one, so I did – and then he told me that my drawing sucked.  At this point, I really wanted to give him the finger!
I started looking online for a middle finger and went through all of the offerings for adult emojis.  I didn't find anything that I thought was empowering to women – nothing that said: "I am fun, sexy, and I respect myself – respect me, too."
So I did some research on emoji use (35% of Americans use emojis daily, 74% weekly) and the number of people who sext (88% of adults) and decided there was a need for sexy, respectful emojis and that I would create an app.
How do y'all at flirtyQWERTY approach inclusivity during the creative process? How have you prioritized it in your work, specifically for creating a keyboard that's accessible and relatable to queer folks and people of color?
Inclusivity came naturally. Our world is made up of people of many races, sizes, ages, and sexualities.  And we fall in love, make love, and feel heartbreak whoever it is we are and whoever we are dating.  We all live together, and I made an app where we are all together.
When I started looking closely at my competition in the app space, I saw the degree to which apps are segregated. For example, there are apps with only white characters, only black emojis, lesbian apps, gay apps, heterosexual apps (which makes it difficult for people who would need to have twice or more the number of apps). Sometimes separate apps may be appropriate, but overall it is disconcerting to see so much segregation creep into technologies and products that are supposedly at the cutting edge of our popular culture.
On the process side – when we consider which images to create, we speak to people with different identifications about what emojis they would want so that there are emojis for everyone. When we put together the images for each version of the app, we pay attention to having balanced representation. You will see this focus consistently as we introduce additional images.
At the AR Slutwalk, you told me that your background in women's studies and feminism was pivotal in making flirtyQWERTY happen. How did your social consciousness impact and shape this app?
I spent a lot of years looking at, reading and talking about representations of women and the impact of those images on how we are treated in society. I believe that the objectification we see in art, advertising, the media, and games informs how people treat us and contributes particularly to sexual aggression against women. I see flirtyQWERTY as an opportunity to create respectful images that – when lots of people see and use them regularly – can seep into their subconscious and give them a light-bulb moment of "what I'm doing doesn't look like what I saw in the app." I see my work as a chance to take what I learned contributes to the objectification of women, invert it, and create and share more empowering imagery.
What emoji would you love to add to the keyboard as the app grows?
As the founder, the ones I wanted most are in there. But I do find myself texting and wanting something we don't have yet. I keep a list – and I am always asking people what emojis they want. We also ask people to either tweet what they want to us @myflirtyQWERTY or to write to us on the suggestions page of our website.
What's your favorite flirtyQWERTY emoji?
I love all of them. But I most often use the peace sign, butterfly, heart, fingers crossed (I've got a start-up!) and champagne toast. And the two hands in the shape of a heart.
And, of course, the middle finger.
---
You can download FlirtyQWERTY for iPhone and sign up to be alerted when it's released for Android. In the meantime, you can follow @MyFlirtyQWERTY on Twitter and Instagram.