Why, hello there squirrel friends! This week on TV everyone had some sort of gay kiss, so there is A LOT to talk about. But first, news!
After like a million days of audition episodes (zzzz), So You Think You Can Dance has finally revealed its Top 20 dancers for season 6. Tune in to Fox tonight at 8 to watch the competition get underway.
NBC has officially picked up Community (yay!), Parks and Recreation (awesome comeback!) and Mercy (wait, what?) for full seasons (does that mean less Georgina Sparks on Gossip Girl? 'Cause I'm gonna be PISSED). But, bad news for Dollhouse, which is going on hiatus until December, effectively skipping November sweeps. Fox already said it would air the 13 season two episodes it originally ordered, but at this point it would be shocking if it picked it up for any more. Which is a shame, 'cause I like this show, but overall it's been kinda disappointing (though this week's outing was pretty awesome, but more on that later). Why does Joss keep working with Fox? I could see this doing really well on SyFy or something like that.
In some totally awesome news, both Kristen Bell and THE LYNCH will be back on Party Down's second season. And Zooey Deschanel will definitely be on the December 10th Christmas episode of Bones with her sister Emily, also awesome (warning: there are spoilers at that link!).
Also TWoP has a great list of web series that you should check out. And finally, if you missed it on Friday, you can read my giant Gleecap here.
And now…
The Carlytron Television Awards for the Week Ending 10/25/09!

The "Luke, I Am Your Father" Award – The Office
Episode 606 – The Lover
The Office was awesome again this week (after the disaster of last week) because Michael told Pam that he was dating her mother and Pam went insane. It was amazing. Also, since becoming co-manager, Jim is sorta turning into Michael, right? My favorite part was when Kelly shouted, "what the hell is a mallard?!" at Dwight. It was all in Mindy Kaling's delivery. Speaking of, the Office's newest series of webisodes will premiere Thursday on NBC.com and is called "Subtle Sexuality." It looks totally amazing:

The Lez Girls Award – 30 Rock
Episode 402 – Into the Crevasse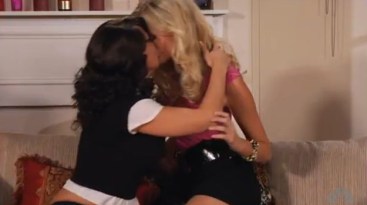 Holy shit you guys. LIZ LEMON IS JENNY SCHECTER! Jenny based the dealbreakers in her book on Tracy's life! All of the guys at work get mad at Liz this week because her book is ruining their lives, but Tracy takes it the furthest (naturally). His scenes with Liz were some of the funniest I've ever seen. His line delivery on "It's Jenna. From work." killed me. To settle their feud, Jack lets Tracy have Liz's life rights, and she writes him a porn based on her life, which he directs. Jenna is totally into watching the Jenna and Liz porn ladies hook up. Meanwhile, Jack goes to D.C. to testify before a committee led by none other than Devon Banks, his gay arch-rival. I love Will Arnet and get very excited whenever he's on the show.


The TANTRUM! Award – How I Met Your Mother
Episode 505 – Duel Citizenship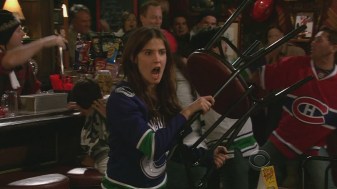 Ready? Robin gets into a bar fight (yes!) so now she's gonna get deported so she has to become a US citizen to Barney teaches her how to be an American but then on her way home she gets wasted and taken to Canada by the Women's National Curling Team (hot!) and Barney gets beaten up by some Canadians and then they go home and Robin decides she'll get dual citizenship. Meanwhile, Ted and Marshall try to relive their college years by taking a road trip to Chicago to eat some pizza but Lily comes along and annoys Ted so he kidnaps Marshall while they're at a hotel on the way there and he gets mad and then they make up and then they get back and Lily had no idea they were gone. This was pretty awesome. No plot advancement, but awesome. And awesome continuity note: every time Marshall and Ted are in a car on a show they are singing "500 Miles" and although I hated that song back in the 90s, it's really perfect on HIMYM.
The Vanessa Abrams Award For Unprecedented Asshattery – Gossip Girl
Episode 306 – Enough About Eve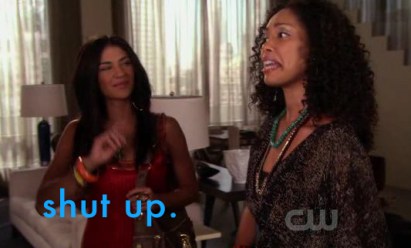 Both Blair and Vanessa get PWNED this week, Serena sucks at poker, Hilary Duff is actually charming, Nate is more clever than we usually give him credit for, Chuck is awesome, and we find out that the apple (in this case,Vanessa) doesn't fall far from the tree: her mother is somehow more annoying than she is. She's all, "oh I just came from the co-op, blah blah blah, we don't believe in elitist education, blah blah suck," and I'm like, "Uh, lady, it's NYU, are you kidding me? And you did not come from a co-op unless you live in Park Slope which you do not so SHUT UP and take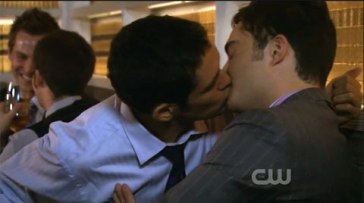 Vanessa with you when you leave please, she is killing me and her hair is still a mess." Jeez, these people. Oh and Chuck kissed a boy, and he liked it (hope that Blair don't mind it! And she didn't! Cause she played him!). He's all like, "not my first time at this rodeo, Blair," but as Lily points out, he would've done anything Blair would've asked him to. This episode was awesome. I love this season so far.


The Most Changed For the Better Since High School – Dollhouse
Episode 204 – Belonging
This award is a Romy and Michele's High School Reunion shootout because the evil dude who was trying to take Sierra away was actually played by Vincent Ventresca, who played Billy Christensen in that amazing film. I kept quoting the movie every time he was on the screen, so I was a bit distracted. For instance, during the scene where he's beating up Sierra, I was saying, "If anyone needs to make a call, I've got a phone!" Anyway, this was probably the best episode of this season so far, focusing mostly on Sierra's backstory. It was really compelling and intense and GROSS (they showed way too much of the body cleanup scene for my taste) and Topher's heart grew three sizes that day.
Also Echo wore this dress, which may or may not have been painted on:
Special Comment: Grey's Anatomy
Episode 606 – I Saw What I Saw
My dumb ass decided to watch this right before bed and it was sorta graphic and intense so then I had to watch some Newsradio to calm down and fall asleep. Did you guys know that they have most of the series on Hulu? Isn't that amazing? God I love that show. Any other Newsradio freaks out there? I reference it all the time in real life and no one ever knows what I'm talking about. Sadness. Um, I'm getting off topic here, anyway…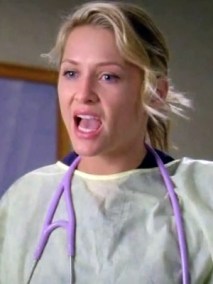 So despite the lack of lesbian anything, I actually really liked this episode… but I'm a sucker for a murder mystery! This episode was crazytown, it told the story of a mass injury fire wherein a woman dies in the ER, but it was told in reverse from everyone's separate point of view, Rashomon style.. This technique has obviously been done to death over the years but I love a good ol' whodunnit. In the end, one of the Mercy West chicks gets fired (and they finally get blue scrubs, thank goodness), and Derek tells the Chief that the general chaotic atmosphere is just as much to blame for the death. YEAH! SUCK ON THAT, CHIEF! Since I watched this on Hulu I have no idea what happens on the new episode on Thursday but I'm hoping for LESBIAN ACTION. To tide you over until then, though, check out this adorable Q&A with Sara Ramirez where she talks about "Calzone," as she calls them.


The Funniest Thing I Saw All Week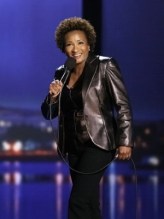 I finally got around to watching Wanda Sykes' new HBO comedy special, "I'ma Be Me," and she's just as funny as ever. I love Wanda Sykes like whoa and have for a long time now. She talks about Obama, coming out, and her home life with her wife and twins. I highly recommend checking this out if you've got HBO On Demand. Anyone ever see Pootie Tang?


The Hot Girl of the Week
Our Hot Girl of the Week is Navi Rawat, who guest-starred on FlashForward this week (details on that below). Normally she can be seen on Num3ers, which I used to watch with my mom and is about math and is therefore awesome and also, I am a nerd. Anyway. She's a mathematician on that show, which is hot. And then on FlashForward this week she was a lesbian chef. I thought she looked smokin' hot in the totally awkward gallery scene. They never let her look that hot on Num3ers. WTF CBS?
The Awesome Gay Moment of the Week – FlashForward
Episode 105 – Gimme Some Truth
OH HEY THIS WAS AWESOME. So as you know, I've been watching and enjoying Flash Forward this season (though it's moving a tad slow for my taste, but I guess if I can stick with Heroes then I can do anything), but this was a really exciting development. FBI lady Janis Hawk is a lesbian. I totally knew this was going to happen, I called it a few weeks ago in my living room alone but have zero witnesses but whatever, I'm a genius. Not really, here are the facts:
Her name is JANIS HAWK.

That old Nazi dude pointed out that wearing a thumb ring used to mean that you were a gay lady in Germany. FACT: I wore a thumb ring that I got at Pacific Sunwear (I refuse to call it PacSun, that is just embarrassing) during high school.

She wears pantsuits to work.

In her flash forward she is pregnant. Obvs lesbians on tv are always having babies.

She's very good at computer searches.

+
See? Lesbian. This should have come as a shock to no one. During this week's episode we see Janis kick a dude's ass at her martial arts class, and then turn him down when he subsequently asks her out (that's all it takes, ladies: just kick a dude's ass and he won't stop calling you). Then she makes eyes at a fellow classmate, Maya (played by the above mentioned Navi Rawat). AND THEN LATER THEY ARE ON A DATE. Apparently Maya is a chef (lesbians looooove lesbian chefs, see also: Top Chef) and they are at the fancy restaurant where she works. They are both flirting HARDCORE and it's totally awesome to watch. Then they full-on make out at the table. This is my kind of first date!
Then it's the morning after! Yes! Janis is getting ready for work and they make eggs and she tells Maya to hang out at her place and go through her things which is amazing. Maya asks if she'll see her later at her friend's gallery opening and naturally Janis says yes.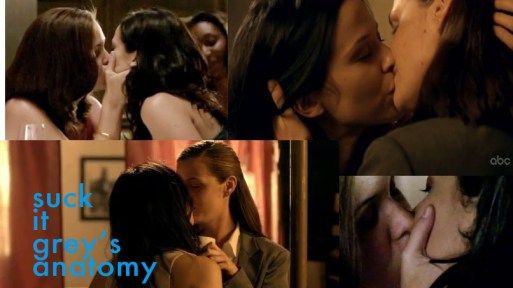 Later at the gallery, things get weird; Maya didn't snoop through the apartment, but she did look Janis up on the Mosaic website (which is the website that she's helping to run at work, which catalogs everyone's flashforwards in hopes of finding patters, etc.) and saw that she's going to be preggers 6 months from now. Janis flips out on her and leaves. DAMMIT! Crazy lesbians. I think that reaction was a bit intense, but Maya was a little ridiculous talking about their future baby and all. Everyone needs to chill out, have some chardonnay, and regroup later.
At the end of the episode, Janis's coworkers get attacked by some crazy hitmen in D.C. but they all survive. Simultaneously, she's attacked by hitmen of her own in LA, and though she KICKS THE CRAP out of one of the dudes, another shoots her. She's alive, but lying on the street alone.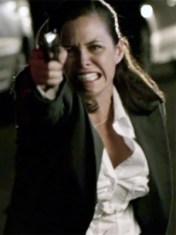 Figures; the lesbian gets shot! At least she was totally badass up until then. Though I checked on IMDB, and Navi Rawat is only listed as having been in one episode of this show. Which is a bummer, cause they were really cute together. But! We have another lesbian series regular on network tv, which is fantastic. And like, duh, they're totally going to get together 6 months in the future, OBVS, so I'm sure she'll be back.
I give FlashForward an A- for the lesbian portrayals in this episode. They all felt very realistic up until the last one, and they actually got to kiss several times. Take THAT, Grey's Anatomy! Interesting how they're on the same network and all. Guess it's just Shonda's fault?


The Weird Gay Moment of the Week – Eastwick
Episode 105 – Mooning and Crooning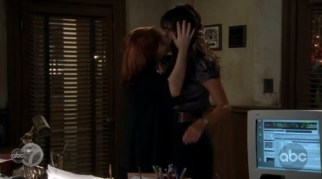 So this is rare: a lesbian kiss with NO PUBLICITY AT ALL (the FlashForward one wasn't hyped like Heroes was but it was hinted at during some promo montages). I haven't really been following this show that much but apparently everyone was under some spell that made them act WILD (sorta like True Blood I guess? But in a Disney-owned-network sorta way) so after Joanna (Lindsay Price) gets a front page article and is all excited, Penny (Sara Rue, whom you might remember from the Best Show Of All Time, Popular) makes out with her in celebration. Then she squeezes her ass and leaves the room. Hot! US readers (sorry everyone else, but I couldn't find a clip anywhere!) can watch the scene here:
But then it gets weird; later on in the episode Penny tells Joanna, "For the record, I like guys. In fact there's one guy that I'm, like, really kind of into, and he has a penis." Uhh. Ok. Methinks the lady doth protesteth too much, but whatever, that's annoying and totally over the top. Thanks for nothing, Eastwick. I'm going to go back to not watching you now (until Haviland's episode, obvs).


Honorable Mention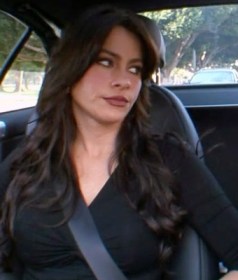 Modern Family: Sofia Vergara throws a bunch of her underwear on Phil. This show makes me happy.
Ugly Betty: It's probably not a good sign that 24 hours after watching it I can't remember what happened on it.
Parks and Recreation: The pit got filled in! And Andy was in full effect. This show gets better every week.
Community: Britta is a feminist! I love Abed! Yay full-season pickup!
Cougar Town: This episode was directed by Jamie Babbit!!! That is all I have to say.
Heroes: Ugh, more new characters and MIA series regulars. I mean, it wasn't an entirely offensive episode, just more of the same crap. And nothing happened! And Peter is gonna possibly be able to save Hiro, which is a real bummer (but hopefully Jayma Mays will stop by first). Next week: Claire and her gaylady roommate fall on top of each other. O RLY?
'Tron out!