Hi squirrel friends! You look great today! Is it because it's Friday or did you do something with your hair? Keep doing what you're doing! It's Glee time!
Stars this week: Puck, Kurt, Sue Sylvester, and maybe 7-11? Those "Big Thirst" cups of "Slushees" look a whole lot like "Big Gulps" full of "Slurpees," but I digress.
Confession time: My DVR went apeshit and decided to not record the entire 3rd and 4th acts of this episode, which is bizarre, so on first watch I thought: 1) this episode was terrible, and 2) it is time to get a new DVR. Perhaps I was too rash in my thinking on both (Spoiler alert: eh, maybe not).
Let's begin!
We open with Finn getting a Slushee dumped on his face, signifying the end of his and Quinn's popularity and the beginning of the Great Slushee War of 2009. It's like the Shot Heard 'Round the World, except tastier (and colder! What a brain freeze that must be).
Emma and Ken ask Will to come up with a mash-up of "I Could've Danced All Night" from My Fair Lady and "The Thong Song" for their wedding. Romantic! I love how they're combining old-school fairy tale femininity with modern-day female objectification! The latter I fully endorse, obvs, we'll be playing "Poison" by Bel Biv Devoe at my wedding.
Anyhow, everything about this conversation is horrifying, from the fact that Emma is actually marrying Ken to the ensuing discussion of Ken's toenails or lack thereof. The number one way to get me to leave a room is a discussion of feet (Number two: telling me there are snacks in a different room).
Anyone else getting tired of this Emma-Ken storyline? I guess I'm actually more tired of the fake-baby storyline, but that doesn't really get addressed this week as Terri is nowhere to be found (maybe she's off blackmailing her future pediatrician? Dentist? Gardner?). I hate shows where our suspension of disbelief is challenged by these constant reminders of how actor's contracts work (L Word, I'm lookin' at you) — as in, each actor is contracted for a certain number of episodes, which's why one is often mysteriously missing each week.
"Something tells me that if I didn't love this show unconditionally, I'd hate it." – Carlytron
Will challenges the kids to come up with a mash-up of "Bust A Move" with another song of their choice. No one wants to take the lead so Will decides to inspire the group by stripping down — to a t-shirt! — and dancing like he's 17 (He really loves his spin moves!). It's so ridiculous; as usual, the best part is Kurt.  (Much like life itself, the gay boy saves the otherwise unbearable moment.)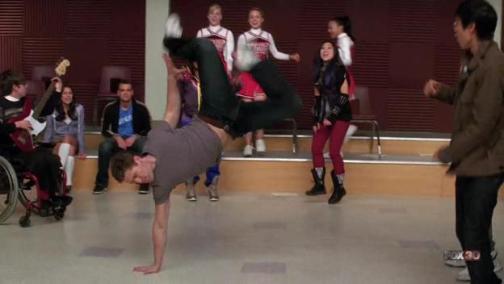 You know, I'm not sure how much more of Will rapping I can take. And while this is a song that I happen to rather enjoy, it does seem sort of inappropriate for high school. And all of this before the credits! How busy!


"So how can I help you kids? Is it too many friends on MySpace, or… ?" – Emma (Obvs Emma does not read my recaps.)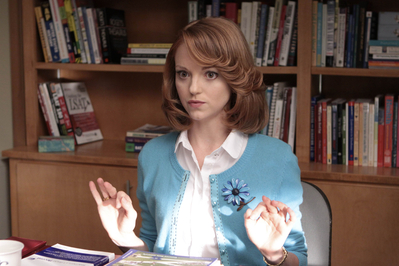 Quinn and Finn go to see Emma to try and be more popular. That's like asking Liz Lemon for dating advice (sidebar: I relate very strongly with both of these ladies, I'm not sure what that says about me other than that I am a neurotic mess 24-7). She slips and says something about "sunglasses" being sexy and by "sunglasses" she means "Will" because he's mugging outside her office in some shades. So she cleverly suggests the kids wear sunglasses. 'Cause if it works on Miami Vice then it will definitely work in high school!
Then she puts on a wedding dress and goes to see Will to learn how to dance. It's the worst dress in the world, she looks like a cake topper who has never actually eaten a piece of cake in her life.
Robin: "Oh my god, they're going to dance to the Thong Song."
Carly: "WHY DOES HE ALWAYS RAP!?"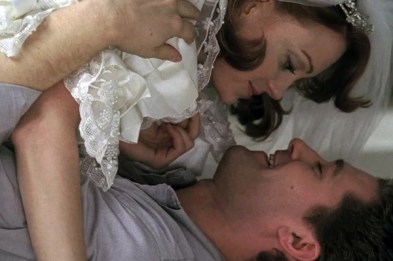 This is horrifying, I can't come up with another word for it, it made my eyes water SO BADLY. This song conjures up unfortunate memories from high school and I am not really prepared to go there right now.
Then they CONVENIENTLY end up on the ground on top of each other and almost make out. Wait, I'm still hung up on how people are actually seriously dancing to "Thong Song" at their wedding. And are they doing like hip-hop choreography too? I am so confused!
Football time! The guys make like a hundred gay jokes (no homo) and get into some fisticuffs and Coach Ken has to give them a serious pep talk and tells them that he's adding a new practice during… you guessed it… Glee practice! Seriously Glee Club is the new Universal Health Care, obstacles at every turn.
This is Ken's way of punishing Will, as he caught him in a compromising position with his soon-to-be-wife. Ok, time out. I'm sorta getting tired of this, every single episode has the same formula: someone tries to sabotage Glee, someone quits Glee, someone gives someone else a pep talk, Will learns a lesson, everything is back in its right place by the end of the hour. Am I on glue?



Rachel is rehearsing in her room with… Puck? They're performing "What a Girl Wants." Aww, I love that video. He asks her if she wants to make out, and she's like "sure" because one time his mom told him to date a Jewish girl and he had a dream about Rachel. Anyway, this is hilarious. More Puck!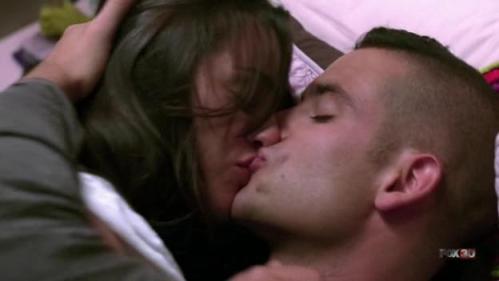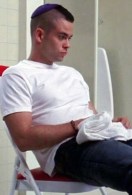 "It was a message from God. Rachel was a hot Jew and the good Lord wanted me to get into her pants." – Puck
Also his first name is actually Noah, not Puck. How biblical! She stops the makeout and tells him he needs to sing a solo in order for her to be into him (which is secret code for "you are not Finn" and is a very specific request).
So he sings "Sweet Caroline" with a guitar to the entire Glee Club, which is a song that I happen to hate (and I love Neil Diamond, but… no). He and Rachel make dreamy eyes at each other while Finn looks confused and Quinn looks like she's in love. Later, in the hallway, the football team drenches Finn, Quinn and their new Ray-Bans in Slushees.



Then Sue Sylvester is on the news sort of not-talking about gay marriage. It's actually really special and one of the best moments ever, which is a nice break from the ridiculousness that preceded it.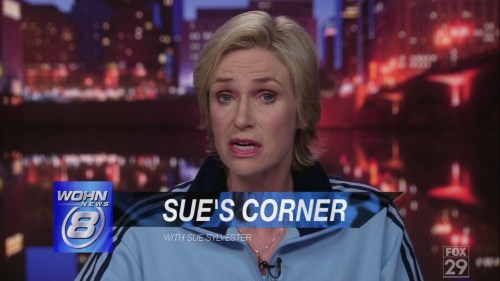 "I, for one, think intimacy has no place in a marriage. Walked in on my parents once and it was like seeing two walruses wrestling." – Sue
Sue gets asked out on a date by Rod, the newscaster, but Sue says that she thought he had a wife. He says his wife drowned, like Ophelia.  Sue looks super excited.
Cut to: Sue and Will doing the Lindy Hop or something. While this is probably the most adorable thing I've ever seen, it's not really in character for either of them. They decide it's nice not being at each other's throats and Sue tells him how she's in love with Rod after only one date, where they played Battleship and he invited her to complete in a swing dance competition with him (and, I think, tells her that he's a swinger, which is an entirely different thing).
Sue lets it slip that Ken is making the football players choose between football and Glee so Will goes to talk to Ken. Ken yells at Will because Emma is settling for him and Will is leading her on, so Will tells him it will never happen again.
Will goes with Emma to get a wedding dress. Um, this is exactly the opposite of "I will not lead her on anymore, Ken, I promise you." She looks beautiful, totally like Audrey Hepburn. They practice her My Fair Lady song and Emma sings!! It's cute but like, why is this happening in a store? This is just like Pretty Woman. And honestly, no offense, but those POV spinny cams do no one any favors.
The Glee club waits to see which football players will stay with Glee and which will go back to football.
Final verdict: Finn is the only jerk, Puck, "other Asian," and "Shaft" return to nerdville.
Also, apparently Kurt quit football, in case you were wondering about that storyline. Now that he's back on the team, Finn is supposed to drench Kurt in a Slushee so the football jerks don't kill him, and Finn cutely prefaces his dunk with "I know you're really particular about what skincare products you use on your face" — and in a stunning move, Kurt dumps it on himself and tells Finn that no one on the football team would have drenched themselves in Slushee for him. Then Kurt asks the girls to take him to a day spa, "stat!" so they all go into the ladies room, which is just precious. MORE KURT.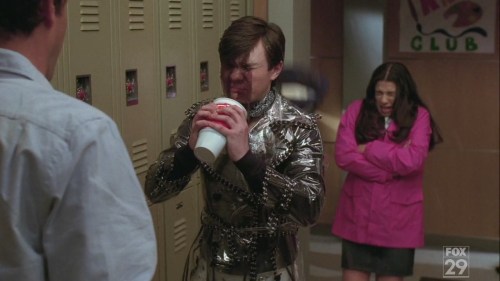 "I came by special to show you my zoot suit." – Sue
Then the most amazing thing happens: Joyce Wishnia Sue Sylvester stops by the TV studio to show Rod her amazing zoot suit (in McKinley High red, no less!) but catches Rod with his co-anchor. So he is THAT kind of swinger. Rod breaks her heart into a million pieces and she leaves. Puck & Rachel have another heart to heart because they are lesbians and instead of joining forces to break up Quinn and Finn, they just get pissy with each other and break up.
Carly: "I hate this part."
Robin: "Why, because he tells him to 'go long' and he backs up four feet?"
Will talks to Finn about making tough decisions or whatever and I'm just so over this constant need to give people pep talks so that they won't quit Glee. New plot device, please! Finn talks to Coach Ken about how making them choose between their extracurriculars is "not cool" and he relents, going back to their old practice schedule. Tiny victories, folks.
"Schuester! I'll need to see that setlist for sectionals after all. I want it on my desk, warm from the laminator, at 5pm. And if it is one minute late I will go to the animal shelter and get you a kitty cat. I will let you fall in love with that kitty cat. And then on some dark, cold night I will steal away into your home and punch you in the face." – Sue Motherfucking Sylvester
Given recent developments, Sue's back on the warpath (thank God). You can tell because she's wearing her black track suit, as she is clearly in mourning. She demands Will's set list for sectionals and kicks Quinn off of the Cheerios FOR-EV-ERRRR!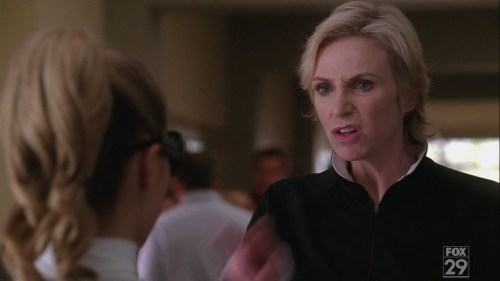 Will talks to Emma — who has apparently built a time machine and borrowed Wilma Flinstone's necklace (tell Pebbles I said "yo, what's up?") — and tells her that the two songs just DON'T FIT TOGETHER though they are GREAT SONGS ON THEIR OWN and like, I wonder what they are talking about? I have no idea. Is this a metaphor? More secret code? Pep talk in disguise? He walks sadly out of her office and right into…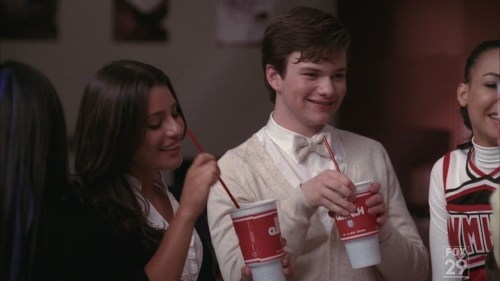 Glee practice! Everyone is back and they are drinking some Big Quenches to celebrate. Quinn is wearing her street clothes now that she's been kicked off the Cheerios and this is actually the first time we've ever seen her out of her Cheerios uniform. WEIRD. Surprisingly she looks just as not-pregnant in this outfit as she did in her former outfit.
Will realizes that he's never gotten a Slushee Facial, so the kids rectify that situation for him:
+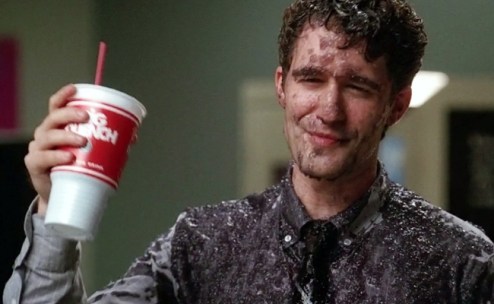 Sigh. I love this show but they really need to change it up a bit and resolve some of these really annoying plots (Finn isn't the father, Terri isn't preggers, Emma marrying Ken, everyone quitting Glee all the damn time). Luckily, it's still one of the most clever and creative shows around, and The Lynch Can Do No Wrong.
'Tron out!