LINDSAY: Every day, the lyrics to "Rumors" sound less like pop music and more like PROPHECY!
1. If I see one more close-up photo of Lindsay Lohan looking like shit as evidence of her downward spiral, I'm gonna scream. No one looks good close-up, except for Mariska Hargitay and Jennifer Beals, because they are Perfect Beings.That being said, Lindsay is looking a little wrecked these days.
2. The LAPD has arrested four women in connection with break-ins at Lindsay Lohan and Audrina Patridge's homes, which is good news because it means she wasn't lying about all that, as was suggested by many news outlets far meaner than us. (@jezebel)
3. The ban on Lindsay Lohan at posh club "Avenue" has been lifted.The rest of us continue to not care about Avenue because we can't even afford an olive there, let alone a whole martini.
4. Lindsay's attorney defended Lindsay's leave of absence while on probation by explaining all of the "work" that Lindsay has been doing lately, including "narrating a BBC documentary on the trafficking of women and children in India." among other reasons that sound fantastic, but also false.
4. Courtenay Semel, who lost all credibility when she willingly began dating the tiny assemblage of bones, bikini, brainfreeze and bling known as "Tila Tequila," has some words of faux-sympathy for Lindsay: "I look at you and I want to cry. I see myself in you six months ago." Furthermore her father has attempted getting through the old-fashioned way — by publishing a letter in In Touch magazine. Maybe he's worried that she doesn't check her email or something.
5. Why do we feel obligated to not only cover this information but share it with you? Probs 'cause any headline that isn't "Lindsay Lohan Goes Back to Men!" followed by an expose on how Samantha was just a phase and Lindsay never wants to be with women again and isn't really bisexual is a little bit of hope for Team Rohan, or really for Team Gay. Also, it's a slow news day.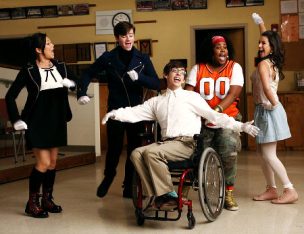 GLEE: "Criticizing Glee is like lecturing a puppy—you end up feeling like the bad guy": Glee's Great, But the Music Ain't! This has been a major complaint of ours for a while now — that the vocals & instrumentals are pre-recorded together — and although we realize that lip syncing is mandatory in this case, the vocals should not be pre-mixed with the rest of the song (can you tell I don't know what I'm talking about? Well, luckily the E! guy understands it better than I do." "We don't get why the Glee people, many of them musical-theater veterans, can't sound as unplugged as that magical bass guitar Kevin McHale's Artie is always thumping on." (@eonline)
DITA: Really, I swear I've seen these before but apparently someone has unearthed a never-before-seen photoshoot of Dita Von Teese and a randomly hot lesbionic girl from 1999, and you should check them out and then maybe take a break and rub one out. I'll put this in the NSFW Fix too probs, because there's a lot of T&A in this thang. I mean full frontal vadge. (@ohnotheydidnt)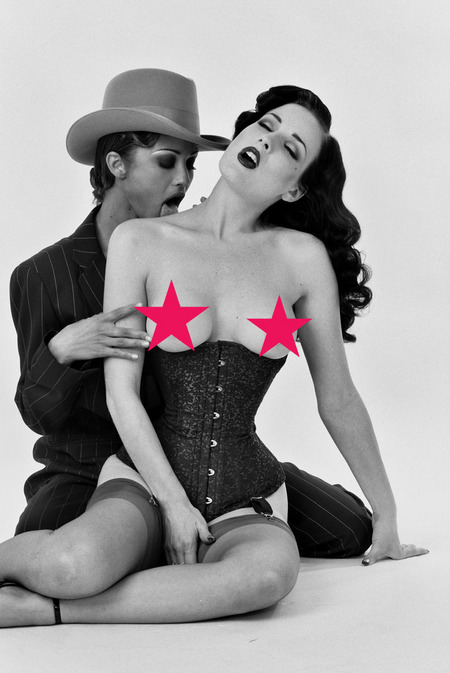 VISIBILITY MATTERS: Janis Hawk comes out as a lesbian on Flash Forward. (@afterellen)
TRUE LIFE: True Life is casting, so hey! Are you passing as someone you're not — someone of a different gender, sexuality or race? OR are you about to come out to your football team and would prefer cameras are encircling your body as you come out to block the quarterback from hate-criming you? Well, MTV wants to know more!