QUARTERLIFE CRISIS: The most interesting part about this "quarterlife crisis" article, by "Generation Y Expert" Christine Hassler, is not figuring out whether or not I'm having a quarterlife crisis. Nor is it learning how a life coach can help me make it through the rain. What interests me (a certified overanalyzer of the human condition) is that we continue labeling inevitable states of mind with such scary words! CRISIS! THE DANGER LURKING IN YOUR FRIDGE! THE SECRET KILLER IN YOUR CHILD'S LUNCHBOX! ARE YOU SAD? ANXIOUS? BROKE? THERE'S A LABEL FOR THAT.
See, much like Sweetest Day and Internet Addiction, the "Quarterlife Crisis" concept seems to be a situation created to enable a solution — specifically, a solution that ultimately costs money.
After all, if you haven't noticed, life itself is generally one big crisis if you're unlucky, or if you're lucky, life is a path vacillating heedlessly from meltdown to crisis to the stuff that happens between crises with occasional bursts of bliss, happiness, sexual intercourse and laughter. The key is to recognize that life isn't going to be easy, the answers won't always be obvious, but you can still spend every day laughing, making out, and waiting for the next joke. You can still FEEL happy. Christine says you need to ask WHO ARE YOU, which certainly can't hurt. Where was I?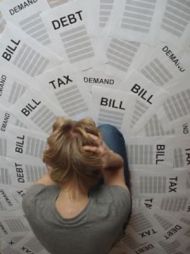 Being a teenager is hard. Being in your twenties is hard. Thirties? HARD. Forties?! SO HARD!
If you get through all 25 questions without answering "yes" to at least 20 of them, I have 25 more questions for you — especially as most of these could easily apply to "a person alive during the recession." Specifically if you're in your twenties and the following things do not apply, please tell me what medication you're on and what website sells it cheap:
2. Do you feel older for the first time in your life?
6. Do you feel entitled to a life much grander than the one you are living?
8. Do you feel a lot of pressure and expectations to do, have or be something?
10. Are you stressed out by choices that seemingly will affect the rest of your life?
13. Do you know what you want to do, but can't seem to make it work?
14. Is it difficult for you to make decisions and when you do, you question them?
15. Do you overanalyze yourself? [ANGELA CHASE I'M LOOKING AT YOU]
20. Do you frequently compare yourself to other people your age and feel like you don't measure up?
21. Do you feel financially unstable?
Maybe I'm just jealous that Christine answered "no" to all of those questions, and that somehow she has an actual job "supporting twenty-somethings in navigating their way through their quarterlife crises." I'm sure she means well. She's pretty, btw.
"Up until now, your entire life may have been well scripted and now you are at a point in your life where you have to answer your own questions.". Thanks but I'll sick to Generation X's best anecdote: quarter-life crisis MOVIES – Mallrats, Clerks, Reality Bites, Kicking and Screaming, Suburbia, Singles, Empire Records and really SO MUCH MORE! What was your favorite 90s Generation X movie? Are there Generation Y movies? (@huffpo)
FOX NEWS: The Ten Most Egregious Fox News Distortions (VIDEO). Ten of many.
THE GAY AGENDA: Actor & singer Jay Brennan (Shortbus) speaks to The Miami Herald about life as a gay man in these political times: "All the gay media circles and this industry that's been created about being gay, they try to push their own agendas and stereotypes of what you should be. They're trapping me and themselves. A lot of it is based on outdated ideas about what gay is or what gay people want or what is sexy. I don't think about it that much. I don't care. I'm attracted to other men and that's the end of it." (@miamiherald)
FEMINIST WEDDINGS: Feministing executive editor, Jessica Valenti, married this past weekend and was featured in the New York Times Vows section.  Now, people are freaking out over her having a wedding in the first place and claiming she has betrayed the essence of  Feministing. (@salon)
THE SEPTEMBER ISSUE: Vogue creative director and former model, Grace Coddington, heavily featured in the documentary The September Issue, is worried about how young and thin models are these days: "Personally we're not allowed, at Vogue, to work with girls who are very thin, but you never know, because you could book them and think they're a certain size, and they turn up on the shoot and suddenly they've spun into this anorexic situation. And you're on the spot and you have to get the job done and you have one day to do it, and what do you do? But you try to be responsible, as Anna is." (@nymag)

REAL LIFE WHIP IT: A woman was ousted from a New Jersey roller derby team because she was being stalked by the owner of the rink where the team plays. Several of her teammates quit in protest. (@nj)