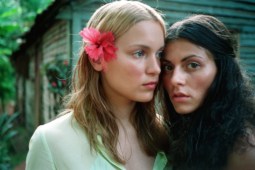 GREEN: Much to our surprise, LGBT Americans Think, Act, Vote More Green Than Others: even though gays aren't allowed to adopt kids and they can't have 'em on accident (at least not with our preferred gender of mate) a new study shows that LGBTS are still way more concerned about the ozone layer than all ze breeders, which this Reuters article attributes to "a very high sense of community and cooperation that many LGBT citizens know first hand." You know, like how we made the AIDS quilt together, and built huts for our hippie lesbian naked mating rituals and child-rearing at the Michigan Womyn's Music Festival etc.
It's a relatively small sample size and the statistical differences here aren't all that significant either, but nevertheless — if they're right about lezzies being so into the planet, this post will have lots of comments! (If it doesn't, everyone reading this better go cool the global whatevs now)

Two-thirds (66%) of lesbian, gay, bisexual and/or transgender adults say that it is important to support environmental causes, compared with 56% of non-LGBT adults.
Three-quarters (75%) of LGBT adults (compared with 53% of heterosexuals) believe global warming is happening right now
39% of LGBT adults say they have seen or read Al Gore`s "An Inconvenient Truth" while only 20% of heterosexuals say they have seen or read it.
Althugh LGBT households are not parenting as frequently as heterosexuals, 51% say they are concerned about the planet we are leaving behind for future generations — compared to 42% of heterosexual adults.
22% of heterosexuals think "going green" is a marketing tactic but only 16% of LGBT adults agree.
So even though we can't have kids, we sill want your kids to have trees to play in. That's so gay! And by "gay" I mean "happy."
SCIENTOLOGY BUNK: Every time Scientology suffers, we smile on the inside with our eyes: Paul Haggis quits Scientology after 35 years of dedication, b/c of their homophobia and hypocrisy. Leader Tommy Davis "dramatically removed his microphone, and walked out of the interview in the most indignant Scientologist way possible" during an interview with the Nightline guy who also got Michael Jackson to spill his beans. (@nymag, @salon)
DATING: For the first date — call or text? Peter argues for texting (bravo, I agree) and the girl argues for a phone call (sigh). Peter makes many good points mostly that the girl is making the whole thing way more complicated than it oughta be. What do you think? (@nerve)
SINGLE LADIES: Sex therapist Ian Kerner, Ph.D. says that those complaining about being single should consider their location: "In a lot of cities where professional status really matters, people focus on their careers, valuing their jobs over quality of life—things like relationships, marriage and kids get put on the back burner…there is a higher proportion of eligible, interesting people, so the need to settle down doesn't feel as much as a priority. This is actually completely true, especially for lesbians. Like if there's only one other lesbian in your village, it's her way or the highway you know? The entire article is at YourTango, which oddly bills itself as "smart talk about love." (@ nerve)