by Rachel, Katrina, Gabby and Carmen
We do a lot of writing about rap here.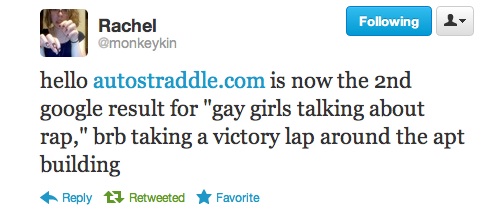 Despite our obsessions with Kanye West, Kanye West, and Drake, we here at Autostraddle are well aware that female rap not only exists, but thrives. After all, we are the website that brings you breaking coverage of Azealia Banks, Nicki Minaj, Brittani Nichols, and every other major figure ever in the history of current female rappers. We do our best.
It can be hard, however, to pay an appropriate homage to the past when you're also writing about your feelings, your clothes, your sex life, and the news. Sometimes the context of the summers you spent as a teenager listening to rap in your first car, or the wind in your hair as you waited for the bus in the middle of the city, or the time you first heard a rap song and thought, "oh my fucking god" get lost in translation when people are looking for what's new, what's happening, and where they can get it for free.
So we did this for you. We're about to explore female rap from the roots right up to the turn-of-the-century. We're about to take an ambitious journey with women wearing tank tops, leather, athletic gear, and combinations of all of those things. We're about to learn something and we're about to have feelings about the world we live in. You're gonna wanna be a part of this.
+
1988: "Twist and Shout" – Salt N Pepa
Katrina: Salt N Pepa (N Spinderella!) were always the epitome of fly. They were loud, fun, sexy when they wanted to be, and they were straight to the point. They led a scene of late 80s/early 90s femme fatale girl groups and made a name for themselves by juxtaposing blatant desire with unapologetic independence. They didn't take any shit from men, they knew exactly what they wanted, and they weren't afraid to straight up tell you. For this clip, I was going to pick "None of Your Business," which is a three-and-a-half minute goldmine independent woman lines like, "How many rules am I to break before you understand/That your double standards don't mean shit to me?" but then I found this cover of "Twist and Shout." I don't need to give you a reason to watch this because there are so many, but I'll give you one anyway: Salt N Pepa wearing 60s-style suits.
+
1989: "Cha Cha Cha" – MC Lyte
Crystal: MC Lyte was the first-ever female rapper to release a full-length album – a fairly significant accomplishment. Said album was 1988's critically acclaimed Lyte As A Rock, which produced MC Lyte's first hit "Paper Thin". It's a good song, sure, however given the task of choosing just one Lyte track, I prefer the flow of "Cha Cha Cha" from 1989's Eyes On This. "Cha Cha Cha" spent over four months on the Billboard Rap charts, peaking at #1 – not too shabby for a track written when Lyte was only seventeen.
In 2006, MC Lyte's diary, turntable, records and other items were donated to the Smithsonian Institute for "Hip-Hop Won't Stop: The Beat, The Rhymes, The Life" – a collection of objects of historical relevance to the hip hop genre from its inception. I just thought that was interesting / something I would've liked to have seen.
+
1989: "Ladies First" – Queen Latifah
Crystal: When Queen Latifah's "Ladies First" (ft Monie Love) was released in 1989 it became an automatic feminist anthem and, to this day, remains one of her most popular tracks. "Some think that we can't flow – stereotypes, they've gotta go" more or less sums up what this song is all about. "Ladies First" appeared on Queen Latifah's excellent debut album All Hail The Queen, which in my opinion still measures up to rap/hip hop records produced today. It ranked #35 on VH1's 100 Greatest Songs of Hip Hop, and #1 in my heart.
+
1991: "You Can't Play With My Yo-Yo" – Yo-Yo
Gabrielle:  My first thoughts when Carmen emailed about the Rap Herstory piece: FUCKING A, RIGHT ON! YESSSSSSSSSSS!!! I am now in love with Carmen's brain, especially the rap-lovin' side.
Carmen: This article was Katrina's idea. ALL HER IDEA. I TAKE NO CREDIT FOR THE IDEA.
Gabrielle: Yo-Yo, born name Yolanda Whittaker, is one of the many female rappers from the early 90s that showed so much promise but couldn't really gain a strong foothold in the music industry. Her most popular single "Can't Play with my Yo-Yo" came out in 1991, when I was 9 years old. The hook still finds its way into my brain on a semi-regular basis. That's powerful in its own way. Also, one major thing about Yo-Yo was that most of her attitudes and lyrics were based around being a strong female and connecting with other women to rise above the misogyny and male-based bullsh*t in life. Her crew of homegirls were called the IBWC: Intelligent Black Women's Coalition.
+
1994: "Creep" – TLC
Carmen: I chose "Creep" because I can still remember listening to it and strutting to parties my first summer in DC. I remember wishing once I really discovered TLC – way too late in the game / in my life – that I'd been more into their brand of girl power as a kid.


+
1996: "Foxy's Bells" – Foxy Brown
Gabrielle: Fox Boogie Brown is Bad As Hell. First, Foxy Brown came up with one of the greatest self-imposed rap nicknames ever in life: The Ill Na Na. And if you're not sure what that means, it's ok, mostly it means that she has the best pussy and is the best rapper. All of those things in one word and, bonus, it acted as the title of her first album. The Ill Na Na was released in 1996 and continued to the drive started by Lil' Kim for female rappers to run solo. Well, mainly as a solo female surrounded by a crew of dudes. Foxy's first single "Ain't No N*gga" was huge and a lot of that boost came from the star power of Jay-Z. Still her bravado and booming voice secured her spot as a force in and of herself. Immediately, the rivalry between Foxy and Lil' Kim became a thing because obvs two badass women rapping could no longer be friends. Why? I don't know. Maybe because drama sells and maybe this type of rivalry laid the foundation for shows like The Bad Girls Club. I digress. Still Foxy's music and attitude made for great hip hop. Her collabs with Blackstreet and involvement in rap super group, The Firm, make her a VIP in the rap herstory group. Also, at one point not only did she go deaf but she also ran a reign of terror on nail salons. Mad drama, ya'll. Foxy Brown will always have the Ill Na Na.
+
1997: "The Rain" – Missy Elliot
Katrina: It has been nothing short of an honor coming of age to Missy Elliott. On the scene as a solo artist since she dropped Supa Dupa Fly in 1997, Missy has relentlessly proven that it's possible to make it in any game just by doing you. Fortunately for her, "doing you" has meant being talented, ambitious, stupidly charming and continuously humble. The quality of her music and the genuineness of her character have made her recognizable from the beginning, which granted her exclusive access to the boys' club, where she was working with dudes like Timbaland and Diddy before her first single even dropped. Playing with the boys has never slowed her roll, though, and Missy shaped herself, intentionally or not, into a feminist hip-hop icon by being honest in her work. Despite what the haters may have to say, she's maintained a positive message (and managed to do so without being corny), embraced her body type, retained a sense of humor and always respected other women, even when playing their pimp in that great, great Lady Marmalade cover. And, in the 21 years that she's been a musician, she's never, ever slowed down. It's entirely possible that Missy is forever.

Pages: 1 2See entire article on one page