feature image via ideeley
Most free and/or cheap ebooks fall into one of four categories:
1. Classic literature
2. Trashy romance
3. Bad trashy romance
4. Self-published works of varying quality
The following books fall mostly under #1 and #2, with a little non-fiction and a lot of lesbians and queer people thrown in for good measure.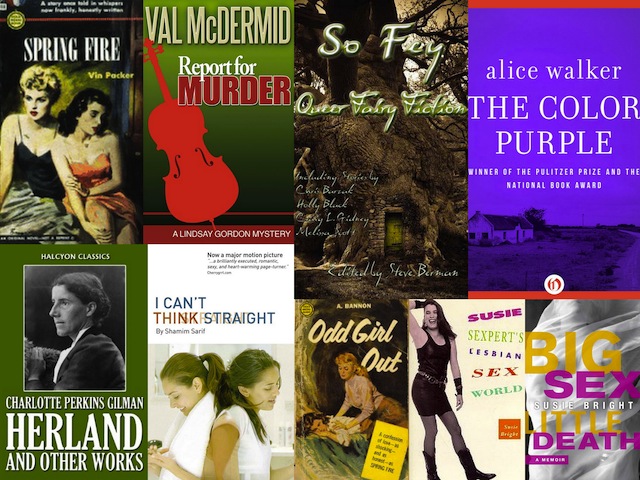 Ann Bannon's Odd Girl Out and two of its sequels, I Am a Woman and Women in the Shadows, are all $1 each. If you read about her for Herstory Month but don't want to invest in the paperbacks, these versions are an excellent decision.
Spring Fire is widely recognized as the first real lesbian pulp fiction book, and inspired Ann Bannon, not to mention the rest of the genre. (Though if you're willing to go up to six or seven dollars there is SO MUCH lesbian pulp fiction appearing on Amazon, like Twilight Girl, These Curious Pleasures, The Sex Between, In The Shadows, and Three Women.)
Before it was a movie, it was a novel. If you want to picture Tala as Lisa Ray and Leyla as Sheetal Sheth anyway, though, no one will blame you.
Herland is about a utopian country of women that live and reproduce sans men. There is a weird male-gaze element since the narrator is a male sociologist with two buddies and very objectifying views of women, but the entire book is about the social construction of gender roles, which is pretty neat. (Ammonite, by Nicole Griffith, is a modern sci-fi adaptation. It is not under $5, but it is worth it.).
There is no reason to not read this book.
So Fey includes stories by Christopher Barzak, Holly Black, Craig L. Gidney, Melissa Scott, and Steve Berman, all of whom are excellent speculative fiction writers. Because sometimes "fairy" means gay and flying magical person.
Susie Bright's Lesbian Sex World is the lesbian sex guide you never knew you wanted. Her most recent memoir, Big Sex, Little Death, about a "fearful Irish Catholic Girl Scout to gun-toting teenage revolutionary […] her early involvement with notorious high school radicalsThe Red Tide as well as the magazine she co-founded in the 1980s, On Our Backs — the first-ever erotic magazine created by women, which turned the lesbian and bisexual community upside down before it took the 'straight' world by storm," is also under $5.
Report for Murder is the first in a series about "cynical socialist lesbian feminist journalist" slash detective Lindsay Gordon.