Autostraddle's Pop Culture Fix is a weekly round-up of the queer arts and entertainment news you need in your life. In the course of trying to find THE PERFECT HEADLINE STORY (I never did), I really scraped up a lot of stories off the internet today. BRACE YOURSELF.
---
Human Beings
+ Atlanta lesbian party promoters Traxx Girls hired legendarily terrible person Chris Brown to introduce Teyana Taylor for "the biggest girl party in the country," but Brown allegedly stood up the over 4,000 women at this Atlanta Black Pride Event. Brown's face was prominently featured on promotional materials. According to The Georgia Voice, "Brown refused to enter the building once he learned that a handful of gay men were present" and the promoter was "told to take his (Brown's) image down because he looks a little feminine in that image." Brown has since tweeted that he was never booked for the show and has nothing but love for the LGBT community. Fortunately, Scott was able to get Fetty Wrap, who was touring with Brown, to sub in. Traxx Girls is considering legal action.
+ If you've seen I Am Cait, you've probably sensed that Caitlyn Jenner has some tough hangups about homosexuality (including the possibility that she herself might be gay, considering she's only ever been attracted to women), so Ellen had some questions about her stance on same-sex marriage during her recent appearance on Ellen's show. Caitlyn says she's come around on the topic but considers herself "traditionalist." (Just a friendly reminder that Jenner speaks on behalf of nobody but herself and that many trans people have been valuable activists in the fight for marriage equality.)
https://youtu.be/_n8QskfvUfg
Ellen later appeared on The Howard Stern Show and told Howard that being an American Idol judge was one of the worst decisions she'd ever made. Referencing tabloid coverage of her and Portia's alleged breakup (don't worry, they're okay), DeGeneres noted, "We're kind of flattered. Because for awhile no one cared about us. And we thought 'oh, lesbians aren't worthy of tabloid stories.' So now we're kind of flattered that they even care about us." The funny thing is that we kinda feel the same way.
---
The Movies
+ Sleeping With Other People, a romantic comedy about two love/sex addicts, Jake and Lainey, who reunite many years after losing their virginities to each other, will feature Natasha Lyonne as Lainey's queer best friend, Kara. Kara's younger girlfriend is played by Remy Nozik.
+ Speaking of Natasha Lyonne playing a lesbian, please check out Addicted To Fresno.
+ Her Side Of The Bed, a queer movie about falling for your best friend, has released a new trailer.
+ Summertime, a french film about the '70s women's rights movement with a lesbian couple at the forefront, will have its North American debut at The Toronto International Film Festival. It sounds and looks pretty awesome:  "Setting the film between the bucolic French countryside and the streets of Paris in the 1970s, Corsini casts a steady eye on a twenty-year-old farm girl whose homosexuality becomes a source of anguish when her very traditional parents expect her to marry a local boy who — in their eyes — seems perfect for her. Delphine (Izïa Higelin) takes a huge step in her life by picking up and moving to the big city. She finds an apartment and replaces her overalls with a leather jacket. It's not long before Delphine is drawn to the dynamic Carole (Cécile de France), who heads up a feminist group."
+ A new film from Kiss Me director Alexandra-Therese Keining will also debut in Toronto. It's called Girls Lost and it sounds super queer.
+ Take Part is praising the prominence of LGBT characters in many upcoming films, including a few that we are really excited about (Freeheld, Carol) and a few that we are not (About Ray, The Danish Girl, Stonewall).
+ Despite threats from "fringe groups," a young filmmaker in Kannada, India, is determined to release a film depicting lesbianism, called 141. Director/Producer Bhavaji told the press, "Though the movie has been given an 'A' certificate for the nature of content, but there are no scenes that will make the audience uncomfortable. The movie tells the story of two women, who are in love with each other and how they have to face the wrath of the society."
---
Visibility Matters
+ Bangladesh has released its first lesbian cartoon character, Dhee. She was developed by the country's largest gay rights group, Boys of Bangladesh. A spokesman from the group told Quartz, "We have created boxes with 10 flashcards each. On the backside of each comic strip, there are general descriptions of homosexuality, heteronormativity, gender, sexuality, stereotypes, patriarchy… not like theories so very easy to understand."
+ The Root 100 came out this week and has Shonda Rhimes and Serena Williams at the top of the charts — and a lot of LGBT women are included on the list, too: Black Lives Matter activists Alicia Garza, Patrisse Marie Cullors and Opal Tometi; musician Janelle Monáe,  activist and writer Janet Mock, feminist organizer Charlene Carruthers (National Director of the Black Youth Project 100), activist Ashley Yates, actress Laverne Cox, writer Roxane Gay and filmmaker Dee Rees.
+ The Mary Sue looked at a study with some pretty interesting revelations about what men and women declare to be preferred traits in strong female characters.
+ Flavorwire talks about Why TV Is Making Such Strides on LGBT Representation — But Lagging in Racial Diversity. A big reason is stronger LGBT representation behind the camera (which I talked about last year), noting that "people who represented the gay experience were already part of the industry, and they were essentially waiting for it to become publicly acceptable to tell their stories in a mainstream forum, as it now most certainly is." Flavorwire suggests "the entertainment industry needs to be more welcoming, not only to diverse TV shows, but to diverse professionals behind the scenes, in internships, fellowships, and more. People of color need to be given that chance to direct a first TV show, and both LGBT and minority characters need to be given a loving, fully fleshed-out treatment, not a box-ticking, clichéd kind of role."
+ Star Wars Novels are adding three new LGBT characters, including two lesbians, and "the novel will also explore the question of what life is like for gay men and women in the Empire."
+ So uh, Kathleen Turner will play "the mother of a lesbian ex-convict" in an Off-Broadway called Would You Still Love Me If... The play focuses on a "lesbian couple" "who are expecting a baby together — when one of them begins considering gender transition." The playwright was apparently inspired by Blue is the Warmest Color, noting that while reflecting on the film, he began thinking, "what if one of them decided they wanted to physically change? That was the germ of the idea." Fantastic.
+ Anita Dolce Vita has 5 Androgynous Women of Color Models You Should Know because Ruby Rose isn't the only one!
+ Did y'all spend July curled up in an air conditioned cove watching The L Word on Showtime on demand? Be honest.
---
Music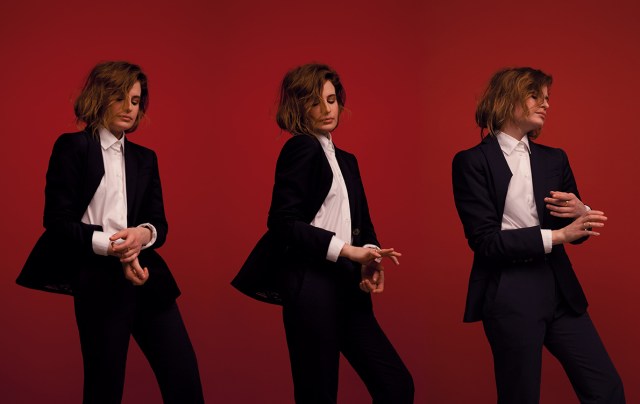 + Wanna hear Christine and the Queens w/Tunji Inge's new track? You can do that right now.
+ Wanna see the new "gorgeous and unsettling" video from "bipolar folk" band Kera and the Lesbians? You can do that right now.
+ Queer hardcore punk band G.L.O.S.S. (Girls Living Outside Society's Shit) talk to Bitch Magazine about how awesome they are.
+ Laura Jane Grace tells bullied trans teens to take no shit.
+ Manika is releasing a new single featuring Tyga called I Might Go Lesbian. So.