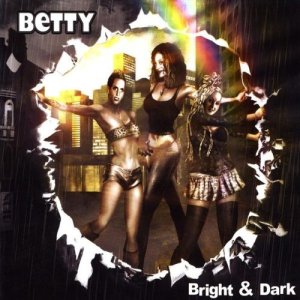 Elizabeth Ziff (aka EZGirl) doesn't care that you hate The L Word's theme song, or even that you might not like the show for which she was co-executive producer, music supervisor, and writer for several years. Elizabeth Ziff is every bit as firey, unapologetic and punk-sharp as the music she makes with her band BETTY (comprised of Elizabeth, her sister Amy Ziff and Alyson Palmer), which had a 20-year history of recording, touring and activism in the gay community before coming to The L Word. BETTY's loyal fans go wild for the band's outrageous, boundary-pushing rock shows.
After a three year battle with breast cancer, Elizabeth is now officially a survivor. Remarkably recorded while Elizabeth was undergoing chemotherapy, BETTY's eighth album Bright & Dark is perhaps the most accessible, radio friendly, pop/dance record of their career. So I thought I'd talk to the woman behind the controversy and she opened up about the writing process, what she'd do differently in Dana's storyline, gay marriage, the Hollywood scene, chemotherapy, Ilene and so much more…
---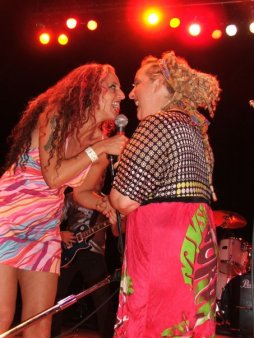 Jess: What are you listening to right now?
E.Ziff: What I'm listening to right now, incessantly, is old Sam Cooke. This record in particular called Night Beat, which is just flawless. I've been listening to a lot of Melody Gardot, who I love. I think her voice is incredible; it's sort of Norah Jones-like. I saw her at City Winery and she's amazing and her story is amazing. She's definitely worth listening to. I've also been listening to Muse, who I love and I've been listening to MEN, their EP, and JD [Samson, of Le Tigre] is a friend and I really like her work. The thing is, I'm just starting to listen to music again because, with The L Word, I was shoving music down my throat 24/7 and I was trying to find gay work and I was actively seeking people in the community who had never been used before. And, music didn't really work for me when I was really, really sick. And I was really, really sick for a while. Also, when I'm creating or writing music I don't really listen to it.
Jess: What changes have you seen take place over the years in the queer music scene in New York?
E.Ziff: It's hard because I'm peripheral in the lesbian world, really. I mean, I'm all about it politically, but I've been on tour for 20 years and not necessarily "lesbian" tour. But, as far as the changes go in the East Village, it's gotten a lot more expensive so a lot of artists have moved out. I think the music scene is alive and kickin', especially in Brooklyn. There's a lot happening now because of the economic crisis cause whenever there's an economic crisis the art springs up more, and quickly.
Jess: Are there any emerging, underground artists to look out for?
E.Ziff: MEN, for sure. They're not gonna be underground for long.
Jess: You were in charge of scoring and choosing the songs played throughout the episodes on The L Word — Salt-n-Pepa, The Jackson Five, Freezepop, Goldfrapp, The Ting Tings, Tegan & Sara, Leonard Cohen, etc. How was that?

E.Ziff: The music became a huge part of the show, I had a lot of people who wrote to me about the songs chosen. I thought the music became a huge part of the show. HUGE. And I had pretty much free reign, it was pretty cool.
Jess: One song that became very popular was Alice Smith's "Dream" from the 5th season when Bette & Tina start getting back together.
E.Ziff: When I was writing that episode, I think Alice Smith had sent me a demo or something and I heard that song and I was like "Oh my god, this is totally the fucking song!" It's amazing! So, I just had to figure out where I was going to place it, after they had filmed it. I wanted it to crescendo, and I wanted it to end just as the black comes, cause usually you have the music that plays over the closing credits. But, I think that was a really great use of that song. I honestly get really excited about finding the right song for the right moment.
+
Jess:You recorded this album while undergoing chemotherapy. How did you find the energy to get out of bed let alone sing?
E.Ziff: Yea, I was pretty much in the throws of it… it was pretty brutal. It was in the first 3 months of my chemo, and chemo is cumulative. I was also smoking a lot of pot, and I'm not a big pot smoker but it was the only thing that really helped. Basically, I just sort of sat up and sang. It was hard for [producer] David Maurice because he didn't know when to push me and when not to, but I think the vocals turned out well… but I don't remember doing them.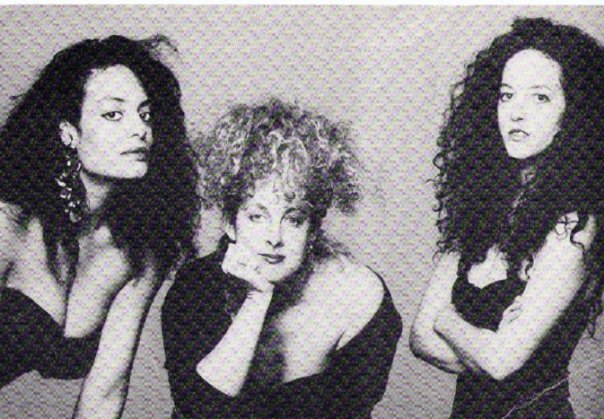 Jess: What's your favorite track on Bright & Dark?
E.Ziff: Well, it always changes but I really like "Raw." I think it's a great lyric, my sister [Amy Ziff] wrote the lyrics. We did a video of "Did You Tell Her" and the next video we're probably going to do is "A Fix Of You."
Jess: Are there any songs on the record that are particularly personal to you?
E.Ziff: "Jesus" is pretty personal. Originally I had written it about a man, and then I changed it to be about a woman. It was about an old-time boyfriend that I knew many many many years ago, but he was gorgeous and he looked how I thought Jesus would've looked. Long hair, beard, mustache but really beautiful. Now, because I've been a lesbian for so long it's interesting to be talking about different attractions. I always considered it a genderless song – for whoever was listening to it, it's just about being attracted to someone who you're not supposed to be attracted to really. So, we originally recorded it [in 2006] with the pronoun being a female because Amy & Alyson wanted me to do that, and then we re-recorded it for the record, and our producer said "Why don't you just use the word –you-" [so the song remains genderless as originally intended].
"A Fix of You" is really personal and I wrote it a long, long time ago when I had a breakup with a longtime girlfriend, like 7 years. I wrote it on the road in like 25 minutes or something. It's had a lot of permutations over the years but we were able to rediscover it this year. It's interesting because I don't really remember singing this record.
Listen to "A Fix of You"
Jess: BETTY's obviously been around since the 80s but a lot of people were first introduced to the band through the theme song. Does it bother you that a lot people judge the band based off that 1 song?
E.Ziff: I don't care. We've been around forever. We have so many fans that don't even know what The L Word is. We've been on international public radio… I can't try to control what people think, that's the last thing I wanna do now, that's for sure! So, if someone wants to have a preconceived notion – let 'em.
---
+
Fun Fact: The L Word wasn't BETTY's first theme song (although it was the first theme song to use the word "fuck"); the group provided theme song & house band services to HBO Real Sex, TLC's Cover Shot, Comedy Central's Out on the Edge, Animal Planet's Ms. Adventure and the HBO/CTW's children's show Encyclopedia from 1986. Here's the opening from Encyclopedia:
+
---
Jess: How does being a musician help with your script writing?
E.Ziff: Well, I write songs like stories. I'm not an abstract writer, I'm pretty linear… it's actually a lot like writing a set list. You wanna take the audience on a journey, you wanna start at the beginning and have the ups and downs with different acts. It's sort of a natural progression, to go from being a musician to writing a script, at least it was for me. I was pretty lucky. It comes really natural to me and I've written stuff before; I started writing a book a long time ago, I wrote the Off Broadway play, Betty Rules, with [band mates] Amy and Alyson. I've written a lot of scripts before I ever started writing for The L Word, mostly film scripts. It's really fun to be good at something new that has nothing to do with your main career, really. Like wow, this is really fun and easy and I'm good at it!
Jess: Do you want to write for another TV series?
E.Ziff: I would write for another TV show, sure, as long as it was a good environment and not a sexist or homophobic piece of work, which is pretty limiting. That's why I'm writing my own things. I would like to work on [other projects] – I think I can bring a lot to the table for other things that are on television. I have this huge breadth of life experience, which is why I think it's easy for me to write – because I've done so many things in my life and had so many experiences – I read, I travel, I've had that opportunity so I'm really lucky.
Jess: I think a lot of people had the misconception that you came out of nowhere prior to writing on The L Word.
E.Ziff: I didn't do what they did in Hollywood. I had no intention of ever writing for a TV show. It's a misconception, but I don't mind. It seemed like it came from nowhere, because in Hollywood you go to film school then you're an assistant for 12 years and then you're a junior executive, I never did any of that. I've been on the road for 25 years so that's pretty much my experience. I guess people thought I came from nowhere, but who cares? Where did most people come from, ya know what I mean? Where did Diablo Cody [Juno screenwriter and United States of Tara creator] come from?
"We have so many fans that don't even know what The L Word is. I can't try to control what people think. So, if someone wants to have a preconceived notion – let 'em."
Jess: Well, she was a stripper…
E.Ziff: Right, she had a life and she had a lot of experiences and I think people with a life and a lot of experiences is what's needed in Hollywood right now because the status quo – it ain't workin'! We want to hear different stories and different points of view, especially women.
Jess: Did you approach Ilene Chaiken about writing?
E.Ziff: No, she approached me. She knew that I had written before and she had seen Betty Rules [their Off Broadway musical]. That's one thing that Ilene's good at – taking someone and seeing that they are good at something even if they don't know it themselves. So, I'm grateful to her for that. And, she gave me the opportunity and I really pulled through for her. I think she was really happy with the scripts that I wrote.
---
+
Next:
"It wasn't my show, that's the reality. I mean, if it had been my show it would have been different. First of all, it would've been in New York."

Jess: You actually wrote two popular fan favorites – the basketball episode and the Turkish oil wrestling episode. Do you have a favorite episode from the series?
E.Ziff: I think the basketball episode was my favorite, only because it went through the least amount of changes. That episode really enabled me to have fun with characters and show their different aspects. Like, the competitiveness of Bette – that was fun for me. And the whole scene where Kit's trying on shoes and she doesn't want to go to double digits, I just had a really good time writing that script. I like writing sad stuff too, and political stuff… I liked writing for Rose Rollins [Tasha] a lot. Her character was actually my idea – I wanted to bring in somebody from the military so we could write about the war. She is a great actress, she was fantastic. She wasn't my original choice actually, she was Ilene's and Angela Robinson's but then she turned out to be great! I also liked writing for Alice and Bette… I liked writing for all of them.
+
Jess: Was there a particular character that you identified with?
E.Ziff: I think I identified with all different aspects of all the characters, and that's why I could write for them all. I really understood them all on one level or another, with the exception of Max, but I still understood Max because I've been involved with the transgender community. That's one of the reasons Daniela [Sea] got the gig, she was actually part of that community. She's not transgender, but she's definitely part of it. She's an old friend of mine – I knew her for years from the underground community where I'm from, which is interesting, because now I'm part of this major television show.
Jess:The character of Max was very heavily criticized as was the show's portrayal of a transgender character. Some people even thought it was downright transphobic.
E.Ziff: I didn't know about any of that. I never read about it – I didn't go online and do any of that stuff.
Jess: A lot of people felt the pregnancy storyline was exploitative and the way Alice's character was so hurtful to Max at times. He was mostly treated as an outsider.
E.Ziff: Well, I think that's a reality. You gotta remember we were trying to do drama. What happens in all TV shows? I think the fact that we even had a transgender person on there was something, I think we were able to get some really good stuff in. We were able to talk about what it means to be butch, what it means to be transgender. I think people were looking for The L Word to be everything, and it's not. It was about these really beautiful, fake women in LA, who happen to be lesbians. I mean, my friends aren't like that! We're not mean to each other like that! My friends are really nice and we like each other!
Jess: It's pretty well known that the cast lobbied Ilene Chaiken not to do the "Who Killed Jenny" storyline. What was your stance on that storyline?
E.Ziff: Well, you have to remember that I was going through breast cancer when that was all happening, so, a lot of times when I would have fought things, in the Sixth season I didn't.
Jess:Did you like it?
E.Ziff: [Pause]. I don't know. I just remember that we had a lot of fun laughing about it and stuff like that. It's interesting because so many people wanted Jenny to be killed. Like, so many people! And, I think there was more lobbying [by cast] in the third season having to do with Dana's death than there was about Jenny. I was much more aware of that rather than the final season.
Jess: Were you aware of the reaction to the final season?
E.Ziff: I was really sick then. I was still working cause I did all the scoring mixes and I was flying to Vancouver until I couldn't do it anymore. I mean, I'm surprised that I even finished doing the music for the season because I was so fucking sick, but I did. So, I have to tell you I wasn't really that aware doing the Sixth season.
Jess:The main criticism was that people wanted it to go out on a more positive, celebratory note. Do you wish it had ended differently?
E.Ziff: Yea, I could see people wanting that. It wasn't my show, that's the reality. I mean, if it had been my show it would have been different. First of all, it would've been in New York. I think it was a groundbreaking show, it did a lot for the community. I certainly utilized a lot of the community for the music. We got to tell some stories and hopefully there will be other ones. The problem with being the first show was that you had the responsibility for so many things. I think in America people are really looking for the politicized version of it, where when you go to other countries, they're like "so and so is fucking so and so!" because they have the freedom and they have the rights. They're not ostracized and illegal like we are. They can get married. They stay together for much, much longer. They don't have the break-ups like we do, they don't have the heartache that we do as much, like when we can't go to visit somebody in the hospital and they've been our lover for 20 years or whatever. So, that criticism is specific to America which is looking for… In America we're constantly being barraged by images of how unimportant and irrelevant we are as citizens, especially now with the wedding thing.
"I don't give a shit if anyone ever gets married. I really disagree with that whole thing, I don't think there's separation of church and state and I think it's bullshit."
Frankly, personally, I don't give a shit if anybody ever gets married. I don't believe in it. I think the separation of church and state is really important. I understand that it needs to be there for our rights, that historically it's a rights issue and I'm all behind it. BETTY's done a lot of stuff for gay marriage. But me, personally, I don't think that marriage should be condoned by the government. I don't think that you should be rewarded for being married, I don't think anybody should. I don't think marriage should be something that you get tax deductions for, that you can get spousal benefits for. I really disagree with that whole thing, I don't think there's separation of church and state and I think it's bullshit. Honestly, I'm queer more than I am gay. I'm peripheral. I've never been conformist, I've never been status quo, it's never even entered my brain. I've been in a band for 25 years, that's what I've done. Traveled the world, fucked, got wasted, been political, and created. I've never been in the closet and I've had the luxury of not having to deal with losing my job because I'm gay. I understand that a lot of people do, and we play for those people, those are the heroes.
Jess: Having now survived cancer yourself, would you have wanted the cancer storyline with Dana to have gone differently?
E.Ziff: Yes, absolutely. I thought it was done well at the time, but now that I've been through it I would've wanted to tell a longer story about it. I would've wanted to tell the mastectomy story because it's so prevalent, and I would've wanted to tell the chemo story because it's so brutal. And we didn't show the brutality of chemo, at all. In one episode that I wrote I showed her actually sitting there and getting it, but I didn't know about the "port," I didn't know about any of that stuff. I would've liked to have imparted a lot more information; I think it would've been helpful, I think it's what I'm trying to do now.
Jess: Would have wanted Dana to survive if you could do it again?
E.Ziff: No, I still would have wanted her to die. Mainly because there is so much breast cancer now and so many people are visibly surviving it, that many people forget that A LOT of people die from breast cancer. A lot of women die, and I think to show somebody who died – it's powerful. Remember, in the show she didn't die from actual breast cancer, she died from infection, which is what a lot of people die from when they go into the hospital. I would've liked to show the stages of it more and I think that will happen now that so many people have had it. We'll see the reality as opposed to what you think it is. As a writer who's had cancer, and pretty brutal -it was a 3 year battle – I think I'm supposed to write about it, but I don't know if I can just yet.
Jess: Will you be involved in an L Word movie, if there is one?
E.Ziff: I don't know. It's hard to ask me if I'd wanna work my ass off right now. I'd probably do the music… I don't even know if Ilene is working on one… I'm not that in touch cause she lives in LA and I'm here and I've been pretty sick. I'm actually really out of that whole thing. I don't know what's going on with that at all.
Jess: What's your relationship with Ilene Chaiken now?
E.Ziff: We're friends… it's just, we never see each other since she lives in L.A. but we've seen each other a bit here and there. She works – she's very into working, and I've been very sick.
Jess: Is it true that Marlee Matlin's character, Jodi, was based on you?
E.Ziff: No, she was my idea but she wasn't based on me. I'm not deaf [laughs].
Jess: Well, the whole "fiery artist"aspect of her character.
E.Ziff: Ha! Oh no, not at all, that's funny! I wanted there to be a deaf character because BETTY has always performed at the Michigan Womyn's Music Festival and other festivals and there's this whole subculture, which is pretty big, of gay deaf people that the world in general doesn't really know about. And I thought the world should know about it cause it's a phenomenon, I think – it's like, gay Jews! There's a lot of us! But no, she's not based on me at all… I'm not that fiery anymore… the fire's been put out!
Jess: Was there anything you wanted to do on the show that never happened?
"Those aren't the kind of friends that I have. It's a different world – it's definitely L.A., not New York."
E.Ziff: I wanted them to like each other more. I wanted them to be more representative of friends that I have and that I know. I think that's why I liked the basketball episode so much, because they were friends. They really seemed like friends… At the end I wanted them to all be cheers-ing over Dana. I mean yea, you have to have drama and have people upset with each other, but those aren't the kind of friends that I have. It's a different world – it's definitely L.A., not New York.
Jess: How far out do you think we are from the next gay centric show?
E.Ziff: I know that we're not in the gayest of times in America. I think that if people can find a hook where enough people are gonna watch it and they're gonna make money off it, then we'll get a lesbian centric show. I have to say that I'm much more interested in doing something feminist, if it happens to be lesbian, right on. But, I don't care unless it's feminist. To me, that's the crux of the matter… humanist, really. That's always been my main focus, pro choice activism and working with V-Day and Eve Ensler and working with Gloria Steinem, that's really what's interesting to me. I'll always fight for lesbian rights and it's important to me that the community is strong, but my focus in my life, ever since I was little, is feminism. It came from my mom and that's sort of how I'm hard-wired. I think it's very possible to be a lesbian and not be feminist. But, I think if you're feminist you'll understand being a lesbian and fight for gay rights, whether you're gay or not.
---
+
For BETTY news & tour dates visit:
Bright & Dark on iTunes | HelloBetty.com | MySpace | Facebook
Pages: 1 2See entire article on one page