feature image via Rebecca Nagle, for Bitch Media
Big Court Case for Native Nations
+ The Supreme Court heard arguments on Monday for a case that could greatly impact Native nations and protect their citizens from sexual violence and other crimes.
In 2003, a 13-year-old boy was part of a youth job program at the Dollar General, where he was paid by the Mississippi Band of Choctaw Indians to work at the store on Tribal Trust Land. While on the job, the boy was sexually assaulted several times by the store's manager, Dale Townsend. His parents brought legal action against the Dollar General to Tribal Court but the corporation filed a lawsuit of its own, "arguing that the Mississippi Band of Choctaws should not have jurisdiction over Dollar General, because the corporate giant is non-Indian." At the heart of it though, Dollar General is arguing that the tribal court's authority is inferior to the U.S. court system, even though tribal courts have existed before the U.S.
The case questions the civil jurisdiction of tribes and their courts and the Supreme Court will determine if the Mississippi Band of Choctaws can prosecute the Dollar General in their tribal court. Rebecca Nagle, Co-Director and Co-Founder of FORCE, says it in better words: "Native advocates are not asking the US government to give Native Nations this authority, rather the US government is obligated to recognize the inherent sovereignty and authority of tribal governments as a direct result of the hundreds of treaties the US government has signed with Indian Nations agreeing to do so."
Under the current law and legal precedent in the U.S., tribes are prohibited from prosecuting non-Indians. This intersects powerfully with the incredibly high rates of violence against Native people, especially sexual violence against Native women — in 2004, the Department of Justice estimated that Native women face 50% higher rates of assault than the next most at-risk demographic. being unable to prosecute non-Natives means that Native communities don't have legal recourse against non-Native sexual predators. Nagle breaks it down for you over at Everyday Feminism. "The legal framework that has caused the crisis of sexual violence for Native communities is purposefully complex.  The unjust limitations placed on prosecutorial power for Native Nations stem from a long history of Supreme Court decisions from Johnson v. McIntosh in 1823 to Oliphant in 1978." The 1978 ruling has allowed impunity for non-Native Americans who perpetuate violence against Native women. For example, Upworthy reports, 86% of Native American victims of sexual violence report their perpetrators as non-Native American, according to the National Congress of American Indians. In the end, if Dollar General wins, it could greatly impact the health and well-being of Native individuals and communities and the overall sovereignty of Native Nations.
Yesterday, Native women and other supporters gathered outside the Supreme Court in support of the Native youth and his tribe in the case.
Islamophobia Like Whoa
All of the following stories make my skin crawl and make me doubt the future of America and just humanity, really.
+ Donald Trump is an racist and Islamophobic asshat and proved it again for the thousandth time when he called for a "total and complete shutdown of Muslims entering the United States."
+ Leilah Abdennabi and Sirat Al-Nahi, hijab-wearing Muslim women living in Austin, TX, were verbally attacked at a popular cafe called Kerbey Lane. A customer waiting for a table told the two women they should "go back to Saudi Arabia," and asked them if they had a gun, telling them to "just shoot me." To add insult to injury, the two women complained to management about the man and the manager chose to seat the man and his companion right away and didn't ask him to leave, saying "there wasn't anything we can do." On top of that, Abdennabi announced to the dining room that she and Al-Nahi had been the targets of racist comments and management had done nothing. She asked the room, "who cares about us?" and received a "nobody" from one other customer. Kerbey Lane and the CEO issued an apology, yadda yadda, and there's gonna be new training for employees, yadda yadda, but that was obviously uncalled for from management as well as from the other customers standing by. If at least several other people stood up for the women and complained to the management, the man who spewed racist comments may have been kicked out immediately. I keep seeing the "oh wow, but Austin is such a liberal city, how can this happen? rhetoric" and I'm like it's still conservative-ass Texas, and Islamophobia is pervasive in our society and that's exactly what extremist groups want us to do. So don't excuse every liberal town from bigoted people because they live there too and shape the city just as much!
+ President of Liberty University, Jerry Falwell, Jr., encouraged college students to arm themselves with guns and "end those Muslims" at a convocation ceremony on Friday. He told students the Christian university, and site for Republican presidential debates, offers a free course to receive their gun permit. Actual real words this conservative bigot said, "Let's teach them a lesson if they ever show up here." Hillary Clinton called Falwell's words "deplorable." "This is… not only hateful response to a legitimate security issue, but it is giving aid and comfort to ISIS and other radical jihadists," she said.
Law & Order & Police
+ Dallas police arrested two 18-year-old males for aggravated robbery on Sunday, who are also suspects in recent anti-gay attacks in Oak Lawn, the city's gayborhood. The teenagers assaulted and robbed a woman at gunpoint in a parking garage and drove off in her car. Officers found and arrested the pair at a convenience store near the Oak Lawn area. Police say they "appeared" to be looking for their next victim. Since September, gay men have been brutally attacked, beaten and robbed in the Oak Lawn area. There have been 12 attacks with no suspects or arrests and even a $15,000 reward for information that would lead to an arrest. Police said the two possibly match the descriptions victims reported to authorities, so they were going to conduct photo lineups.
+ Same-sex parents in Arkansas who can prove they were married before their child was born can now add their names to their child's birth certificate. The Arkansas Health Department decided to issue amended birth certificates after Pulaski County Circuit Court Judge Tim Fox struck down a portion of the state's birth certificate law. It's anticipated there will be a stay but for now the department will continue to issue amended birth certificates.
+ This case has come up in previous news fixes; and this is the latest update of a Chicago-area high school and their case against allowing a trans girl to use the girls' locker rooms. The student filed a complaint with help from the American Civil Liberties Union and said the administration at Palatine High School didn't allow her to use the girls' locker room and instead gave her a separate facility to change and shower. U.S. Department of Education's Office for Civil Rights ruled the high school violated federal gender equality laws, specifically Title IX. The OCR told the school they needed to comply and allow the girl to use the correct facilities or risk losing $6 million in federal funding. The school reached a settlement and said they would allow the girl to use the girls' locker room but only if she uses the private changing stations in the locker room.
The latest is the school may back out of that settlement. Superintendent Dan Cates is getting all huffy and puffy with the OCR because the OCR assistant secretary Catherine Lhamon said in a statement in regards to the settlement, "I think each of us is diminished when we deprive somebody of civil rights, and I think this is a great day for students in the district and for students around the country to recognize that the federal government is here to support your rights." Cates is outraged with Lhamon's remarks because the settlement applies only to this one student and not the entire district. As a result, Cates wants an emergency board meeting. "We communicated to the OCR that we expected a full retraction of their inaccurate portrayal of the agreement in the media. They refused. Failing that, we will convene an emergency board meeting to discuss taking action, including retraction of the agreement because the OCR acted in bad faith."
+ Homeowners on Gay Drive in Pharr, TX — a town not too far from where I grew up — want to change the name of their street because they say their children are embarrassed to live there. Supposedly they have no problem with gay people but just that it's associated with gay people, I guess. The couple behind the request gathered signatures for a petition. City commissioners denied their petition in a 6-1 vote citing concerns over the delivery of emergency services.
Grab Bag
+ The National Center for Transgender Equality, the Red Umbrella Project and the Best Practices Policy Project brings you a new report on transgender experiences in sex work. Using the National Transgender Discrimination Survey, they found 11 percent of survey respondents reported having participated in sex work and an additional 2.3 percent said they traded sex work for housing. Black and Black multiracial respondents had the highest rate of sex trade participation (40%) followed by Latino/as (33%). White identified respondents had the lowest participation with 6%.
+ Trans actress Holly Woodlawn died at age 69 on Sunday. She appeared in films by Andy Warhol and Paul Morrissey in the 1970s including Trash and Women in Revolt and inspired Lou Reed's "Walk on the Wild Side." She appeared in two episodes of Transparent. Woodlawn had been suffering from cancer.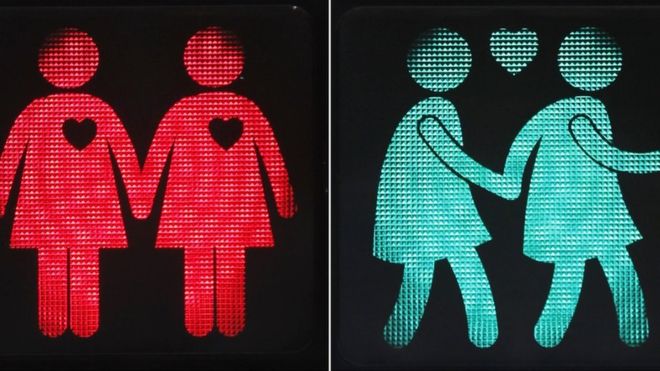 + Traffic lights depicting same-sex couples holding hands will be removed from the Austrian city of Linz. The traffic lights were first introduced in Vienna to coincide with Eurovision in May. They gained popularity so then cities Salzburg and Linz followed suit. But now Linz has removed the traffic lights.
"Traffic lights are for traffic and should not be misused to impart advice on how to live your life," says councillor Markus Hein of the right-wing Freedom Party, who is responsible for traffic issues. Mr Hein, who opposed the initiative from the start, says that gay rights are already advanced, making the lights "completely unnecessary."