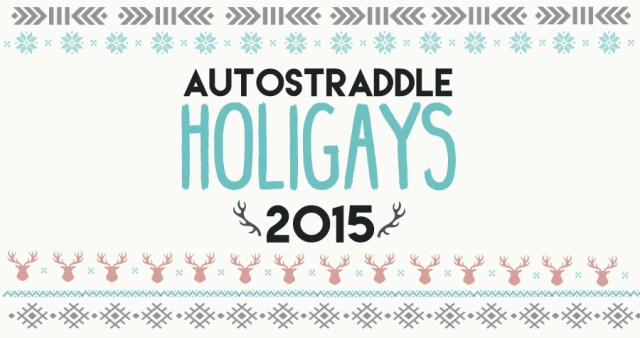 Shopping for all your witchy friends can be really difficult. Witches, being the ever-changing creatures that we are, are wildly diverse in our interests, our tastes and our practices. You've got your pagan witches, your kitchen witches, your Christian witches, your diviners, your brujas, your pop culture witches and thousands of other variations. So, what's a witch to do? Just check out this gift guide to meet the needs of everyone in your coven.
Also, if you just have witchy friends who might not actually be witches but just like the trappings, a lot of these gifts would be pretty perfect for them too.
---
A Witch In Want of a Hat
It is a truth universally acknowledged, that a single witch in possession of a good fortune must be in want of a hat.
Asos has a bunch of great hats for all your witchy friends. For a simple look, you could go with the Skinny Band Floppy Hat or the Catarzi Floppy Hat. For a slightly more fancy option, you can go with the Felt Fedora Hat with D Ring Detail, or even fancier, the Cut Out Star Floppy or the Catarzi Matador Hat With Feather Band. If you have a larger head, like I do, I found this terrific Wide-Brim Wool Hat from Forever 21 that looks great and fits great.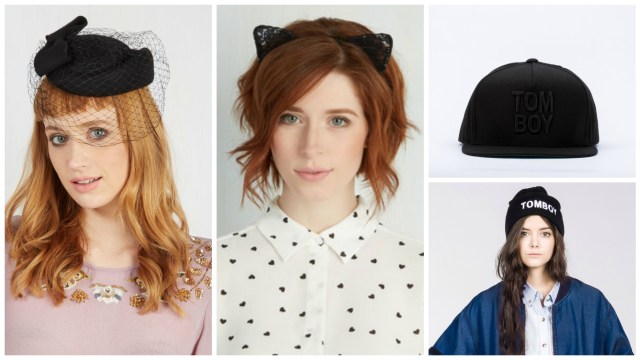 Or, if your friend isn't a wide-brim kinda gal, there are still plenty of great black hats that you can give to them. The Upper West Stride Fascinator and Right Black Cat Ya Headband are perfect for femme witches looking for something stylish and unique. The Midnight Tomboy Snapback and Ultimate Tomboy Beanie, both from Wildfang, make great choices for, well, a more tomboyish witch.
If all the witches in your coven already have hats, may I suggest a cape as the next must-have accessory for the witch on the go? This Esprit Cable Knit Poncho looks pretty cozy, as does the Oversized Blanket Wrap. I love this Diagonal Cape with Leather Look Trim. For a fancier (and more expensive) option, you can go with the ASOS Cape with Fleece Collar or Jack Wills Velvet Cape Jacket.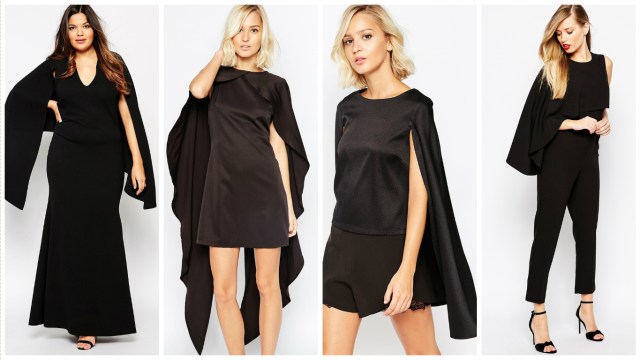 Also, I'm kind of freaking out about how much I love these dresses and jumpsuits with capes attached. This is my favorite thing in fashion right now. Check out this Plus Cape Maxi Dress! This Maxi Cape Shift Dress! The Lavish Alice Cape Top! The Asymmetric Cape Jumpsuit! More clothes with attached capes please!
---
Lit Witches
by Alaina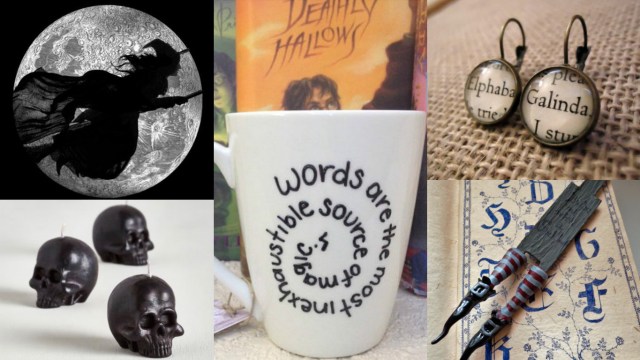 Ever since Hermione Granger came on the scene, being witchy and literary have gone hand in hand. If you're thinking about what to get the literary witch in your life, a book is always a great place to start. For real-life accounts of witches throughout history — like Jane Jacobs, the woman accused of witchcraft so often she eventually took her accusers to court for slander — check out The Penguin Book of Witches. She can keep track of how far she's gotten in her favorite Octavia Butler novel with a wicked witch bookmark, complete with striped stockings and pointy shoes. If she's likely to be seen cuddling her familiar and drinking tea, get her this mug to remind her that "Words are the most inexhaustible source of magic." Give the gift of my personal witchy OTP finally fulfilled through these Elphaba and Galinda bookpage earrings. As a scary stocking stuffer, these candles are perfect for late night reading on spells for dealing with family dinners. Any of these gifts are sure to fill your favorite witch's bookish heart with joy this season!
---
For Bruja Babes
by Yvonne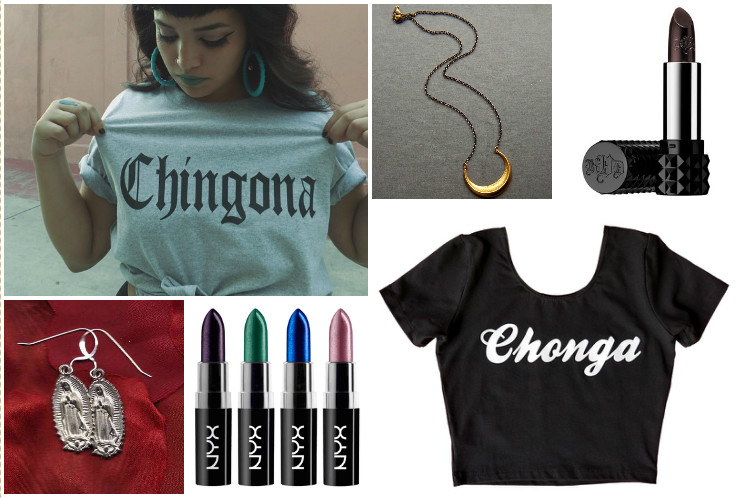 Being a bruja is all about being a badass. For all your bruja friends, give her something to exude this badassness every single day. Would you fuck around with a brown queer who's wearing a Chingona shirt, a vampy lip and this brass moon necklace? I don't think so. How about a fly Latinx with a Chonga crop top, Virgen De Guadalupe earrings, and wickedly awesome lipstick? Hell no.
Unleash your powerful femme bruja self with some lingerie. You'll for sure make someone fall under your spell wearing these pretty things. It's probably inappropriate to give lingerie to people who aren't your girlfriend/lover/wife/person so this is limited to those people on the receiving end or you should totally just treat yourself! Alternatively, treat yourself and your girlfriend/lover/wife/person! These are some sexy plus-size options because it's relevant to my interests and you can probably find similar styles in smaller sizes wherever they sell lingerie.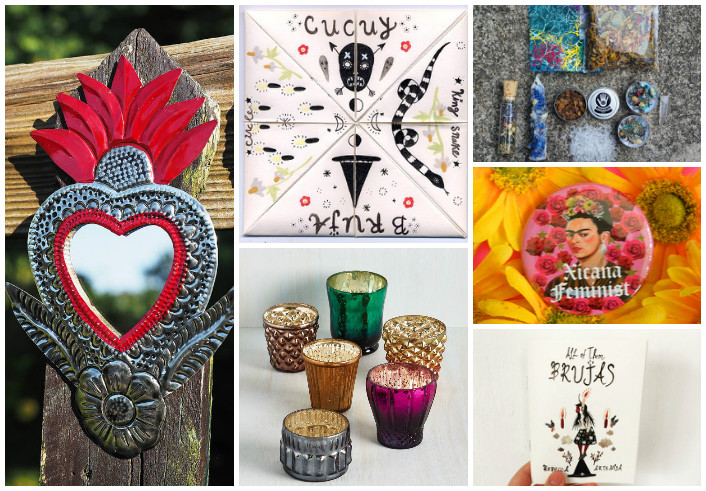 Brujas like to have fun too so why not give her these fun gifts! This tin heart traditional milagro mirror will be a perfect addition to her room to apply aforementioned lipstick and cast spells. She can set her intentions by candlelight and look good doing it with this candle holder set. She can flag other brujas wearing this rad Xicana Feminist pin. When she's done hexxing Donald Trump, your bruja friend can relax and enjoy Rebecca Artemisa's Bruja comic and Cucuy Fortune Teller. If you really love your bruja or if she needs some extra protection, you can get her this legit Moon Magik Bruja Bag y otras cosas made by queer hopi-xican@ brujxs!
---
Gifts for the House Witch
by Maree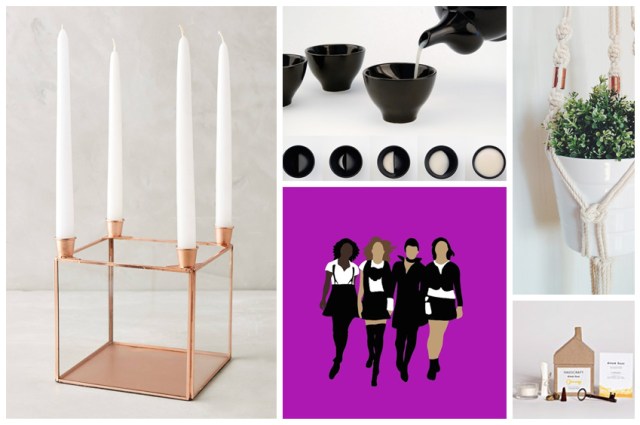 We all have a house witch or two; they wield the magical powers of colors-in-a-room coordinating, or knowing exactly where to put that one weird chair you couldn't leave the flea market without. For the perfect present turn to the gifted Salem, MA-based Haus Witch Store for a bewitching Haus Spell Spray ($20) or thoughtfully assembled Haus Spell Kit ($35 – $45). You can also snag a modern candelabra like this Tapered Branch ($29.99) or Copper Quadrille ($18) version, both of which say, "You are capable of real magic and having nice things.wp_postsIf you've got an herbalist on your hands, try a snazzy textile like this Macrame Plant Hanger ($30.89) that, lest anyone think macrame is passé, is decorated with very on-trend copper bits. For the staunch design loyalist, there's this practical Phases of the Moon mini print ($18), or this Witches Print ($14.56) for your fellow The Craft enthusiasts. Lastly, this delicate ceramic Moon Glass set ($24 – $30) by South Korean studio Tale Design legit shows you the phases of the moon as you drink from them. It is like you are drinking the moon! Which is a gift basically no one else thought of this year.
---
Kitchen Witchery
Being a Kitchen Witch, just like it sounds, involves spending a lot of time in the kitchen. It's all about brewing up potions and teas and adding magic to the food you cook and bake. Preparing a meal is a ritual, and just like any other ritual, it can be turned into a spell.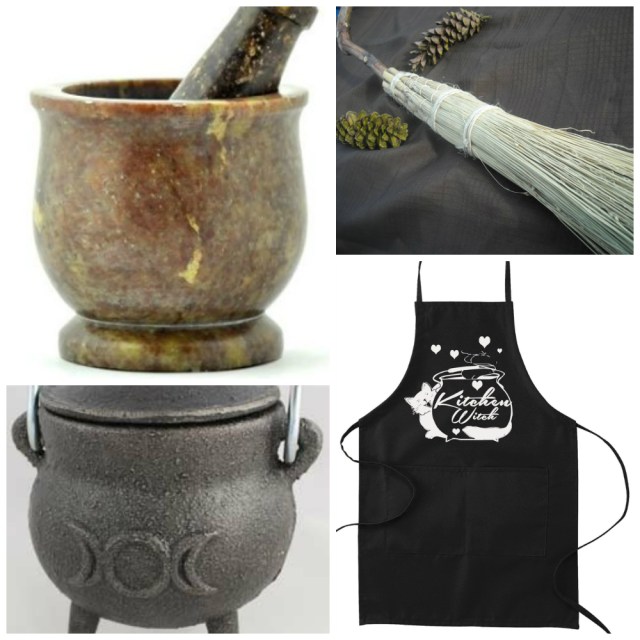 Some helpful tools for any kitchen witch include a nice Mortar and Pestle, a cauldron (you can get a small one or a larger one), a full-size broom or a small, altar-sized one and a kitchen witch apron.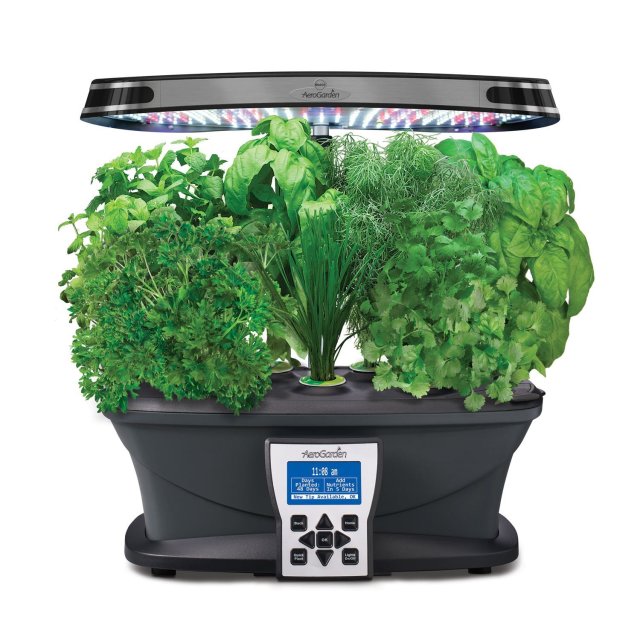 This is a really perfect gift for a kitchen witch who lives in an apartment or somewhere with cold winters. With this indoor garden you can grow fresh herbs, vegetables, greens and flowers year round in the comfort of your kitchen. It even comes with an herb seed pod kit that contains Genovese Basil, Thai Basil, Chives, Cilantro, Curly Parsley, Dill and Mint. There's also a smaller, cheaper option if you're looking for a more budget friendly option.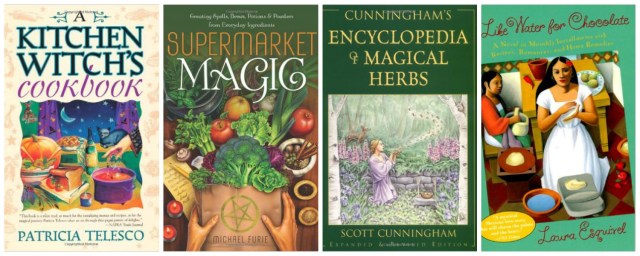 If you're looking for a cookbook, you could go with A Kitchen Witch's Cookbook, Supermarket Magic: Creating Spells, Brews, Potions & Powders from Everyday Ingredients or Witch in the Kitchen: Magical Cooking for all Seasons, or for a guide to the use of magical herbs, Cunningham's Encyclopedia of Magical Herbs. For a fun book about the power of adding emotion and magic to the food you cook, why not buy Laura Esquivel's Like Water for Chocolate?
---
Tarot
by Rachel
If you've got a friend or loved one who's into tarot, whether they're a new practitioner or an old hand, there are a range of different treats you can get them this holiday season that will probably tickle their fancy!
Just like any other hobby worth its salt, tarot comes with a variety of accessories that are totally optional but also really fun. Many tarotists are always in need of deck bags, whether basic or fancy, to store cards in; the cardboard boxes that decks usually come packaged in often start falling apart with repeated use, and a bag can be sturdier. Some people also like to use a special cloth every time to lay out their cards on, so if you know that they don't already have one they're happy with (or that they're open to having more than one), a sweet new cloth can be a good fit.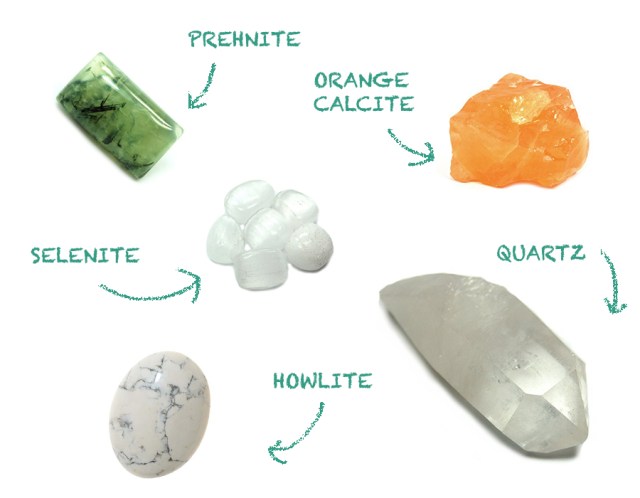 For the intersecting venn diagram of people who are into tarot and people who are into crystals (which is not 100%!), they'll love getting a crystal that has to do with tarot-ish concerns like focus, intuition, and emotional stability or protection for heavy tarot readings. Good choices might be selenite (connection with intuition and subconscious, psychic powers, etc), prehnite (prophecy), orange calcite (for balancing emotions and aiding intuition), or howlite (visualization and bringing things into focus). Some people also like quartz crystals of all kinds for cleansing their decks of energy, if that's a thing they're into.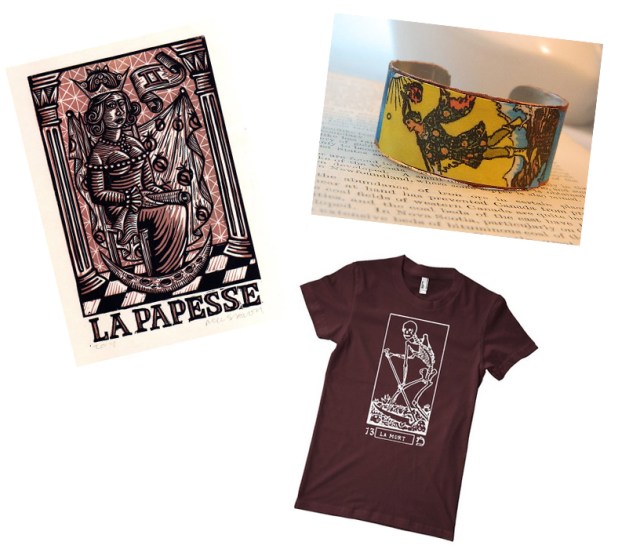 Besides the route of things used in actual tarot practice, tarot-themed daily use items are sure to be a big hit, especially if you know any cards your giftee is particularly drawn to. From shirts to jewelry to art and way more, there's definitely something out there with your giftee's favorite card(s) on it.
Lastly are what may be the most obvious but also least advisable gifts: a tarot deck or a tarot reading. Both of these can be really personal, and it's difficult to know exactly what someone wants in these departments — it's kind of like buying someone fragrance or makeup, very intimate and easy to get wrong. But if you feel super confident about this, especially if your giftee has been talking about really wanting a specific deck or really wanting a reading from a specific person, then go for it! Just try not to place too many expectations on it or assume you're going to hear glowing feedback, because sometimes things connect well with people and sometimes they just don't. I'd put tarot books or resources in the same category, for the most part — it would suck to buy someone a tarot book or class only to find that the author has a totally different philosophy on tarot than your friend does and it doesn't do anything for them at all. The exception might be if someone close to you is JUST starting out and looking for anything at all that comes their way; in that case, a well-reviewed 101-style book might be really welcome. Some popular books they might like to start with, in that case, are Rachel Pollack's 78 Degrees of Wisdom, Joan Bunning's Learning the Tarot, and Mary K. Greer's Tarot for Your Self.
---
Pop Culture Witches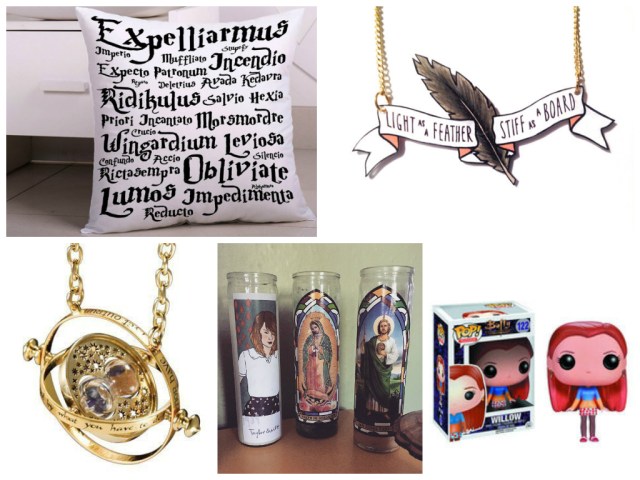 Perhaps you're looking for a gift for someone who's into the pop culture side of witchcraft. Maybe you want to get them this pillow covered in spells from Harry Potter or this gorgeous Time Turner. Or you could get them a Willow, Hermione or Disney Villains 3 Pack figurine to add to their shrine or a "Light as a Feather, Stiff as a Board" necklace. If they want to do a little pop culture candle magic, you could buy some candles and then print these illustrations by Cameron Glavin, Anna Bongiovanni and Rory Midhani onto sticker paper and give them a votive candle featuring a woman who inspires them.