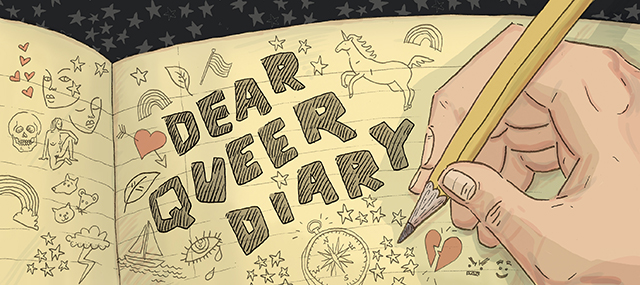 My dear queer diarists, this week it is my pleasure to introduce you to another notebook-toting celebrity with a pen in her hand and brilliance in her brain. Prepare yourselves.
Abbie
This week's journaling genius is none other than Abbie, an outrageously lovely person from the city of Nashville, Tennessee. When Abbie is not journaling, she does communications and administrative work at a non-profit counseling agency, dabbles in graphic design, and hangs out with her cat Indigo. She claims that she's not very good at talking about herself, but I think we will all be able to agree that she is pretty darn fantastic at talking about the fine art of writing in one's diary. We discussed coming out to one's diary, kicking the bucket, and the therapeutic properties of writing things down.
When did you start journaling?
I started in fifth or sixth grade… for about a year. Then I started again my sophomore year of high school, and I've been journaling ever since. It takes me about two years, generally, to fill up a journal.
The content [from older journals], of course, is very different from what it is now — what boys I was trying to have a crush on, and great self-righteous moral judgments against my friends who weren't Christian enough at the time. When I started back, I got that first journal after my sophomore year of high school at a youth camp. I think the worship minister was selling it; his daughter had made it. It was actually pretty cool — she did all this artwork and they printed it, and each page is really colorful. I started and then I realized how therapeutic it really is.
That actually segues nicely into my next question, which is: what is your favorite thing about journaling? 
If I don't write, I don't know what's in my head. It really helps me figure out what I'm thinking and feeling.
 Great! Here is a series of questions for you — statements based on things that have come up in previous columns that people seem to have strong opinions. You tell me if you agree/disagree/neutral—whatever. The first one is, "I would consider burning my journal."
No.
Why not?
I like the history of where I've been. It's part of me.
Yes! I completely agree. Next statement: "I would let somebody else read my journal."
Yes, but probably after I'm dead. I actually have a second journal, which is kind of like, in case of my death, read this. It has the important information in it, and I've catalogued all the journals I still have. It has a description of what it looks like and then the years, even though I write the date on every entry. I don't know. I guess that's one thing I'm proud to leave behind and people who may know me will get to know me ten thousand times better if they read it.
I bought that journal a long time — well, a few years ago — and it sat empty for a good long while because I didn't know what to put into it. It obviously doesn't take the place of a will. I keep my internet passwords in it — not written in it, but just a sheet of paper stuck in there, because that will be helpful if I kick the bucket. I'm kind of stuck on what else to put in it.
Well, hopefully you don't need it soon! Here's another question — have you ever written in code in your journal?
If you count the years before I came out and was super super Christian still — it's not a purposeful code, but I was couching all of my feelings in Christian language and terms, never quite saying I was experiencing desire for the same sex. It's there — it's just not overtly stated.
That actually intersects with another question I was going to ask, which is how your journal intersects with your queerness — obviously, they're not totally separate. What's the relationship between your journaling and your coming out?
I really liked the coming out post. I think journaling was very integral in the process, because, like I said, I don't really get what I'm thinking and feeling unless I've written it out. Then it's much clearer, so journaling was helpful in trying to piece it all together.
Is there a moment where you sort of turned the page in your journal and were like, okay, now we're going to talk about it explicitly?
Yes. And actually, it was after a conversation I had with my mother, and at the time, I was kind of piecing it together but was not at all ready to really talk about it with anyone. She was talking to me about my oldest brother and told me that he told her one time that he was experiencing same-sex attraction. I had the biggest freak-out moment and I immediately went to my journal because it was the only person I could talk to — even though it's not a person. And I was just like, well, it's great that he was able to say that to her all those years ago, but I'm not ready. But I have the same secret, essentially. And so that was the first time I said it. I came out to my journal before I came out to anyone.
If you were giving advice to a journaling newbie, what is your piece of advice you would share with someone?
Hmmm. It's hard for me to imagine trying to get into journaling because I'm so into it already. Maybe, if you're trying to write about something and you're not having much luck, try to write about something else — just whatever comes naturally to you. It doesn't have to be perfect.
Word. Intergalactic Journaling Awareness Month isn't over yet, my diary-writing friends! As you eagerly await your opportunity to meet another Straddler-Journaler, feel free to keep the conversation flowing in the comments—and find other bizarre holidays to celebrate during the month of August.
---
Dear Queer Diary is a column about the joys (and occasionally, the pains) of journaling. We crack open our tiny notebooks and break out the rainbow-colored pens on the regular, so get ready to limber up your writing hands and document all your beautiful feelings!
Header by Rory Midhani