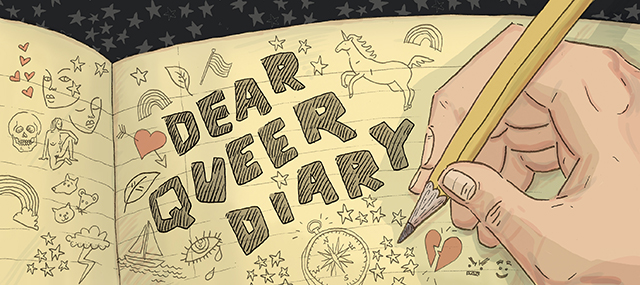 As much as I love talking about myself, there comes a time in the course of lesbian events when it is necessary to let some of our other dear queer diarists speak, and that time, my beloved readers, is right now.
I hereby declare this August to be the first Intergalactic Journaling Awareness Month, a joyous occasion that we here at the Milky Way Outpost of Diary-Writing will be commemorating with a very special series of interviews with some of the latest and greatest Straddler-Journalers on the planet. It's going to be a little like Straddler on the Street, except with more pens, more notebooks, and just as many feelings. Straddler in the Journal, we might say?
Today, it is my pleasure to introduce you to an amazing lady who has been journaling since she could hold a pencil. Even over Skype, it was obvious that she has a wise mind, awesome hair, and a beautiful soul, so please — sit back, relax, and enjoy her journaling genius.
Tango
Tango is a self-described word person — she says she's "obsessed with language, rhetoric, and discourse," or, to put it more simply, "I like talking about talking." She's an American army brat who's "not really from anywhere," but I happen to know she feels quite at home in the comments section of this fair website! She has two cats, Jasper and Molly, who apparently like to lie on bookcases in order to absorb the wisdom therein.
So, tell me about your current journal.
My current journal was a gift from my partner's grandmother — it had a dorky little Walt Disney quote on the front about following your dreams or something, but I actually completely covered it in eyeball stickers from our Halloween event at the retail shop I was working at. So, I have a little four-by-five notebook that's covered in eyeballs.
That's awesome. Do you think that's metaphorical — it's watching you or something?
Haha. Right? I don't know…
Have you always been a journaler, since the time you were little? Can you remember first journaling?
Oh yeah. I'm an only child, so I started journaling when I started writing. I'm an over-introspective kind of type. I go back and read my journals a lot too, and then I write about what I reread, and it gets meta. I don't have a lot of them, is the sad part, but I can picture some. I know that my mom got me one of those Girl Tech password-protected journal-things when I was, like, 10. I remember I wrote in that all the time, except I could never get my password to work, and I always had to break into it.
Was it electronic? Like you had to enter a code or something?
It was voice-activated! But I guess it captured the inflection of your voice, and I never said the password the same way. I don't know! It was purple, and it was obviously plastic—the whole outer case was like a hard shell so that it could electronically open and close the lock.
Do you remember what the password was?
I don't, but I would always have my password in a British accent because I felt like nobody would think to do that.
Nice! That's very clever! What is your favorite thing about journaling now — what drives you to go and journal when other people are doing other things?
Hmm. The best way I can explain this is with astrology. It's that in Mercury, I'm a Taurus, so I'm very slow and plodding about my ideas, and that can actually be frustrating for me sometimes. So journaling is a great way to just vom all my ideas out in one, and then I can go back and restructure them and understand myself. But journaling is that free, empty, no edit, no judgment space. Does that make sense?
That totally makes sense. I really like the free, empty, no judgement kind of thing because I definitely try and use it for that — and I have since I was in high school. Because I was a total perfectionist, so was constantly judging myself on everything.
I think I actually became a better journaler after I took playwriting courses in college. A lot of those courses were about postponing your inner editor — it was just about writing for the moment. We had lots of in-class, "you've got two minutes, write out a monologue," whatever, and [my professor] was really great. He was almost like a boot-camp instructor for your inner editor and muse. So, after that, I was able to journal without pre-judging my ideas.
Yes. Totally. Okay, this is kind of a strangely specific question, and feel free to say this has no relevance to your journaling, but given this is Autostraddle, I am wondering if you have any sort of feelings about how your journal interacts with your sexuality or your queerness or however you identify that.
So I'm sure you know what LiveJournal is — do you know what DeadJournal is?
No!
It was kind of a branch website — it had to have spawned from LiveJournal because it was basically like the opposite. Everything was very dark, the whole aesthetic of the website. Your journal was called your grave and your side-panel options were like "go to the mortuary." Really goofy like that.
But similar to LiveJournal, you could add friends and people could read. I had a DeadJournal in late elementary through early middle school, and I had two other friends, and the three of us wrote on there. And we really — it's really great because I can still go back and look at it — and we really fleshed out our sexualities on DeadJournal together, but not together. Because we could write about our feelings about people and if we thought it was weird or if we thought it was natural. We never really explicitly talked to each other about it, but it was a great place to just express that—and know that someone's there and that they're not judging you for it. So it was kind of private-without-being-private because it was just my two friends.
And then, kind of along those same lines, but more recently, in the last year and half, I've realized that not only am I queer, but I'm also what would be like, gray-ace demisexual, and I came to that through journaling because I denied it a lot…
Do you have any other journaling tidbits, pieces of advice you would share? Hilarious journaling stories? Tragic journaling stories?
I just try to keep my journal on me at all times. Someone once asked me, Is that so no one ever reads it? But it's mostly because I'm really bad at keeping a journaling schedule, so I've found that if I just have it on me whenever there are those moments—like if I am going to pick someone up, I am generally early to everything, so I'm going to be in my car for ten, fifteen minutes and that's a great opportunity to write down what I've been thinking about during the day. My journal is always in my backpack or my purse. Always.
And your journaling wisdom shall always be in our hearts, Tango! Isn't she so great? Next week, watch this space for more journaling greatness. A gloriously Alternative Lifestyle Haircut-ed lady from Tennessee is right around the metaphorical corner!
---
Dear Queer Diary is a column about the joys (and occasionally, the pains) of journaling. We crack open our tiny notebooks and break out the rainbow-colored pens on the regular, so get ready to limber up your writing hands and document all your beautiful feelings!
Header by Rory Midhani