Hello mellow mushrooms! Gather round folks, there's lots of new developments and new stories to discuss, so let's get to it!
Good Morning Baltimore
After declaring a state of emergency, Maryland Governor Larry Hogan activated the National Guard Monday evening, Baltimore Mayor Stephanie Rawlings-Blake instituted a city-wide curfew from 10 p.m. to 5 a.m. starting Tuesday and Baltimore City public schools canceled classes on Tuesday, after people looted stores, threw rocks and bricks at riot-clad police officers, injuring several and set police cars and stores a blaze in the wake of Freddie Gray's funeral.
Twenty-five-year-old Freddie Gray died April 19th after being in a coma due to injuries sustained during his arrest by Baltimore police. His death is still under investigation but it's confirmed he was handcuffed and put in leg irons but wasn't seatbelted en route to the station. Many believe Gray was subjected to a "rough ride," where police deliberately make abrupt stops and sharp turns to intentionally bang up the detained person.
On Monday, the rioting and looting broke out near the New Shiloh Baptist Church where friends, family, activists and officials gathered to pay their last respects to Gray. The Rev. Jamal Bryant spoke at the funeral about Baltimore's poor, the lack of job opportunities and the situation of black young men like Gray. He called for black people to not be silent in the face of injustice. "Get your black self up and change this city,wp_postsBryant said. "I don't know how you can be black in America and be silent. With everything we've been through, ain't no way in the world you can sit here and be silent in the face of injustice."
Police clashed with teenagers that began around 3 p.m. According to the The Baltimore Sun, it seems the incident is related to an organized action in response to Freddie Gray's death.
"The incident stemmed from a flier that circulated widely among city school students via social media about a "purgewp_poststo take place at 3 p.m., starting at Mondawmin Mall and ending downtown. Such memes have been known to circulate regularly among city school students, based on the film "The Purge," about what would happen if all laws were suspended.
The flier included an image of protesters smashing the windshield of a police car Saturday during a march spurred by the death of Freddie Gray, a 25-year-old man who suffered a spinal cord injury earlier this month after being arrested by city police."
Other reports from locals say that there was no planned student action, but that city transportation was already shut down when students were let out of school for the day, and police were already waiting in riot gear, causing confusion and panic. It's unclear how things began but The Sun says from then "the confrontation escalated quickly." Youth surrounded a police car and smashed its windows. They threw bricks and rocks at police and police responded by throwing them back and fired tear gas and pepper balls. Cars were set on fire, store windows were broken and businesses were looted including a CVS that was later engulfed in smoke. At least 15 police officers were injured. The Baltimore Sun reports, "The Mayor's office said 202 arrests were made overnight, and that the city's fire department dealt with fires in 144 vehicles and 15 buildings."
Police said earlier in the day they received a "credible threat" that three gangs, the Black Guerilla Family, the Bloods and the Crips, entered into a partnership to "take out" law-enforcement officers. However in a local news interview, some gang members explained their truce and said they didn't come together to harm police but to stand together as black men who want justice for Freddie Gray's death. There was police presence in the neighborhood during Gray's funeral.
On Monday afternoon, in anticipation of protests, police urged surrounding businesses and institutions like the University of Maryland to close early. Later in the day, the Orioles postponed their game against the White Sox; today's Orioles game has been postponed as well.
Monday's disruptions follows week-long demonstrations and protests until on Saturday some demonstrators smashed police car windows and store fronts near Camden Yards, the baseball park. Protestors say baseball fans and bystanders were saying racist things to them and agitated the protestors which resulted in the disruptions. Twelve people were arrested.
Here's some food for thought to put these riots into perspective:
"When nonviolence is preached as an attempt to evade the repercussions of political brutality, it betrays itself. When nonviolence begins halfway through the war with the aggressor calling time out, it exposes itself as a ruse. When nonviolence is preached by the representatives of the state, while the state doles out heaps of violence to its citizens, it reveals itself to be a con. And none of this can mean that rioting or violence is "correct" or "wise," any more than a forest fire can be "correct" or "wise." Wisdom isn't the point tonight. Disrespect is. In this case, disrespect for the hollow law and failed order that so regularly disrespects the rioters themselves."
"Militance is about direct action which defends our communities from violence. It is about responses which meet the political goals of our communities in the moment, and deal with the repercussions as they come. It is about saying no, firmly drawing and holding boundaries, demanding the return of stolen resources. And from Queer Liberation and Black Power to centuries-old movements for Native sovereignty and anti-colonialism, it is how virtually all of our oppressed movements were sparked, and has arguably gained us the only real political victories we've had under the rule of empire."
---
#Not1More LGBTQ Deportation
Here's Maddie with an update for you:
Nicoll Hernández-Polanco, a transgender woman who was being detained in a men's immigration detention facility in Florence, Arizona, has been released from detention and, according to the Tucson-based organization Mariposas Sin Fronteras, granted asylum! This is an amazing win for Hernández-Polanco and her supporters, and an important step in the ongoing struggle to end the deportation and detention of the LGBTQ migrant community. In a press release GetEQUAL stated, "ICE and DHS are incapable of protecting our LGBTQ community from this abuse. Detention centers are not the answer to a broken immigration system; no matter what policy is enforced or what alternatives are set in place, detention will never be the solution for our community. Detention is inhumane no matter what form it takes!"
Nicoll's release came the day before the five year anniversary of S.B. 1070, the state law passed in Arizona in 2010 which requires police to ascertain a person's immigration status if they believe there is "reasonable suspicion" the person is undocumented. The definition of "reasonable suspicion" is highly ambiguous, but it is widely understood as a thinly-veiled cover for legalizing and facilitating racial profiling of immigrant communities. S.B. 1070 and copycat laws in other states increase collaboration between local police and Immigration and Customs Enforcement (ICE), and facilitate detention and deportation which fragment immigrant communities and families.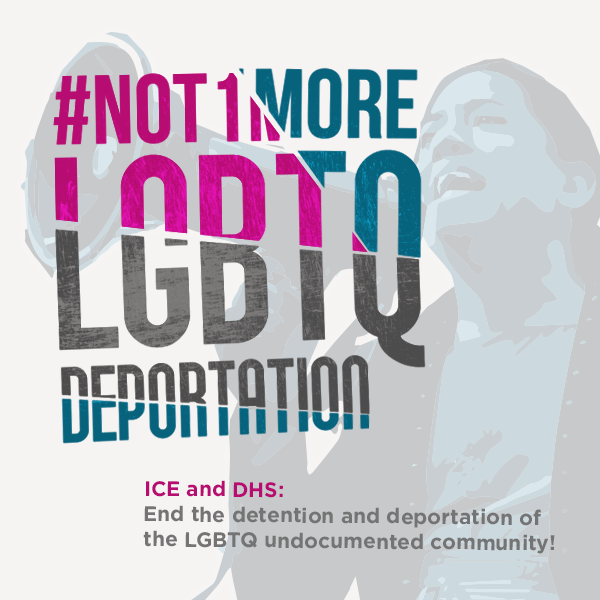 To mark this anniversary, #Not1More is holding a virtual conference on the Next Generation of Resistance against S.B. 1070 and the proliferation of ICE in communities across the U.S. Sessions so far have focused on life in Arizona under S.B. 1070 (in English), civil disobedience in the movement for migrant rights (in Spanish), and women in the movement (in Spanish), all of which happened in 30-minute Google hangouts which you can watch on the #Not1More website. The virtual conference continues next Saturday with a panel looking at the situation faced by those excluded from the President's most recent executive action on immigration.
---
A Grab Bag Full of News
+ Tiffany Cannon and Lauren Horbal say a landlord refused to rent to them because they're gay. The couple say they found the perfect new place but the landlord didn't even give them a chance and didn't run their application after finding out they were together. "He was like 'What are y'all relationships?' and I was like 'Well, Lauren is my girlfriend and Sarah is our roommate, she's our friend',wp_postssaid Cannon. "And he was like, 'Oh.' A local news station contacted the landlord and he said he rejected their application because they filled it out incorrectly. Unfortunately in Tennessee it's perfectly legal for landlords to deny people housing because they're queer.
+ Arizona Governor Doug Ducey ordered the Department of Child Safety to reverse its adoption policy which banned gays from adopting as a couple. DCS allowed married gay couples to adopt in October, after a federal court struck down Arizona's same-sex marriage ban. But then state Attorney General Mark Brnovich advised DCS that the marriage ruling didn't apply to the state agency, so it went back to its former policy which allowed gay people to adopt but as individuals. Ducey says there's just a need for loving foster and adoptive parents.
+ A 20-year-old lesbian activist and a University of Mary Washington student was murdered in her off-campus home by her housemate. Grace Rebecca Mann was found strangled in her home after attending GLSEN's Day of Silence event on campus. Her 30-year-old housemate Steven Vander Briel has been charged with first degree murder and abduction.
+ Gay hotel owners apologize on social media for hosting a "fireside chat" and dinner for anti-gay senator and presidential hopeful Ted Cruz. Supposedly Ian Reisner and Mati Weiderpass, owners of Out NYC Hotel, didn't know that Ted Cruz was so anti-gay, but I think that's total bullshit. "I made a bad mistake," Reisner wrote on Facebook. "I was ignorant, naive and much too quick in accepting a request to co-host a dinner with Cruz at our home without taking the time to learn his positions. I've spent the past 24 hours reviewing videos of Cruz' statements on gay marriage and I am angry and shocked. I deeply apologize for hurting the gay community and so many of our friends, family, allies, customers and employees. I will try my best to make up for my poor judgement. I'm sorry." Reisner and Weiderpass hosted Cruz in their home for an intimate dinner with about 12 guests that may or may not have been a fundraiser. Three events slated to be held at their hotels have now boycotted the establishment and moved their events elsewhere.
+ Los Angeles fast food workers are fasting for 15 days to get the attention of city council members to raise the minimum wage to $15. The fast will end with a rally on Wednesday.