Pittsburgh-native Lauren Morelli is a writer for the Netflix hit series, Orange is the New Black. (That means she's friends with your pretend girlfriend, Samira Wiley.) After studying dance at Marymount Manhattan College and living the generally unglamorous lifestyle of an aspiring writer, Weeds creator Jenji Kohan tapped Morelli for her new show. Morelli penned two episodes last season and is on staff again for Season 2.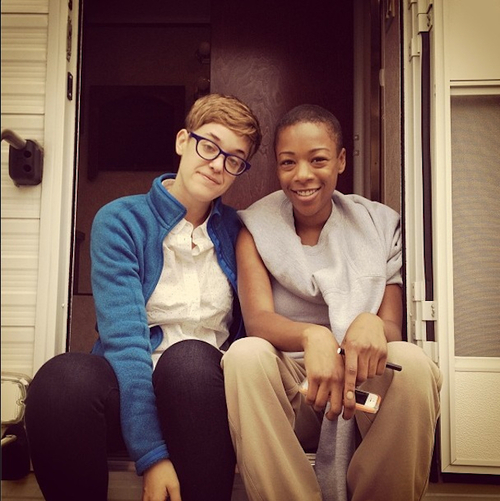 People love talking about the politics and relationships in the show but often ignore how funny the show is. Do jokes naturally find their way into the script or is there a lot of joke pitching in the room?
I'm sure I'm misquoting her, but Jenji always says something along the lines of, "Pure drama isn't real life," which I completely agree with. How often do you find yourself in a sad/traumatic/terrifying situation where there isn't at least a little laughter? The truly trying events in life actually require levity–humor helps us process those things that can be impossible to wrap our brains around otherwise. That's all a very longwinded way of saying: the jokes come naturally. We never have to push and very rarely do any joke pitching because the general premise of prison is so absurd in the first place that there's always going to be some underlying humor, even when you don't choose to highlight it.
https://www.youtube.com/watch?v=nryWkAaWjKg
What's up next in your Netflix queue?
Oh man, I am so into Scandal right now. It's all I want to do, all the time. This Christmas I was at LAX traveling back to the East Coast and caught Tony Goldwyn out of the corner of my eye. (Let's be honest: I had no idea that was his name at the time. I'm just trying to make myself sound cooler.) So I see Fitz run past me, presumably running to catch a flight. And what do I do? I run after him, like any reasonable 31-year-old would do. I end up behind him in the security line, where I take a picture of the back of his head (again, because I'm reasonable) and feel really grateful for how much he resembles Fitz in real life. He's wearing a perfect turtleneck, nice slacks, that sort of thing. It's not like when you see Jon Hamm in real life and his hair's a little floppy and he's wearing cargo shorts and it's just not what you needed to see. Anyway, eventually we're waiting to go through the x-ray machines and our line is going painfully slower than the one next to us because we're behind a family with 18 kids. So I seize my opportunity and, not very slyly, say, "Never get in line behind kids, right?" And THEN Fitz throws his head back and laughs and I feel like I'm Olivia Pope for just a second. So that's that story of how I achieved my life goals and now have nothing left to aspire to.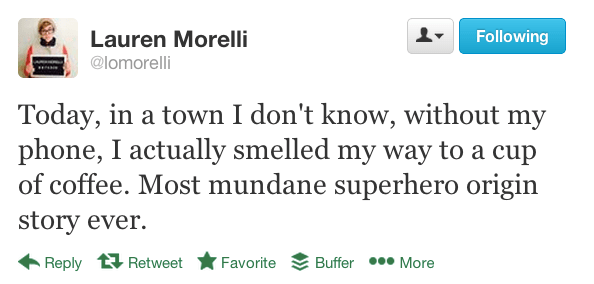 If you could pick one Orange character to have a spinoff, who would it be and why?
This is so hard. I mean, if I asked you to choose your favorite, it would be impossible, right? They're all so great. That being said, I'll use any excuse I have to write Uzo (Crazy Eyes), Danielle (Taystee), Samira (Poussey) and Adrienne (Black Cindy) into a scene. Not only are they all insanely talented individuals, they've started to function as an ensemble in a pretty incredible way. Honestly, it feels like cheating as a writer because I know they'll take anything on the page and make it better. We also have a long-running bit in the writers' room about giving Pornstache and Bennett a spinoff where they're roommates taking care of Dayanara's baby. It'll be like a super fucked up My Two Dads.
You were an assistant for a long time before you got this writing job. What's the best 'I screwed up' story you have?
I was a personal assistant for the same family for 5 years before I got Orange, and the most insane time of year was always the couple months before Christmas. I was responsible for choosing, buying and wrapping all the Christmas presents for any relative and acquaintance they knew. I cried at least twice a week from October through December. Anyway, I kept this elaborate spreadsheet for the really distant relatives who would always get a holiday flower delivery (different arrangements for the Jews, of course) or some sort of gift basket. That way I could just fax the same standing order over to the flower place every year and never have to give it a second thought. It was all very personal and lovely, clearly. In any case, one year my boss's executive assistant goes (in a tone that never meant anything good), "Did you send a gift basket to Uncle Bob?" I did, of course. Well, as it turned out, Bob had died that year and I had somehow missed it. Yup. That's right, folks. I sent a gift basket to a dead man. I'm sure the salami was appreciated, though.
Everything you have to say about the Orange writers' room, from working with Kohan to the diversity of the cast, is always so insightful and supports all us internet people's conviction that this show is hopefully part of a new, more inclusive age in television. Do you think these same conversations are happening in the theater world?
You know, we write in LA but shoot in NY, so we had to do almost all of our casting out of NY. I remember being a little nervous about not being able to draw from the incredible pool of talent on the West Coast, but of course I couldn't have been more wrong. The show wouldn't be nearly as good, in my opinion, if we hadn't been able to cast all these incredible actresses who have been working in theater forever but weren't known faces to most television audiences. There were all these different bodies and shapes and colors that came in to audition, women who had gone to Juilliard or been on Broadway, but no one wants to put them on TV because they don't necessarily fit into a TV executive's idea of what's beautiful. Or because no one is writing roles for them. The problem is multi-faceted and tremendously complicated, of course. Anyway, I think theater is actually way ahead of TV and film when it comes to representing diversity and different perspectives in the world. Hopefully we're starting to catch up now.
Twitter: @lomorelli
Instagram: @lomorelli
Orange is the New Black
---
As you probably know by now, comedy and women are about the extent of my interests. So why not combine these two things? Comedy Crush will highlight the work of current comedy writers and/or performers in hopes of encouraging a queer lady following so they'll pander to us for the rest of their careers. Hey, at least I'm trying.