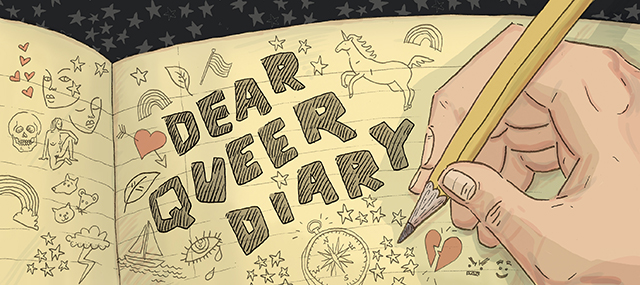 I know of your troubles, dear queer diarists. Amidst the cold and cruel darkness of January, you are slowly discovering that the snow (which once glittered with holiday delight!) now looks more frigid than festive. You are suffering from your second head cold in the last three weeks, your box of lemon tea is nearly empty, and your sink is filled with stained mugs and knives covered in desiccated peanut butter and jelly.
The bad news is that your journal cannot wash dishes or cure sore throats. The good news is that your journal can offer a humble means of escape from the polar dreariness that is hopefully not your January 23rd, 2014. Rather than detailing the latest weather report (wintry mix, anyone?), turn your pencil towards more pleasant thoughts.
Though I will not guarantee that exploring the below topics between your journal's attractively fabric-covered covers will do anything to clear your sinuses, I will promise that contemplating warmer, happier days will make your imagination soar on rainbow wings of joy.
What follows is a collection of cheering journal ideas for the yearning scribbler:
1. A place you'd like to live. My girlfriend spends a lot of time watching HGTV and facilitating conversations about the practicality of future real estate investments. However, if money were no object, I would find myself a modest historic estate somewhere in the British Isles. The weather might not be great, but the opportunity to pretend I was a character on Downton Abbey would provide ample compensation.
2. Your ideal morning. I bet you think about this one every day during those brief moments you spend luxuriating in the warmth of your bed and wishing that work/class/life did not require you to leave your pillow. Tell your journal all the details, complete with mouth-watering descriptions of those banana bread walnut pancakes you ate last weekend.
3. Your awards season ensemble. Now that the Oscar's/Grammy's/Tony's are practically upon us, my feed is clogged with red carpet slideshows retweeted by websites I keep promising myself I will unfollow. I may (read: definitely) lack Lizz's fashion know-how, but I have been known to dream of masculine-of-center shoes, updos, and ball gowns.
4. The novel/short story/poem in which you would most like to vacation. While my previously discussed fascination with English country houses long had me convinced that I wanted to live in a Jane Austen novel, the antique plumbing and near-compulsory heterosexuality might put a damper on the Pemberley experience. But I am sure there are other compelling options out there!
5. If you are feeling adventurous, a brief foray into erotica might also serve to warm up your chilly fingers (ahem). I, for one, am a little too S-H-Y to write much about S-E-X in my D-I-A-R-Y; however, that does not keep me from composing the occasional metaphorically weighty prose poem about soft pink objects. Perhaps there is a certain funtivity you might like to detail in your journal's pages? Just make sure you have a good diary-hiding location picked out.
May the above inspire you to fill your journals with beauty and sweetness that will cure all your January chills and aches. Write on, fearless journalers!
---
Dear Queer Diary is a column about the joys (and occasionally, the pains) of journaling. We crack open our tiny notebooks and break out the rainbow-colored pens on the regular, so get ready to limber up your writing hands and document all your beautiful feelings!
Header by Rory Midhani