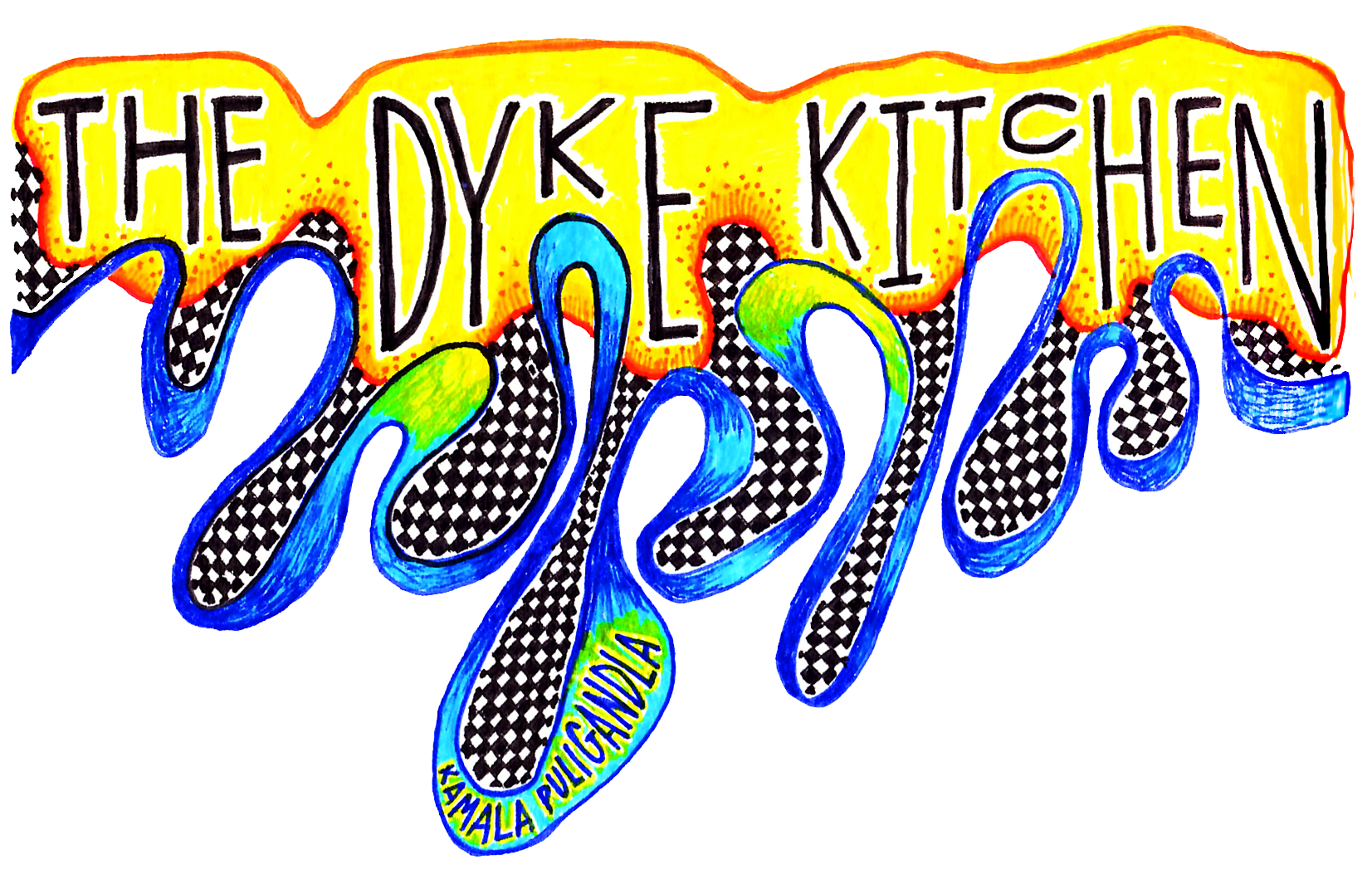 The Dyke Kitchen is a bi-weekly series about how queerness, identity, culture and love are expressed through food and cooking.
---
It's officially celebration-style comfort food season, and that's exactly what today's recipe is about! If you enjoyed my previous biriyani collaboration with Sarah, I think you're gonna love this one too. Our chicken korma pot pies came about because, as always, we had a long list of foods we wanted to make together, including pie and a korma. So we decided to mix them together! It's not like the traditional filling of a chicken pot pie is generally knocking anyone's socks off as it is, and I thought flaky pie crust would be a nice thing to dip into a spicy sauce. For those unfamiliar with a pot pie, it's basically a stew in a small pot with a crust that covers the top.
So we tried it out and I'm here to report that chicken korma pot pie was the best food we've made together! Sarah kept repeating that it was "fucked up" which is her highest food rating. The chicken korma is lightly spicy and that specific kind of creamy that comes from blending cashews. The pie crust is flaky and adds a crunch. We also topped the pies with some fried herbs, seeds and nuts (recommended by the recipe we followed), which added even more texture. It's without a doubt, a very rich dish, but it was also a delicious way to eat vegetables, which Sarah needs to be enticed into eating. You could easily make the korma vegetarian with paneer, using the same method as we did for the biriyani, or with just veggies.
One of the best parts of these chicken korma pot pies are that if you're someone who is going to celebrate the Thanksgiving holiday, little separate pot pies are a nice way to have individual servings that not everyone needs to touch, that you can drop off to people, and that reheat easily if you're dining solo. We ended up making three pies in the glass bottoms of two-cup pyrex storage containers. That used up all of our korma and one disc of pie crust, which is what the recipe below makes. In practice, we doubled the pie crust recipe and Sarah made a honey pie with the other crust, which was a fun sweet and savory pie time! When we make the chicken korma pot pies again, which we're planning to do to try to impress my parents, I would make four pies with a little less korma in each dish, and make the pie crust top a little thinner. Everything else I'd do the same!
How To Make The Pie Crust
Sarah made this crust first and then put it in the fridge to chill, while we made the korma. After it was done, we assembled the chicken korma pot pies. Since this was Sarah's job, she will tell you what she did:
This was only my second time making crust, but because I have so many crust daddies in my life, I was not worried. I floated the need for a crust recipe and, of course, Cee Webster — former tech extraordinare of this very website, Capricorn, baker of many things — came through. Their crust is simple and straightforward.
Ingredients
1 1/4 cups all purpose flour (sift it!)
1/2 teaspoon salt
1/2 cup frozen butter
3 tablespoons ice water
1/2 teaspoon of turmeric powder
The Dough
Using the large holes of a box grater, grate the frozen butter into a bowl and put it back into the freezer.
Whisk flour, turmeric and salt in a bowl. (We didn't add the turmeric until later, but it afterward we realized this was probably the best place to do it.)
Mix frozen butter gently and briefly until it's crumbly, where you can see chunks of butter (this is important!). I like to use my hands but you could also use a pastry cutter or cut it up with crisscrossed butter knives. You want to see chunks of butter still.
Add just enough very cold water to make the dough come together into a ball.
Pat it into a small disc and smooth out any cracks at the edges. This will make for a smooth experience when you roll it out later! Wrap it in some plastic wrap and stick it in the fridge to keep it cold while you make the other elements!
The Rollout
Flour a surface and your dough disc.
Roll the dough out into a relatively circular shape that you can cut 3-4 circular shapes from.
If you're making these pies in ramekins, use the lip of your container as a stamp, and then roll out the dough so it's a bit larger.
After you fill your containers with chicken korma, gently lift your dough circle(s) and drape them so they cover the filling completely.
If you wanna get fancy you can crimp the edges of your pie — I highly recommend it! Something about seeing the crimped pie-edge was so satisfying. I spent 1 minute watching a YouTube video before I became a pro, and you can too.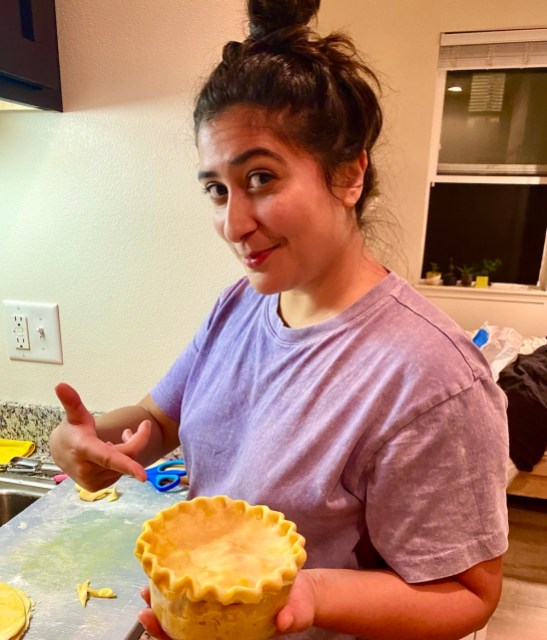 Beat an egg and brush it over the tops of your crusts. Put all the little pot pies on a baking sheet and cook them in a 400 degree oven for 30 min, or until the crust is golden and you can see the korma bubbling inside or up out of the dishes.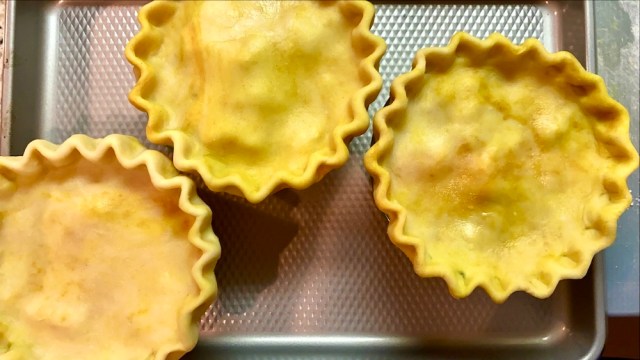 How To Make The Chicken Korma
We made a few small changes to the Navratan Korma recipe by our fave, Dassana Amit, but mostly did what she suggested. It looks really involved, but getting all of the ingredients together and into pastes is the most involved part. You will need a food processor or blender to make these pates. After that you just cook it all together!
There are five parts of the this korma so I've divided the ingredients by step:
1) You fry the onions and first batch of whole spices
2) You make a paste of garlic and ginger
3) You make a paste of nuts and seeds
4) You add the pastes, ground spices and dairy to the pan, followed by veggies and/or meat
5) You fry up the toppings that we ate on top of the pies
Ingredients for Part 1
1 onion sliced thinly
2 tablespoon ghee or butter
2 to 3 green cardamom pods
1 black cardamom pod
3 cloves
1 inch stick of cinnamon
1 tej patta or Indian bay leaf
2 single strands of mace
Ingredients for Part 2
5 garlic cloves
1 inch of ginger root
Ingredients for Part 3
1 tablespoon white poppy seeds or khus khus
10 -12 almonds
10 -12 cashews
1 tablespoon bittermelon seeds or magaz
¼ cup water for blending
Ingredients for Part 4
2 hot green chilies chopped, depending on how spicy you like it, remove some seeds
1 pound of chicken thighs, cubed and salted
1 1/2 cups chopped cauliflower florets
2 small yellow potatoes, about a cup chopped up
1 very small Delicata squash, or about a cup of cubed up
½ cup plain yogurt
½ cup whipping cream
½ teaspoon garam masala powder
½ teaspoon turmeric powder
1 teaspoon red chili powder
Ingredients for Part 5
1 tablespoon ghee or butter
7 almonds, blanched and peeled
10 pistachios
10 cashews
1 tablespoon golden raisins
½ tablespoon magaz seeds
1 tablespoon mint leaves
2 teaspoon ginger julienne
Directions
First things first, you need to soak the nuts and seeds for Part 3 and the almonds and raisins for Part 5 for 30 min. So we put ours in a glass measuring cup and then filled it with hot water.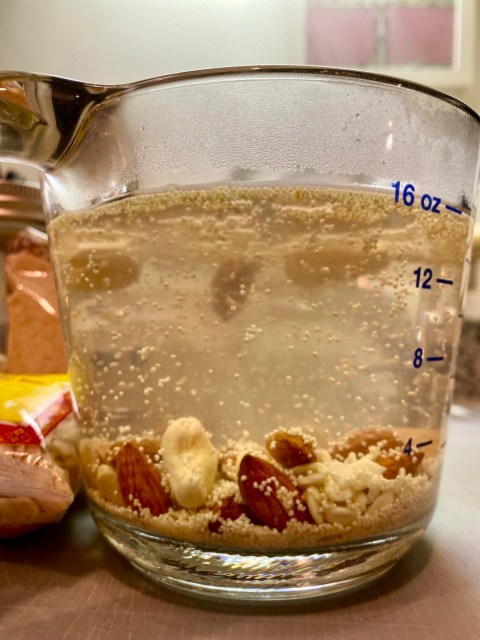 Next, I'd suggest chopping up your chicken thighs into one-inch chunks and tossing them with salt in a bowl, be generous with it. I also suggest dancing around with the bowl of chicken so it gets evenly salted.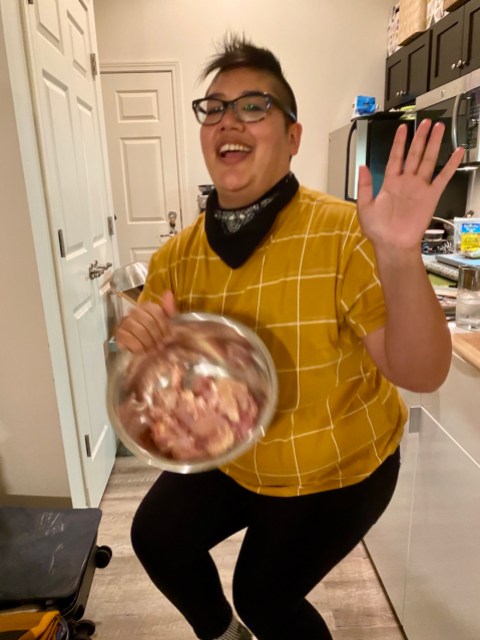 Also slice your onion thinly, and chop up the rest of your vegetables into smaller cubes.
Then in, a big high-walled frying pan, on medium-low heat, add ghee, the whole spices in Part 1. Let the spices start crackling and then add the onions and let them caramelize. Salt them with a few pinches.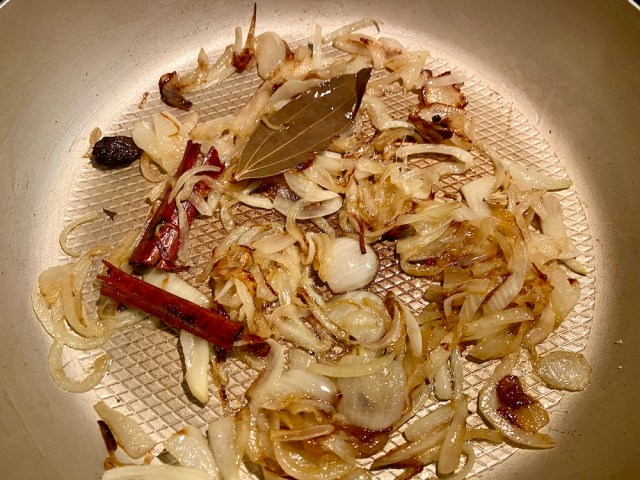 Meanwhile, peel the garlic and ginger, chop it and pound it in a mortar, or blend it up in a food processor or blender. Either way you want it to become pretty smashed up. Put this aside in a bowl.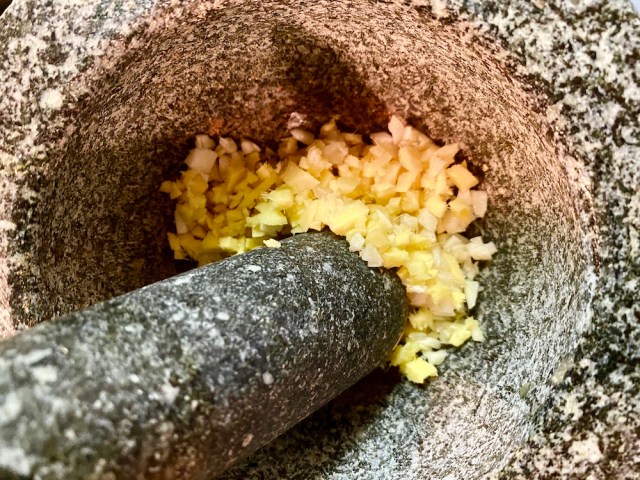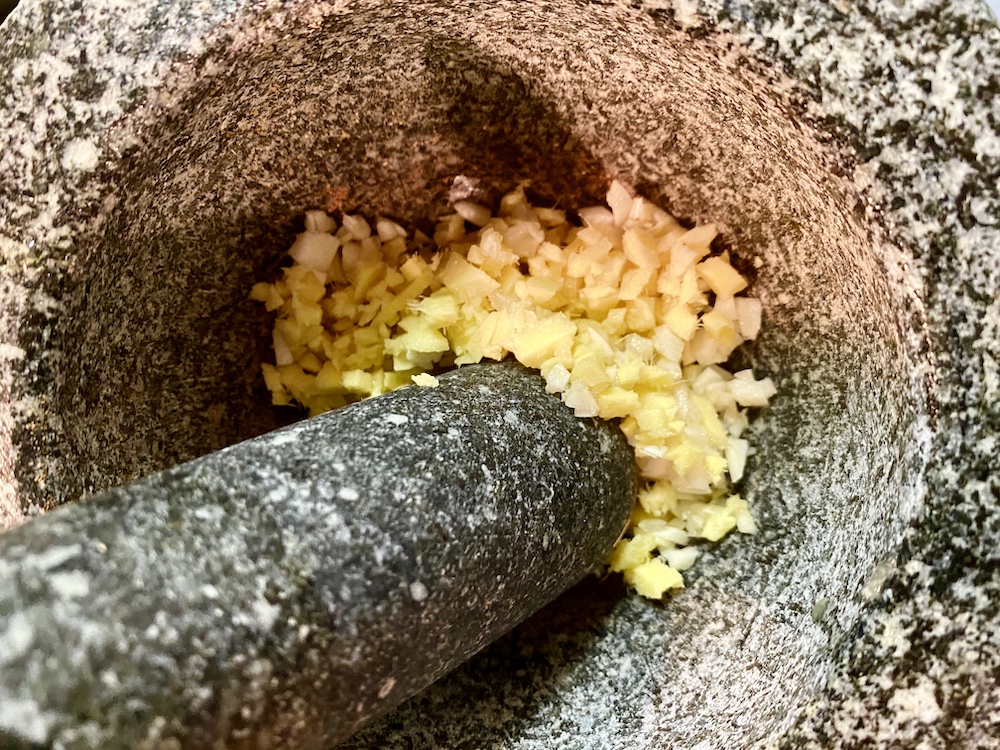 At this point, hopefully the nuts and seeds for Part 3 have softened. Remove the skin on the almonds, then add them (save 5-6 almonds for the Part 5 topping), the cashews, the white khus khus seeds and magaz seeds into a food processor or blender with 1/4 cup of water. Blend them until they're a smooth paste.
Now, add the ginger and garlic paste and green chilies to the onions and mix it in.
Then add the paste of nuts and seeds and mix that in. It might look like a thick glob in the pan at this point, which is actually fine.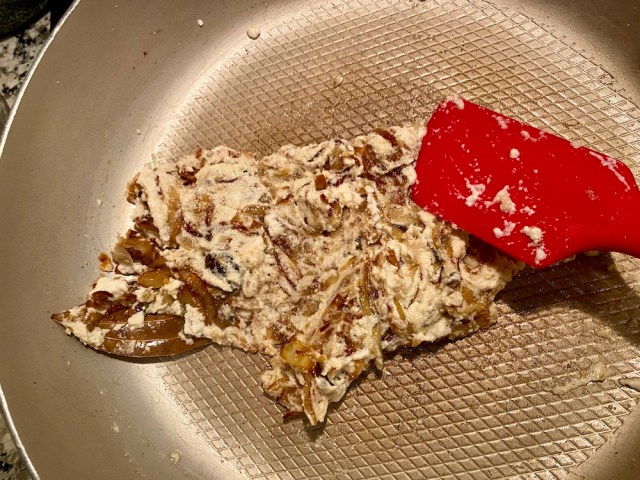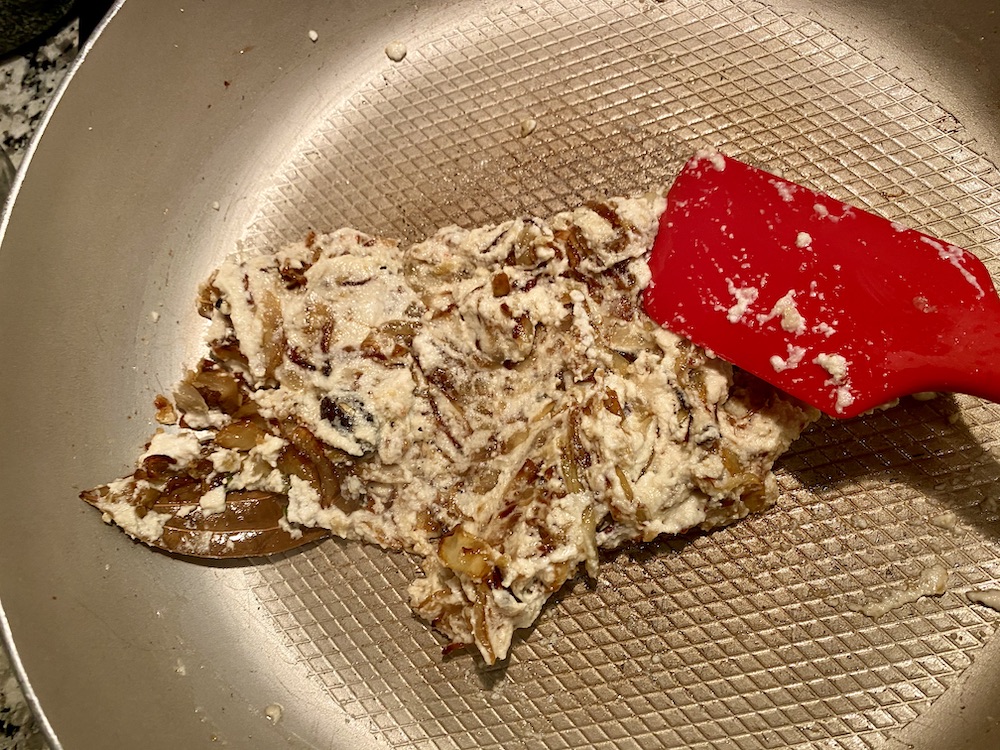 Mix up the yogurt so there are no clumps, and then add it to the pan with the turmeric and red chili powder to the pan. Stir it up and then add 1 cup of water.
Now add the chicken to the pan first, and let it simmer in a low heat for about 15 min. Then it's time to add the vegetables. Stir them up and taste the sauce to see if it needs more salt.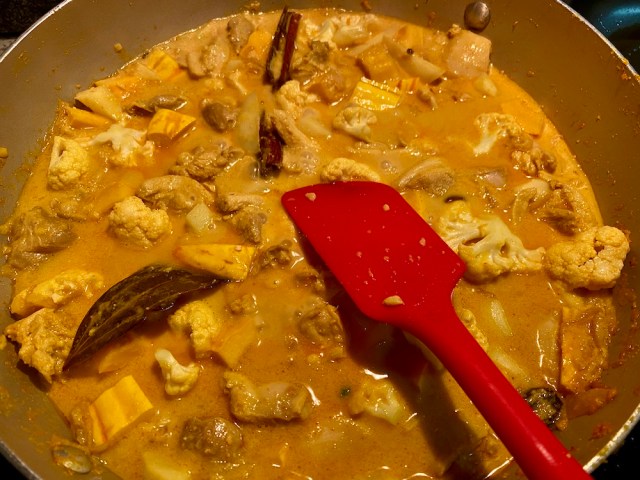 Let everything simmer on low heat together for another 20 minutes or until the potatoes and cauliflower are tender. When they're cooked through, you'll add the garam masala and pour in the whipping cream. You can take the pan off the heat, but let everything sit together in the pan.
Guess what? You've made chicken korma! And If you didn't want to put these into a chicken korma pot pie, you could also eat it over rice or just by itself. If you do want them in pot pies, go back up to the pie crust section to figure out how to assemble them.
BUT for the final touch, no matter how you eat it: the toppings.
Get out a small frying pan and put it over medium high heat with ghee. When the pan is hot, add all of the components of Part 5 into the pan and stir them around until they start giving off a nice aroma. Take them off of the heat and sprinkle them over the top of your baked pot pies, or over a bowl. Then dig in! It will taste like a special event.