Happy Friday! Welcome back to Boobs on Your Tube! The days are shorter and the nights are colder, but at least Heather is here to tell you Derry Girls on Great British Bake Off is the only good thing to happen in 2020. Sally did some investigative reporting you won't want to miss, may humbly we present: 10 Times Things Went Well But Also Very Badly For Lesbians on Rooftops. Riese would like to know which Happiest Season character are you? Over in our lost movie reviews, Kayla noted the plain facts that sex is weird, and she loved that Cheryl Dunye's Mommy Is Coming leans right into it without pretending to have the answers. We got some pretty massive The L Word: Generation Q casting news this week — Rosie O'Donnell has been cast as a human rights attorney named "Carrie" and we are 97% sure that's Tina fiancée. What's that you say?? Rosie vs. Bette is a Top Off the entire TV Team cannot wait to see.
Drew curated our next End of Year Pop Culture List: The Best Lesbian, Bisexual, and Queer Movies of 2020 and then our entire team came together to create our magnum opus Disney Characters, Ranked by Bisexuality.
Ahem, Today marks the premiere date of Netflix's The Prom and we have all your needs covered! Valerie gave Carmen and Drew a promposal to join her in a review of the film, Netflix's The Prom Review: Broadway's Favorite Teen Lesbians Warmed Our Unruly Hearts and Drew tapped deep into her film nerdery to chronicle the complete history of queer women in movie musicals from Calamity Jane to The Prom, just in time to honor our cute teen lesbians' debut on the silver screen.
Notes from the TV Team: 
+  Heather is furiously watching and catching up Star Trek, and she'll have some thoughts for you next week! Set your excitement to warp speed! (Get it?)  — Carmen
+ Natalie did a little deep dive over on TVLine and came up with this little tidbit.  — Carmen
+ Me again! This is the last thing! There was a lot of news yesterday from Disney+ and their upcoming 2021/2022 projects, but none excited me more than a Ms. Marvel television series!! I would like my teen Muslim superhero and I would like her right now!  — Carmen
+ On All Rise, we got a glimpse of the personal and professional life of Judge Benner this week. On the professional front, she forced Judge Carmichael to recuse herself from a case because of the potential appearance of impropriety. Needless to say, Carmichael is not thrilled; she criticizes Benner for not being more gentle with the defendant. Meanwhile, on the personal front, Benner is enjoy life as a singleton: she's a hot prospect on the dating apps. It feels like the show is laying the groundwork for Benner to have a bigger role on the show once Carmichael takes her maternity leave so…fingers crossed. — Natalie
---
S.W.A.T. 403: "The Black Hand Man"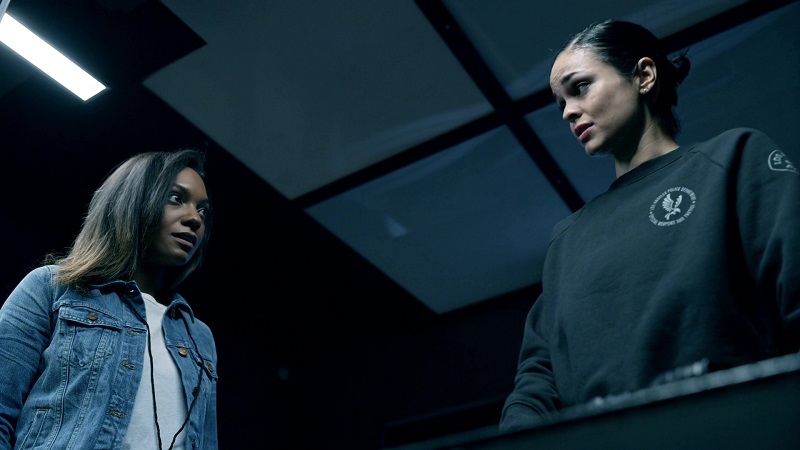 In almost every reality competition show on TV, there's always one contestant who comes in the competition proclaiming, "I'm not here to make friends, I'm here to win." This week, on S.W.A.T., Chris Alonso was that contestant.
Looking to boost her standing for the Tactical Leadership Institute (TLI) , Chris opts to participate in the Master Gunner competition. She's intently focused on the competition…so much so that she practices assembling her weapon blindfolded. Even after she achieves a personal best, Chris wants to keep going — hoping to shave an additional 0.3 seconds off her time — because she knows the Master Gunner competition will be close. Erika relents and promises to time Chris once more but warns, once she wins, they're going to have a beer and a long talk about her work/life balance.
In front of her teammates, Chris plays it cool. Hondo reminds them that no one from the team has won the competition in eight years and he's expecting them to represent. Street offers to show Chris a trick that could shave 0.3 seconds off her time but she declines his help. She lies and tells Street that training hasn't been going well and that she's not going to lose sleep over the competition anymore. It's a bit of misdirection that Chris hopes will get Street to ease up on his training.
The Master Gunner competition is a two part trial — the assembling of an assault rifle followed by a challenging shoot course — and Chris sails through it. Deacon lets it slip that she's leading the pack thus far and her near perfect run will be tough for anyone to beat. But, of course because the "I'm not here to make friends, I'm here to win" contestant rarely actually wins, Chris loses the Master Gunner competition to Street by a measly 0.18 seconds. She applauds her teammate's success but when she's alone with Erika, it's clear how much the loss stings.
"When I first met Street, he was the guy with the crazy mom who then got kicked out of SWAT and barely made it back. And now, he's got it all figured out," Chris laments. "[It] feels like we swapped places somehow and he left me behind."
While Erika can't resolve Chris' issues with Street, she does make one great recommendation: the lone two female members of SWAT should be roommates.
---
Station 19 404: "Don't Look Back in Anger"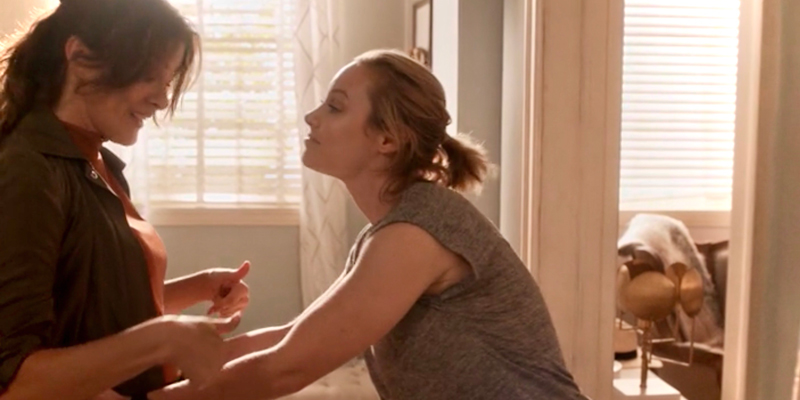 So Carina moved into Maya's apartment a few weeks ago, but she has really moved in now — and with her pasta and cheese hanging everywhere, Andy correctly surmises that its a bit like living inside one of my favorite restaurants in college, Buca di Beppo. Y'all — there's a lot of cheese, and it is everywhere.
Later at work, Maya confesses to Andy that she's a little terrified of living with Carina. It's not Carina, she's great. It's that sharing her space is bringing back up and re-triggering lots of memories of the emotional abuse of growing up with her father. You see, her brother — he just buried his head in the sand like their mother, but Maya? Maya became a carbon copy of him, just to avoid his rage. She goes on to tell a story about a friend taking one of her father's soda cans during an 8th grade sleepover and it's harrowing. Of course, now Maya is afraid she's going to lose it and spew "Who took my last can of soda?" venom all over poor Carina if she's not careful.
(Ok this scene is very emotional and beautifully acted and please excuse me for this, but ahem the entire exchange happens while Maya is carrying around piles of fire hoses for exercise and Danielle Savre were all I could focus on the first time I watched. I AM ONLY HUMAN AFTER ALL!!! But also, I mean.. damn. Ok moving on!)
Andy correctly points out that the first step in not becoming her father is to admit that she doesn't want to be her father, which means that Maya is well on her way. I agree completely! But the second step is probably therapy, and I hope Maya is able to get some support in that as well.
After her shift, all sweaty and just breathtakingly hot, Maya comes home. She goes to grab Carina for hug, who playfully demurs and asks Maya to take a shower first. But Maya's anger flares in response, demanding to know what exactly is up with all the cheese taking over her kitchen. Carina surprisingly doesn't rise to Maya's anger. Instead she tells her that she misses home, she misses Italy. The Covid numbers are even worse there and she knows that with his mental illness, her father doesn't listen to rules well. What if something happens to him? So instead of worrying, she is doing everything she can to make her home, well, feel like home.
Maya immediately softens (how could you not??) and shifts the conversation to telling Carina all about the baby she delivered — well more like caught flying out of this woman's legs. But first, she is going to shower, and then they are going to get in bed naked. Yes m'am Captain Bisexual. Whatever you say.