This week The Bold Type surprised us by dropping the first episode of the season two premiere on Hulu, and Kayla, of course, recapped it. Riese reviewed Hayley Kiyoko's new show. Al loved and reviewed the groundbreaking premiere of Pose. Valerie recapped an episode of Supergirl that broke her heart (and not in a good way). Carmen recapped the penultimate episode of Vida's first season. And all of our staff writers and editors weighed in on the queer lady ships that made/destroyed us.
We also said goodbye to The Fosters and I'll be writing about that next week.
Everything else was mostly Quick Hits!
---
Into the Badlands episodes 304-306
Odessa starts off this trio of episodes strong, being on Tilda's side and all, being excited that they have enough food to last the winter while they cuddle for warmth, etc.
But as Tilda re-aligns with the Widow, Odessa starts to pull away; she doesn't trust anyone, and she doesn't want to stay behind with Tilda and her refugees. It doesn't bode well for the Tildessa ship.
On a related note, Tilda is breaking my whole damn heart, defending the Widow and calling her her mother to Odessa, but then pulling away from Minerva and saying the exact opposite to her face. I think the writers and actors are doing well playing a fairly common mother/teenage daughter relationship, despite the assassin-laden dystopia they live in. — Valerie Anne
---
Westworld episodes 204-207
I literally have no idea what's happening on Westworld because not only are they operating in multiple storylines across multiple timelines without any clear indicator of which is which, but they now also have entire other languages happening, and it's just a lot. I think the general gist is, all of the hosts are handling enlightenment differently; Dolores has become a badass on a mission, Maeve has learned to murder people with her mind, others like Clementine are just kind of generally shook, some are still playing along with their storylines or living half in and half out of reality, and then there's Armistice, who found her Shogun counterpart and looked lovingly into her eyes. Oh! And the possibly-queer Elsie is back, though probably only in flashbacks, knowing how this show operates. My official review of the season so far: Could be gayer. — Valerie Anne
---
Wynonna Earp Season 3
SPEAKING OF GAYER, THE TRAILER FOR SEASON 3 OF WYNONNA EARP DROPPED YESTERDAY.
It's over on Syfy if you want to watch it and analyze it frame by frame like I have. It has WayHaught kisses which is nice but also A MECHANICAL BULL. Just a little over a month, my friends. We're almost there! — Valerie Anne
---
Imposters episode 210: "See You Soon, Macaroon"
Imposters concluded its second season — and possibly the entire series — this week, as Maddie and the Bumblers pulled of the biggest con of the season by taking down the Doctor. Our lesbian lothario, Jules, ended up with a relatively happy ending: the FBI mollified, her blackmail information erased from the Doctor's database and with her share of the doctor's accounts in her bag. I'm hoping she's on the next flight back to Mexico, to reunite with that that artist colony she left behind. — Natalie
---
Mi Familia Perfecta: Chapters 39 – 44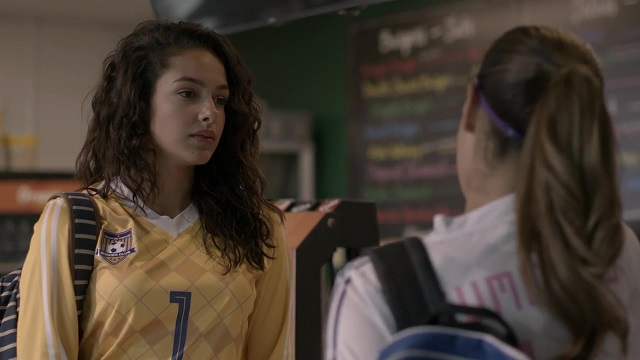 As I mentioned in my write-up last week, the Telemundo telenovela, Mi Familia Perfecta, has two adorable baby gays…and while the storyline is stifled by Megan and Génesis being secondary characters and by the network/show's reluctance to showcase their affection, it still feels like a very satisfying arc.
Génesis' best friend, Marisol, is talking to her and working at the soccer club's cafe when Megan approaches to order a smoothie for herself and one for Génesis (of course she knows her order!). Michelle De Andrade is really perfect in the scene, showcasing Génesis' nervousness at perhaps being outed to Marisol while also being unable to suppress how much she really likes Megan. Marisol notices and when Megan leaves, she invites Génesis to tell her what's going on between the two whenever she's ready. Later, Génesis does just that… unambiguous about how she feels about Megan, but nervous about how everyone else, especially her mother, will react. Marisol reassures her that love is love and that everyone who loves her will continue to support her.
Later in the week, a PR firm comes to the soccer club looking for a girl to feature in an ad campaign. Marisol and Génesis are MIA because Génesis' brother is in the hospital and, ultimately, the firm settles on Megan as the face of their campaign. When one of the teammates, Sandy, protests that Megan shouldn't be selected because she's gay, everyone's aghast. Sandy is chastised for her homophobia — including an explicit reminder that it drives teens to suicide — and is suspended by the coach for a week for unsportsmanlike conduct. On the one hand, it's a great scene that might resonate with a reluctant audience, but, on the other, it's hard not to think, "Wow, are we still doing this?"
Later, Megan tracks Génesis down at the hospital and comforts her…and just as it looks like they're about to kiss again, Génesis' mother interrupts, again! — Natalie
---
Queen Sugar 303: "Your Distant Destiny"
Nova quit her job at the newspaper! Yay? I guess? I'd feel a lot better about it if she had remembered that the paper owned all the rights to her articles. That means her impending book deal is in jeopardy. Things were looking bleak for a second, but Micah inspired her and now I think she's planning out an intergenerational memoir about the Bordelon farm for her book proposal? Which would be SO DOPE. If it happens. We'll see. Mostly, I'm just happy to have Nova focusing on herself and thus far staying away from the downward spiral of men that engulfed her second season. I'll take my wins where I can get them. — Carmen