Hello there! Even in a pandemic, there's nothing like that tight squeeze between the spring and summer TV seasons. But here we are, squeezing whatever little amount of life that we can out of content! This week, our very own Carmen Phillips guest starred on To L and Back to talk about one of her favorite episodes with Riese and Carmen — the one when Tasha and Alice spend their entire day in bed with their friends (and also Leonard Kroll). Then Drew continued our new lil miniseries to tell you all about her Top 10 Favorite Television Shows and Kayla kicked off our next summer series, which will tell you about her Top 10 Favorite Queer Movies again (Say Top 10 Again! Now 3x fast!). Finally, Valerie Anne recapped a VERY trekkie episode of Legends of Tomorrow, which really demonstrates what happens when nerd interests collide.
Ok here's what else!
Notes from the TV Team: 
+ I don't know how many of you all watch The Last OG on TBS (it stars Tracy Morgan, who's said some pretty violent and homophobic things in his life, along with Tiffany Haddish) — but this season added SNL alum Sasheer Zamata as a black queer woman by the name of Isis. Much like SNL, her work on The Last OG is small, but she flirted with a woman in the club this week and I doubled over laughing.  — Carmen
+ Burden of Truth returned last week and while this season hasn't given Luna a lot to do so far, I think I saw some sparks fly with Chang/Crawford associate, Kat Carmichael. I'm looking forward to seeing where things go. — Natalie
+ After Karen Akunowicz's elimination last week, our hopes of having another queer woman winning Top Chef rest solely on the shoulders of Melissa King… and boy did she deliver. The San Francisco chef racked up wins in both the quickfire and elimination challenges, the first cheftestant to manage that feat this season. In fairness, the final challenge was right in her wheelhouse — cooking modern California cuisine — so, of course, she got the win. It's the perfect time for King to hit her stride, as the show heads to Europe next week to kick-off its finale! — Natalie
+ In case you missed it, TNT has turned the movie Snowpiercer into a series, and so far it is deliciously dark and gloriously gritty and has queer undercurrents galore. I was going to tell you about how in love with Jennifer Connelly I was and how Lena Hall almost gave me a heart attack, but I'm going to need more space than Boob Tube will allow, so I'm going to write you a standalone piece all about how polyamory is thriving in the apocalypse next week. Sunday is only the third episode, in case you want to catch up. — Valerie Anne
---
After her daughter got into trouble at school last week, Natalie's mother put her foot down, deeming Amy a bad influence and forbidding Natalie from seeing her again. That goes over exactly as well as you think it would, chilling the relationship between mother and daughter and, naturally, the girls become inseparable at school. Still fuming over her mother's treatment, Natalie opts to lean all the way into her newly found "bad seed" reputation by skipping school to go to a music festival. Natalie isn't the type of girl to skip school — Amy has to agree quickly before she loses her nerve — but once she gets a taste of freedom, she revels in it.
"You don't even realize that you're living on autopilot until you break the mold," Natalie opines. She clips purple extensions into her hair and heads to the music festival with Amy.
Meanwhile, back at home, Mari gets a call from school, alerting them of her daughter's absence. Livid, she immediately goes to track Natalie's phone and discovers that she's at the music festival in Key Biscayne. Mari knows that Natalie's with Amy and seethes about Natalie having disobeyed them. Rafe corrects her — she forbid Natalie from seeing Amy, not him — and points out that even a rebellious Natalie is a responsible Natalie. She could have turned off her phone but didn't. She could be anywhere but she's at a concert on a Friday afternoon. He leaves his wife with a warning, "We're her family. If we don't protect her and make her feel safe, she's gonna turn away from us and find people who do."
Natalie's rebellious afternoon is interrupted by text messages from Mateo, alerting her that Daniel has been arrested. As soon as she sees the messages, she knows she has to go home but laments letting her girlfriend down. Amy assures Natalie that she's not mad and confesses that she loves her. Stunned, Natalie doesn't respond right away but as she's getting out of Amy's car, she admits that she loves Amy too. Meanwhile, at home, I yell at my TV — "Love?! It's only been a few weeks!" — but I remind myself that these are teenagers and falling in love, hard and fast, is what teenagers do.
Back inside, Natalie tries to preemptively explain but Mari stops her. Mari tries to explain her recent behavior and, even though it makes absolutely no sense to me, Natalie accepts her mother's defense. The two end the episode in a good place. Natalie's still grounded, of course, but she's allowed to see Amy… including next week at her quinces!
---
Betty 104: "The Tombs"
Written by Drew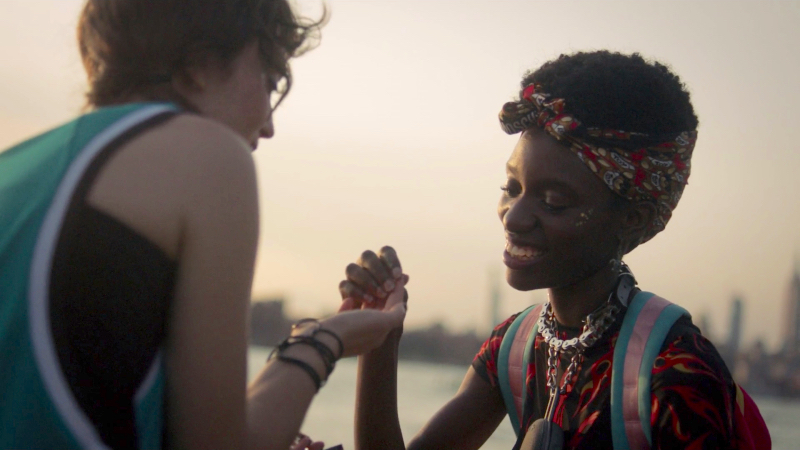 I've been teased by friends, family, exes — especially exes — about what I deem comfort viewing. I'm often too distracted by the unreality of escapist fare to actually escape. Instead I love a movie or TV show that presents the world as it is, but threads it with a warmth that's not always easy to see.
Last week's episode of Betty starts in a jail and ends with a character admitting her close friend sexually assaulted her. It also happened to be one of the most pleasant half hours of my week.
The characters on Betty are far from perfect as they navigate their even more imperfect environment of racism and heteropatriarchy. But there's an attempt at community from the friends and the women around them that's a pleasure to sink into. The show's willingness to let conflict sit only makes this feeling stronger. It took Camille multiple episodes to apologize for going to the boys' party, it took Janay multiple episodes to accept that her allegiance with Donald was misguided, and Kirt still hasn't realized the depth of her error that landed her friends in jail. I'm not immune to bubblegum girl power narratives, but when a story's conflicts actually resonate, its moments of bliss feel more earned.
And oh how this episode has those moments! Besides the apologies and sacrifices and bonding that all made my heart ache in a good way, this episode was sooooo gay! First, Kirt hooks up with the girl she met in the last episode. She's distracted, but it's still cute when the girl shows off her Jewish-cemetery immune inner lip tattoo. Kirt wants a closer look and this of course leads to a make out. And, more importantly, Honeybear texts Ash and they go on a date! Honeybear is so awkward and the whole thing is adorable. They skate around and Honeybear films Ash and then Ash takes the camera and films Honeybear. Ash wants to score movies, Honeybear makes movies. It's perfect.
There are only two episodes left, but hopefully this is the first season of many. We deserve media this smart and queer and challenging and lovely. We need it.
---
Vagrant Queen 109: All Old Things Must End, Pt. 1
It! Finally! Happened! It took til the penultimate episode but I love a slow burn so I'm not mad about it. Plus, they did one of my favorite kiss tropes. After an episode of more flirting, Elida is about to go off on her own to finish a season-long battle once and for all, Elida takes Amae's hand to say goodbye. Amae reassures her, "We'll see you real soon, okay?" And when Elida starts to walk away, she pouts a little, then decides it's now or never. She calls out to Elida, runs up and kisses her fully, finally.
They exchange a little more intense eye contact then Elida heads into battle. This was a two-parter, and if I'm being honest, I didn't care much about what was happening outside this scene. Sci-fi should be escapism and this storyline is too… real? I don't know. It reminded me of the Ben Lockwood episode of Supergirl; this villain is too much of a pure villain for me to care about his backstory. No attempts to humanize him will work. But our girl Amae survived a shot to the chest with a bulletproof vest, and I have a good feeling that good will conquer evil in the end.
---
In the Dark 207: "The Straw that Broke the Camel's Back"
Jess hits rock bottom this week, friends. Still reeling from the shock of the attack last week, Murphy's betrayal, the fact that the attack was a direct RESULT of her friend's betrayal… and now Sterling calls things off with her. Sterling doesn't give a good reason, just that she doesn't think it's a good idea, and Jess is too exhausted to fight about it.
So exhausted, in fact, that she calls her ex-girlfriend Vanessa.
Jess hugs Vanessa and said she needed someone she felt safe around. But the truth is, probably, that she wanted a reminder of her life before. Before she got involved with Nia and the violence and chaos that surrounds her. She tries to explain, but as soon as she mentions Murphy, Vanessa cuts her off. Vanessa thought Jess was calling her to apologize for cheating. For prioritizing Murphy over her at every turn. She doesn't want to be her safety net, waiting on the back burner for Jess to need her. Jess hasn't earned that. So she tells Jess to stop blaming Murphy for her own choices and storms off.
I'll be honest, I don't 100% know why Vanessa was back this week, and part of me is worried it's because she's about to be in danger, but since her appearance in Season 1, I have learned more about Humberly Gonzalez, as she also played queer on a post-apocalyptic teen drama called Utopia Falls. Also she has a lil rainbow flag between her Venezuelan and Canadian flags on her social media, so while I don't know exactly how she identifies, our girl's not straight. All this to say, I was happier to see her than I would have thought I'd be. Here's hoping she stays alive.
---
Siren 310: "The Toll of the Sea"
Last night was the season finale of Siren, and I have to say, I was really disappointed in this season overall. They almost entirely de-queered it, sidelined Maddie in Rin's triad, killed her dad, and shipped her off with her new boyfriend. What the hell! What happened to us all being horny for mermaids together?!
Anyway there were two nice things about this finale. One was Rin explaining to her daughter Hope that Tia wasn't wrong in what she wanted — cleaner oceans, humans to be accountable for their environmental destruction, etc — wasn't inherently wrong, but she went about it the wrong way. But also that her way was understandable because she had so much taken from her, had lost all her hope. Rin tells her daughter they can make the world better with love.
And speaking of love, before being sent into the Parking Lot of No Return, Maddie says goodbye to Rin. Rin isn't mad she's leaving, she understands. She says that "Maddie is love" no matter how far away she goes, or for how long. Maddie returns the sentiment, saying that "Rin is love, always."
I was bummed we didn't get a kiss goodbye, because I have a funny feeling this is the last we'll be seeing of Murder Mermaids & Co, but at least they got one last moment of peace.