This was such a week! Riese wrote about TV not one, not two, but three times! She reviewed the new season of One Mississippi, and also Top of the Lake: China Girl, and also mini-recapped the latest American Horror Story (below). Our staff weighed in with some Emmy predictions. We'll be live-blogging Sunday night; I hope you'll join us!
Here's what else.
---
American Horror Story: Cult, Episode 702, Don't Be Afraid of the Dark
Written by Riese
This week on American Horror Story, I cemented my suspicion that I am not, in fact, the Michigan Lesbian. Maybe you saw the tweet? A witty lady named Gabi RT'ed our tweet about this season of American Horror Story being about a Michigan lesbian horrified by the election of Donald Trump and said "we are all the Michigan lesbian" and it was RT'ed a billion times, including by me, because it felt true.
But my friends! It was not! WE WERE ALL WRONG. None of us want to be the Michigan lesbian. Due to my endless wells of love for Sarah Paulson, my persistent public whining about needing screeners, and a popular mainstream show centering a lesbian couple, I'd promised to recap this season but I just can't — I'm gonna do Boobs Tube mini-caps. This one is longer than usual though 'cause I'd written a regular recap draft prior to deciding not to write a regular recap and listen, you don't need to know this, it's too many words already.
So! This week's episode created all kinds of boogeymen and bizarre characters taunting and terrifying Ally into hysteria while making no legitimate point or solid political statement, thus undermining itself at every turn.
The opening scene sees Ally waking up circa Very Late O'Clock to find that a monster or somebody in a monster mask has crawled into her bed, a la the Big Bad Wolf. Is it real? I don't know. You don't know. Ally doesn't know. But she thinks she knows! She runs wildly into the kitchen to find her wife and grab a knife, which's a good thing to have when you've lost your shit and your roommates are mortal, exclaiming "THIS CAN'T BE MY IMAGINATION!"
"I don't know how much more of this I can take," says Ally's partner Ivy. Have you ever put a stack of paper plates on a table, and then picked up one paper plate, and then set it on your windowsill and taken a few steps back and stared at it? That's Ivy's personality. Ivy has been "taking this" for like a week or maybe a month or several? Who can say. Maybe it's been years, who's to know. Does Ryan Murphy know? Do any of us know anything? Are we going to war with North Korea? Is the earth on fire? I don't know. Unlike me, Ivy likes to draw definite boundaries around how much emotional torture she can take simply because she owns a house with somebody, loves them, and feels responsible for their emotional well-being. So, the local lesbian couple stalk around the house with a knife, eventually landing back in the bedroom.
Ally doesn't know what's real anymore. Ivy does: "What we have together? This is real." But their Intro to the Concerto to End Lesbian Bed Death is interrupted by Oz, who was having Twisty the Clown nightmares. But aren't we all, America? Aren't we all.
From there we move outward into the local community, where mobile phone video taken by Meadow and Harrison (who turn out to be Ally and Ivy's new neighbors of suspicious and unclear political affiliation) has gone viral. The migrant workers who beat Kai up after he threw actual urine at them have been shipped off to ICE, and Kai has a mouthpiece, a man-bun, and some bruises. He says Trump was right about immigrants being rapists and criminals. He's running for City Council. His platform is "I will take your fear away." The world is on fire. "Look at my face, Michigan!" Kai declares. No thanks!
Ally is suspicious of the new neighbors, who're moving into the Changs' former home with a truck full of dead-body size barrels. An emboldened white supremacist employed by Ally and Ivy's restaurant wants to fire all the immigrants, especially Pedro, but Ally says "I won't fire an immigrant in this climate."
Winter, world's worst nanny, continues giving Oz the gift of eternal nightmares, which includes a Twisty the Clown doll. He's mad at her for telling his Moms that his story about the Changs' murder was bogus, but she insists it's okay. They just thought he was imagining things. Listen, my Lesbian Mom fired a babysitter for letting us watch America's Most Wanted one time. I would definitely fire Winter in this climate. Also I still have nightmares from that episode of AMW. "People are going to believe what they are going to believe.," says Winter. "The trick is figuring out what they want to believe, and then giving it to them." Okay but Oz is eight.
Ally is terrified to arrive home and find that Winter has let Oz wander cross-street to engage with the new neighbors, and so Ally and Ivy head over to retrieve their lost boy. Harrison and Meadow are super-honest clearly-duplicitious beekeepers who pounced on the Chang house knowing it'd be discounted on account of being a Murder House (see also: AHS Season One: Murder House.) Harrison is gay, and Meadow had skin cancer and doesn't like being touched, so that's how their marriage works. Also a deep love for Nicole Kidman. They're co-vice presidents of the Michigan chapter of the Nicole Kidman Fan Club. Meadow invites them in for some Crystal Light Lemonade, which is offensive.
When the alarm at the restaurant is triggered later that night, Ally volunteers to go check it 'cause Oz clearly fears being alone without Ivy and sending Ally to the restaurant alone at night to check for a break-in is supreme Horror Movie logic. Once safely inside the dark knife-filled chamber of horrors, Ally is drawn to the meat locker where she finds, among the dead carcasses of animals, AN ALMOST-DEAD ROGER, who quickly becomes a Dead Roger. I hated him, bye.
Ally reacts to this event by putting bars on their windows and doors and allowing Harrison and Meadow to give her a gun just in case.
Ivy brings Ally's creepy psychiatrist home with her to have a little talk with his client, and then Ivy leaves to "pick some herbs for the restaurant" which I hope is code for medicinal marijuana. Ally tells her psychiatrist that she's been skipping appointments 'cause feels vindicated. "My phobias were a perfect reaction to what I instinctively knew was true," she tells him. "The world is fucked up and the election made it worse. and I'm gonna do whatever it takes to keep my family safe." She also explains that she had a "kneejerk liberal" response to the offering of The Gun, but then got over it, which is foreshadowing.
Detective Samuels, a grown-up Child of the Damned, wants to pin Roger's murder on Pedro, because he's racist, and he sends cops to Pedro's home to check his papers even though Pedro is a U.S. citizen. "It's scary to be brown these days," he notes. And yet this show is about a white woman who is afraid of honeycombs and clowns and voted for Jill Stein.
Kai stops by AllyIvy's to campaign for City Council and say forboding, terrifying things like, "You need to give a humiliated man some way to redeem himself in his own eyes or else he's at risk to be drawn into darkness, like Germany after World War I." Ally denies him the opportunity to come inside and speak to her about some of his ideas, so he resorts to yelling about her iron bar doors and how she's clearly not the bridge-building liberal she claims to be hiding behind her iron gate and holding a knife. "It's so easy until it's you they're coming for," he says, baring his teeth.
Winter, who's already gotten Oz to take the same pinky-promise pact she made with her demented brother, refuses to tuck him in, and when he asks if the monsters he sees in his dreams are real or not, she tells him just to ask them!
She then moves on to Ally, who's staring at a bottle of Xanax. Winter informs her that Xanax is not the only way to unwind. For example, has she tried "red wine, bath salts"? Upstairs in their totally chill and normal bathroom, Winter draws a bath like she's planning to murder a small animal or tie-dye some very delicate underthings, or else, you know, try and squeeze her way onto the LGBT Characters in a Drama Series wiki page by engaging in light bathttub petting with a lesbian, JUST LIKE SHE DID TO SAM IN SCREAM QUEENS. But just as Winter lowers her definitively heterosexual nails between Ally's legs in hopes of fingerfucking a horror movie into Ally's cervix, the house alarm starts blaring and all the power goes off.
Ally's grabbing candles and flipping out, Harrison stops by to yell LESBIANS WE'RE UNDER ATTACK, THE BLACKOUT, IT'S TERRORISM!, and Winter flees the scene 'cause her ceramics are at home. When Ally calls Ivy at the restaurant, her phone dies, sending Ally into an even hotter panic. She grabs her poor child Oz, oh and also HER GUN, and just runs maniacally around the house like a lunatic. Meanwhile, Ivy puts together a care package for Pedro to deliver to her panicking wife.
You know where this is going, yes? Pedro heads over to AllyIvy's with the box. Ally is running around with her poor child Oz and ALSO HER GUN. Pedro knocks. She's startled. Before looking to see who's at the door — killer clown or normal human? — she shoots.
At which point I put away my proverbial pen and screamed into a pillow.
---
Younger
Written by Heather
You know what, this season of Younger, which ended this week, was just a goddamn delight. I've been ambiently warm about this show since it began but this season I actually legitimately loved every episode. I know, man, it's surprising to me too: It centered on a straight love triangle. But it's one that made sense and both dudes are really stand-up guys who love Liza for all the right reasons. But that's not why I loved it. I loved it because it explored Kelsey and Liza's relationship, both personally and professionally, in a refreshing and honest way after Liza came out about her age. I loved it because Kelsey got to be a bigger badass than ever in her career. (And I'm just a Hilary Duff stan, from way back.) I loved it because Maggie's storylines were just so Maggie. And I think they took really great advantage of being in New York City this season in ways they hadn't before. Ways that felt way more organic than Sex and the City ever did.
The finale finds Maggie and Liza flying to a small Irish town on a moment's notice to attend Josh and Clare's green card wedding. He says he just wants to see where it goes, you know, because he has something special with this girl and it's not going to get to run its course if she can't come back to New York. But then later he says the thing that's no surprise to anyone, which is that he's just gotta put a ring between him and Liza. This after he shows up drunk in her room and kisses her 12 hours before he's supposed to tie the knot. Liza keeps the kiss from turning into something more, even though she's tempted after she see Charles and Jessica Stein on Good Morning America talking about how they're almost a happy family again. It's a ruse! Jessica Stein does still love him and is trying real hard from the guest bedroom but he's only got (heart) eyes for Liza. He calls her at the end of the episode but her phone is in a basket with all the other phones at the wedding.
However! The main wedding event is that Maggie hooks up with Clare's mom. They bond over tea after Clare's mom pulls her out of a peat bog with a tractor and then asks if she can show Maggie some of her art. Maggie's eyeballs nearly pop out of her head when she sees the painting, which Clare's mom says she's been just creating on repeat since her husband died. She describes a landscape (kind of) but it's definitely just the gayest paintings you've seen since, well, Jane the Virgin: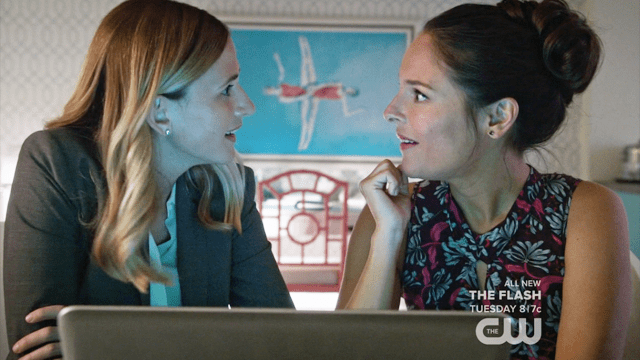 Anyway, Maggie obviously sleeps with her and when she tells Liza as Clare's walking down the aisle she just rolls her eyes because of course. TV Land has already renewed Younger for Season Five, which feels just right to me.
---