Starting next week, Boob(s On Your) Tube is making the leap to a twice weekly column, so I can more promptly cover all the fall TV shows that feature queer characters and provide a fun place to talk about the fictional ladies we love. This column will now run on Tuesdays and Fridays. I'm more excited for this coming TV season than I have been for any TV season in a long time — possibly ever — and not just because rumors are flying everywhere that Cookie Lyon is coming out as bisexual on this season of Empire! (I mean, that's a huge part of my excitement, but not ALL of it.)
Also, I just want to shout out one of my foster kittens, Miss Frodo Baggins, who helped me write this week's column.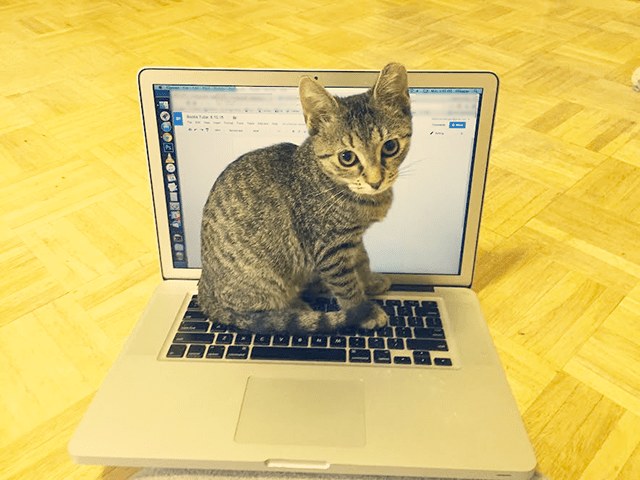 She is very excited about potentially queer Cookie, too.
---
Chasing Life
Mondays on ABC Family at 9:00 p.m.
No queerness to report on Chasing Life this week, although I have been meaning to tell you that if you like John Green books/enjoy a cathartic TV cry, this show regularly passes the Bechdel test and will provide you with all the tears you need in your life.
---
I Am Cait
Sundays on E! at 8:00 p.m.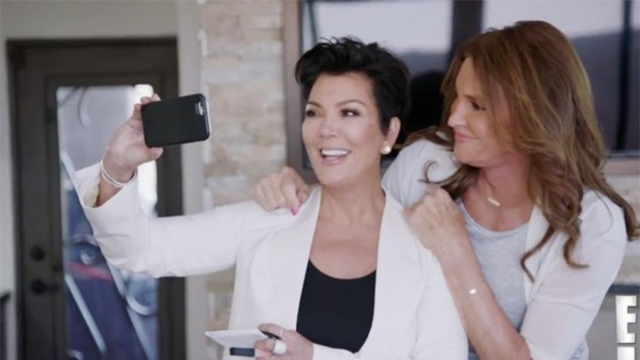 I Am Cait finished its first season by celebrating Caitlyn's accomplishments over the last four months with a "renaming ceremony." She invites the trans women who have guided her on this journey, including series regulars Candis Cayne and Chandi Moore, plus all her friends and family. And the Los Angeles Gay Men's Choir. And Boy George. It was uplifting and I even cried a little bit because I am really happy that Jenner has been able to come out and transition, and that she's received so much support for both of those things from so many people.
The show ends how it began, with Cait doing a confessional in her bedroom alone with a camera. She says, "I want to help people in my community. We've got a long way to go, but at least we got a really, really, really good beginning. And that makes my heart feel good."
So much of this show was the trans women in Cait's life coming trying to help her understand that the trans community is her community, that it's "we," not "them." And it seems like she got there, in terms of the narrative of this docu-series. So it was really disheartening that she seemed to reverse course on that during her press tour last week, telling Matt Lauer that she was a-okay with that Halloween costume of her that been making the rounds, and:
To be honest with you I'm the easiest on people. Now, the community—you know, GLAAD, all the people in the community—are like "Oh my god, you have to get the pronouns right; you have to do this, you have to do that." I'm much more tolerant than that. I mean, I understand that it's difficult for people to understand this.
She also told Ellen that she's not sure if she supports marriage equality.
Trans woman Casey Plett, who reviewed the series for The New York Times, shared some poignant thoughts after the season finale:
The show tried. It really did… So yes, the show probably did a lot of good — yet isn't the measure for quantifying that impossibly difficult when it comes to art and entertainment? What answer is there to lonely trans kids (so frequently, hand-wringingly invoked) who can't relate to "I Am Cait" and/or find it tedious? Not only that, with positive representation of trans people still so nascent, checking that box alone is not really an indicative barometer for a show. Praising "I Am Cait" as excellent TV because it puts trans people in a warm light is like giving five stars to a pizza when you're starving: Just because it was necessary doesn't mean it was good.
---
Survivor's Remorse
Saturdays on Starz at 9:30 p.m.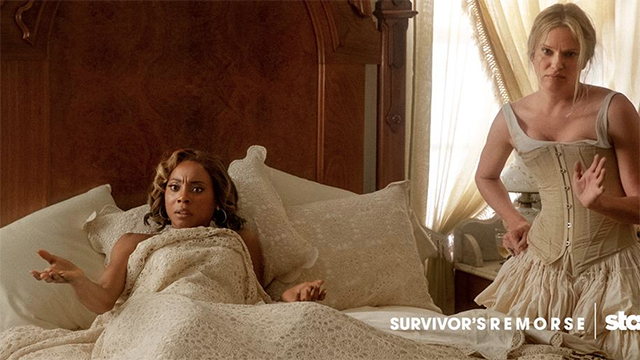 One of the most interesting things about Survivor's Remorse is how it doesn't shy away from exploring provocative storylines in a way that's expresses nuanced sympathy and scathing mockery. This week's M-Chuck story, for example, sees her and Missy and Cassie getting to know their home state of Georgia a little bit better by visiting a former plantation. M-Chuck is irate when they arrive and see black actors working in the fields, singing. It's a real-time reenactment.
She confronts them, telling them they're "turning slavery into Disneyland" and "I don't see no fake Jews at Auschwitz." She tells them they're losing their sense of Black Pride and they tell her she doesn't get what it's like to be a struggling black actor because she's Cam Calloway's sister. M-Chuck takes special exception to the woman playing the plantation owner's wife, who explains that she had to move home to south Georgia from New York because she failed as an actor on Broadway.
Later, M-Chuck asks her what she's listening to on her iPod and it's the Indigo Girls and so she and M-Chuck definitely go all in on some lesbosexy finger-banging in the former plantation owner's house. Aaaaand a group of 8th graders on a field trip catch them cuddled up post-coitally.
M-Chuck is one of the most original lesbian characters I've ever seen in my life. Are y'all watching this show?
---
Lost Girl
Sundays on (Canada's) Showcase at 9:00 p.m.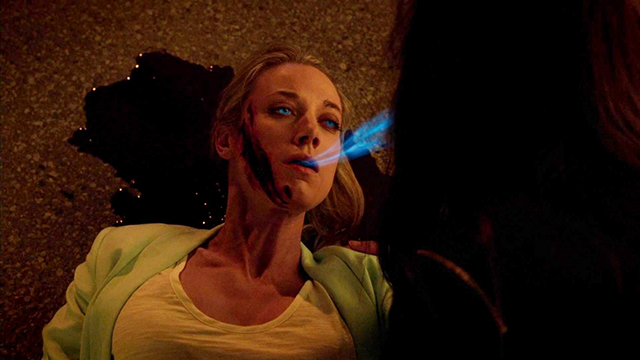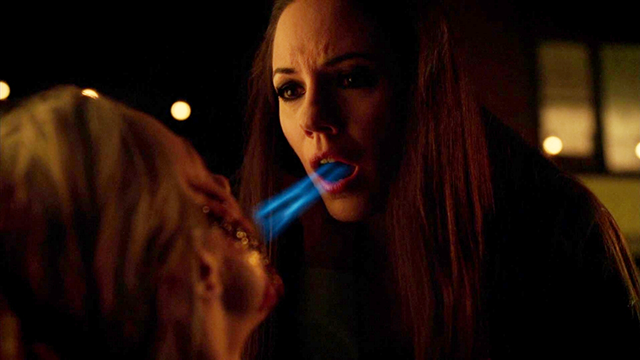 Lost Girl's final season is finally in play, and if you figured Bo and Lauren were going to break up again because there's just no way a human and a succubus are ever going to make it work in a long term monogamous relationship, think again — because Lauren's got powers now! I'm not talking about just her Hermione Granger wicked smart brain; I'm talking about she injected herself with this serum she's using to weaken the fae and has become like Rogue from X-Men! She can zap the powers of the fae who are near her, including Bo's healing succubus powers, which came in handy in the half-season premiere when she was smashed in the face by a car while crossing the street like what happens to one in every three TV lesbians.
But she used Bo's chi to make her own chi and heal herself.
Last night she did even more magic and freaked out everyone, including poor brokenhearted Tamisn. Bo, though, she did not freak out. Bo said, "Lauren, I love you for who you are as a person. I don't care if you're human or fae, just as long as you're you.
Lauren's coming trouble is two-fold in my opinion as a person who has watched pretty much every sci-fi/fantasy situation ever: 1) Lauren is now the greatest enemy of the fae and she doesn't have a handle on her powers at all. 2) She has no idea that some side-effects are coming. (The side-effects are always coming!)
P.S. Perfect, perfect Kenzi was back last night, too, breezing onto the scene in a cloud of glory talking about, "So, which love triangle candidate are we calling up on these days?"
---
Carmilla
Tuesdays and Thursdays on YouTube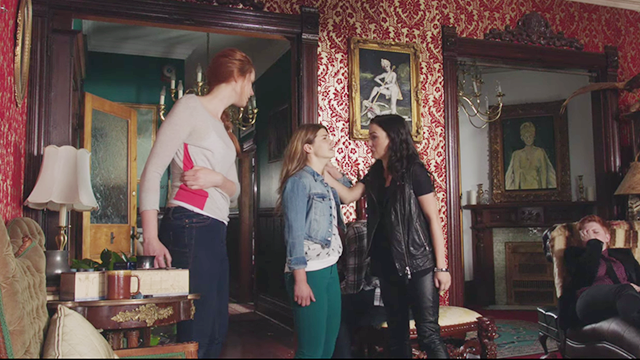 Last Thursday my Twitter timeline was full of people talking "giraffe shirt" with a hundred thousand broken hearted sob-face emojis, and I was like, "What in the hells bells is giraffe shirt, you guys?" It was because Laura was wearing a giraffe shirt on Carmilla, see, and getting her heart crushed into tiny little bits. (I'm not like a regular recapper. I'm a cool recapper. I know what The Kids are Into These Days. #GiraffeShirt)
For a web series about vampires, Carmilla has always been surprisingly chill in terms of blood and galaxy-shattering break-ups — until last week when Carmilla learned that Laura betrayed her in an Ultimate kind of way. Remember when Carmilla told Laura that Mattie's necklace is a horcrux and you have to destroy that piece of her soul before you can destroy her? And Laura told Danny, for some reason I am not clear on? Yeah, well, that came full circle when Mattie had Danny's spine in a chokehold and was about to break her in half (for dimming them all out to Vordenberg, whose soldiers killed Lophii). Danny remembered the thing and snatched the horcrux from 'round Mattie's neck and smashed it to smithereens and Mattie died.
It was Not Good.
I mean, it was Not Good because Mattie was the coolest character on this show and the only black woman on this show and now she's dead. And it was also Not Good because Carmilla grabbed Laura by the hair and thought about eating off her face or some horrible vampire thing, but she couldn't because she still loves her even though she also kind of hates her?
Carmilla gives a really great speech. She's like, "Be good for me, Carmilla! Change for me, Carmilla! Burn down everything you've ever loved for me, Carmilla!" But then of course she did all that and Laura broke her heart anyway, so what was the point?
She says she's gonna murder Laura like a common Rosewood lesbian if she sees her beautiful face again.
Three weeks left! I hope they kiss more! They are so good at kissing!
---
Team TV coverage you may have missed
+ Every Current Lesbian/Bisexual TV Character, Ranked By U-Hauling Potential
While we await new episodes of our favorite regular season shows, we thought it would be a good time to address the thing you really care about: Which lesbian/bisexual TV characters would be the best to U-Haul with?
+ Faking It Episode 212 Recap: Lesbian Nesting In Your Coop Every Night
This week on Faking It, everybody gets into costume play and makes bad choices.