It's Friday and here's what you missed: Valerie told us all about how Alex is worried for Kelly's safety (don't worry though, I bet Kelly can handle it) on Supergirl. Heather is ALL OVER Batwoman's new lesbian love triangle! All American is setting Bre Z's Coop up for a rap battle, and it definitely reminded Natalie a lot of Bre Z's other rap storyline from the old days of Empire. Over on Riverdale, Kayla reminds us that no rule of logic is sacred for those wacky teens. Impulse dropped it's second season and Valerie made sure that it makes good on its gay promise. The L Word: Generation Q dropped another new trailer and Kayla spied a joint in Bette Porter's hands! Gasp! Speaking of TLW, Riese and Carly covered your needs with a new episode of To L and Back (this one covers the Season Two finale, so get ready mourn a death and celebrate a birth!).
Did you read A.E. Osworth's non-binary ode to Janet from The Good Place? Well my friends, get out a box of tissues and click that link right now! You won't regret it.
Notes from the TV Team: 
+ In a heartbreaking turn on 9-1-1, Hen and Karen find out that none of their six embryos are viable for implantation. Tracie Thoms is brilliant in conveying Karen's heartbreak and frustration over wanting something so desperately while your body, seemingly, rebels against the very idea. — Natalie
+ I spotted Marg Helgenberger's character, Judge Lisa Benner, on the arm of a distinguished looking gentlewoman during an episode of All Rise a few weeks back and thought she might play for our team…and this week, it was confirmed! Unfortunately, we won't get to see more of Benner and her gentlewoman, as the couple broke up after four years together (on the Court's annual Wedding Day, no less!), but — fingers crossed — this isn't the last we'll hear of her sexuality. — Natalie
+ If you're looking for a quick binge this weekend, let me recommend the new Netflix series Breakfast, Lunch & Dinner. The four-part series features Chef David Chang and a celebrity guest exploring the cuisine and culture in different cities around the world. Two of the guests? Lena Waithe and Kate McKinnon. — Natalie
---
Written by Drew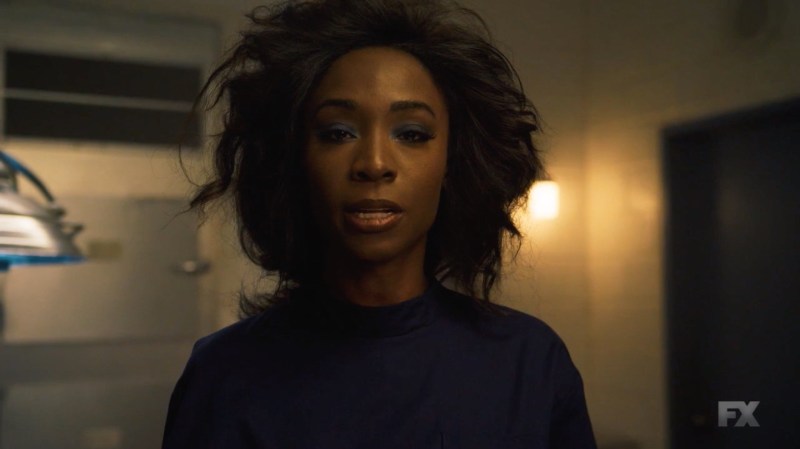 AHS:1984 continues this week with some of its most chaotic trolling ever. Jumping between time periods, ultimately landing in 1989, we find Brooke on death row, Margaret rich from her empire of murder tourism, and most of the crew still haunting Camp Redwood.
Leslie Grossman continues to be hilarious and terrifying as Margaret and this turn for her diabolical character is a delight. It's unsurprising that a show this campy really only works when focusing on the actors who understand how to capture that tone.
I don't think it's just my misandry talking when I say the continued focus on Jingles and Richard Ramirez is incredibly dull. Both actors are doing a fine job, but their characters are better suited as plot devices. The male characters who work best are the ones that have a queer energy whether their characters are queer or not.
And even they aren't as compelling as Margaret, Montana, and Donna. Billie Lourd flirting with a horny bird watcher by complimenting his fanny pack before stabbing him in the gut was the obvious highlight of the episode.
Angelica Ross, on the other hand, was nowhere to be found. It was frustrating how much screentime was spent on Richard's arrest and Jingles' attempts to start anew, while Donna had seemingly disappeared. Well, whenever I'm starting to lose patience, American Horror Story comes in for the kill.
Donna was hiding in plain sight all along. She was Brooke's executioner and savior. "Welcome back to the land of the living," she snarls.
Coming up next week: A Billy Idol concert??
---
Black Lightning 303: "The Book of Occupation: Chapter Three "
Grace Choi finally made her grand return to Black Lightning. Except — to be completely honest with you — it wasn't very grand at all.
Grace hasn't appeared on Black Lightning since episode episode 14 of last season, way back in March! There are a plethora of reasons that could have been viable excuses for why she's been escaping Anissa's desperate search. Maybe she was kidnapped by the Markovians; they're causing all kind of havoc for metas lately. Perhaps she was taken by the ASA and being kept in a pod; after all the government agency is no stranger to such terrorist tactics. Hell, I would have even accepted that Grace Choi left Freeland and months later found herself locked outside of the city's recently implemented barricade. I was ready to be generous with storyline — literally almost anything would have been fine.
But no. The entire time Grace Choi has been missing — she was actually just chilling in Freeland, living right under Anissa's nose and stealing pills from her clinic to keep her superpowers under wraps. How's that!?! How did Grace manage to keep her shapeshifting powers hidden when both the ASA and the Markovians are hunting meta humans for game? How was she able to live on the streets for months when Freeland is under police curfew? Sure, her shape shifting abilities meant that she could theoretically enter Anissa's clinic undetected to steal the medicine she needs, but even that's not directly addressed within the storyline itself. Sweet baby black mutant Jesus, let it make sense!!!
OK, I don't want to spend our limited time together dwelling on the negative — here is what's great: Anissa and Grace are officially back together. Anissa told Grace that her powers don't scare her (though she does find the old man shapeshift in particular to be a little off-putting when they're having heart-to-hearts, which seems fair). Anissa didn't bother to tell Grace that she also has powers and can understand exactly where her girlfriend's fears and anxieties are coming from, which feels like a key part of the puzzle if you ask me, but she does convince Grace to get off the streets and come home with her.
Once again Nafessa Williams and Chantal Thuy prove they have kinetic chemistry. They always find ways to make even the smallest moments feel like time standing still — which is sadly necessary. After months apart, their entire reunion is less than five minutes long.
Anissa breaks it off with Jamilah Olsen (she takes it well, but I also don't believe we've seen the end of her) and goes home to Grace. In her bed. She trails her fingers up the softness of Grace's stomach and smiles as she cuddles in close for the first night back together, safe from the world. For now.
---
This Is Us 405: "Storybook Love"
I love for Tess Pearson. I've never kept that a secret. I love how brave Tess is, especially for her young age. I love that she's surrounded by love. I love that she's taken seriously, always encouraged to be her nerdy and responsible and caring self. I could always sense Tess' anxiety. As an former anxious tween who grew up to be an incredibly anxious adult, I saw the signs. But I didn't give This Is Us enough credit. I never thought they would take it head on.
A few episodes ago, Tess told her big sister Deja that she had the opportunity to come out in school and she flubbed it because she got scared. A girl asked her if she thought this boy in their grade was cute. Of course she could've said no, but she didn't, and she was so mad at herself about it! When the incident wasn't brought up again, I didn't think anything of it. Coming out is full of starts and stops, it's never just "one event," and I can't imagine the pressure of having to constantly re-come out in your Middle School cafeteria of all places! Tess is doing great, or so I thought.
Randall gets a call from Tess' school. She's had a full blown anxiety attack. Just like the kind Randall gets. Just like the kind his father used to get before him. At first Randall attempts to bond with Tess over the shared experience, but she runs away to her room screaming that she doesn't want to be anything like him.
Randall's heartbroken. He's adopted, and his entire life he's waited for someone to share genetic traits with. All he ever wanted was to have someone who had his ears, or his ability to curl his tongue. How could he pass on the one thing that he most hates about himself to his own child?
Beth — Randall's wife, Tess' mom — pulls out a secret that she learned from William, Randall's father. All three generations of that bloodline suffer from anxiety, and of course it's awful! But it's also what makes those three humans, three of the people that Beth loves most in this world. She won't have them talking badly about each other.
She sits Tess and Randall down in front of two glasses of seltzer water. Their brain is like the bubbles in the water, bouncing all over the place trying to be set free. But you know what? The bubbles, they will eventually settle. There is calm on the other side of chaos.
The trick works. Tess shares with her parents that she's freaked out about having to come out at school. They get it — this is hard stuff! But they promise they will figure out a solution, together.