It's time for another round of Boob(s On Your) Tube, your one-stop shop for the week in in gay lady TV.  I'll bet you thought there'd be no queer women on teevee this week due to broadcast networks pausing all their shows for a holiday hiatus, but you forgot one thing: ABC Family, home of the 25 Days of Christmas, and also home of more lesbian/bi TV characters than any network on earth. Also, The CW doesn't stop for anyone, and don't you forget it. Grab an eggnog or a Mad Elf Holiday Ale, and let's go!
---
Arrow
Wednesdays on The CW at 8:00 p.m.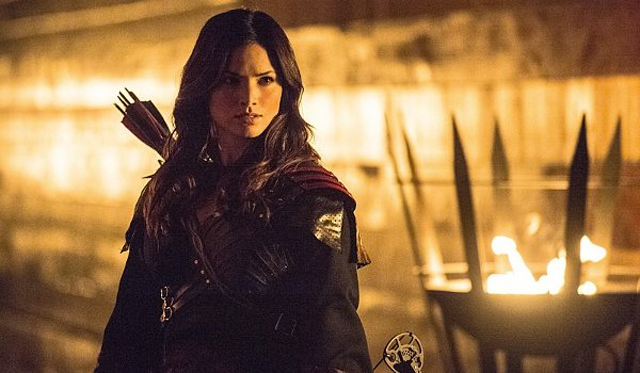 Nyssa al Ghul returns to Arrow this week to remind Oliver & Co. that they are doing a real shitty job solving the murder of Nyssa's beloved, Sara Lance. They're doing such a shitty job, in fact, that her dad (lil' ol' Ra's al Ghul) has decided to give them an ultimatum: Either they dig in and figure out the mystery before the end of the midseason finale, or he's going to unleash his League of Assassins on the city and see how that shakes down for everyone. (Murder. Murder is how that will shake down for everyone.)
As usual, the only useful person on this show is Felicity, and through her tech-savviness and pep talks, they discover that Oliver's sister, Thea, killed Sara. But Thea only did it because Merlyn drugged her and made her do it. Merlyn's reasoning is convoluted but effective. Oliver is obviously not going to let his sister take the fall for murdering Sara, so he has to go to the League of Assassins, confess to killing Sara himself, and face down Ra's in a battle to the death. It's a win-win for Merlyn and imminent death for either Ra's or Oliver.
Ra's is super pissed when Oliver confesses to killing his daughter's girlfriend, and so he stabs him and shoves him off a mountain. And he dies. Blood gurgling out of his mouth, body falling off a cliff dies.
Somebody's coming back from the dead for the second half of the season. Bets on whether it's the bisexual woman or the straight man?
Top Chef: Boston
Wednesdays on Bravo at 10:00 p.m.
Oooh, y'all. Melissa King was in the bottom three again this week in the Elimination Challenge for playing it too safe in a Top Chef superfan event.
The whole thing starts with a sudden death Quickfire Challenge of making clam chowder. Melissa makes a Thai chowder that Padma and guest judge Jasper White like a lot. They like everything more than Katie's gross old chowder, though, so she is up for elimination against — TWIST! — one of the contestants who was kicked off earlier in the season. The losers choose Greg, a guy who was sent packing during the first ten minutes of the show, to go up against Katie. He wins. So she leaves and he moves on into the house.
So for the Elimination Challenge, the judges go shopping for the contestants at Whole Foods. It plays out exactly how you think it will. Tom gets exactly what he wants, calmly and efficiently. Gail is probably drunk, but she does a good job selecting things her chefs can use to showcase their unique skills. And Padma just Mean Girls the shit out of Blaise, stealing his cart and wrecking it and smashing up all his fish and not even apologizing.
For the Elimination Challenge, Melissa cooks shrimp to showcase her knife work, but the judges think she keeps playing it too safe. Her dish is too simple for everyone's liking. But she is not the only one who doesn't do right by the insects of the sea. Adam tries to cook shrimp by, I think, pouring hot milk over them (or something). They are too "squeaky" for everyone's taste, and so Adam has to go home.
Marry Me
Tuesdays on NBC at 9:00 p.m.
Marry Me really upped its Kay game this week. On a trip to the organic grocery store in Gil's neighborhood, Kay spots a butcher she used to date. Kay says "Linda the Butcher really knew how to jiggle my gelatin," but also she knew how to steal Kay's shit. So Dennah and Annie won't let Kay anywhere near her. The butcher keeps being like, "69! Now serving 69!" And Kay tries to smash her shopping cart between the wall Dennah and Annie have formed, but they love her too much to let her fall down that rabbit hole again.
Unfortunately (fortunately?), her friends' bickering finds her alone with Linda the Butcher the next day at the grocery store (I have no idea why all five of these guys shop together), so Kay ends up with "four pounds of top sirloin and 110 pounds of sexual fury!" Also, Linda robs her again. Kay thinks maybe they shouldn't have messed with Jake and Gil's friendship because it's messing up everything else, "like the bees."
Dennah: Is that some sort of slang way of saying it's the worst?
Kay: No, bitch. I  have a degree in Environmental Science from Stanford. Make one small chance in an ecosystem and it causes a ripple effect that changes everything.
Gosh, I love her. The women get Gil and Jake back together and everything is okay again. For now. I kind of hope it's not the end of Linda the Butcher, though.
Chasing Life
Mondays on ABC Family at 9:00 p.m.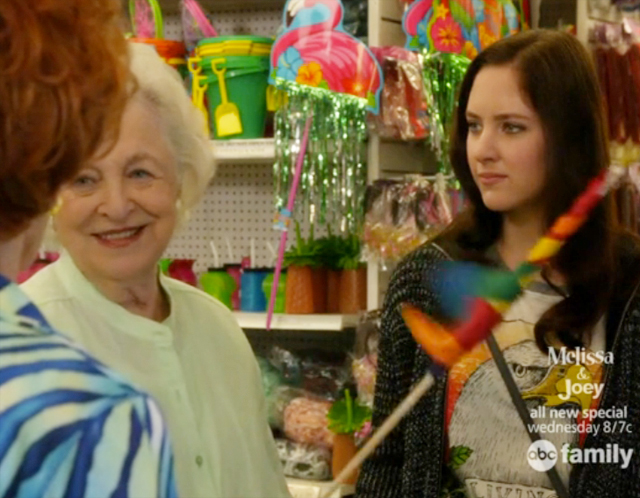 We haven't had a chance to talk about Chasing Life because it was between seasons when I started writing Boobs Tube. But! It was back this week for the Christmas special, and it was so lovely. The deal with Chasing Life is that April Carver is fighting cancer. She's the main character. Her sister Brenna, a troubled teen who never bounded back from her dad's death, fell in love with a girl named Greer in the first season. Brenna was dating the girl, who openly identifies as a lesbian, and also a boring boy. At the time, Brenna wasn't into labels, just really into Greer. But Greer's family sent her away to camp to keep her away from Brenna and it sucked and that's where we left off.
On the Christmas episode, Brenna's other grandparents (not the grandma she lives with) come to town, and she feels really weird about it because they keep trying to hook her up with boys and talking about how she must slay all the boys at her school and whatever. Boys, boys, boys. Her Grandma Emma tells her to just come out, that it's no big deal. When the family is shopping for Christmas decorations, Grandma Emma picks up a Pride flag and starts waving it around, going, "Oh! Brenna, why don't we buy some of these? I don't know what holiday they're for, but they're just so colorful."
Brenna finally does come out as bisexual to her other grandparents, and they honestly do not care. I care, though. I care very much. Bisexual visibility on TV is bleak, bleak, bleak. This is a big deal!
Grandma Ellen: I don't think there's anyone here who's not proud you're gay.
Brenna: I don't really use that label
Grandma Ellen: Or whatever the hell you are.
Other good news: My dear friend Valerie says Greer is coming back in the second half of the season.
Jane the Virgin
Mondays on The CW at 9:00 p.m.
It's been a long time since we've seen Luisa on Jane the Virgin. After accidentally inseminating Jane with her brother's sperm and getting back into a sexual relationship with her stepmom, Luisa decided to flee the country. This week, she is finally on trial for the insemination thing. Jane is suing her, obviously. What Jane doesn't know is that if she wins the judgement, Rafael (the father of her baby and also her new boyfriend) will lose his 20% ownership of the hotel he runs because he used it as collateral to buy malpractice insurance for Luisa.
It turns out Luisa has spent the last few weeks partying hard and kissing girls and finding enlightenment with a shaman in Mexico. She's says she discovered the path to enlightenment and that path includes copious amounts of finger-banging with Rose … but Rose won't hear it. She says they've got to stop messing around because it's going to ruin her marriage. Luisa says it's cool, they don't have to be together, but Rose has got to come clean to Luisa's father or she's going to do it. So, in a bit of lesbian storytelling I have actually never seen before, Rose lies and says Luisa needs to be committed because she's hallucinating these sexual fantasies about her. And everyone believes Rose. And so a psychiatrist drugs her and drags her away. (Hopefully she runs into Mona Vanderwaal in the asylum while she's prepping to make a comeback to Miami to destroy her family.)
Jane ends up dropping the lawsuit because it is making her grandma, who is an undocumented immigrant, too nervous.
This is still my hands-down favorite new show of the season.
Team TV Coverage You May Have Missed
+ The Fosters Episode 211 Recap: Cotton-Headed Ninnymoggins
Stef almost Stefs-up Christmas, but Lena swoops in to save the day.
+ Pretty Little Liars Episode 514 Recap: The Ghost of Christmas Cataclysm
Lesbian mistletoe smooches, omniscient death threats, and the return of Mona Vanderwaal!
+ Salem Episodes 5 and 6 Recap: Holy Homoerotic Femdom
Say some Hail Marys and make a sign of the cross, because these episodes are a hot, sexy mess. If you've been hanging in there and waiting for some extra-flamey gay witch action, then these episodes are for you.
+ Fan Fiction Friday: 7 Sexy-Sweet Faking It Fics to Light Your Yule Log
If all you want for Christmas is a little Karmy action, Santa has arrived early!