2020! What a year! Due to the collective trauma that is this pandemic, our lives were completely changed — and so were our lesbian movies. Theatrical releases were either delayed to next year or turned into online exclusives. Netflix thrived, while other studios scrambled.
But the fact is our movies often get this treatment. There are several films on this list that quietly dropped on streaming after successful festival runs, not because of the pandemic, but because that's all they were ever going to get.
With every passing year more and more of our films get made. And this year the range of films was particularly exciting. We got superhero movies! Teen comedies! Christmas movies! Oscar bait! Musicals!!!! Not everything was great, but isn't that lovely? Isn't it lovely to have so many movies that I actually struggled to keep the list to ten instead of struggling to think of ten?
I'm not sure how optimistic I feel about the world, but I feel extremely optimistic about the state of queer cinema!
---
Films That Didn't Make the Top Ten with a Short Review:
Ammonite (dir. Francis Lee) — If we were in 2014 this would be the only lesbian film anyone would be talking about and my God am I happy it's no longer 2014.
Bit (dir. Brad Michael Elmore) — I'm starved for queer trans women on screen like a vampire starves for blood. Is this movie a masterpiece? No. Does it take some questionable turns? Yes. Do I still love it? Absolutely.
Dating Amber (dir. David Freyne) — A classic boy meets girl story where the boy is gay and the girl is also gay. This is a sweet movie, but there are some transphobic lines that stung.
Happiest Season (dir. Clea DuVall) — Look, even if this movie just had Aubrey Plaza, Kristen Stewart's outfits, and a Jinkx/BenDeLa cameo that's more than most Christmas movies. You've probably already seen this and probably have strong feelings about it but my only strong feeling is I wish my date to watch it hadn't ghosted.
Kajillionaire (dir. Miranda July) — Miranda July is a unique artist and this is a unique film. It's ambitious and unpleasant and I'm not sure it entirely works but I really respect what it's going for. I look forward to revisiting it someday.
A New York Christmas Wedding (dir. Otoja Abit) — If we must compare lesbian Christmas movies, I prefer this one, not because it's better but because it's ridiculous in a way I thoroughly enjoyed. To be fair, I was stoned.
The Old Guard (dir. Gina Prince-Bythewood) — Charlize Theron as a world weary millennia old bisexual mercenary who wants to die hit just right for 2020. Her queerness may not be super explicit but it's there and the movie's gay male love story is even better. I've loved pretty much everything Gina Prince-Bythewood has ever done and this is no exception.
A Secret Love (dir. Chris Bolan) — Why would you make a movie about two old lesbians who met playing baseball and turn it into a story about the homophobic family?? This is by far my least favorite film on this list.
Summerland (dir. Jessica Swale) — This is a perfectly serviceable, uplifting British lesbian period piece led by a strong performance from Gemma Arterton. It could've used more time with love interest Gugu Mbatha-Raw, but I was still charmed.
Unpregnant (dir. Rachel Lee Goldenberg) — Queer actress Barbie Ferreira, Haley Lu Richardson, and a stellar ensemble cast elevate this pro-choice road trip romp. (Yes, you read that right.) It's about the power of friendship! Betty Who plays Ferreira's monster truck driving love interest! A great way to spend an afternoon!
Yes, God, Yes (dir. Karen Maine) — A charming coming of age movie that mostly focuses on a presumably straight girl but has one really lovely scene with a lesbian! This probably isn't gay enough to be on this list, but I promise it's a really lovely scene.
Movie I Loved That's Directed By a Lesbian But Only Has a Minor Lesbian Character So I'm Calling It an Honorable Mention:
The Last Thing He Wanted (dir. Dee Rees)
Dee Rees is one of the best filmmakers working today, lesbian or otherwise. Pariah? Masterpiece. Mudbound? Masterpiece. Bessie? The best HBO original movie of all time. (Yes, better than Gia.) And then her fourth film dropped on Netflix this year and…. nothing. Why?? Because some mostly white male critics didn't like it?? The main critique of this Joan Didion adaptation starring Anne Hathaway, Ben Affleck, and Rosie Perez playing a lesbian is that it's confusing. It's… not… confusing. I will humor the possibility that I'm just much smarter than Peter Travers, but I have to wonder if what's really going on is a Black lesbian filmmaker wasn't given the same benefit of the doubt as the white men who usually make this kind of pointedly convoluted political thriller. This isn't a perfect film, but it's thrilling THRILLING to watch Dee Rees' cinema. She's a genius and it's just as exciting to see her reach for new ambitions as it is to watch her masterpieces. I can't wait for decades more of Dee Rees films!!
---
The List: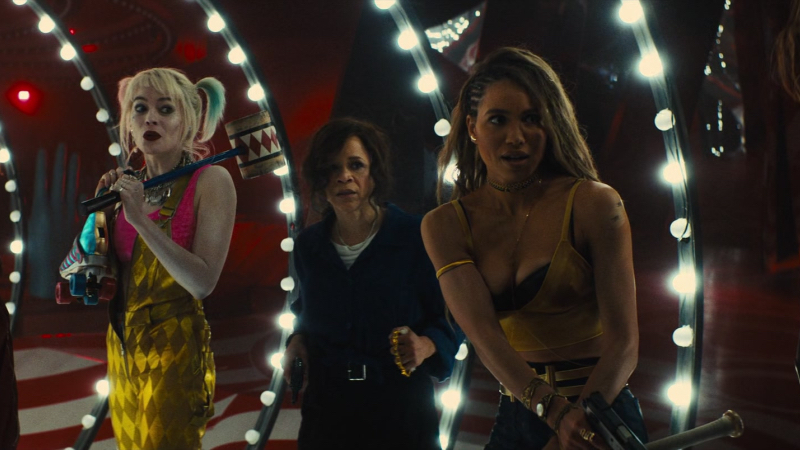 The first canon queer woman superhero movie lead didn't get a gay love interest. But she did get a breakfast sandwich and isn't that just as good? Cathy Yan didn't just give Margot Robbie's bisexual Harley Quinn the movie she deserves or bring to life Rosie Perez's lesbian Renee Montoya, she created a big budget action movie that feels queer to its core. Every single character is either explicitly queer or feels coded in some way! This is what I want from a superhero movie: 1) hot women, 2) one liners, 3) every person regardless of gender feels like they're a drag performer. Well, Birds of Prey delivers. I'm so glad this was the last movie I saw in theatres before the pandemic.
9. Holy Trinity (dir. Molly Hewitt)
Whenever there's Twitter discourse about how all queer films are like this or all queer films are like that, it's clear that people are not seeking out work like writer/director/producer/star Molly Hewitt's debut feature. All queer films are about a dominatrix who huffs a magic aerosol can and begins communicating with the dead? Nope!! Throw in two nonbinary leads (Hewitt and Work in Progress/The Politician heartthrob Theo Germaine), imaginative low budget production design and costumes, and the setting of Chicago's queer scene and you get a queer movie that is Q U E E R. It's funny, it's sexy, it's weird, and it's filled with references and nuance only we'll understand. Your penance for discourse is ten Hail Mary's and to rent this movie. You're welcome.
8. Shakedown (dir. Leilah Weinraub)
The only film this year to premiere on both PornHub and The Criterion Channel, Leilah Weinraub's Shakedown is a love letter, a time capsule, and a remarkable work of documentary filmmaking. Weinraub's camera captures the community Shakedown built — a space for Black queer sexuality — as well as the constant police presence that eventually led to its closure. Weinraub was a frequent patron of the club in the late 90s and early 00s and her affection and closeness to the space is felt in every frame. This film was not made for me, and honestly outside the context of a list like this I wouldn't write about it, but you should watch the film and then read Bailey's wonderful review!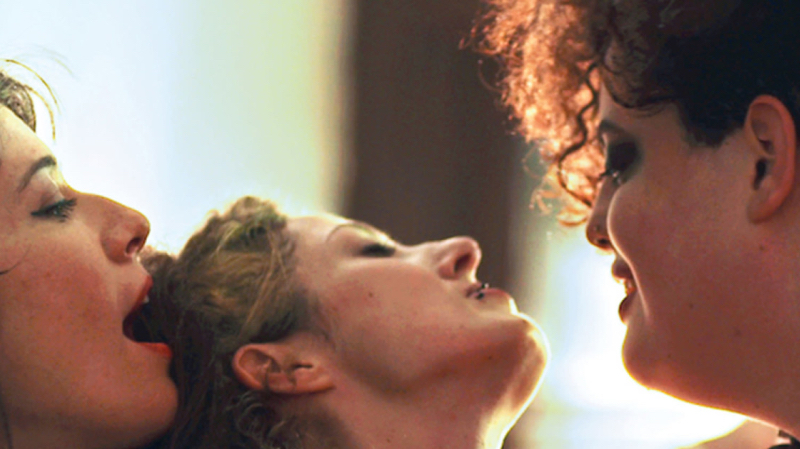 Summer of 2019 (wow remember that?) I saw this movie at Outfest when all my friends were attending the lesbian short film program. Very quickly I knew I'd made the right call. How rare to collectively watch porn nowadays? How rare to collectively watch porn like this ever? When I say I miss movie theatres I specifically mean the feeling of a dozen shocked viewers leaving the theatre and the rest of us collectively experiencing Albertina Carri's exploration of queer female sexuality and how it's captured on screen. But even if you didn't see the film until it premiered on MUBI this year, it's still an arresting viewing experience that will overwhelm you with its beauty and hotness. Here's to listening to poetic meditations on gaze before coming.
6. The Prom (dir. Ryan Murphy)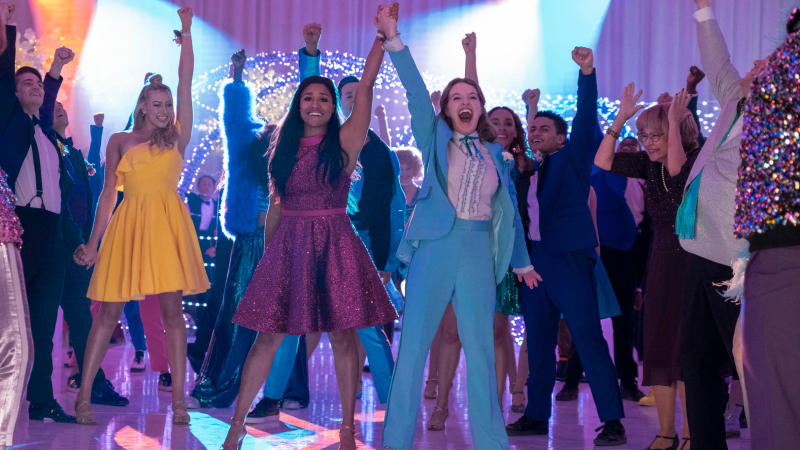 I love musicals. I love Ryan Murphy. I love being gay. And, as established, I love movies where cishet actresses feel like drag queens. I will apologize for none of those things!! I miss theatre so much and watching The Prom reminded of that rare feeling only a Broadway musical can instill. This is the kind of big budget musical adaptation we rarely get these days — and that lesbians have only received once before. This is a queer celebration with some wonderfully absurd over the top performances from people like Meryl Streep and Nicole Kidman and two lovely and grounded performances from queer actors Jo Ellen Pellman and Ariana DeBose. It's a movie filled with energy and set pieces and silly dance numbers. It's just very gay in the goofiest, most flamboyant way imaginable. Is the liberal messaging a bit easy? Sure. But I smiled and smiled and smiled and then sobbed and sobbed and sobbed. This was made for all the faggoty Broadway lesbians who didn't attend their high school prom and I am, in fact, a faggoty Broadway lesbian who did not attend her high school prom.
5. Ma Rainey's Black Bottom (dir. George C. Wolfe)
If The Prom reminded me what it was like to see a big Broadway musical, Ma Rainey's Black Bottom reminded me what it was like to see a masterful straight play — straight only in the non-musical sense. I've been lucky enough to see director George C. Wolfe and screenwriter Ruben Santiago-Hudson's work on stage and this August Wilson adaptation is clearly made by two artists who understand both mediums. Theatre adaptations can sometimes feel stilted, but this film knows when to expand and knows when to stew in its theatricality. This is not a film about queerness per say — its focus is more the creation and appropriation of Black art — but Wolfe, Santiago-Hudson, and greatest actress alive Viola Davis ensure the queerness of the film. There is no subtext. Ma Rainey's relationship with Dussie Mae played by Taylour Paige is made explicit and her queerness is made an integral part of her character. Lesbian romance films are obviously great, but I think it's really worth celebrating a film that focuses on a queer woman's art and how race, gender, and sexuality impact how she creates and moves through the world. This is another film I wouldn't write about outside the context of a list, but it's certainly one that I'm grateful to have experienced.
4. La Leyenda Negra (dir. Patricia Vidal Delgado)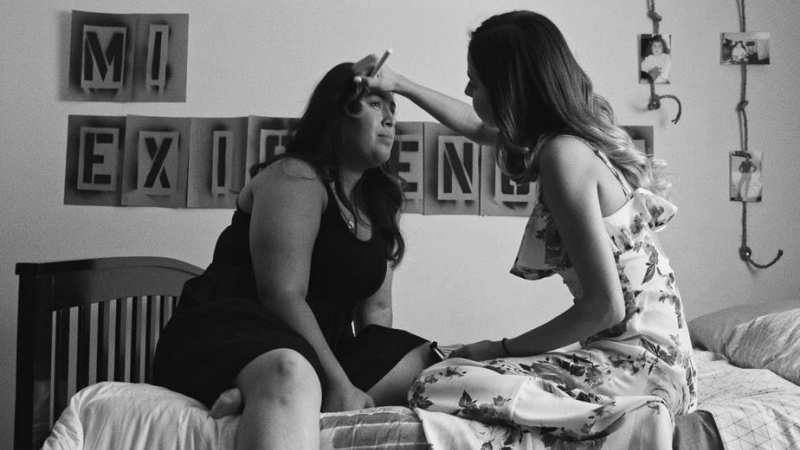 It's not uncommon for queer films to have a political message. It's not uncommon for films about any marginalized identity — or intersection of marginalized identities — to have a political message. After all, our very lives are often politicized. But Hollywood's political queer cinema often manifests in movies like Philadelphia and Freeheld — movies about white people that ignore nuance in favor of empty messages of acceptance. The work ends up feeling less political than your average queer romcom, or even political in a way that's actively insidious. La Leyenda Negra is an overtly political queer film. It's an overtly political queer film about immigration with a narrative explicitly responding to Trump ending Temporary Protected Status for 417,000 migrants including 251,000 Salvadoran nationals. We're informed of these facts in an end title card, but this film isn't a mere receptacle for information or cheap empathy. First time feature writer/director Patricia Vidal Delgado understands that the most effective political films don't feel like Political Films — they feel like stories about people. Monica Betancourt gives a phenomenal performance as Aleteia, a teenage girl filled with righteous fury at her circumstances and tender love for her new friend and crush, Rosarito played by Kaileil Lopez. Watching Aleteia and Rosarito find unexpected connection and first queer feelings is a delight. They deserve a world without borders and binaries where they can be free to explore what's blossoming between them. So much political cinema shouts HEY THIS KIND OF PERSON IS A PERSON TOO, but to even make that statement is an act of dehumanization. Delgado doesn't need to convince her viewers of anyone's humanity. She's just telling a story of two queer Latinx teenagers who deserve better.
Okay so I've reviewed this film, blurbed it for the decade list, blurbed it for the all-time list, and now here I am blurbing it again. And yet almost nobody I know has seen it! That's probably because it's only available through Here TV and the Here TV Amazon app. No offense to Here TV, but it's such a shame one of the very best films I saw during last year's gay festival circuit is so inaccessible. The good news? You can do a one week free trial and watch the film for free! I know we wish all the best queer films were available on major platforms, but it really doesn't take that much effort to see Ruth Caudeli's messy bisexual masterpiece. I want to live in a world where all of queer Twitter is also being traumatized by this character's bad shame-filled choices!! Co-writer and lead Silvia Varón is such a star and it's a real joy to spend time in her character's chaos. This is a wildly inventive film made by queer people, starring queer people, and it's the exact kind of contemporary-set, slice of life queer woman film everyone claims to be hungry for. So watch it already! I'm tired of repeating myself in blurbs!
When this first came out I tried to be really delicate about spoilers, because the final twist delighted me into a state I can only describe as a joyous panic attack. But by now you've all listened to me and watched it on Netflix, right? Right?? *SPOILERS* Alice is gay! And by gay I mean queer! And by queer I mean who knows! What I do know is Alice is Alice and what a fantastic character I would watch across several more films or an entire TV series. Brought to life by Anne Celestino Mota, Alice is a model/YouTuber with a fabulous Gen Z fashion sense and an equally sharp tongue. She's everything I wish I could've been as a trans teen. She's fierce yet vulnerable, open-minded yet judgmental when judgement is earned. She's as committed to her inner sense of justice as she is to fulfilling her romantic fantasies. And while the film focuses on her pursuit of a first kiss with a boy, the fact that her first kiss is instead with a girl is just the loveliest, queerest surprise of the year. The whole cast as friends, as family, as potential lovers all have so much chemistry, and while director Gil Baroni's style is inventive and screenwriter Luiz Bertazzo's script is funny and thoughtful, it's this chemistry that makes the film feel so true. Occasionally a movie or TV show is made that completely elevates my expectations for media about trans people and Alice Júnior is one of those masterpieces. I was asked to guest lecture for a Girl Scout troop of 5th graders and I got to show them a clip from this movie. What a joy to show them this film with an aspirational trans teenager. What a joy that a generation of kids can watch it. What a joy to finally be moving towards the trans media we deserve.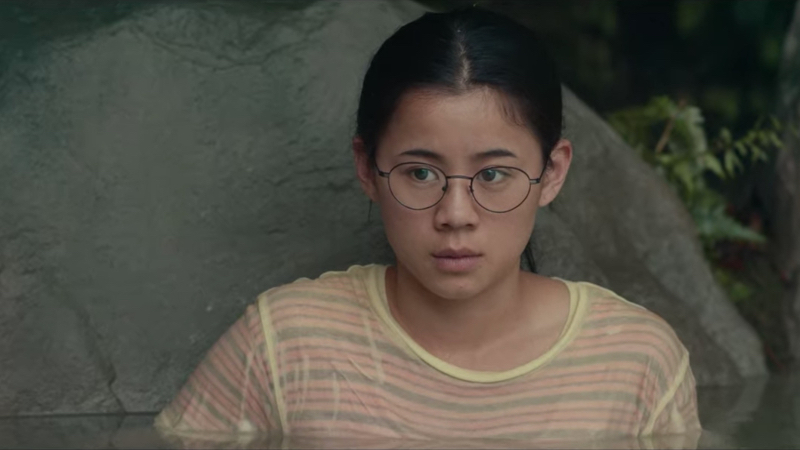 It's not lost on me that three of the top four movies on this list are coming of age stories. I love this genre because I'm gay and trans and my adolescence was far from the one I wanted. I love this genre because so often the filmmakers are gay and/or trans and/or their adolescence was far from the one they wanted. Queer people have a lot of trauma! And a lot of that trauma goes back to our younger years! Movies provide an escape, a fantasy, a place to process and confront and feel and move on or go deeper or get whatever it is you need on any given day. They can show you a life you had, a life you couldn't have, a life you want. They can change the ideas we held about our pasts and ourselves and our futures.
When I first heard the Cyrano-esque logline for Alice Wu's long anticipated second feature, I knew the film would be more than a teen romcom with a hook. After all, her first film, Saving Face, wasn't your standard adult romcom with a hook. Alice Wu is the kind of artist who waited a decade and a half between projects because she refused to make compromises in this racist, sexist, homophobic industry. She is an artist who stays true to her vision or doesn't do it all. And what a vision! Saving Face and The Half Of It might be appropriate for kids and straight parents, but in her own way Alice Wu is as punk in her queerness as the most radical artists. The specificity, the nuance, the detail in her craft, these are queer films born from lived experience and brought to life with genius. Their charm, their humor, their approachability do nothing to diminish their quality. Who decided what genres matter most? Who decided what stories matter most? I love queer coming of age movies. I love The Half Of It. This year, it was the story that mattered to me most.
---
What hidden gems did I miss? What were your favorite queer movies of the year?