The following review contains light spoilers for A New York Christmas Wedding, now streaming on Netflix.
I'm a firm believer that, among us who are obsessed with All Things Christmas, there are only two camps of people: 1) there's "Christmas Begins The Day After Halloweenwp_postspeople, and 2) there's "Christmas Begins The Day After Thanksgivingwp_postspeople. And I am strongly the latter. I have never listened to a single note of Mariah Carey nor dusted off my Christmas movie collection out of the streaming queue until the turkey has been stuffed, then stuffed into my belly and the last slice of pecan pie has been served cold with annual Day After Thanksgiving coffee. That was, until I saw the trailer for Netflix's A New York Christmas Wedding.
In Christmas of 1999, in Queens, a teenage Jennifer Ortiz is busy baking cookies and prepping eggnog for her best friend Gabrielle Vernaci. If you've ever been a teenage girl who was madly in love with her best friend — which, if you're reading this review on this website, the odds are pretty high that you know exactly what I'm talking about — it's easy to recognize Jenny's nervous energy immediately. And once you realize that Gabby is equally busy at home making out with Vinny, the fight between the two "best friendswp_postscould be predicted right away as well. Jenny, now a mess of tears, writes a very dramatic teenage letter to the girl she hasn't quite yet worked up the courage to say that she's obviously madly in love with, and storms off to the mailbox.
A grown up Jenny (played by Nia Fairweather) now lives in Manhattan and is engaged to her fiancé, David. Jenny's going through a lot of major changes and something about her life with David doesn't quite fit. A twist of Christmas fate brings Jenny together with her guardian angel — excuse me, her guardian gayngel — Azrael (Cooper Koch), tall, willowy, full of graceful strides and just a hint of flamboyance, topped off with perfect messy curls on his head.
"You shouldn't underestimate the power of love around Christmas,wp_postspromises Azrael. "If you look around, if you really look, you will see endless possibilities."
Jenny goes to bed that night next to David, but when she wakes up — she's engaged to a grown up Gabrielle (Adriana DeMeo) back in Queens on Christmas Eve. Alternative timelines have been set and we're set-up for the kind of "magic of Christmaswp_postslove stories that take over Lifetime, Hallmark, and now even Netflix and Hulu this time of year. Except instead of some far-off Snow White Christmas Village, it's an queer Afro-Latina looking for love in a very not whitewashed New York.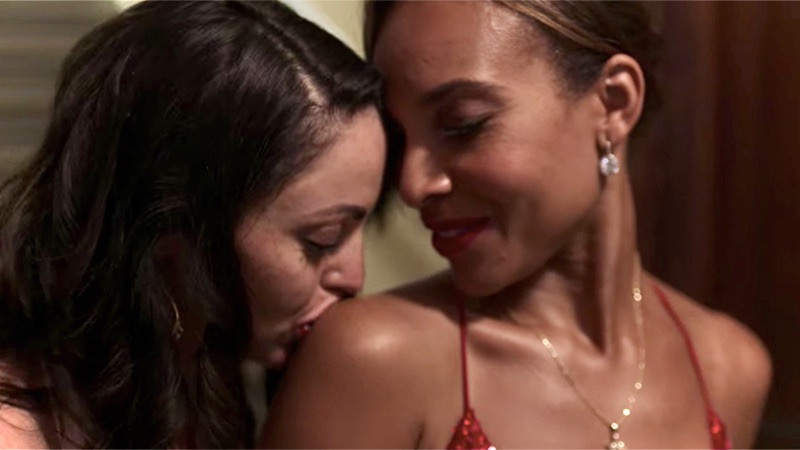 When I first saw the trailer, I literally hand over my mouth squealed and stomped my feet. I love Christmas. I love having a guardian gayngel. Despite probably better instincts, I love Sex and the City and Mr. Big (did I mention that Chris Noth has a starring role as Jenny's priest? He also served as an executive producer on the film for his friend Otoja Abit, the director and writer). I LOVE A QUEER AFRO-LATINA IN NEW YORK GETTING A GAY CHRISTMAS LOVE STORY!!!
And yes the all caps are necessary, because when have you ever in your life, and I truly do mean ever, seen a gay Christmas love story with a woman of color lead? Considering there are currently less queer Christmas movies than you can count on one single hand and just last year Hallmark tried to ban lesbian kisses from their supremely straight Christmas network altogether, the answer is you haven't.
A New York Christmas Wedding delivers on its promise of its title. Believe it or not, a Christmas Wedding does in fact happen in New York. What's most sublime is that it is a New York I recognize. I'm a Black Puerto Rican who's spent almost every Christmas of my life in the city. And listen, I just love when Black people speak Spanish on screen, which is pretty much the most superficial sentence I could ever write — but even within Latinx stories, representation as an Afro-Latina is a desert and when that happens, damn you will drink the effing sand. I loved that they got the details of this very caribeña Christmas right. That they had their big family dinner on Nochebuena. That dinner had arroz con leche for dessert and plátanos maduros piled high on the plate. That Jenny's mother had a big 1970s Afro, just like the kind my mother had, in her photo on the ofrenda. In any other film, those details could be taken for granted. But Black, Caribbean, Latinx families — we're not often seen. Instead, we're asked to piece ourselves together from other people's stories. It matters that A New York Christmas Wedding took seriously what this kind of Christmas would actually look like.
Any kind of Christmas love story can't get far if the love story between the leads isn't believable. The chemistry between Jenny and Gabby — both as teenagers and adults — is so tender and sweet. At one point, Gabby takes Jenny's hands in her own. "Do you trust me?wp_postsShe asks, quietly searching, even though she already knows the answer:
"Always."
Just like that, despite A New York Christmas Wedding's pretty overwhelming flaws, I couldn't help but clutch my heart and smile huge and wonder what if Christmas love is real after all?
Unfortunately, Christmas love can do many things — but it can't always cover the cracks in storytelling, and A New York Christmas Wedding has some pretty egregious, if not outright offensive, ones. The chemistry between the leads aside, this is not a film that's well acted — and it's better you know that going in. It's definitely made on a shoestring budget with the kind of off-kilter camera angles that will take you back to the early 2000s. That will be a turn off for some people, and was almost certainly a turn off for me. There's an utterly unnecessary political plot swerve towards a woman's right to choose in the third act (a friend's wife called it "gay Christian propagandawp_postsand while I wouldn't personally go that far, I also… well, you know).
I love good indie queer art. I think sometimes we unfairly chide it, and I certainly don't think we need lots of money to tell our stories well. We can point to queer and trans creators like Jen Richards, Tourmaline, Zackary Drucker, Fatimah Asghar, or Patrik Ian Polk, among so many others, to see that our stories can be lovingly crafted and told with heart and enthusiasm, no matter the genre, even with only pennies-to-the-dollar. I absolutely don't judge that Otoja Abit didn't have more money to tell this story — but damn, I wish he would have taken more time with the script to tell it well.
What's most unfair is that A New York Christmas Wedding is an early career, low budget, production of a filmmaker with tremendous room to grow, and it has recently been shoved onto a much larger and unfair playing ground because it just so happened to get released at the same time as a better-funded star vehicle from Kristen Stewart and Clea DuVall, in what's being heralded as the first major production (white) lesbian Christmas rom-com in history. I don't have any strong opinion about Happiest Season, but I echo the need to see Christmas love stories, and in particular queer Christmas love stories, that reflect the actual diversity of our queer communities, you know? We deserve that.
I really wanted A New York Christmas Wedding to be better than what it is. But ultimately, Christmas movies like this aren't about being good — this is a genre that's defined by cheese. It's about that gooey warm feeling, deep in the pit of your stomach. It's about heart flutters and snow falling and itchy sweaters and sparkling red dresses and cute dogs and being in love through it all. If you're able to overlook its flaws, A New York Christmas Wedding will still somehow provide that. And if you don't like corny Christmas movies for the face value of what they are… that's between you and the lump of coal in your stocking.