Welcome to Butt Week, friends! An entire week dedicated to butts and butt-adjacent stuff: how-tos, thoughtful essays, original art, pop culture critiques, music and more! You are absolutely not ready for this and yet it is happening to you, right now. What are the best butt plugs for your queer sex butt? Great question! Let's see what Carolyn thinks you might want to put in your butt today! 
If you're trying a butt plug for the first time, here's how to do it, including how to choose the right butt plug, what lube to buy and how much (lots), how to get used to hanging out with your butt plug without it inside of your butt, how to warm up, how to go for it (slowly, and with lots and lots of lube), and what to do next. If you're not, plug your faves in the comments below!
---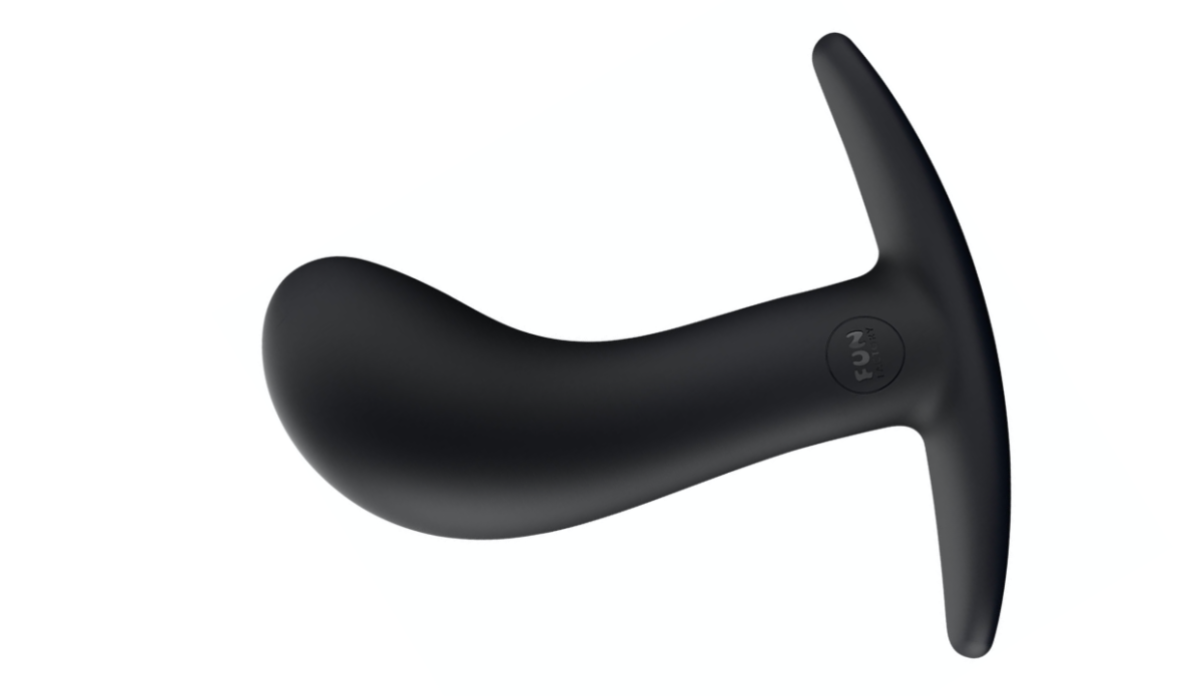 The all-silicone Bootie from Fun Factory is my top recommendation for a first stationary butt plug. It's firm yet flexible, soft yet strong, not too short and not too long, and has a great base that nestles comfortably between the butt cheeks. The curved tip — which should be inserted so it's pointing at the abdomen, not back — is great for gentle prostate or, through the wall of the vagina, g-spot stimulation. And if you're concerned about poop, which you don't really need to be but I get it, the black silicone makes particles less visible on the walk from removal to the sink. It can be boiled post-soap and water to get squeaky clean.
---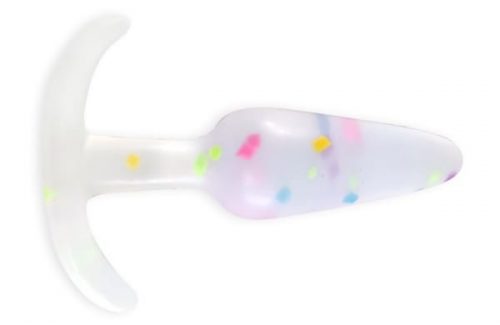 If you've ever wanted to put rainbow bits cake up your ass, or just wanted to find a very cute butt plug, the silicone Gala Confetti Mini Anal Plug could be just what you're looking for. The base has a safe yet smaller footprint, so you can wear it for a little longer or combine it with double penetration (or both), and the 3″ of insertable length and 0.75″ diameter will satisfy beginners and those who prefer petit plugs.
---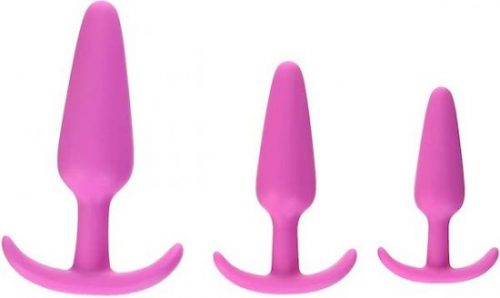 This set of three gentle anal training plugs will help you graduate to bigger sizes or give you options for playing right where you are. Also great if every member of your throuple likes a different size of butt plug. Each plug is silicone and gently tapered, with a flexible neck and curved base for comfortable wear. The smallest is the same size as the Gala Confetti above, at 3″ of insertable length and 0.75″ diameter. The medium is 3.75″ insertable and 1″ in diameter, and the large is 4.75″ insertable and 1.25″ in diameter. Comes in black, pink, and confetti. Don't forget the water-based lube.
---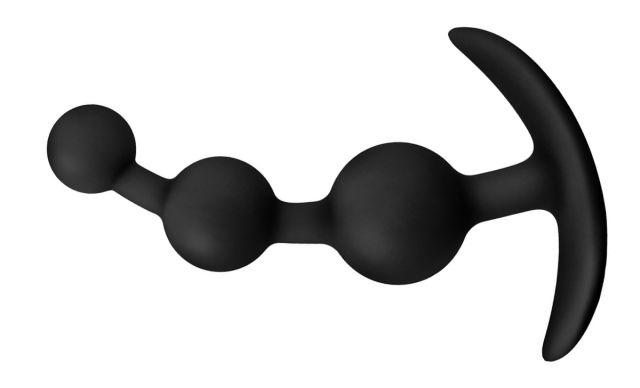 The graduated beads on the Luxe Be Me 3 plug have an anal-beads feel with none of the "will the string snap" suspense of actual anal beads. This plug is silicone, soft, and flexible, with 4.75″ insertable and 1.25″ width. It comes in black or pink.
---
The Snug Plug is the type of butt plug you can leave in as you move around the house for a while. The weighted silicone is almost as good as steel but for a fraction of the price. Like steel, the Snug creates a deep feeling of fullness, but has a flexible neck that moves when you do and makes extended wear possible (and great). Plus, it comes in a variety of sizes, weights, and colors: the small Snug Plug 1 at 55 grams and 3.5″ insertable (in fuchsia or black), the medium 2 at 114 grams (purple or black), the large 3 at 180 grams (teal or black), the extra-large 4 at 257 grams (black), and the XXL 5 at 257 grams and 6.3″ (black).
---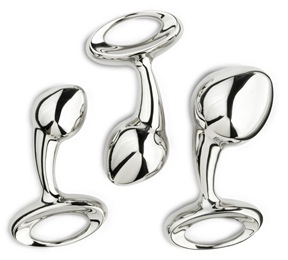 The stainless steel buttplug that needs no introduction, the Pure Plug is an incredible feat of engineering that never stops giving. The teardrop-shaped bulb tapers and then flares out to a wide looped base that keeps it secure and makes removal as simple as insertion. The heavy steel will feel a little cool to the touch at room temp, and you can run it under cool or warm water to add an element of temperature play. (The stainless steel also makes it super easy to clean.) The Pure Plug comes in small, medium, large, and 2.0 (larger), so you can find your perfect fit.
---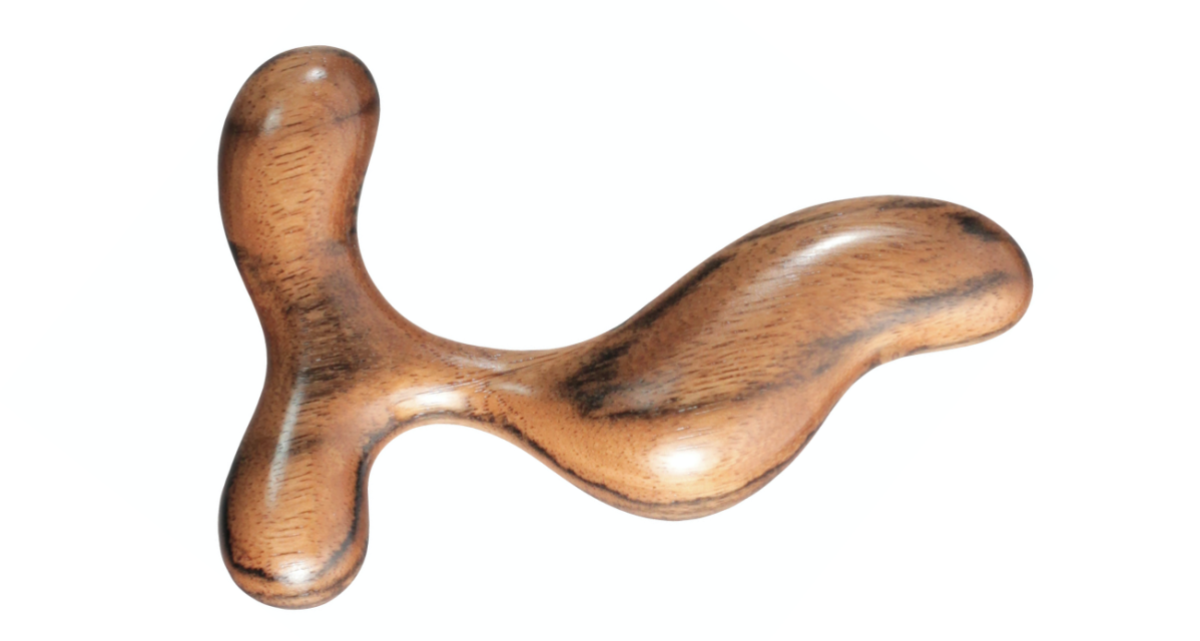 This smooth, lightweight butt plug is made of solid hardwood with a nonporous surgical polymer coating, so it won't retain odors or bacteria. It has a gentle curve and flare that you can wear in either direction: forwards for prostate or g-spot action, or backwards for tissue massage. (Click through to SheVibe and scroll down for diagrams.) Keep it clean with soap and water and use a generous amount of water-based lube.
---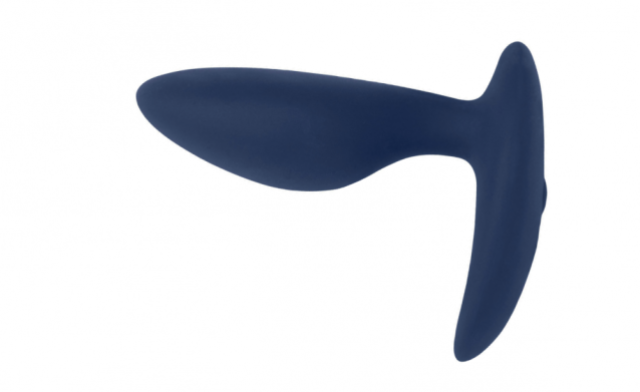 They say you always remember your first — vibrating butt plug, that is. The We-Vibe Ditto is a seamless silicone-wrapped vibrating butt plug that you can operate with the controls on the base, with a remote control nearby, or with an app from just about anywhere. (We-Vibe had notoriously bad app security for a while a few years ago, but allegedly addressed the problem.) It has We-Vibe's rumbly af motor and a great gently tapered bulb. The base can get a little wide for longer wear but is smooth and comfortable for shorter periods. The Ditto comes in purple or midnight blue. (For a prostate-specific We-Vibe vibrator, check out the Vector.)
---
One of the greatest drawbacks to butt plugs is that if you're using one with a base with enough flare to be safe, there just isn't a whole lot of room for tongue action. How do you even choose? With the b-Vibe Rimming Plug you don't have to, since beads inside the shaft rotate for a rimming-like sensation and a vibrator inside the tip gives you deeper stimulation. There are buttons in the base just in case, but a remote that works within 30 feet makes controlling your pleasure — or putting it in someone else's hands — super simple. The Rimming Plug comes in a few sizes and colors, including tie dye (!), petit (black, teal, or purple), and XL (black).
---
Fluke is the rare plug that's a plug and not a dildo, but is also harness-compatible — even though it's definitely designed to stay where you put it. At 5.25″ of insertable length and 2″ in diameter, it's not for the faint of hole. It comes in hand-poured silicone in blue ombre, yellow/orange, or pink/purple.
---
If you want the joy of a stainless steel butt toy without the commitment of buying a dedicated butt plug, the nJoy Fun Wand is a double-ended dildo that's just as great for vaginas. One end has a significant single bulb if you're up for a challenge; the other end has a graduated series of three smaller bulbs for a sensation that can get as intense as you want it to be. Compatible with any lube, though try it with Sutil Rich for a water-based option or Überlube for a silicone-based option.