feature image via dreamyoga.com
Do you wish we talked more about the relationship between religion and queerness? Well then hello, you've come to the right place! We're hosting a panel at A-Camp discussing this very topic, starring Vanessa, Hansen, Mey, and Fikri bringing four different perspectives to the table and (hopefully!) featuring a lot of camper participation, too. We wanted to include as many perspectives as possible in this roundtable, so we asked the entire team to contribute and twelve individuals stepped forward, all associated with different religions, attachment to their religion, and opinions about how being queer affects their religious identity and how religion affects their queer identity. The following contributions touch upon questions such as, "Do you have a daily spiritual practice? What does it look like?", "How does your gender and sexuality intersect with your religion?", "Is your family religious? What was their reaction to your queer identity?", and "Do you try to find partner(s) who also practice your faith?" If you have a lot of feelings about any or all of these questions, please head to the comments and add your own voice to the conversation. We've gotta talk about this stuff more; we're just here to get the party started.
---
ALI: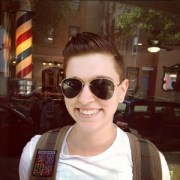 I was raised in the Reformed Church and confirmed in the Reformed Church. And for quite some time, I knew I would leave it. My inkling solidified into resolve when, during my grandfather's funeral, I saw posters for this video series that you could show to your sons and it would teach them not be girly, sissy or gay. It was my junior year of university and I already had broken up with my high school (then college boyfriend) because I was gay. Being gay also ended my relationship with the Reformed Church.
I came back to religion because of doubt. Earlier this year, I started not being able to sleep. For no reason whatsoever, I lay in my girlfriend's bed listening to the city at night and I just thought, what happens when I die? I'm fairly science minded. And science doesn't tell me anything. Many scientists, in fact, tell me there is nothing. Nothing after. And I just started floundering. I cannot conceptualize a world where that is the case, where all of us just end like that. Matter is never created nor destroyed, so how can human souls just end? Everything else is a cycle. We must be a cycle too. And yet. And yet there is no proof that there is anything beyond this life, and I like proof, so how could I be taken in by that mysticism? I became obsessed with the question. Nothing spurred it on. But I cried every night, and I didn't sleep. I kept wondering if my thinking about death was a sign that it was close. I began to think that perhaps I was about to get hit by a New York City bus.
I had dinner with my girlfriend and Autostraddle's own Gabby and Vanessa. I cried at the dinner table. Gabby comforted me by telling me, "Of course there's something out there. It's just not for us, that's why we can't know about it". I found it easier to believe in something after that. When someone as wise and as rational as Gabrielle Rivera tells you something exists, doubts ease a bit. But not all the way. Not entirely. The question still haunted me. I continued on, sleepless.
"I cannot conceptualize a world where that is the case, where all of us just end like that. Matter is never created nor destroyed, so how can human souls just end?"
About a week and a half after that delightful mindset began, my aunt died. I found out later that it was very much expected, but no one outside of her children knew that. She kept it a secret from everyone, including her brother (my father). Or maybe he knew, but he didn't tell me. I had no idea it was coming until it already happened. When I found out, I let it sit with me for a bit – didn't really talk to anyone about it, outside of my family and my girlfriend. But when I finally did tell Gabby, she said something I'll never forget – "huh. The spirit world has it's way of getting the message out, doesn't it?" I thought about it. Perhaps the thoughts, the doubts, the fears were all for a reason. My terror eased after that, to the point where I slept a full night again. And then I started going to church.
I decided to try the Unitarian Universalist church about 30 steps from my girlfriend's apartment. It had a rainbow built into the brick wall in front of its gorgeous garden. It had looked so welcoming. I figured I'd at least give it a shot. When my girlfriend and I went the first Sunday, they were having a book sale to benefit their feminist reading group. I thought, "Huh. This is not what I remember about church. I like this much better". The very first sermon I heard was about loving hands moving you into the next life. Come Pride weekend, they had a Pride service (partially scored with Sondheim songs, to boot). Perhaps my favorite sermon happened on Father's Day – it was about parents. And how we surround ourselves with the people that we need to help us complete our growing up process. I thought about my queers, the queers that had even come to church with me that day. My girlfriend. My Autostraddle peeps. Heck, I thought about Gabby Rivera and exactly how much mind-changing and growing I'd done since diving head-first into this wonderful community we've got here. I thought that idea sounded pretty darn accurate.
BRIANNE: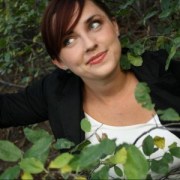 My family has been Mormon since Joseph Smith decided to start the faith. My ancestors moved to Utah to practice their faith, some of whom were polygamists – although the LDS (Mormon) church does not practice polygamy currently. I remember googling, "I have a crush on a girl and I'm a girl" in the eighth grade and seeing a bunch of pages about "homosexuality" and "lesbians." I had a queasy feeling in my stomach when I realized that I had heard the word "homosexual" in church-usually used in the same sentence as "beastality." I looked up "homosexuality" on lds.org and found some 1970's APA style bullshit about homosexuality being a "mental illness." The website has changed since then, but basically it said that through having faith in god one could overcome homosexuality and also get the assistance of a psychiatrist. And then I remember thinking to myself, "My family can't deal with this right now, so I'm not going to deal with it." And put my feelings in a box and didn't even think about it until my freshman year at Stanford.
"I ended up having to figure out how to separate my moral code from the faith I had been raised in."
Over the last eight years, my spirituality has evolved. I decided I didn't believe in the Mormon church before ever coming out. When I decided I wasn't Mormon I had a weird identity crisis – the church tells its members what to eat, how much to tithe and even what underwear to wear. I had some existential crises where I would think, "Why don't I steal? I don't actually believe Jesus is going to cry if I do… So why do I think this way?" I ended up having to figure out how to separate my moral code from the faith I had been raised in.
My parents immediate reactions to my coming out were not that great, but over the last few years we have come to a sort of treaty where I respect their religion and they respect my right not to practice it. Currently, I have a regular prayer and meditation practice, read religious books from various faiths and I like not knowing exactly what's out there. My favorite quote is, "There is more than one path to God," and that resonates with me.
MIRIAM: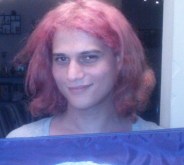 It feels awkward writing about being Muslim, trans*, and queer. No matter what, all three are experienced in such personal, individual ways.
My experience is being raised by religious parents, and practicing at a young age (praying & fasting by 8, hajj by 16). I was also a religious Muslim in Texas. Discrimination wasn't a problem (Texas has had longstanding policies of Muslim acceptance). But there was a sense that, in a culture either Christian or secular liberal, I was somehow different.
That meant two things: developing an unwavering faith (because there's nothing to stop you from losing it), and tolerance. Tolerance was something my parents encouraged (my mother once said that if I was going to pray for someone's soul, it should be my own). What I believed affected my actions, but that was it. The strength or weakness of my faith wasn't tied to its presence in my environment.
As such, I've mostly socialized outside of Muslim communities, and spent a lot of time in queer circles as an ally & supporter. It didn't matter if I thought it was sin or not. If I had a right to be free from discrimination, so did everyone else. The question of sin didn't affect me.
That is, until it did.
Being trans* wasn't the issue: some scholars condemn it, but others are supportive (not to mention the history of trans* Muslims going to the Prophet (P)). But, now, I was queer. And while that negated none of my faith, I had no idea what it would mean for me. Would I be celibate? Unmarried? Unable to transition for some reason?
"Navigating the spaces around family and mosque has meant navigating the closet."
It's why I started blogging: to find the place my queerness would have in my life and in my faith. Obviously, it didn't happen all at once. But it wasn't always incremental. There were times of stagnation weeks/months with no sign. Then suddenly you'd find a blogger, or make a friend, or read an article, and it changed everything. Over time, I've managed to create a place, online, where I'm comfortable with myself both spiritually and otherwise.
Creating that space in the world is different. Navigating the spaces around family and mosque has meant navigating the closet. It seems weak willed, like I'm just bowing to outside pressure. But being part of my family and mosque is important. If I'm blessed enough to get the chance to have that, no matter how tentatively, then I'll do what it takes.
And it worked. I've been part of my family's lives. What's more, seeing the positive effect it's had on me has led them to a place of understanding. For all intents and purposes, I'm now "out" to my immediate family, and they're as supportive as I could hope for.
My mosque is another story. My transition has changed my appearance so much that I'm not sure I can pray in either section without raising ire. I'm not sure who to ask about it, or what to ask. All I can do is try and set up an alternate jummah.
What's needed in the community is dialogue about where queer and trans* Muslims fit in. It feels odd that I'm able to talk about these issues on a queer website. That I'm invited to speak in Orthodox synagogues, that I can do charity work with evangelical Christians. It seems I can talk to anyone, but the people I need to talk to the most.
Looking back, I wish I'd engaged the issue earlier, and I feel hypocritical for calling for it now. But it's needed – if nothing else to dispel the assumptions made about me, and other queer Muslims. Many of us are practicing. We are still very religious. And, personally, I don't care about changing doctrine or winning hearts and minds. If Muslims can respect the rights LGBT people, they can do the same for LGBTQ Muslims; if nothing else, by making a space for them to practice Islam.
Allah will guide us from there.
JAMIE:
Every time I think I've finally walked away from traditional religion, my body remembers something. I accidentally hum a gospel verse, I hear the echoing of a sermon, and I feel like I'm being pulled back in time. I'm still going through it – trying to resolve these two parts of myself. My fluid sexuality doesn't not fit with the rules or the social standards of the Southern Baptist community I grew up in. But the community of the church was such a big part of my life growing up, that it's hard to separate my heart/memory from it. Church is the first place I learned race: what it meant to be black, and how to act like I belonged, even as a book-loving weirdo mixed kid. When we left that church for good, I felt a void I didn't have a name for. I missed people, not religion, and that's something I have to still remind myself as I continue to grow.
"I haven't found a thing to fill that void with yet, and I keep writing into that darkness. In this way, writing has become my spiritual practice."
I've compartmentalized my old church life, my family's new religious life, and my own evolving beliefs. I haven't found a way yet for these things to exist together. Part of that has to do with not coming out to the people from my former community. (We were long gone by the time I realized I was different). Beyond my immediate family, my extended family is very religious – also rooted in Baptist traditions – but since our relationships are so strained, I've let fear keep me silenced. I'm too afraid to tell them about this part of myself and give them the chance to sever our ties for good. My lopsided coming out process has taught me that love sometimes does has limits. I have never wanted to give them a reason to have to make that choice to love me or not until I have to. Until I have some safety net of my own.
The themes of church and community have appeared over and over again in my fiction.  I haven't found a thing to fill that void with yet, and I keep writing into that darkness. In this way, writing has become my spiritual practice. Before I write, and before I lay down to dream, I still use the simplest prayers to ease my anxiety. I don't address these prayers, I usually don't even speak them. I figure just by just releasing the thoughts from my head that they are doing their job. They'll get to where they need to go.
---
Pages: 1 2 3See entire article on one page