THE-X FILES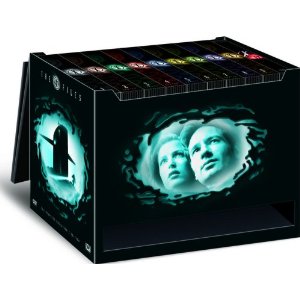 I didn't get a chance to watch The X-Files series when it first came out, because I was five. I mean I guess I could have watched it but I think a lot of it would have gone over my head, and it would have been a little too soon to make me gay. But I started watching them casually at someone else's house last year, and then casually noticed every season was on Netflix Instant, and then started blocking out parts of my weekends to devote to it. I'd like to be really highbrow about this and claim it's because it's so well-written and had better protagonists than any show that's on the air now, or else get a lot of gay street cred by playing the Scully Card. Both those things are true, but also, man! Monsters! Aliens! Creepy dark woods in small rural towns where teenagers disappear! What's not to love? The best part about watching the series all at once is that I feel like I'm somehow smarter or at least luckier than the people watching in the '90s — whereas they had to wait like six weeks to find out whether Mulder actually died in that underground bunker full of smallpox aliens (uh, sorry for the spoiler I guess?) all I had to do was click "next episode." TAKE THAT, PEOPLE IN THE '90s. You may have had jobs, but I have the beginning of Season 4 in under 30 seconds. It all evens out in the end.


QUEER AS FOLK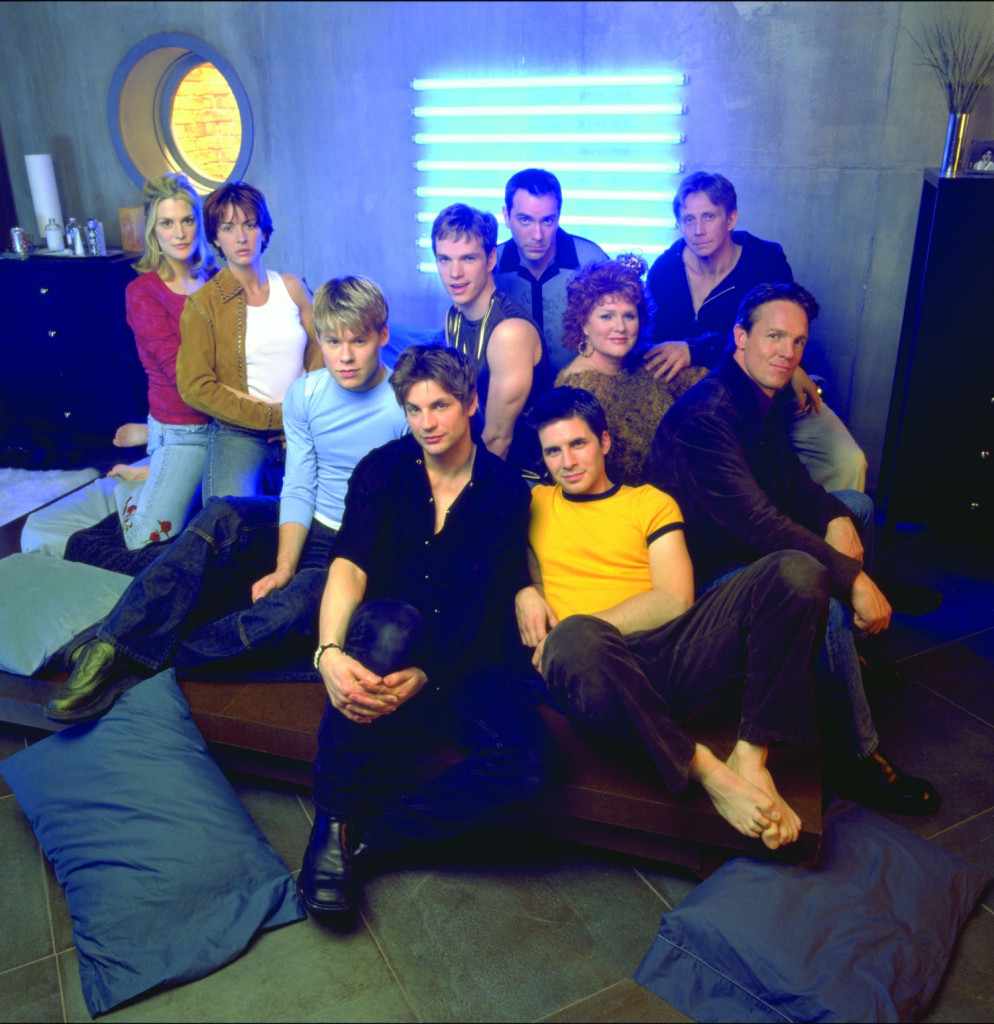 I used to wish I was a gay man. I don't know why, really. I think it was because I was gay but there weren't any images of gay women in the media so instead I focused on gay men, which was a suitable derailment. I'd get jealous if I watched movies or TV shows about gay guys because it'd just make me wish I was one, and I couldn't be, so I often avoided gay shows to avoid the jealousy. I avoided The L Word, too, because I was afraid it would make me wish I was a gay women, but eventually I watched it, and I was right, it did. And only then was I ready to start watching Queer as Folk. It was the winter of 2006, and I worked late, 'til one or two in the morning, and I'd be itching all night to get home and get back to my friends: Brian, Justin, Michael, Lindsay, Mel, Emmet and Ted invaded my consciousness.
This was before I'd started recapping teevee shows and I didn't think too critically about QAF's representation. I loved them all uncritically and fully, and for weeks after I finished the last season I found myself depressed, I missed them like I'd missed The Fishers, and still do.
I know I'd find Brian Kinney less hot if he was straight, I'd find that dance scene ending Season One less romantic, less Top-Ten-Best-Scenes-Ever-Worthy. In fact, I'd probs find him chauvinistic and unkind. It's not that I wanted to date Brian Kinney, but if I'd been a gay boy I would've. I was about to write: "He'd probably break my heart,"  but no one ever thinks that'll be them, that guy with the broken heart, right? You're going to change Brian Kinney. You'll be the one to break Jordan Catalano or Shane or Frankie or Brian Kinney right open; and you can't do that simply by getting them literally naked, because we all know they'll do that for anyone. Maybe that willingness for physical revelation is what makes the illusive, walled-off interior so much more appealing.
Anyhow Brian's storyline with Justin was as tender and full of tough Relationship Moments as ever. The lesbian couple, Mel and Linds, were probably my least favorite characters 'cause all they talked about is babies. Emmet Honeycutt is just so funny and lovely. It's a queer show about queer people and so if you're gay or lesbian or bi or queer I think you'll like it.
Get the complete series on Amazon.

FIREFLY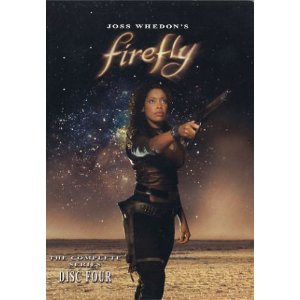 Firefly was one of the first examples of great shows that built their fandom around DVD sales. Hardly anybody watched it when it was TV, as FOX made damn sure that no one heard about it. They also marketed it wrong, aired the episodes out of order… all the usual cases of shows being killed by their networks. But somehow, someone discovered the DVDs on Amazon, told their friends, who told their friends, and little by little, a fandom was born.
That was how I discovered the show, too: through a friend. My best guy friend, who loves sci-fi as much as I do but knows considerably more about it (due to both parents sharing that interest, whereas my mom hates sci-fi and she always controlled the TV), introduced me to this show in my sophomore year of college. I had heard about it before, but not enough to really take the initiative and watch it. (I was a few years too young for Buffy, so I wasn't aware of the cult of Whedon.) But the fact that he liked it was enough to get me curious, so I followed the link he sent me to the show on Hulu. It didn't take long before I had watched all five episodes and I was feeling anxious that I couldn't find more. This was before I knew much of anything about Megavideo or file-sharing, things that would help me in the coming years. So I resorted to begging everyone I knew to buy me the show on DVD for Christmas. I was apparently such a pain in the ass about it that I got the same DVD from two different people. I quickly watched the remaining episodes and became obsessed with it enough to try to pressure all my friends and family to watch it. (Friends, I was mostly successful with; family, not so much). It would be the first time, but not the last, that I did that with a TV show.
See, I was never a big TV person before college (I only watched cartoons), so Firefly, along with Glee (which hit me around the same time), was the first big TV obsession I had. It is interesting to note the difference between the way the two affected me, since I watched Glee on TV and saw it unfold little-by-little. Firefly, though, I got all at once. So for Glee, a lot of my obsession was that excitement about not knowing what's going to happen next. With Firefly, it was because I got to know the characters very deeply very quickly. They felt like my friends, and I could discuss them as if I actually knew them. In that sense, Firefly is a lot more like something like Skins than your typical sci-fi show, and that's probably why its fandom is so huge: it transcends genre boundaries. Firefly has all the beautiful world-building typical of its genre, but none of it really matters; its yours to take or leave if you want it. Because ultimately, the futuristic technology and outer space scenery are really just backdrops to the real point of the show: the characters' development and relationships. The people are what made the show for me.
Of course, that's also the problem with Firefly: you get super-attached to those characters, but before you know it, they're gone. Because the show only lasted half a season, we only got 14 episodes to get to know them. Even a Skins generation is longer than 14 episodes! The DVD fandom was enough to bring us a movie, Serenity, but it didn't perform so well at the box office. We'll probably never get anything else about the crew of the Serenity, other than fanfiction and, like Buffy before it, the comic books (I own 2 out of 3 of them, and they're quite good!) But don't let the disappointment keep you away from it! The show is one of the best things ever aired, it's very feminist and, anyway, it wouldn't be a Joss Whedon show without it playing with your heart! (And oh, it does. Especially Serenity.)
Oddly enough, Firefly was also one of the things that helped me discover my bisexuality. Because I realized that I found almost everybody attractive on that show (though Simon, Inara and of course Saffron stick out). I have discovered through the Internet that this is a very typical bisexual reaction to this show. So if for no other reason, watch Firefly for the sexy people!
Get the complete series on Amazon.

THE GOOD WIFE

About a month ago I watched an episode of The Good Wife with my mom. I've now seen every episode. The thing the show is that every single character is interesting. I don't care what critics say about all the "you go Alicia!" moments, I could (and have) watched Alicia Florrick kick ass all day. Obviously I've got a thing for bisexual, aggressive, femmy Kalinda. I've found myself rewinding scenes where Eli Gold chews up and spits out Becca, Alica's son's bratty high school girlfriend, because Alan Cumming is just that good. I even like Cary in all his smarmy Havard-boy-ishness. If you enjoy underrated dramas, Law and Order: SVU, shows that acknowledge that we live in an unequal society, Angus from The L Word, and/or pretty women tearing shit up, this might be a show you want to watch.
Get Season One and Season Two on Amazon.

TERMINATOR: THE SARAH CONNOR CHRONICLES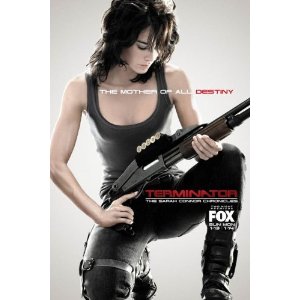 I didn't watch Terminator: The Sarah Connor Chronicles while it was originally on TV because I was pretty into Dollhouse and it's hard to be into more than one likely-to-be-canceled-at-any-moment-sci-fi-show-featuring-Summer-Glau at once. Also in my head Terminator was still something that involved Arnold Schwarzenegger, and Linda Hamilton's pull-ups didn't make quite the impression when I was three as they do now. And then someone told me how good it was, and also pointed out that Lena Headey, who plays Sarah Connor, was in Imagine Me & You, and that was that (Lena Headey and Summer Glau are basically the best parts of this series. Recurring dreams in which your MacBook is secretly Skynet is the worst.)
The Sarah Connor Chronicles isn't going to make you use your brain the way something like Mad Men or The Wire might make you use your brain, but it's awesome all the same. Watching all the episodes at once, you get a sense of a narrative arc that might have been easy to miss if you were only watching once a week, and you can feel better-outraged at the less feminist-friendly aspects of the show, like how Sarah Connor is the title character but her idiot kid is the future leader of humanity. Also fair warning: the show was canceled and the ending of season two was the ending of the series, and when you get there it will feel awful.
Get Season One and Season Two on Amazon.

DEXTER AND BONES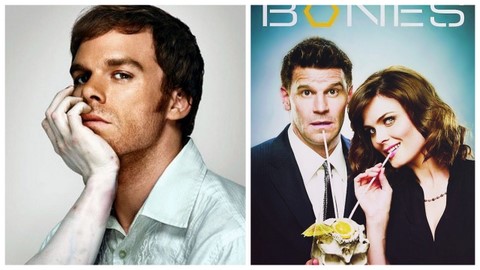 TV on DVD is not only the best invention since tabbed browsing, it's also the perfect answer to my shocking ability to procrastinate anything and everything. I pretty much only watch hour-long dramas (plus Modern Family), but which ones in particular changes with the seasons. In January, I'm usually all about The West Wing. For some reason I feel more capable of thinking about things like national security and budgets when it's cold.
But if I can't go outside because my flip flops will melt to the sidewalk, I only want to watch Dexter and Bones. These are both shows that I don't have to think too hard about, but they still pack some serious entertainment value. I mean, all I really want are dead bodies and witty people who talk about (and/or create) those dead bodies.
So, Dexter. It's one of the best written shows on television and certainly has the best opening credits. There are seriously shocking twists, tons of interesting moral conflict, great villains, very attractive people, and of course Miami. Who doesn't want to watch Michael C. Hall run around a gorgeous, sun-soaked city eating Cuban food and taking his boat out for a spin? It makes me feel like I'm actually participating in summer while remaining cozy in my air-conditioned house. And you're guaranteed to yell "WHAT THE F*CK" at least once every season. Great stuff.
Get Season One, Season Two, Season Three, Season Four or Season 5 at Amazon.
Bones is definitely lighter fare. It follows the forensics show model a little more faithfully. They start with a gross crime, throw around some science words, and then arrest the bad guy. But they also show you personal relationships between characters, which makes me keep coming back for more. The chemistry between Boothe and Bones is crazy, but hopefully you already know that because you watched that episode with Julie Goldman in it, right? You better have. Don't you want to know what happened before then?! Of course you do. Also Samantha Ronson loves Bones just as much as I do. Have we mentioned how attractive Samantha Ronson is in person? Very. Go watch some Bones. Season 1-3 are on Netflix and season 5 is on Hulu+.
Get Season One, Season Two, Season Three, Season Four and Season Five and pre-order Season Six on Amazon.

Next: Dara, Six Feet Under, LA Ink and more!
Pages: 1 2 3 4See entire article on one page