Sometimes, SOMETIMES you can't cover your face with smokin' hot lesbians. When this happens why not cover your walls with them instead!? That's where the 2014 Autostraddle calendar comes in! If you haven't picked up the 2013 calendar yet, you should probs get right on that — they're now available in our store for only $12! For 2014 prepare to have your mind blown, among other things.
---
Maria is Miss April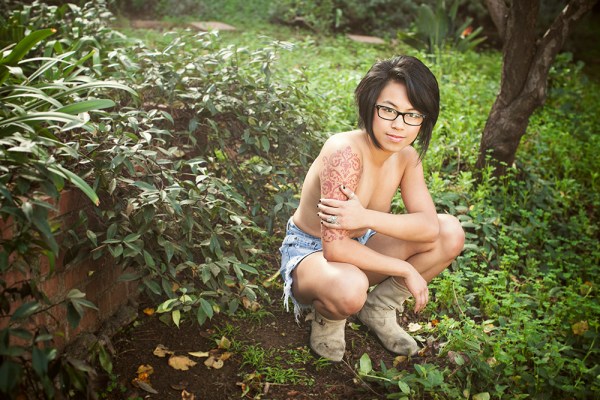 Greetings, world! I am a restless soul with a knack for books, clothes, happy hours, bowties, booty popping on the dancefloor, good whiskey, Lana del Rey, and beautiful women. My name is Maria and people know me as the outlandish girl with the fun hair, the fun clothes, and the fun-sized stature. I find comfort in doing things that make me (and others around me) uncomfortable and anything that gets my blood pumping. Flying airplanes, jumping out of them, getting frostbite during brutal 12 mile obstacle courses… count me in!
My tattoos are my babies! All, except for one, are based on my love for science/evolution/evolutionary psychology/evolutionary biology/physical anthropology. My side piece is a quote that says "In the end, we're all just a bunch of wild animals" with scratch marks going through it to remind myself that we are not superior to the other species we coexist with.
My most prominent piece is the custom red ink damask pattern on my arm. It represents the red queen hypothesis, an evolutionary hypothesis about sex and the evolution of human nature. It is also named after the Red Queen in the Alice in Wonderland tales. The red damask pattern is surrounding a red and gold crown with a DNA strand emerging out of in on my inner arm. It is my pride and joy!
Lastly, I have an 11:11 in white ink on my left hand. I'm afraid I can't tell you the story behind that one! My best friend has a matching one done in black ink on her right hand and we are the only two people in the world that know the meaning behind it.
Next up on my tattoo wishlist: an extravagant peacock because they are the universal symbol of sexual selection, and something super gay because… I'm kind of a lesbian.

Get to Know Maria
Where are you from?
I was born in the Philippines but moved to Los Angeles when I was one and grew up there. For the last four and a half years, I've been living in the beautiful beach city of Santa Barbara, CA with my gay pitbull, Rocco.
Occupation/Major/Passion: 
I am an HIV test counselor for the Pacific Pride Foundation. PPF specializes in providing services to the LGBT and HIV/AIDS community of Santa Barbara county. At night, you can find me tending bar at a quirky little nightclub called Wildcat Lounge (aka the Shitty Kitty). We host Santa Barbara's premiere gay club night every Sunday so if you're in the area, stop by for a drink! Recently, a friend of mine and I have started hosting G-Spot, a hot, SEXY dance night for ladies and ladies who love ladies every last Sunday of the month at Wildcat Lounge. I'd love to see some of you there! We decided to band together to create an event that specifically catered to the large queer women population in Santa Barbara because for the last year, queer women specific gatherings have been nearly nonexistent here.
I graduated from the University of California Santa Barbara (Gaucho class of '12, baby!) where I studied Psychology, Anthropology, and Applied Psychology. Studying evolutionary psychology and physical anthropology, more specifically, the evolution of human sexual nature, is what I am passionate about. If you have any thoughts on monogamy, polygamy, and polyamory, I'd LOVE to chat with you!!
I am also extremely passionate about being a sexual health educator and eventually becoming a sex therapist. Teaching others about sex and helping normalize it is what I want to focus my career on. I am usually the friend who brings up topics like cunnilingus or vibrators to the dinner table or the go-to friend for my friends who don't know what to buy at the sex store. Sex shouldn't be taboo and deemed as illicit, it should be embraced! SEX, SEX, SEX! It's a natural instinct!
Random fact: Did you know that bonobos are considered one of the most peaceful species on earth? They rarely engage in any physical altercations because they resolve their conflicts with consensual sex. Sex is used not only for procreation, but for recreational purposes and to relieve any tension within members of the group. Maybe we can learn a little somethin' somethin' from our close primate relatives * winkwink *! Just sayin'… J
Why did you want to be part of this project?
I am an only child, a first generation Filipino-American, and somewhat of the "black sheep" in our traditional, conservative, Catholic family. As a gay atheist with tattoos trying to pursue a career in sex therapy, I think I turned out to be the complete opposite of what my family expected of me. Yes, this definitely made coming out extremely fucking difficult. After many, many years, I am still currently in the process.
I wanted to be part of this project to be a voice for those "black sheeps" out there. If you are feeling like a black sheep, I say, dye your wool a rainbow, put on your craziest outfit, and strut your stuff! This community of ours is larger than it seems and we will find you, accept you, and love the sh*t outta you.
Autostraddle has helped empower myself as a lesbian. I've never had close, queer female friends, only acquaintances, so I felt I never had an outlet for my lesbian voice. When I stumbled across Autostraddle, it became an outlet for my lesbian-ness. Now I have Autostraddle to thank for helping me acquire actual lesbian friends too, ha! I love everything that Autostraddle stands for and to all of the people behind it, thank you from the bottom of my queer heart for allowing me to take part in this project, for being amazing…and for being so damn sexy!!!
Cheers, queers!
xoxo
---
Artist's Statement from Robin Roemer:
I want to start off by saying I wish I had a few weeks to photograph each of our 130 applicants, because they were all beautiful and inspiring! We are honored so many of you wanted to participate and we hope, at some point, we can work with each one of you. I mean that most sincerely.

This year we went through our applicants based on the survey first, the photos sent in to me had little to do with who our final picks were. We chose based on answers to a variety of questions. We wanted people who really had a sense of what the project was all about, were readers of Autostraddle, and were involved in their communities at home. We wanted women bursting with energy and love. Second, we wanted to represent our incredibly diverse our community: beauties of all different shapes and styles and backgrounds and gender expressions. Finally we found ourselves with 13 models, its 2013 now so twelve just wouldn't do, who we feel represent some of the most brilliant our readership has to offer. I hope each of you, especially those of you who applied and were not chosen this year, enjoy this year's calendar.
Crew:
Co-created by Robin Roemer and Sara Medd
Photographed by Robin Roemer
Wardrobe styling by Sara Medd
Hair by Taylor Stevenson
Make-up by Marla Verdugo
Line Production, Location Scouting and Catering: Sarah Croce
Design, Location Scouting, Production assistant: Alex Vega
Lighting Assistant: Kamila Baker
Production Assistant: Christina Bly
Puppy Wrangler: Mollie Thomas
Special Note: As of December 2010, we request that the comments on Calendar Girls posts, unlike every other post on this site, be exclusively positive and remain on-topic. These posts exist to celebrate women, so any  criticisms of the model, her appearance or the appearance of the Calendar Girls as a whole will be deleted. Furthermore, any direct questions/concerns about the project in general can be directed to robin at autostraddle dot com!