Sometimes, SOMETIMES you can't cover your face with smokin' hot lesbians. When this happens why not cover your walls with them instead!? That's where the 2014 Autostraddle calendar comes in! If you haven't picked up the 2013 calendar yet, you should probs get right on that — they're available in our store for $18! For 2014 prepare to have your mind blown, among other things.
---
Artist's Statement from Robin Roemer:
I want to start off by saying I wish I had a few weeks to photograph each of our 130 applicants, because they were all beautiful and inspiring! We are honored so many of you wanted to participate and we hope, at some point, we can work with each one of you. I mean that most sincerely.
This year we went through our applicants based on the survey first, the photos sent in to me had little to do with who our final picks were. We chose based on answers to a variety of questions. We wanted people who really had a sense of what the project was all about, were readers of Autostraddle, and were involved in their communities at home. We wanted women bursting with energy and love. Second, we wanted to represent our incredibly diverse our community: beauties of all different shapes and styles and backgrounds and gender expressions. Finally we found ourselves with 13 models, its 2013 now so twelve just wouldn't do, who we feel represent some of the most brilliant our readership has to offer. I hope each of you, especially those of you who applied and were not chosen this year, enjoy this year's calendar.
Cynthia is Miss January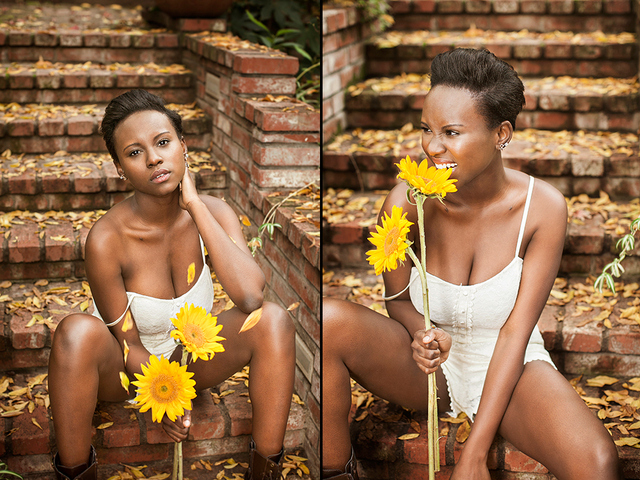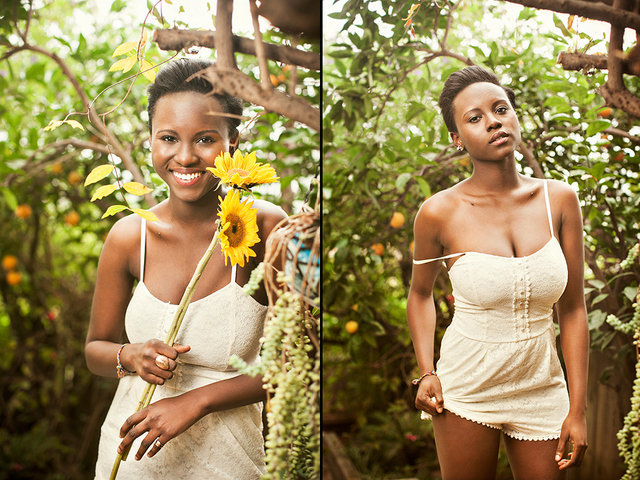 Cynthia in her own words:
Hey homos! My name is Cynthia and I'm a 22 year old recent grad from the University of Iowa. I turn 23 on January 19th so shout-out to all the Capricorns! This year, Robin wanted us Calendar Girls to submit some of our personal stories. I was going to share the story of how I told my parents I was going to California to visit a law school when I actually had a photo shoot for a queer lady calendar, but I'll save that one for later. I'd like to think that something unique about me is my energy. I just love life and the people in it so much! It doesn't take much to make me laugh and when I start it usually takes me a while to stop. I really believe when we emit positive energy in our words, actions and thoughts we attract even more good vibrations to ourselves. I also am starting to believe I can think things into existence but again, another story for later.
Get to Know Cynthia
Where are you from?
I'm from several south suburbs of Chicago but for the past five years I've lived in Iowa City.
Occupation /Major/Passion:
I just graduated from the University of Iowa in December with a B.A. in Political Science and a Minor in Theatre. I'm applying to law schools right now and hope to eventually practice human rights law. In the mean time I work in a group home, providing care for amazing individuals who happen to have developmental disabilities.
Why did you want to be a part of this project?
I still can't believe I was chosen to be a be a part of this project! Major love to Robin, Sara, and everyone who helped make the 2014 calendar happen! It was an experience I'll truly never forget. Autostraddle is more than a website; it is an amazing community of queer women. It's the personal stories shared by brave women on this site that gave me the courage to finally come out.
I'm a first born, first generation Cameroonian-American with very traditional and religious parents. My decision to come out was absolutely terrifying. Still, I knew that no matter how my family reacted, there was a community of understanding ladies ready to accept me with open arms. After coming out there were lots of tears, lots of prayer and things still get a bit rocky at times but I've never been closer with my family and wouldn't have things any other way. I just hope that sharing my story inspires women the same way other Autostraddlers have encouraged and inspired me.
On a lighter but just as serious note, I also wanted to be a Calendar Girl because the eligible lesbian population in Iowa City is roughly 4.5. Since my OkCupid isn't getting many hits either I figured, "What better way to get myself out there?!"
---
Crew:
Co-created by Robin Roemer and Sara Medd
Photographed by Robin Roemer
Wardrobe styling by Sara Medd
Hair by Taylor Stevenson
Make-up by Marla Verdugo
Line Production, Location Scouting and Catering: Sarah Croce
Design, Location Scouting, Production assistant: Alex Vega
Lighting Assistant: Kamila Baker
Production Assistant: Christina Bly
Puppy Wrangler: Mollie Thomas
Special Note: As of December 2010, we request that the comments on Calendar Girls posts, unlike every other post on this site, be exclusively positive and remain on-topic. These posts exist to celebrate women, so any  criticisms of the model, her appearance or the appearance of the Calendar Girls as a whole will be deleted. Furthermore, any direct questions/concerns about the project in general can be to robin at autostraddle dot com!