BUTCH PLEASE is all about a butch and her adventures in queer masculinity, with dabblings in such topics as gender roles, boy briefs, and aftershave.

Header by Rory Midhani
---
I rang in 2013 on an elevated platform under the bar at Voyeur, a nightclub playing host to Stimulus, the only lesbian party I seem to ever hear about in Philly. It was a good feeling, this whole raising my fist in the air while everyone around me screamed or covered their screams with each other's mouths. The ceiling was painted black and rose two stories above me, indistinguishable under a sea of balloons and moving bodies. It felt like raising my fist to everything, or nothing.
I always go out on New Years' Eve, even though I'm not the going out type anymore. I don't know why I do it, because I know the cover charges are 150 times more expensive, and the drinks are 450 times more expensive, and slipping in vomit on the street has happened 3 times in the last 2 years. I always end up sober because I can't afford enough to be drunk, and nothing about New Years' Eve at a club is fun or acceptable when you are sober. Yet there's something shallowly empowering about being out at night and knowing the rest of the city is there with you. It's empowering the way blowing off your therapist is empowering. You feel thrilled for about a half hour, your mind overrun with all the things you can do now that you have an hour of your day back, but then you just go home and take a nap. Heading out to the club and finding the crosswalks overrun with thirty-somethings in princess crowns who are drunker than you are is exciting for the first hour or so, but then you realize that you are paying $60 to $100 to smell like sweat when you could be curled up in your bed, watching Star Trek and eating Cheez-Its.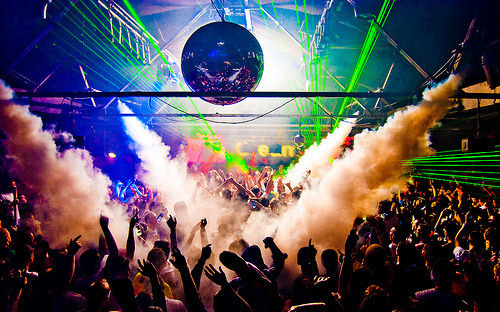 I got home around 7 in the morning, run down but still sort of charged, and scribbled this out on the notebook next to my bed. I think the last time I made resolutions for the new year was when I was ten and being forced to do it on construction paper so my teacher could hang it on a bulletin board. This attempt was sleepier, but seemed to have a lot more heart in it.
1. Be kinder to yourself. You are gentle with everything else in your life, and your big ol' heart is feeling a little left out.
2. Stop being ashamed of your non-ironic love for One Direction and Justin Bieber. Listen to more Selena Gomez so your pop interests are less gender-biased. Avoid Taylor Swift, as she seems to make you irritable.
3. Don't be such a passive little goober. Try to stop asking the people who walk all over you to back it up and try again.
4. You're not awkward, you're quirky.
5. Always keep a party size bag of peanut butter m&ms in your freezer, as this is already doing wonders for your happiness.
6. 2012 was the year of the bowtie. Find a new accessory. Make 2013 the year of the ascot, or the bolo tie. Mmm, bolo ties.
7. Sit down with the cat and try to talk boundaries. Make an attempt to meet him on his level and explain how peeing all over your new bed is still a tender spot for you, how you want to forgive him and move on but it's hard when he literally rubbed his face in it.
8. Learn to prepare chicken without hyperventilating or making someone else do it. It's just veins, and chunks of slippery fat, and weird membranes. No big deal. You can do it.
9. For the love of all that is good in this world, please get more sleep.
10. Try to actively control that really stupid grin you get when you see a pretty girl. You don't realize you look like a 14 year old boy, but you look like a 14 year old boy. Try not to blush and get all flustered when she makes eye contact. Keep your shit together, man! Remember your name at least. You are really bad at that, seriously.
11. Eat more salad?
12. Do your goddamned laundry. Stop buying more underwear when you run out of clean underwear. H&M boxer briefs are amazing, but they are not cheap anymore. Nothing about this is economical or sane. Stop wearing your rodeoh as underwear, too.
13. Be in touch with your feelings. Let them overwhelm you from time to time. It's not always a compliment to have people refer to you as "stoic."
14. End this list on 14 instead of 13 because you're superstitious as all get out. Don't be ashamed of your superstitions, or all the things you inherited from your grandmother. Stay in touch with your mountain roots. They're worth it.
---
Special Note: Autostraddle's "First Person" personal essays do not necessarily reflect the ideals of Autostraddle or its editors, nor do any First Person writers intend to speak on behalf of anyone other than themselves. First Person writers are simply speaking honestly from their own hearts.