Another year, another opportunity to create a kickass calendar of smokin' hot lesbians. If you've not picked up the 2012 calendar yet, now would be the time — they're available for the post-holiday price of $10! For 2013 we did something completely different yet totally spectacular.
Are you ready to meet the 2013 Calendar Girls?

video edited by Sarah Croce and Lauren Aadland
Now, onward and upward — here's Robin!
Artist's Statement:
For the 2013 Autostraddle Calendar, we put on our bathing suits and hit the water! My goal this year was to do a black and white series that was playful, sexy, and all about the women. I sought to capture images that would reflect the models' feelings of freedom and comfort in their own skin. We chose a simple expanse of sand and water where the horizon is somewhat indistinguishable, and it was the perfect setting for a very personal and introspective look at each of these extraordinary women.
As a photographer, photographing an entire day at the beach is a great challenge. You need to maintain consistency as the light changes drastically throughout the day and the tides ebb and flow. This adds an interesting element in the images as over the course of the day, we watched them play and interact from sunrise to sunset. We closed the day with some very quiet, intimate interactions between the women who'd come to know each other over the course of those hours.
I love coming away from these shoots knowing that all of these women are now friends, and I hope that these images reflect those bonds formed.
A huge thank you to our beautiful models and our amazing crew for a job well-done. A special thank you to stylist and co-producer Sara Medd for being my partner in this project.
Robin, Photographer
Crew:
Robin Roemer, Photographer and Co-producer
Sara Medd, Stylist and Co-producer
Sarah Croce, Production coordinator and video
Lauren Aaland, video
Alex Vega, designer
Christina Natale, Make-up
Brandi Andrews, Make-up
Taylor Stevenson, Hair
Michelle McCaw, Hair
Sabrina Bringuier, Photo Assistant
Our November Ladies are Alana and Julie: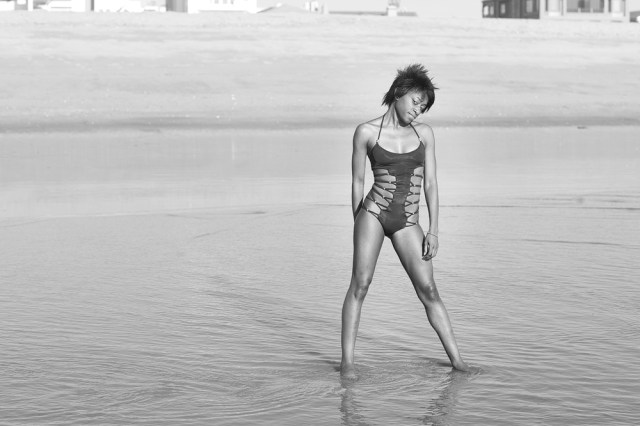 Alana in her own words:
Hiya! I'm Alana! I'm 23; born, raised, and still living in Los Angeles! And this whole thing might be in exclamation marks because I'm so excited! Okay, so I'm not going to do that but I am super excited. Anyways, I'm currently in this really awkward phase of growing up and finally figuring out the things I want to do with my life, so I'm basically in school and working. Switching from the role of a partying wild child to a responsible adult has been a little tough, but I like becoming more independent.
I love animals, and have two babies. I've been a vegetarian since 2006, and I'm still going strong! (Tofurkey anyone?) I love all types of music, and will dance to almost anything that I can. My favorite when it comes to dancing is ballet, though dancing in a club is almost as good. I'm a pretty social person who likes to be out and about around people, and having a good laugh. Though I won't lie and say I've never been the person who befriended the dog over talking to people at a house party.
I consider myself androgynous and identify with being called queer. I think the fact that I never related to the word 'lesbian' made it a little difficult when coming out. I feel like I'm in the grey area between butch and femme, and I like it. Realizing that this grey area made me feel less constricted has helped me become a lot more comfortable with being myself. I'd like to thank the ladies at Autostraddle for this opportunity! Meeting those of you I have met, haven't met, and people I've met through you, has all played a big role with me being more comfortable in my skin. THANK YOU ALL!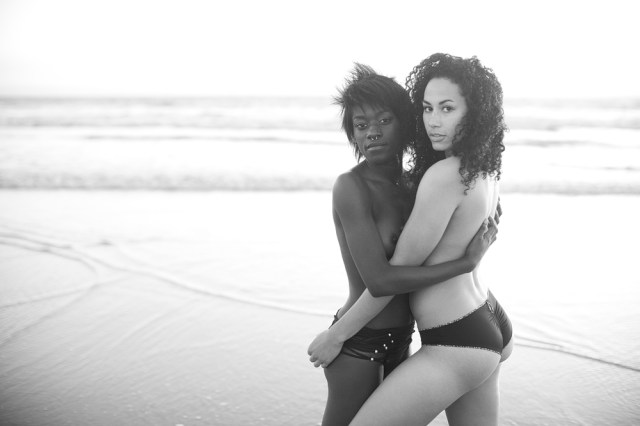 Robin's Phoner with Alana
What got you interested in applying for the project?
Well, I'd been on the site a lot, and it was a really last minute thought. I was on the site, and was really thinking, "Why not? If I'm not picked no big deal, and if I am well, that'll be awesome and it'd be great to part of something." A possible ego boost helped too!
What was your favorite part of the day?
Hm, I think best part was just the chill time in between the shots. And talking to everyone and joking around. When I think back I just like the feeling of acceptance that was there. I have like three lesbian friends, and it was my first time being around such a diverse group of women.
What do you do for fun?
I like to dance. It helps with my state of mind. When I was younger, I was always too shy to ever go in front of people. I started off alone in my bedroom instead of a class filled with other kids. I don't think I was actually on beat until I was like 16 though.
Tell me about your pets!
Oh I could probably go on forever. My dog Ted is 4 years old — he's my baby, and I've actually given new parents advice from my experience with my dog. Also, the advice worked! But yeah, he's basically a furry human who's good at listening, rolling his eyes, and getting more attention from girls than I do. I also have a kitten named Dorian who's around 4 months old. I'm still learning with him, but so far he thinks Ted is his mom, and tries to nurse from him. Also he likes water a little too much and jumps in the shower and/or toilet whenever he can.
If you could be a Disney sidekick, who would you be?
That's tough! But I think I'd want to be Kronk from Emperors New Groove. He speaks squirrel and is super funny. And comes with a little demon and angel on his shoulder. Or I'd probably be Genie from Aladdin.
Do you have plans for Thanksgiving?
I'm more excited for shopping after Thanksgiving!
Do you have a favorite store?
I like ASOS a lot and Topman for more boyish styles, as far as online stores. Though H&M is really good too. Depends on the style I'm going for.
And you have a more andro style, so you probably like mix it up a lot.
Yeah I have a hard time figuring out just the right look I want. I probably take way too long to get dressed, even for something very simple.
---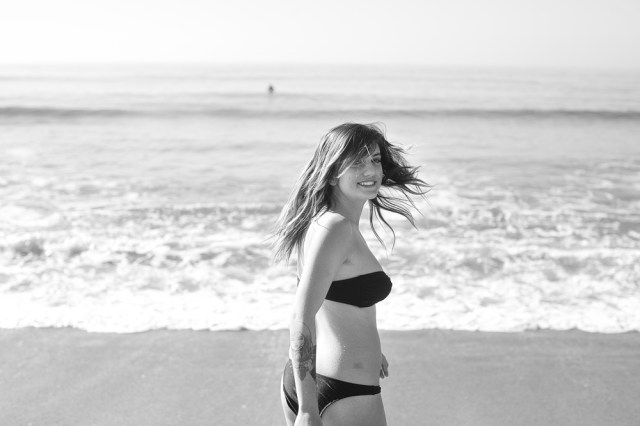 Julie in her own words:
Hi! I'm Julie, 23 and a recent resident of the beautiful city of San Francisco (GIANTS!) after previously residing in West Hollywood. I was born outside of Chicago, and spent most of my life on the coast of Florida.
My original goal after college was to go to law school, but even after doing fairly awesome on the LSAT, I had a change of heart. Like most people my age, I'm still trying to figure out exactly what that is — but for now, I'm in Operations at a great company called Indiegogo. Autostraddle, I think you may have heard of us?
When not in the office, I spend a lot of time with the pups — a 5 month old Husky mix and a 3 year old Golden Retriever mix. These two are part dolphin and love when they're taken to the ocean. I'm also a fan of exploring the best coast/blowing all of my money in Vegas/wine tasting in Napa with my beautiful girlfriend, Devon. A lot of time is also spent going to music festivals, eating at one of San Francisco's nine million amazing restaurants, or the (very) occasional Top Model/SVU Netflix marathon. Two words: Olivia Benson.
Anyway, I just want to say thank you to Autostraddle for allowing me to be a part of this amazing group of ladies. That, and congratulations on your amazing campaign! You guys deserve it : )
Robin's Phoner with Julie
So, I know it was almost a year ago now, but did you enjoy the shoot day?
Yeah! It was amazing. Getting the chance to meet girls from all over the place in that setting was awesome. Also, it was basically the first time my girlfriend and I hung out for more than an hour or so, so that was also a great bonding experience for us.
The water was so cold, you guys were very brave.
Yeah, it was freeeeezing. Nice transition into the lovely beaches of SF.
Oh yeah, you moved from LA to San Fran, how are you liking it?
I'm really liking it a lot. I've never lived somewhere with cool weather, so it's definitely a new experience. I live in the Castro, so it's not toooo different from West Hollywood, but it's definitely a more tight-knit community.
From gay utopia to gay utopia!
All gay, all the time.
What do you do in SF for fun?
Well, I have two crazy dogs so I spend a lot of time taking them to the parks around here. I also explore the city and take advantage of the millions of events that happen in SF all the time. Today was actually the Giants parade, and they closed down half the city. Totally nuts. We also go to a lot of music festivals!
Are you a musician at all or just a music lover?
Just an admirer. I've tried my hand at guitar before (for a girl, ha) but I'll just leave that to the professionals.
So you still work at Indiegogo?
Yep!
The Autostraddle campaign did pretty well huh?
Autostraddle is actually a big name around here, one of our largest campaigns. It went incredibly well.
I love the idea of Indiegogo — it must feel good to know you work a place that helps people raise money for worthy causes.
Yeah, it's amazing. Giving anyone the chance to earn money for their cause is something that I definitely stand behind. Right now we're focusing on helping the victims of Hurricane Sandy. There are already a lot of campaigns that have been started to help out.
That's so great! There's certainly a need. Switching gears a little, do you have any guilty pleasures?
I love super cheesy pop music. I'm kiiind of in love with Miley Cyrus…and Justin Bieber. I actually had to make one of the most difficult decisions recently: I had tickets to both Madonna and Bieber, on the same night. But after a lot of reasoning, I chose Madonna. Not a bad predicament to be in.
Haha, nice choice. Although, I do like me some Bieber too.
I figured Bieber has some time left to tour. Madonna might have to call it quits a little sooner than he, but after seeing how incredibly in shape she is, I could be wrong.
Special Note: As of December 2010, we request that the comments on Calendar Girls posts, unlike every other post on this site, be exclusively positive. These posts exist to celebrate women, so any shit-talking or criticisms of the model's appearance will get deleted. Direct questions/concerns about the project or website as a whole can be directed to robin at autostraddle dot com or riese at autostraddle dot com!