This week on The Real World: Ex-Plosion, Ari found herself smack-dab in the middle of Hell.
Shit hits the fan first when Tom decides to lose every last piece of his shit during a series of unfortunate events brought on only by his douchebaggery, including breaking up with Jamie.
While Hailey slowly plots to ruin Jamie's life for being infinitely more interesting than her, Ari butches it up and lifts furniture in the other room.
But don't worry. She loses her shit, too.
Ultimately, each roommate finds solace at the gym, the beach, and every other location commonly associated with escapism, avoidance, and denial. Ari looks good, though.
When the plot moves from Jamie's Amazing Grace to Jenny's Lookalike Lover – her boyfriend, Brian, being a total jerk – she finds her own kind of solace: Booze.
Ari steps in as resident Chill Zone Director to fix their squabbling because, like, it just kills her vibe.
…which is a huge gift to the emotionally challenged Brian.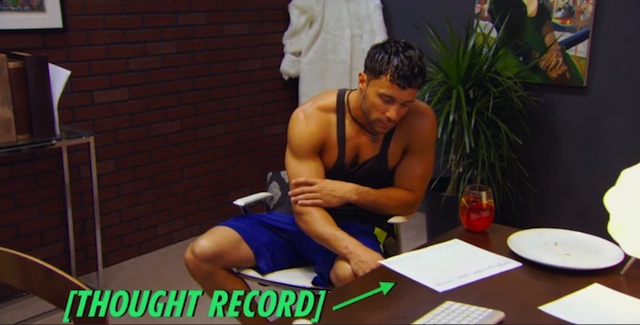 Alas, Brian is unfixable.
Later on, Tom sorts out his life and comes back ready to love Jamie harder better faster stronger. Like most men who have caused irreparable harm in their worlds, he looks back on his life and thinks,
Later on, the HUGE FUCKING DEAL is Cory's ex Lauren getting a positive pregnancy test result. I'm just letting you know so that you know where we're at next week because I don't actually care to be worried about this at this stage in my life.
Here's the questions you had this week for Ari's Fucking Emotionally Exhausted Fitz.
This Week's #AutoAri Q&A
On Ashley
@itsarifitz How long was you with Ashley? #autoari #AutoAri

— Justin Rhines (@Justin_Rhines) February 20, 2014
Ash & I had been together for about 2.5 years before she moved into the house.
#autoari @itsarifitz so! marry "her" ;) yes? no? maybe so? something in between?

— Sasha (@Sashaw101) February 20, 2014
Haha! The conversation's come up.
@itsarifitz #autoari when @missashc arrived in the house you weren't hatin! Would u say you stay there improved when she arrived?

— ItsStaci (@ItsStaci) February 20, 2014
No matter what, Ash is my best friend. Her being in that crazy house grounded me and kept me together despite what we needed to work on.
Just You, Just You, Just You, Just You
How do you get inspired? #AutoAri @itsarifitz

— Jasmine☁⚡☯ (@jasmine__aac) February 20, 2014
From everything. Music, television, movies. Most importantly from the relationships I have right now.
#AutoAri gworl, when are you going to teach me how to vogue? @itsarifitz

— A Black Creator. 🔮 (@CourtRevolution) February 20, 2014
Shit… when I really learn how. My vogue skills are still very much lacking. Let's learn together, k?
https://twitter.com/KS21830132/status/436346370601922561
Thank you!! Hair, I use Seed by Akimi. Skin, I use Clean & Clear Acne Control in the mornings and Cetaphil at nights. I also use toner every time I wash my face and moisturizer only in the mornings.
@itsarifitz once you joined the show did you have to make a new twitter account?

— Janean 🖤 (@jaynineeee) February 20, 2014
No love, we kept our own twitter accounts. Some of us just added MTV to it.
On Moving Pictures
https://twitter.com/frozenxinspire/status/436340751413567488
Favorite part about directing in general is seeing a story – the story you see so clearly in your mind – played out for the rest of the world to see. Fave thing about directing horror is I get to be as unapologetically dark as I want. ;)
https://twitter.com/lef_tenant/status/436364188962004992
Easily Dexter. Maybe Henry from Henry: Portrait of a Serial Killer. Yes, I'm creepy.
In Da Haus
@itsarifitz Do you agree with how Tom acted #AutoAri

— Davi$1991 (@sdavis_091) February 20, 2014
Nah (deep sigh)… oh, Tom. I think the whole thing was just tough for him and he didn't want to hurt anyone's feelings. The intentions were pure, execution was all kinds of wrong.
Were their any ex's that you found intimidating ??? @itsarifitz #autoari

— Naim (@jaria1998) February 20, 2014
Ha not at all. Everyone was mad sweet to me and super respectful. Then again… very few people on this Earth intimidate Ari. Top of the list: Kesh then maybe Rihanna. *swoon*
https://twitter.com/kendriaLee/status/436338174457950208
It was just an emotional rollercoaster. Everyone was so in their feelings at every second of every day. Me being the counselor of the house, it was overwhelming!
@itsarifitz how stressful was it too live with 10 other roommates? #autoari

— deje ✨ (@SpeakEasyBitch) February 20, 2014
I mean… I lost hair.
@itsarifitz #AutoAri describe the real world in three words

— victor hernandez (@Victor_vhj14) February 20, 2014
the. real. world. ;) I kid. Watching the Real World = funny. as. hell.
https://twitter.com/amazeballz_/status/436346169363800064
https://twitter.com/Kathy_Hanna15/status/436344749994573824
Can't say I'm a big fan of Lauren's voice, but she's a sweetie. Umm.. most annoying might have to be Mr. Brian. Only because I want him to properly form a sentence when he speaks and his on-again, off-again violent thing with Jenny drove me batshit crazy.
https://twitter.com/mikeanthonie/status/436344050451353600
Knowing what I know now, I think I would've done it. I would've been less focused on everyone else and more on having the time of my life. I cared a little too much, lol.
@itsarifitz #RealWorldExPlosion #AutoAri did New York guy find out that Ashley ripped his contact page before you guys left the house?

— $ (@jxmediahouse) February 20, 2014
Actually yeah… Jay found out after Ashley M. left but before we left the house.
Dont you feel bad for Haley..even a little? @itsarifitz #autoari

— 🇺🇸Shonnie Marie🇺🇸 (@shonniemac23) February 20, 2014
Not so much. I think Hailey put herself in an uncomfortable position. I think she took the opportunity to move into the house and had to deal with the consequences because of it.
Who do you think had the best relationship in the house ? @itsarifitz #autoari

— Naim (@jaria1998) February 20, 2014
(raises my hand)
Have you talked to the other Ashley at all? @itsarifitz #autoari

— 🇺🇸Shonnie Marie🇺🇸 (@shonniemac23) February 20, 2014
Yeah. She and I went out with Jenny during the first aftershow and she seems to be more chill now.
#autoari what opportunities and doors has opener for you since being on the show? If any? @itsarifitz

— quese (@Rih_IsLIFE) February 20, 2014

https://twitter.com/upandbeyondd/status/436352291978084353
Oh hey you! Life after the house is incredible! Tons of new projects are popping off right now because of the show and because of my team, big things are moving on the modeling and film side. So just keep following along.
@itsarifitz who had the funniest , but serious arguements ? #autoari

— Shawty ❤️ (@JusCallMeSylvz) February 20, 2014
Jenny and Brian. Hands down, funniest arguments ever.
What do ya think of the Cory and Lauren situation? #autoari @itsarifitz

— Vibez (@whoizvibez) February 20, 2014
Whoa buddy. That's a crazy situation to be in. I think it's just tough for both. Its obvious they love each other. All of me just wants Cory to put aside his hurt feelings, bruised ego and support her.
https://twitter.com/erica_0214/status/436348947422908416
LOL, maybe…..
@itsarifitz favorite part of this episode? #AskAri #AutoAri

— Jimmy Esqueda (@JimmyEsqueda) February 20, 2014
Favorite part is the Jenny knife dance. I want a GIF of that playing consistently on my phone. Lol!
@itsarifitz where are you during all the drama on the show #AutoAri

— 🎆SPECIAL NEGRO🎆 (@AmayasTotem) February 20, 2014
Chillin with a beer, eating popcorn and laughing at everyone then taking my ass back to editing some video. #allworkallplay lol!
Jamie is so needy. Why ?! QTNA. #RealWorldExPlosion #autoari #QTNAnow

— ✋ x ✌ A (@umm_10ayyeee) February 20, 2014
Haha! Ya know… I got nothing on this one. That title boy… some girls will do a lot for it.
@itsarifitz #autoari what was it like being around the others and their exes, off screen?

— Lil Rob (@r_panameno) February 20, 2014
Honestly, exactly the same. Everyone is pretty much like that IRL.
@itsarifitz What was going through your mind just watching this episode? #AutoAri

— rain on me, j x (@xoxoJahkeem) February 20, 2014
Episode 7 might just kill us all.
Our Winner
Every week, Ari will pick her fave question out of the bunch and we will reward them with lavish prizes. This week's winner, @frozenxinspire, will get a video from Ari herself!
Get Into It!
Each week, you can tune in to new episodes of The Real World and tweet your questions for Ari Fitz, raging queer, using the hashtag #AutoAri. ( We can only guarantee that tweets sent during the initial screenings of each episode will be included (10PM EST/PST and 9PM CST) in each week's roundup.) Whether you're curious about her films, what she's eating in the fifth scene, the music that hot tub montage was set to, or how she gets her hair to look damn good, feel free to dig in and pop a question. Within 48 hours of the episode, Ari will answer every single one here on Autostraddle.
In the meantime, you can follow Ari and Autostraddle on Twitter. (And me!)